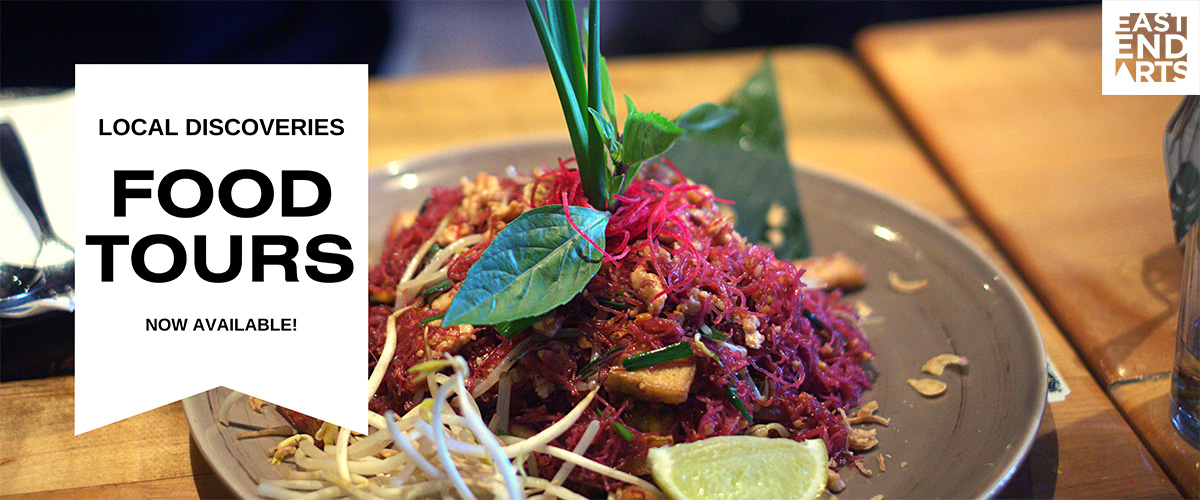 Local Discoveries Food Tours, as part of ArtworxTO
May 1, 2022 – September 22, 2022
Three exciting food tours to complement our public art tours!
FREE to participate, any time

You've heard about our popular Local Discoveries Public Art Tours, so now we're introducing a series of Local Discoveries Food Tours to complement each of our Public Art Tours! Enjoy our Food Tours in collaboration with our self-guided art tours on Driftscape, and enjoy a true adventure through different east end neighbourhoods, exploring public art and enjoying tasty eats and drinks along the way!
All three tours can be done on foot, bicycle or TTC transit. So, what are you waiting for? Be sure to download the Driftscape App on your mobile device (entirely free) for the interactive public art experience, and while you're out and about be sure to check out a few places to eat and drink along each tour, which you can access and read about below. Public art and local food, what could be better?! Our food tours have been curated by local food critic, Howard Tam.
QUICK LINKS:
ACCESS THE FOOD TOURS
Food Tour #1 – Danforth Love


Going along Danforth Avenue, the theme for this first tour is "Danforth Love", and wow are there tons of restaurants and tasty spots along Danforth Avenue that we love. From Venezuelan meals to Italian baked Cannolis, there is truly something here for everyone, giving you that many more reasons to LOVE this neighbourhood. Explore Food Tour #1

HERE

.



Food Tour #2 – Around the World
This second Food Tour takes us on a journey through the east end where we get to celebrate the awesome diversity of global cultures that find their home in east Toronto, through food! From

Japanese ramen

to delicious Indigenous dishes, we invite you to try a new cultural food you may have never tried before! Explore Food Tour #2 HERE.

Food Tour #3 – Water Ways, Queen East
As you enjoy this third food tour that complements our art tour "Water Ways", we ask you to reflect on your own personal connection and relationship to our water ways. Let's also not forget the very important role that water plays in growing and making the food and beverages we all enjoy, (everything from Caribbean Fusion to ice cream sandwiches, which you'll find on this tour). Explore Food Tour #3 HERE.
ADDITIONAL WAYS TO ENGAGE WITH LOCAL DISCOVERIES
ARTSKOOL EDUCATION GUIDES
Are you looking for ways to engage youth around these incredible public art tours? We invite you to download all three of our Local Discoveries ArtSkool Guides! ArtSkool Education Guides offer kids and kids at heart an additional fun way to engage with our public-facing programs, and learn something new! Inside each guide you'll find fun activities for kids, interesting facts and history lessons, and so much more. Download the Local Discoveries ArtSkool Guides and print them off at home. Alternatively, you can find ArtSkool Guides available at the front desk of all east Toronto library branches for free! Learn more HERE.
LOCAL DISCOVERIES ILLUSTRATED MAPS
To find your way along the Local Discoveries routes, we've commissioned the incredible Urban Geographer, Daniel Rostsztain, to create three BEAUTIFUL public art maps for each of our tours! You can purchase a map print from one of our favourite local print shops, Secret Planet Print Shop, to help guide you through the tours and to have a beautiful keep sake of the Year of Public Art in East Toronto. Purchase the maps by stopping by Secret Planet Print Shop in person, or by visiting their website HERE!
CURATOR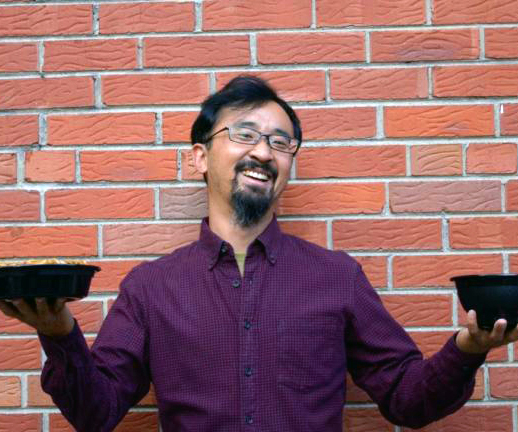 Howard Tam – Restaurant Curator for Local Discoveries Tours
Howard Tam is a dedicated and passionate Foodie and the founder of Eat More Scarborough Food Tours. Passionate about anything east of the DVP, he loves to explore neighbourhoods and restaurants all over Scarborough and the East End.
Howard has been running tours all around Scarborough for the last few years, by foot, by bike, by car and by bus. His interactive tours combine his passion for city building with food. Tours will pair eating with food stories & culture stories, such as the history of the food or the story of the food entrepreneur. Tour attendees will not just get a chance to try delicious food, but get a chance to meet some of the owners, learn about local neighbourhoods and discuss food related issues and topics.
An urban planner and strategic designer by day, Howard loves to explore restaurants in his spare time. Most weekends, you will find him either running another food tour or playing Strip Plaza Roulette – randomly picking spots in strip plazas to see what good food comes up.
FUNDERS
Local Discoveries is part of #ArtworxTO: Toronto's Year of Public Art 2021–2022 and a Signature Project of the City of Toronto's Cultural Hotspot.
ABOUT CULTURAL HOTSPOT
The Cultural Hotspot shines a spotlight on arts, culture and community in Toronto's outside-the-core neighbourhoods through workshops, exhibits, activities, and experiences. This City of Toronto and partner-produced initiative features Signature Partnership Projects and SPARK Projects that and provide opportunities for community members to participate in the arts. Youth mentorship and employment is a component of Cultural Hotspot programming. Since its inception in 2014, the Cultural Hotspot has highlighted Scarborough, Etobicoke, North York, East York/East End and York. In 2022, the Cultural Hotspot moves to a hyperlocal model with a focus on Little Jamaica and the Golden Mile.