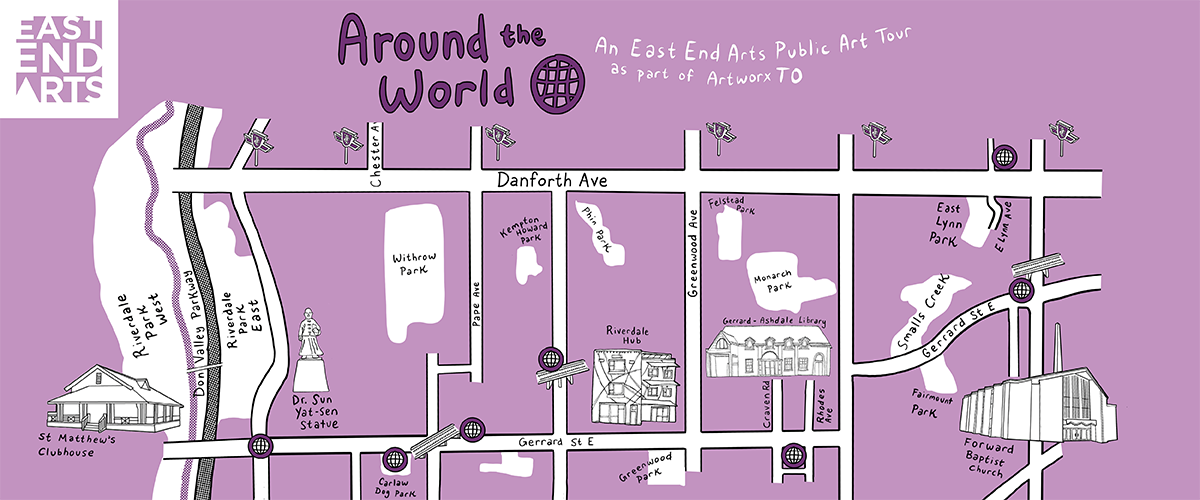 Local Discoveries, as part of ArtworxTO
Tour #2 – Around the World
Distance: 6km
Time: 2-2.5 hr walking
Taking our start at Danforth and Woodbine, this route sends us on a world tour through the east end. You'll find murals celebrating the awesome diversity of global cultures that find their home in east Toronto, and all the food that goes along with them! Along this route you will find opportunities to contemplate the ways we are connected to the world beyond our own backyard. 
This tour is approximately 6km long, may take around 2 hours walking, but it's also a great choice for riding your bike – don't worry it's downhill! It also follows several TTC routes so you can use that hop-on-hop-off transfer to explore by transit!
HOW TO ACCESS ON MOBILE:
Download the Driftscape App on your mobile device
Search "EastEndArts" (all one word) in the top search feature
Click on the Around the World Tour, which starts at Danforth Avenue and Woodbine Avenue on the map.
Click "Start Tour" in the bottom right, and start your tour!
HOW TO ACCESS ON DESKTOP:
Click HERE to access the Driftscape Web App for this tour
Click "Start the Tour" and begin!
QUICK LINKS:
THE ART TOUR:

Stop 1 – Alleyway behind 1960-2072 Danforth Ave.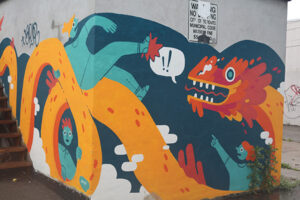 Art Title: Nookfest Laneway Transformation
Year Created: 2018
Artist: various
This laneway was filled with murals as part of the 2018 Nookfest, featuring the work by some of our favourite east end mural artists. This is a great example of how public art can transform laneways, bringing brightness and colour to forgotten urban spaces. One of the artists you may recognize is Monica Wickeler, and you can hear her discuss the project in the video below.
Stop 2 – Railway underpass near Gerrard St. East & Woodbine Ave.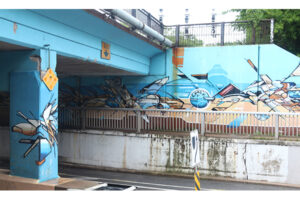 Art Title: The Radi'aal Encompass
Year Created: 2014
Artist: Mediah (Evond Blake)
This mural, The Radi'aal Encompass', depicts dynamic movement and togetherness and represents the entrance way into the surrounding communities. Artist Mediah (AKA Evond Blake) has worked all over the east end, and this underpass mural is echoed in a nearby signal box. Can you find other examples of Mediah's work in the east end on your journeys through Local Discoveries?
Stop 3 – Gerrard St. East and Glenmore Rd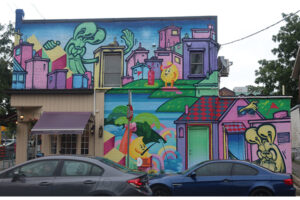 Art Title: Untitled
Year Created: 2018
Artists: Poser & Jieun June Kim
A collab between mural artists is always a great chance to see the combination of two styles – in this case Poser and Jieun June Kim are both known for their vibrant colour choices and whimsical themes, and this example of collaboration makes this growing retail block all the more vibrant for having both of their styles represented. Check out the video below to hear from the artists!
Stop 4 – Along Gerrard St. East from Rhodes Ave. to Craven Rd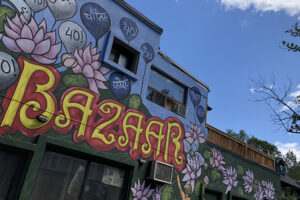 The Gerrard India Bazaar is one of Toronto's most colourful neighbourhoods, and not just because it's full of sari shops, and all the sights and sounds of east Toronto's vibrant  South Asian community. This is a neighbourhood with a serious love of murals! Check out the work of some great  Toronto street artists – we've listed a few of our favourites on this stop – and make sure you tag us in any others you love in this mural-loving  neighbourhood when you post! Check out the video featuring Monica Wickeler discussing the "Women on the Walls" project from 2017.
There are four murals on this block, and we encourage you to pay them all a visit. Here's where to find them.
Stop 5 – Alley on the south side of Gerrard between Craven Rd. and Rhodes Ave.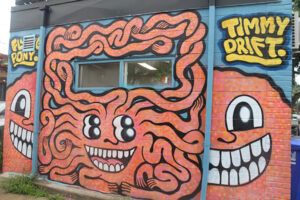 Art Title: Graffiti Alley East
Year Created: 2015
Artists: Monica Wickeler, Nicolas Sinclair, Tim Skynz & Eskape Reality Collective, Kerry O'Meara, Angel Carrillo & Minha Maconha
In 2015 East End Arts, The Gerrard India BIA, and The City of Toronto came together to transform the alleyways on the south side of Gerrard between Craven Rd and Rhodes Ave. Lead Artist Monica Wickeler and a team of local artists transformed the laneway walls facing a highly-trafficked parking lot in the middle of the Gerrard India Bazaar. Check out the video below to hear more from lead artist Monica Wickeler.
Stop 6 – Jones Underpass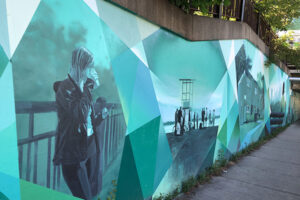 Art Title: Jones & Boultbee
Year Created: 2020
Artist: Jason Pinney
Eastview Youth participated in discussions around what to show in this mural, part of the series of murals that adorn the walls of some of the underpasses along the east end rail corridor. Vibrant greens reflect the growing Blake/Boultbee community, and the artist's work as a photographer influenced the scenes depicted in each section of the mural. 
 Check out the video below of artist Jason Pinney discussing the project!
Stop 7 – Underpass at Gerrard St. East and Carlaw Ave.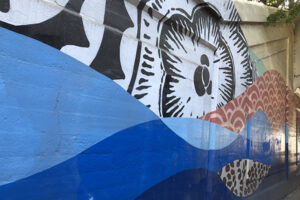 Art Title: Like a River (Gerard St Underpass)
Year Created: 2018-2019
Artist: Kristen McRea, Julian Palma and Victoria Day
Another underpass, another amazing opportunity for public art! This underpass has featured the work "Blue Fire" by Derrick Revington since 1996, but in the last few years has seen a total transformation thanks to The Bridges To Art program, led by Councillor Paula Fletcher's office, and in consultation with local communities – and what a transformation it is! 
 Check out the video below with Kristen McRae to learn more about the project.
Stop 8 – Carlaw Dog Park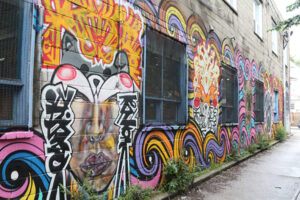 Art Title: Carlaw Dog Park & The Gerrard St Swirls
Year Created: 2019-2020
Artist: Flips
You may have noticed along Gerrard, a series of swirls, painted in vibrant colours adorning the walls of various businesses. If you continue along Gerrard, you'll notice more swirls, as we approach the Carlaw and Gerrard Dog Park, and an amazing tribute to local pooches! To learn about the mural in the dog park and the man who makes the swirls, check out the great video below featuring artist Flips.
Stop 9 – Parking lot at 661 Gerrard St. East, Alleyways at 585 Gerrard St. East, 588 Gerrard St. East, 349 Broadview Ave.  & Gerrard St. East and Hamilton St.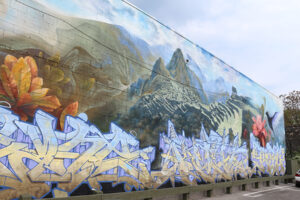 Art Title: The Seven Wonders of Chinatown East
Year Created: 2016
Artist: Coordinated by Mike "Wunder" Kennedy
All the Wonders of the World in Chinatown East! Chinatown features some massive  murals, including a series devoted to iconic wonders from around the world. A team of 22 artists worked to create this tribute to global cultures.  Many people from these cultures find their homes here in Toronto! Check out the video below of artists discussing the project!
Mural Project Featuring:
Stop 10 – Queen Alexandra Middle School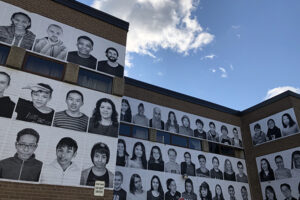 Art Title: Inside Out Photo Project
Year Created: 2020
Artist: Coordinated by Daniel Lui
Almost 200 portraits of students and staff line the wall outside Queen Alexandra Middle School in Toronto.
 The Riverside school is now part of a global art project called INSIDE OUT by artist JR representing inclusion, diversity and community. Art Project Coordinator Daniel Lui says, "given the unique cross-section of all the communities that converge on our school, I wanted to create the opportunity for them to show themselves to the community; and for the community to see what our school is about." Don't forget to check out the back of the school, by walking just a little east on Dundas.
Stop 11 – Joel Weeks Park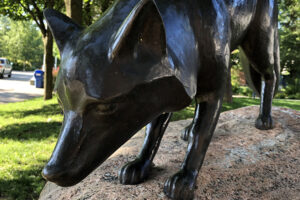 Art Title: Echo
Year Created: 2015
Artist: Mary Anne Barkhouse
Just north of Queen St. East you'll find Joel Weeks Park featuring Mary Anne Barkhouse's statues of Canadian Wildlife. There's a fox, a beaver, and of course, four squirrels worshipping a giant acorn. Barkhouse's work is whimsical and reminds us of our proximity to the natural world. Asked once why the squirrels are worshipping a giant nut, Mary Anne responded, "Why wouldn't they?"
ARTSKOOL EDUCATION GUIDES!
ArtSkool Education Guides offer kids and kids at heart an additional fun way to engage with our public-facing programs, and learn something new! There are five editions in total, each complementing a different East End Arts program. Inside each guide you'll find fun activities for kids, interesting facts and history lessons, and so much more. Print off your guide, put on your running shoes, and go set off on an adventure with your family and friends to check out some cool public art in your neighbourhood!
You can download the Local Discoveries Tour #2 Guide HERE and print it at home. Alternatively, you can find ArtSkool Guides available at the front desk of all east Toronto libraries from Broadview to Victoria Park!
To access all of the ArtSkool Guides, visit HERE. ArtSkool packages are a part of ArtworxTO. ArtSkool educational material has been created by Marietta Fox, while ArtSkool design and illustrations were completed by Chelsea Virginia.
FUNDERS:
Local Discoveries is part of #ArtworxTO: Toronto's Year of Public Art 2021–2022 and a Signature Project of the City of Toronto's Cultural Hotspot.
ABOUT CULTURAL HOTSPOT
The Cultural Hotspot shines a spotlight on arts, culture and community in Toronto's outside-the-core neighbourhoods through workshops, exhibits, activities, and experiences. This City of Toronto and partner-produced initiative features Signature Partnership Projects and SPARK Projects that and provide opportunities for community members to participate in the arts. Youth mentorship and employment is a component of Cultural Hotspot programming. Since its inception in 2014, the Cultural Hotspot has highlighted Scarborough, Etobicoke, North York, East York/East End and York. In 2022, the Cultural Hotspot moves to a hyperlocal model with a focus on Little Jamaica and the Golden Mile.