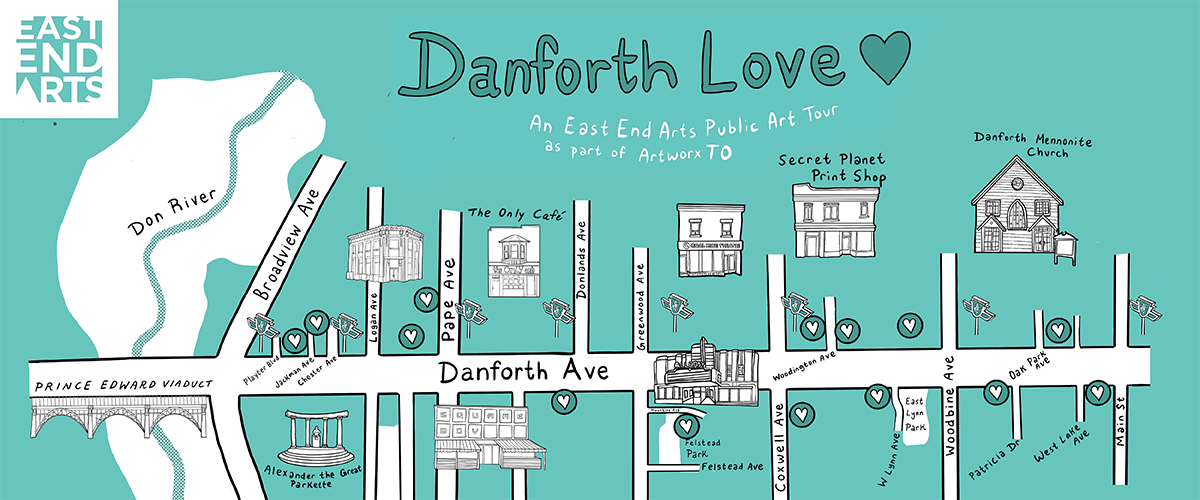 Local Discoveries, as part of ArtworxTO
Tour #1 – Danforth Love / #EastEndLove
Distance: 4.9km
Time: 1.25hr walking
Starting at Broadview and Danforth and travelling east, you will see a lot of #EastEndLove on display for this first route of our Local Discoveries walking tours! Along this route you'll discover work that celebrates our connections to one another, to our neighbours, and how unstoppable we are as a force for collective good. This route is a great excuse to check out the new Danforth Bike Lanes as part of #DestinationDanforth, or you can hop on the subway and use a two hour transfer to explore.
This tour is approximately 4.9km long, and should take about an hour and a half by foot.
HOW TO ACCESS ON MOBILE:
Download the Driftscape App on your mobile device
Search "EastEndArts" (all one word) in the top search feature
Click on the Danforth Love Tour, which starts where Danforth Avenue and the Don Valley Parkway cross on the map (at the Bloor Viaduct Bridge)
Click "Start Tour" in the bottom right, and start your tour!
HOW TO ACCESS ON DESKTOP:
Click HERE to access the Driftscape Web App for this tour
Click "Start the Tour" and begin!
QUICK LINKS:
THE ART TOUR:

Stop 1 – Bloor Viaduct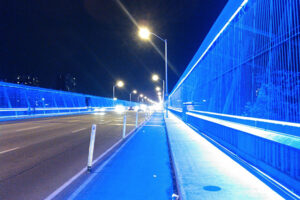 Art Title: Luminous Veil
Year Created: 2003
Artist: Derrick Revington
The gateway to public art on The Danforth is also one of Toronto's most famous – and most powerful – pieces of public art. The Luminous Veil is a beautiful combination of form and function – learn more about it from this video, created by The City of Toronto. 
 Stop 2  – 270 Danforth Ave.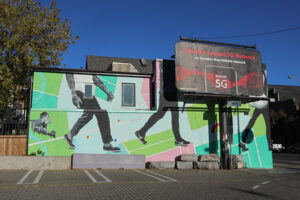 Art Title: Neighbourhood Love
Year Created: 2020
Artist: Monica Wickeler
The first mural in the #DestinationDanforth series that started in summer 2020. Neighbourhood Love is by artist Monica Wickeler. This mural celebrates the community around it, showing the vibrancy of the Danforth in its bold colour choices, and featuring large figures of people moving through their day – Check out the video below to learn more and meet one of east Toronto's most prolific mural artists.
Stop 3 – 348 Danforth Ave.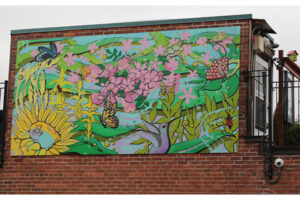 Art Title: Pollinator Murals
Year Created: 2019
Artist: Anya Mielniczek, Marg Cresswell & Brenda Coombs
Toronto loves our pollinators! You'll see murals celebrating them all over the city! These ones are all around Carrot Common, one of the Danforth's most iconic eco-friendly businesses. The City of Toronto's StreetART Program and Carrot Common unveiled these new exterior murals in August. These murals have a common theme of the importance of pollinators and pollination in sustaining life.
Stop 4 – Chester Subway Station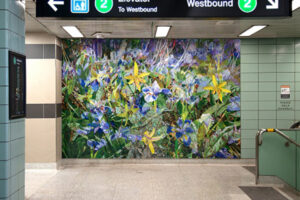 Art Title: Florae
Year Created: 2020
Artist: Katharine Harvey
Florae is a series of wall mosaics and art glass elements inspired by native plants and flowers of the area. Bright, colourful and a welcoming entrance to transit (in case your feet are already sore from walking!).

Stop 5 – 628 Danforth Ave.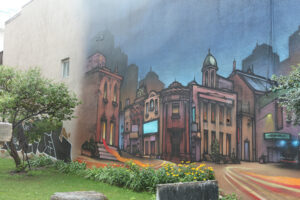 Art Title: Colours of the Danforth
Year Created: 2020
Artist: PoserABM
Another gorgeous mural from 2020's Destination Danforth project – Colours of the Danforth by prolific street artist PoserABM celebrates all the light and energy of the Danforth. Located beside the iconic architectural work that is Holy Name church, this work features PoserABMs signature architectural style depicting the Danforth at night. Which buildings do you recognize from the neighbourhood shown in this mural? Want to learn more and meet the artist? Check out the video below.
Stop 6 – Alley beside 702 Pape Ave.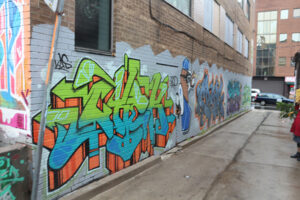 Art Title: Alley Jam
Artist: Spyone, Roland, Beastfrumthaeast, 3tr_t, dontspeak & Cker, Nick Sweetman
Check out this awesome alley jam featuring some of Toronto's old school graffiti artists, transforming an alleyway into a work of art! Alley Jams are a great way for a group of artists to transform spaces like laneways and alleys, and sometimes those jams are official and supported by various programs of the City of Toronto, but sometimes a group of artists just get together and…jam!
Stop 7 – 975 Danforth Ave.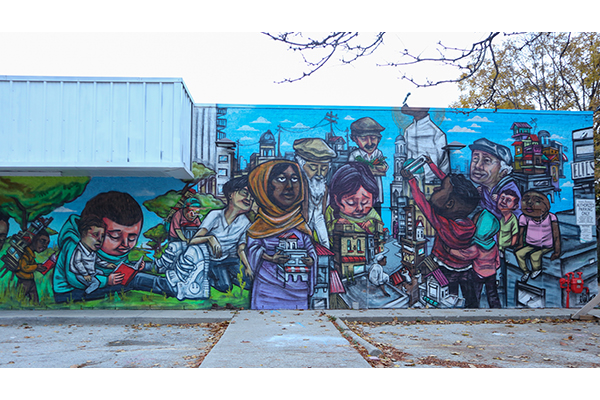 Art Title: Giants of the Danforth
Year Created: 2020
Artists: Elicser Elliott with Spyone, Flips, Maysr & Sight
Giants of the Danforth features the work of internationally renowned Toronto artist Elicser Elliot, and follows his signature style. Elicser hangs out in the neighbourhood of his murals, watching the people who call the place home and elevating their small moments into larger than life, colourful celebrations of life. Watch the video below to learn more.
 Stop 8 – 975 Danforth (rear)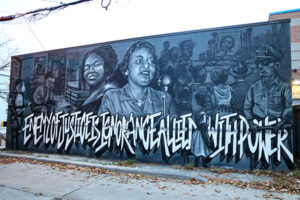 Art Title: 2020-1955
Year Created: 2020
Artists:  Elicser Elliott, Spyone, Sight & Nick Sweetman
The colours of the street are contrasted with the black and white and grayscale realities that are too often the case in our world on this additional mural at the back of 975 Danforth. This mural challenges the public to remember that "the enemy of justice is ignorance allied with power." Hear from two of the artists involved in the video below.
Stop 9 – Laneway along Felstead Park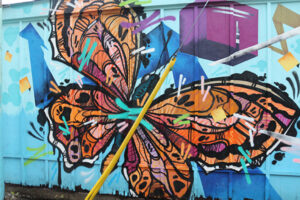 Art Title: Butterfly Laneway
Year Created: 2019
Artist:  Nick Sweetman & Others
This colourful laneway has been transformed, just like the butterflies that adorn its walls!  While you explore you can hear from Nick Sweetman himself in the video below.
Stop 10 – Monarch Park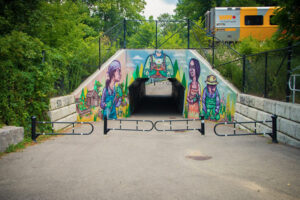 Art Title: Monarch Park Tunnel
Year Created: 2014
Artist: Elicser Elliot
Monarch Park is just one of the amazing art-filled parks in the east end! This tunnel mural by Elicser is from all the way back in 2014, and may be getting a little refresh in 2021, so keep your eye on it! Want to hear from Elicser himself about this mural? Check out the video below.
Stop 11 – Coxwell south of Danforth Ave., on side of TTC yard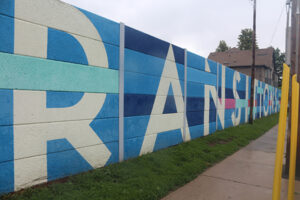 Art Title: Transitions Mural
Year Created: 2015
Artist: Sean Martindale
The TTC is home to some incredible works of public art in Toronto, and the pieces in the next two stops are connected to transit! Here, acclaimed artist Sean Martindale worked with East End Arts to create a new mural for the east end community: "Transitions is a community mural that recognizes the changes this east end neighbourhood is in the process of undergoing, and the further transformations that are anticipated for the near future. That the word 'Transit' can also be found in the longer 'Transitions', is a playful nod to the fact that the mural wall is on TTC property and close to Coxwell Station." – Sean Martindale.
Stop 12 – 1621 Danforth Ave. (Green P lot)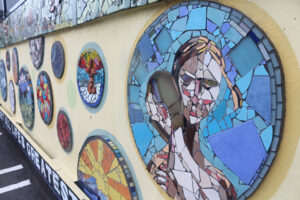 Art Title: Coxwell Mosaic Mural: Pods through Time
Year Created: 2016
Artist: Cristina Delago
The Coxwell Laneway Mosaic Mural is a community art project that was completed during the Summer and Fall of 2016. It was imagined with input from neighbourhood consultations, designed by lead artist Cristina Delago, and created with the assistance of youth and emerging artist trainees and community volunteers. The mural aims to celebrate the life and spirit of the community. To hear Cristina discuss this mosaic project and how it was made, watch the video below.
Stop 13 – 1716 Danforth Ave.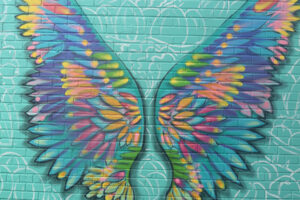 Art Title: Wings
Year Created: 2020
Artist: Monica Wickeler
Check out this colourful and highly instagrammable mural by artist Monica Wickeler! If you snap a pic of yourself in front of this one, don't forget to tag @EastEndArtsTO, and if you want to hear about this mural in Monica's own words, watch the video below.
Stop 14 – 1873 Danforth Ave. (at Aldridge)
Art Title: Mother
Year Created: 2021
Artist: Kizmet
A physical depiction of Mother Earth. Pachamama the goddess of earth and time, planting and harvesting. The embodiment of the mountains, and causes of storms, tsunamis and earthquakes. The ever-present creative power to sustain life on this earth. Be sure to check out this last and final mural addition to #DestinationDanforth in October 2021!
Stop 15 – Alleyway behind 1960-2072 Danforth Ave.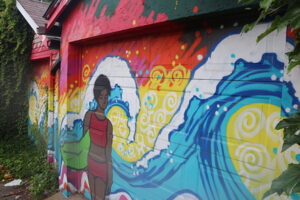 Art Title: Nookfest Laneway Transformation
Year Created: 2018
Artist: various
This laneway was filled with murals as part of the 2018 Nookfest, featuring the work by some of our favourite east end mural artists. This is a great example of how public art can transform laneways, bringing brightness and colour to forgotten urban spaces. One of the artists you may recognize is Monica Wickeler, and you can hear her discuss the project in the video below.
Stop 16 – 2231 Danforth Ave.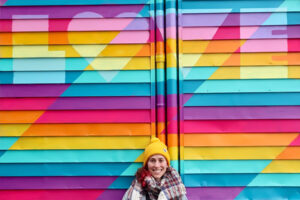 Art Title: Find the Love
Year Created: 2018
Artist: Bareket Kezwer
Located on the side of 2231 Danforth Ave, this colourful mural adds colour and life to the neighbourhood! "With this mural I wanted to celebrate and amplify the pride residents have in the neighbourhood. The vibrant colours and positive message are intended to uplift people and add joy to their day," – Bareket Kezwer.
Stop 17  – 2360 Danforth Ave.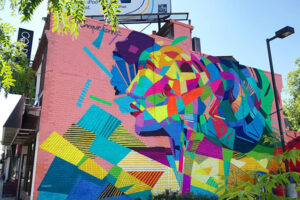 Art Title: Untitled
Year Created: 2019
Artist: Jacquie Comrie
Jacquie Comrie's work is vibrant and colourful, and forms some of the most beautiful and uplifting pieces in the city. This work reflects the diversity of the communities around The Danforth. Check out the video below created by The Danforth Mosaic BIA, to hear from the artist in her own words.
Stop 18 – 2451 Danforth Ave.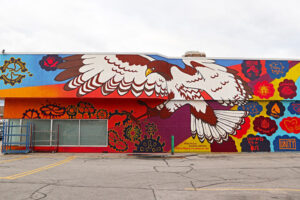 Art Title: Resilience!
Year Created: 2021
Artist: Caitlin Taguibao, Lara Lucretia Mrosovsky, and Xuan-Yen Cao
The last stop on your route is also the final piece in the #Destination Danforth project, installed in 2021. The concept for this mural acknowledges and celebrates past and present anti-racist actions, as well as the resilience of the community coming together to collectively address and combat racism. The images in the mural express the body of knowledge and lived experiences of the community and include artwork made by community members as part of EEA s 2019 printmaking series, #EastEndLove.
ARTSKOOL EDUCATION GUIDES!
ArtSkool Education Guides offer kids and kids at heart an additional fun way to engage with our public-facing programs, and learn something new! There are five editions in total, each complementing a different East End Arts program. Inside each guide you'll find fun activities for kids, interesting facts and history lessons, and so much more. Print off your guide, put on your running shoes, and go set off on an adventure with your family and friends to check out some cool public art in your neighbourhood!
You can download the Local Discoveries Tour #1 Guide HERE and print it at home. Alternatively, you can find ArtSkool Guides available at the front desk of all east Toronto libraries from Broadview to Victoria Park!
To access all of the ArtSkool Guides, visit HERE. ArtSkool packages are a part of ArtworxTO. ArtSkool educational material has been created by Marietta Fox, while ArtSkool design and illustrations were completed by Chelsea Virginia.
FUNDERS:
Local Discoveries is part of #ArtworxTO: Toronto's Year of Public Art 2021–2022 and a Signature Project of the City of Toronto's Cultural Hotspot.
ABOUT CULTURAL HOTSPOT
The Cultural Hotspot shines a spotlight on arts, culture and community in Toronto's outside-the-core neighbourhoods through workshops, exhibits, activities, and experiences. This City of Toronto and partner-produced initiative features Signature Partnership Projects and SPARK Projects that and provide opportunities for community members to participate in the arts. Youth mentorship and employment is a component of Cultural Hotspot programming. Since its inception in 2014, the Cultural Hotspot has highlighted Scarborough, Etobicoke, North York, East York/East End and York. In 2022, the Cultural Hotspot moves to a hyperlocal model with a focus on Little Jamaica and the Golden Mile.