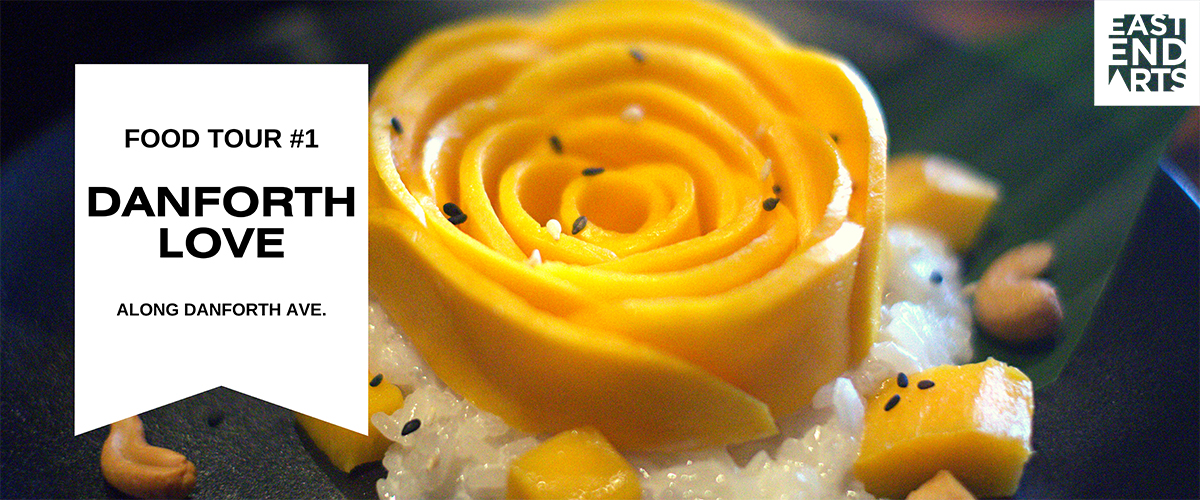 Local Discoveries Food Tours, as part of ArtworxTO
Food Tour #1 – Danforth Love along Danforth Avenue!

Introducing our Local Discoveries Food Tours to complement each of our Local Discoveries Public Art Tours! Going along Danforth Avenue, the theme for this first tour is "Danforth Love", and wow are there tons of restaurants and tasty spots along Danforth Avenue that we love. Howard Tam has curated this Food Tour list according to, 1. Great Discoveries, 2. Classics, 3. Tasty Pit Stops, and 4. Honourable Mentions. From Venezuelan meals to Italian baked Cannolis, there is truly something here for everyone, giving you that many more reasons to LOVE the Danforth community and all that it has to offer! Get outside, explore public art, and enjoy tasty food and beverage.
QUICK LINKS:
THE FOOD TOUR!
-GREAT DISCOVERIES-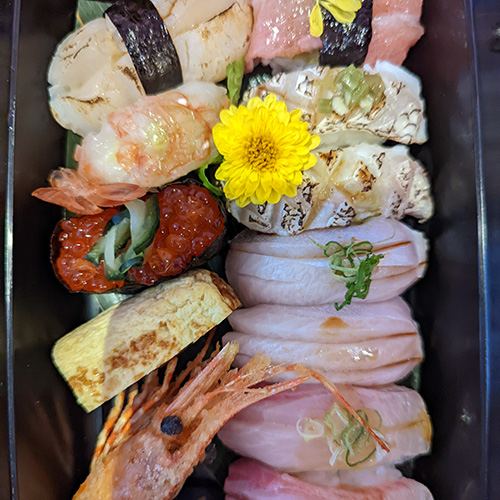 1. Atto Sushi
2231 Danforth Ave, Toronto, ON M4C 1K4
Atto Sushi is small boutique sushi restaurant serving up high-end sushi just east of Woodbine on Danforth. The owner, Levi, is warm and friendly and is keen to talk about his food – high quality fish served with the right amount of detail and no compromises on quality. Levi comes from a sushi tradition – over 15 years experience – including a stint at Japango – one of my favourite places in the downtown core. He opened Atto about a year ago – in the height of the pandemic to focus on high-end sushi – and has gained a steady following. 
I ordered the "Today's Nine" which is collection of 9 pieces of the daily seasonal selection. It comes with one of the most flavourful miso soups I've had and a fresh green salad. The fish is bursting with flavour and is just the right texture, softness and tenderness. The salmon is my favourite. And the dandelion flower on top is the nicest touch. 
An appetizer with a sushi set ranges from $25-60, so be prepared to spend a bit. Atto doesn't currently offer dine-in and is take-out only.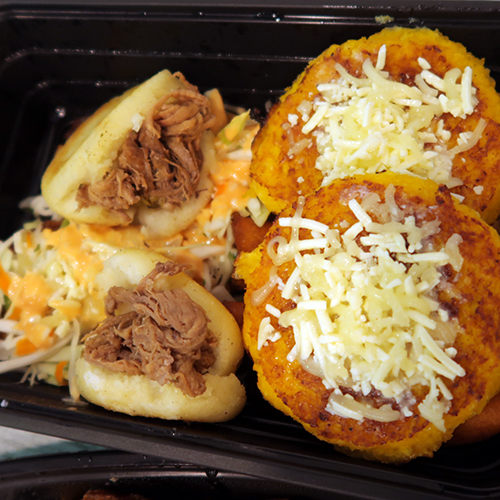 2. El Venezolano
818 Danforth Ave, Toronto, ON M4J 1L6
El Venezolano serves tasty Venezuelan meals from a small joint just west of Jones. From Empanadas, to Tostones, Arepas and Chicharron, it is all cooked fresh from scratch and served by a very friendly chef. The restaurant started as a stall at the Downsview Park Merchants Market. 
Of note here are the Arepas that come with a variety of different fillings such as shrimp or the Venezuelan breakfast that consists of eggs, tomatoes and shredded beef. Also impressive are the Fish Bowl cocktails – massive alcoholic beverages served in a fishbowl-sized glass! 
I ordered the El Venezolanito sampler platter along with the Pargo – fried red snapper dinner. If it's your first time, the El Venezolanito is definitely a good choice as it contains mini versions of their most popular items: Empanadas, Arepas, Patcones, Cachapas and Tequenos. The fish platter comes with 3 sides of your choice. The food is crispy, savoury and delicious. My personal favourites are the mini-arepas that come with the sampler and the patacons that are crunchy and cheesy. The fish is meaty and makes for a very satisfying meal. 
Full dinner platters are in the $18-22 range (which inclides sides) and Areapa sandwiches are anywhere from $8-13.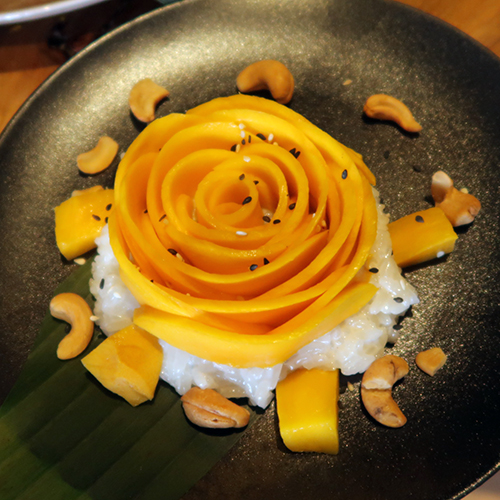 3. Sala Modern Thai Kitchen
1262 Danforth Ave, Toronto, ON M4J 1M6
We've seen many amazing Thai restaurants in Toronto over the years: Pai, Sukho Thai and Jatujak to name a few – that have really elevated the cuisine and changed perceptions of what we should expect. Sala Modern Thai definitely falls into this category – the owner, Chef Mo, delivers tasty flavours from back home that you don't normally find in Toronto (such as Pad Gra Pao – a stir-fry topped with egg and Laab – a minced meat salad) while also getting creative with her ingredients to create truly unique dishes like the Jean's Coconut Noodle.  
Sala is located on Danforth just west of Greenwood in a gorgeous space reminiscent of a tropical cabin. It features cozy décor punctuated by quirky slogans ("Be Bold or Italic, but never regular"), much like the sense of humour of the founder (which one can see on their Instagram – @salakitchen) such as pranking their followers on April Fool's Day with a fake notice of impending closure.
I order the Jean's Coconut Noodles which is a vermicelli dish served with seafood and vegetables. The presentation is remarkable with basil and green onion – and red vermicelli! This is made so with beet juice.  And the taste is definitely next level – very rich flavours. For dessert, I order the Mango sticky rice – which comes in the shape of a flower! I definitely want to go back and try more! 
Appetizers range from $7-14 while mains are $16-18. 
-CLASSICS-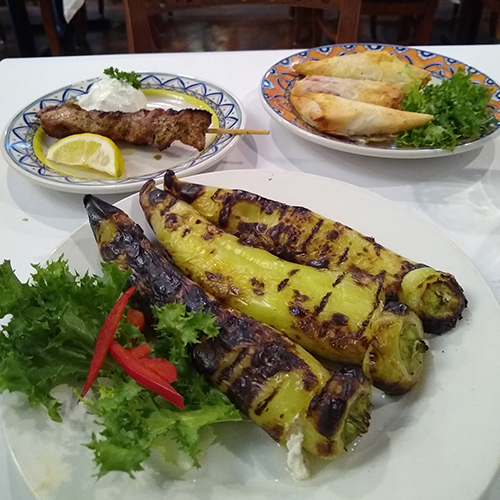 1. Mezes
456 Danforth Ave, Toronto, ON M4K 1P3
Mezes is a neighbourhood favourite in Greektown that focuses on mezes – smaller Greek appetizers that are designed for sharing, but don't necessarily need to be. In fact, I went alone and ordered the assorted Greek pies, a stick of souvlaki and the feta cheese stuffed peppers – a perfect meal combo for one person!
And this is where Mezes really shines – it offers the opportunity for one to mix and match different Greek dishes so that you can try different things than what you would normally find in a typical Greek restaurant. With the variety, it also feels like a real feast with lots of variety when it's all laid out on your table! 
The flavours were rich and the food was fresh. My favourite was the filo pie filled with beet root – it wasn't greasy, had excellent beet flavour and was a welcome change from the heavier, cheese-filled variety. The feta-filled pepers were also quite delectable, but as my server cautioned, it does depend on the season and if the pepper are actually spicy. I definitely wanted to return for a larger meal with friends so I could sample more variety!  
My selection of dishes amounted to $25, and most meze are priced around $10-20.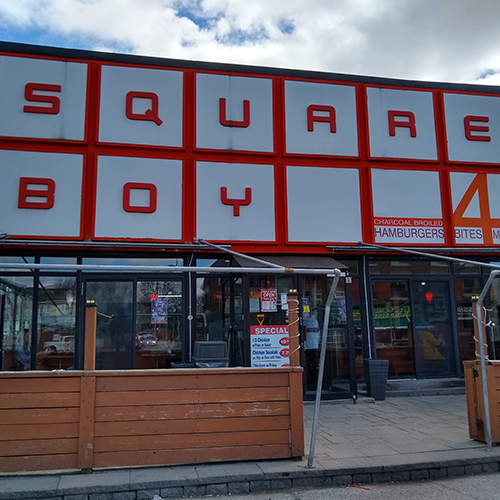 2. Square Boy
875 Danforth Ave, Toronto, ON M4J 1L8
How can we talk about the East End without talking about Square Boy? A true local institution with a loyal following, Square Boy has been serving up burger, fries, souvlaki and shakes since 1964 at the same diner location on Danforth, just west of Donlands. Part of its appeal are its prices – hamburgers for under $4 and souvlaki on a bun for $5.50.   
The current ownership dates from 1984 and is now owned by Jim Syrbos and his family. Featured recently on CBC News as a restaurant owner struggling with food inflation, Square Boy is proud of the fact that they have only raised prices once in the last 5 years and continues to be an affordable and accessible option for the community. 
A popular spot all day, and especially late night, my previous ventures to Square Boy usually feature a homemade hamburger with fries. This time, I order the pork souvlaki platter, which comes with Greek salad and fries for only $10.50. The meal is hearty and filling and just hits the spot. As I sit in a small booth looking around, I can see how much the restaurant means to its community – the staff seem to enjoy cooking the food and know their regulars on a first name basis. 
Prices are truly affordable – a meal with a hamburger, fries and drink will run under $10 with the most expensive item being the whole BBQ chicken at $13.50. Well worth the visit for a quick bite. 
-TASTY PIT STOPS-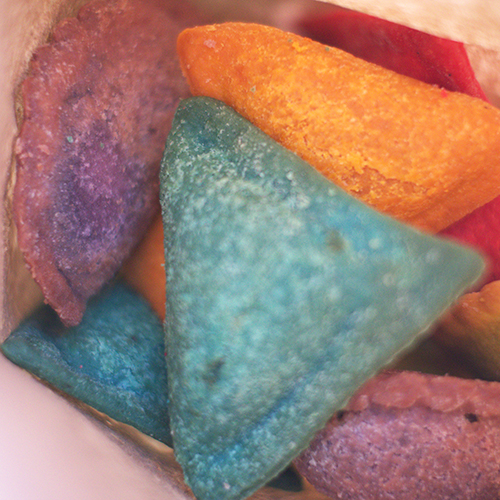 1. The Samosarie
1904 Danforth Ave, Toronto, ON M4C 1J4
For a quick and tasty snack, head over to The Samosarie, 1904 Danforth, just west of Woodbine. As its name implies, they serve samosas – in a samosa emporium – and have an entire collection of multi-coloured samosas with delectable names such as Coral Butter Chicken and Carbon Caribbena Sweet Potato. There's even a handy reference card to help you identify what you're craving. 
In case you missed it, this is the same location as the former East of York Gourmet, whose owner, Ashvin recently pivoted to focus on samosas and to go items like soup, cookies and chutney. It's pretty obvious that this is a true labour of love – the samosas are high quality and being able to come up with 16 different varieties shows a deep level of commitment and creativity to the art. 
I order the pack of 12 and choose a mix of flavours including Vegan Green Saag Paneer, Jamaican Inspired Beef Patty and Island Blue Jerk'd Chicken. They're hot and bursting with flavor. My favourite is the Vermillion Tandoori Chicken and I definitely want to go back to try the Mole Verde Chicken Empanada! While you're at it, check out the mural Mother by Kizmet across the street at the Midas.
A dozen samosas is $11.95 at Samosarie and well worth the quick stop.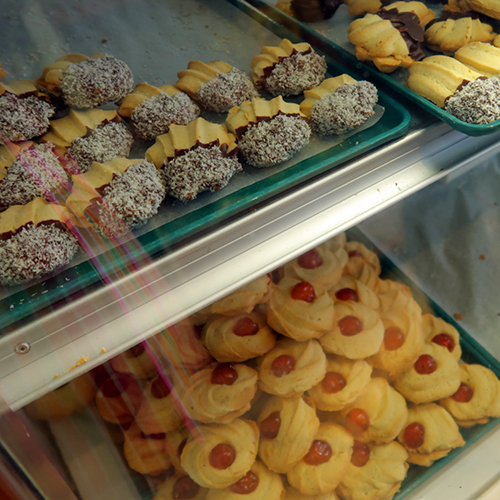 2. North Pole Bakery
1210 Danforth Ave, Toronto, ON M4J 1M6
There's cannoli – a really wonderful dessert of a crispy dough tube shell filled with sweetened ricotta – and then there is Cannoli from North Pole Bakery – a small Italian bakery near Danforth and Greenwood. As BlogTO describes it – it is truly a "shrouded gem".  
This is Cannoli like no other in Toronto – it is made fresh to order every single time. I still remember my first trip to North Pole many years ago. I walked in expecting to see cannoli stacked high inside a glass refrigerator – as is the case with many Italian bakeries. Not here- there is nothing of the sort displayed in the glass cases. After you place your order, the staff will then go to the back and hand fill the shells right then and there. It makes for a really fresh and crispy taste – like it was intended. After witnessing this, I have been coming back again and again whenever I have a craving for a crispy, cheesy dessert. 
As is always, I order a small box of cannolis to take away. At $2.50 a pop, it's totally a steal for this level of quality and passion. I savour every bite and I would encourage you to make the pilgrimage to do the same. Well worth it.
-HONOURABLE MENTIONS-
1. Messini Authentic Gyro
445 Danforth Ave, Toronto, ON M4K 1P2
If you're looking for one of the best places in the city Greek Gyros, head on over to Messini on Danforth, near Chester. The staple here are tasty, pita wrapped chicken, pork or lamb Gyros, served street-style with tomato, onions, tzatziki and fries. For added amazingness, get the Greek Fries – fries topped with feta, olive oil and oregano – makes a perfect meal. For those with a bigger appetite, Gyros and souvlaki platters are also on offer. Gyros Sandwiches: $8-11, Platters $16-24.  
2. Budapest Restaurant
2183 Danforth Ave, Toronto, ON M4C 1K4
If you're hankering for some good Hungarian food, head over to Budapest Restaurant on Danforth near Woodbine where you'll dine in a Hungarian tavern setting. They've got a really complete menu here including goulash, schnitzel, perogies and paprikash. The pork paprikash with a side of cabbage rolls is absolutely delish and the restaurant is also known for their schnitzel. Most mains are in the $18-20 range.