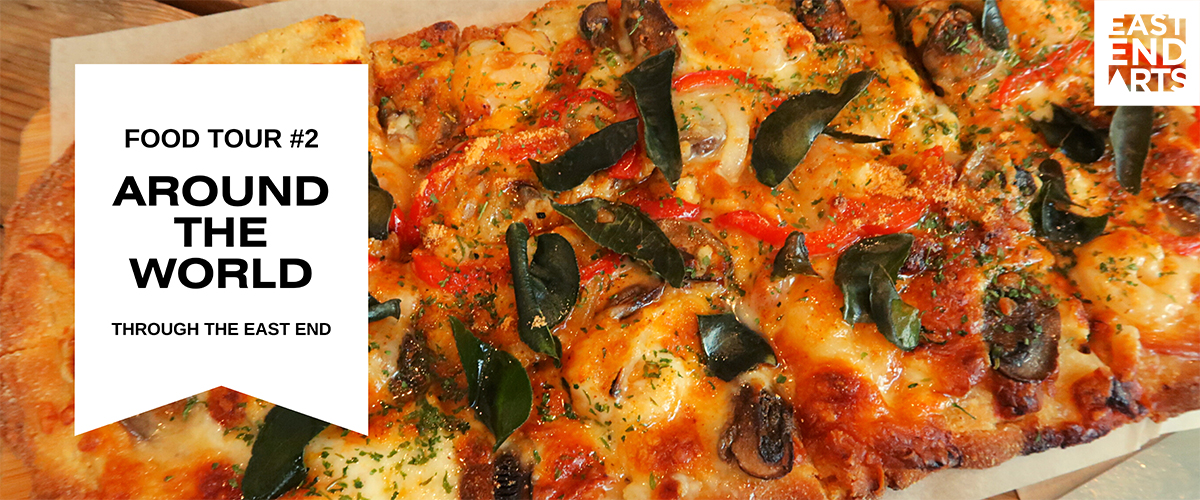 Local Discoveries Food Tours, as part of ArtworxTO
Food Tour #2 – Around the World, through the East End!

Introducing our Local Discoveries Food Tours to complement each of our Local Discoveries Public Art Tours! This second Food Tour takes us on a journey through the east end where we get to celebrate the awesome diversity of global cultures that find their home in east Toronto, through food! Howard Tam has curated this Food Tour list according to, 1. Great Discoveries, 2. Classics, 3. Tasty Pit Stops, and 4. Honourable Mentions. From Japanese ramen to delicious Indigenous dishes, we invite you to try a new cultural food you may have never tried before!
QUICK LINKS:
THE FOOD TOUR:
-GREAT DISCOVERIES-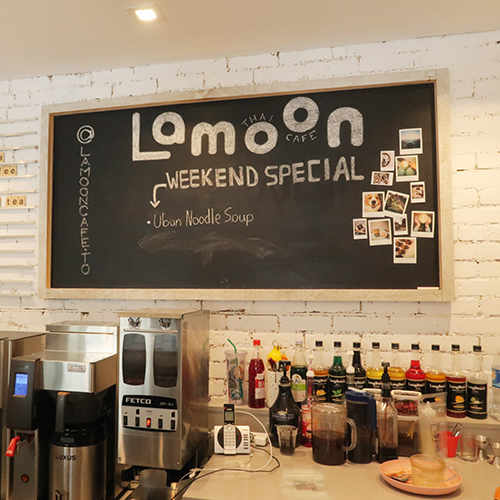 1. Lamoon Thai Café 
713 Gerrard St E, Toronto, ON M4M 1Y5
Lamoon Thai Café is a gorgeous and really cute space located on Gerrard between Broadview and Carlaw. The focus here is on Thai-inspired café food and drinks served in a modern and very photogenic vibe. The inspiration are similar modern cafés from back home in Thailand. For those who have been following this location, Lamoon is also a recent name change – the café used to be known as Nam Wan, by the same owners. 
The owners are a husband and wife team with previous experiences in Thai restaurants and professional design. To stay true to the flavours they want guests to experience, they import many of the ingredients direct from Thailand such as the powder for their Blue Sky and Pandan Lattes. There is a focus on sustainability where they are always on the lookout for more environmentally friendly options for take out – such as their recent switch to string cup holders. As a nod to the community they come from – there is a little shelf on the side sells adorable accessories created by Thai artisans. 
I want to try everything on the menu but settle for the Basil Toast, Tom Yum pizza and the Pandan latte. The flavours are infused very well as fusion – the toast is just the right amount of basil and cheese with very tender chicken. The runny egg adds amazing flavour. The Tom Yum Pizza tastes exactly like what would happen if tom yum soup were layered on to a pizza! The latte is lightly sweet and pandan-ly delicious. 
Definitely visit for a tasty and different hot drink, or to relax on a weekend afternoon. Prices range from $4-7 for the drinks and $15-25 for the meals/snacks.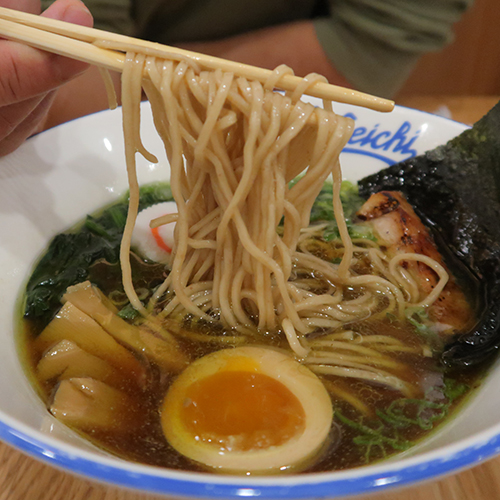 2. Oji Seichi
354 Broadview Ave, Toronto, ON M4M 2G9
Oji Seichi is a Japanese ramen restaurant that opened at its Broadview and Gerrard location in 2021. The name means Uncle Seichi, which references one of the co-owner's uncle who was an inspiration for the restaurant. Oji Seichi serves some solid and tasty ramen, with some Godspeed Brewery drinks (including their non-alcoholic iced teas!) available on the side. 
One of the co-owners is Chef Mitch Bates who previously worked as the chef at Momfuku Shoto in Toronto, so I immediately know that this place is serious about their ramen. The menu includes a good selection of ramen bowls such as usual Shio and Shoyu, a veggie option and a healthy selection of sides: Gyoza, Chicken Wings and Seaweed Cucumber Salad. 
I order the Shoyu and begin to admire the wonderful decor. The space is very clean, and is trying to evoke a modern, slicker version of an old school ramen bar in Japan. There are a lot of beautiful touches including the mural paying homage to Japanese baseball, East Chinatown and Uncle Seichi, the paper cranes above the cash register, the re-imagined lucky cat and the merch section where everything is on brand and colour. 
The ramen arrives. It is deeply flavourful, with a good chunk of chashu pork and all the tastiest fixins' – bamboos shoots, a really well made (and runny) soy egg, fish cakes, spinach and nori. My only comment is on the oiliness of the broth (a touch on the oily side for me), but other than that, it's a solid and highly recommended ramen. And don't take my word for it, just google Oji Seichi for some other pretty glowing online reviews. 
Ramen bowls run $17-19, Sides are about $5-11. 
-CLASSICS-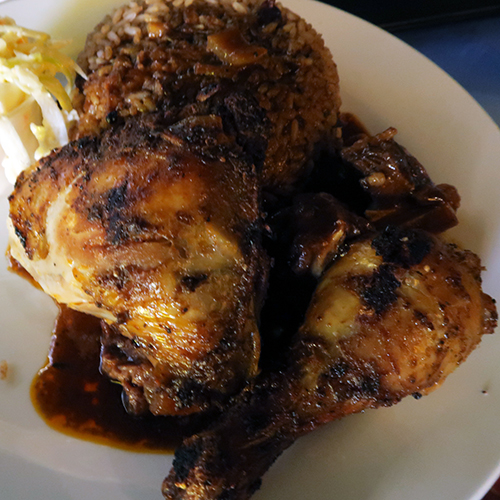 1.The Real Jerk
842 Gerrard St E, Toronto, ON M4M 1Y7
A true community institution, the Real Jerk has been serving up Jamaican dishes in the East End since 1984. Its current location at Gerrard and Carlaw dates from 2013, but many people still remember the original iconic store at Broadview and Queen that closed in 2012. But of course the new store has been making its own story – it was famously used as the backdrop for Rihanna and Drake's 2016 hit song Work.
Inside, the space has been designed to look like a Jamaican street, complete with corrugated steel panels and graffiti. The restaurant is spacious and I can immediately see how they could've dressed it up as a nightclub for the music video. Indeed, it is a restaurant that is deeply proud of its history – printed directly onto many of the tables is the story of how the restaurant came to be, including photos and the story of that famous day when Drizzy and RiRi showed up. 
On the menu are classic Jamaican dishes including jerk, oxtail, curry, roti and ackee & saltfish. Platters come fairly large and if you're not super hungry, can easily feed 2. Everything looks good and it can be hard to decide. 
Loving both jerk and oxtail, I settle on Jerk Chicken and Oxtail Combo, which comes with 2 sides. The Jerk and oxtail are excellent – stewed and BBQ-ed right and with the classic flavour of rice and peas & coleslaw to go along with it. To top things off, I also order a side of Cod Fritters and Plantains – they fritters are crunch and full of flavour – and how can any Jamaican meal be complete without fried plantains? Solid. For the right vibes, flavours, prices and a great famous story to boot, definitely head over to The Real Jerk – not to be missed! 
Meals run about $15-30, Appetizers $3-13, open everyday.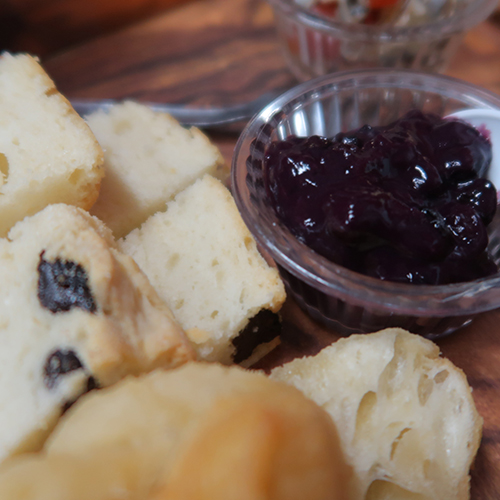 2.Tea & Bannock
1294 Gerrard St E, Toronto, ON M4L 1Y7
As the name implies, Tea & Bannock serves these two comfort favourites, along with a variety of indigenous dishes in a friendly, casual setting. As one of the few indigenous restaurants in Toronto (even fewer ever since NishDish closed) it is definitely a must try, especially if you are like me and have never sampled cedar tea or bison burgers! 
Tea & Bannock is the creation of Enos Miller and indigenous Chef Thomas Norton. The food is a homage to indigenous tradition and ingredients – from 3 Sisters Soup to wild caught Pickerel and Smoked Arctic Char – sourced directly from Nunavut. Unique dishes include the Navajo Tacos (Beef chili with toppings served on frybread) and the bison stir-fry with wild rice. You can then sit back with some really flavourful Cedar or Labrador Tea (a wild herb with health benefits) and just chill.
As it was my first time, I ordered the Sampler Platter which comes with bison sliders, smoked arctic char, wild blueberry jam, wild rice sampler, mini-bear paws and, of course, lots of bannock! The food is sumptuous – the arctic char is really smoky and divine with the bison sliders tender and a little crispy being served on a bannock bun. I've loving the flavours of the wild rice and completing the meal with the crispy bear paws and Cedar tea seals the deal. I'm definitely coming back for more Char and the salmon dinner on wild rice.
Platters run from about $20-32 while smaller items like the Bison burger or Navajo Tacos are about $8-15. Open Thursday to Saturday only.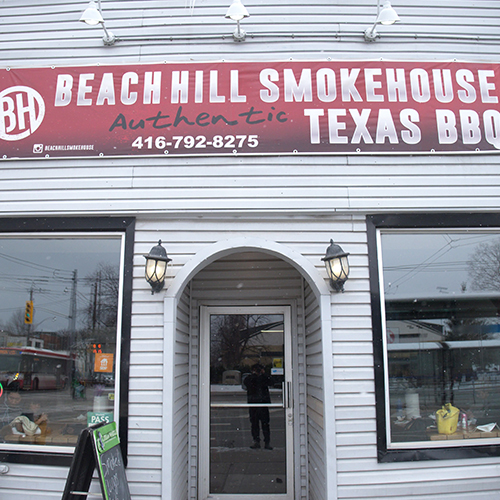 3. Beach Hill Smokehouse
172 Main Street, Toronto, CA M4E 2W1
Beach Hill Smokehouse is a Texas-style BBQ restaurant that conveniently has 2 locations in the East End – their main one on Main at Gerrard, and a second location on Danforth close to Chester. Born out of a love for Texan BBQ, Beach Hill is a homage to the Central Texan style that originated in Lockhart, Texas. 
Founded by co-owners Darrien List and Terrence Hill, you'll find a smokehouse food hall vibe complete with picnic tables, BBQ-friendly slogans and a food served by the ½ pound on plastic trays covered with butcher paper. A 7,000 pound smoker in the back creates these wonderful carnivorous treats day and night. Upon entering, one in inundated with the smell of char and meat smoking and, if you were hungry like me, your mouth will start to water!
On the advice of the staff, I order The Austin, a beef brisket sandwich that is topped off with a pork rib on the side. I add a side of smoked chicken wings & the Deviled Egg Potato Salad (was told that this was a must try) and I finish it off with the Banana Pudding. The Austin lives up to its hype – tender beef brisket topped with BBQ sauce on a really soft bun. It pairs will with the egg potato salad, which is creamy and smooth with flavour of deviled eggs as well as the wings which are juicy with a light touch of smoke. The Banana Pudding is devilishly delightful – rich with banana flavour, sweet and creamy at the same time – it's like eating a really creamy Banana Cream Pie. I savour every bit and immediately plan my return trip in the near future. Beach Hill is definitely a place not to be missed by BBQ fans.
Prices are very reasonable for the quality of food: the brisket runs $14.50/half-pound, while ribs are $13.50/half-pound. Sandwiches are $13-15 and sides are $6-11 depending on size.
-TASTY PIT STOPS-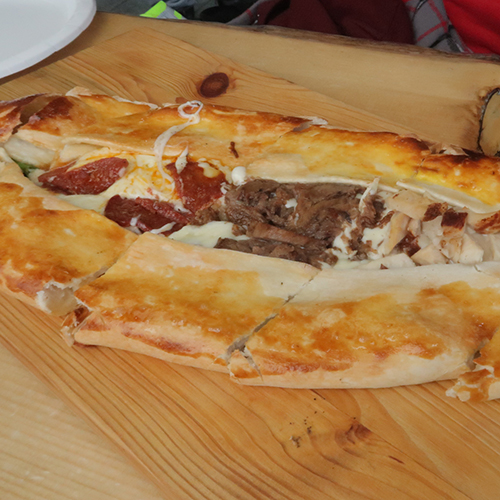 1.Pizza Pide
949 Gerrard St E, Toronto, ON M4M 1Z1
Pizza Pide was one of the first restaurants in Toronto to sell Pide – Turkish-style pizza in a quick service setting. Don't judge this place by its looks – it is truly the food that matters here – and a variety of different flavours to choose from. 
Pide comes as an elongated, football-shaped dough crust topped with cheese and different meats and vegetables. Pide traces its history back to the 1850's when bakers in a Turkish Black Sea town started to stuff their breads before baking it. It typically does not utilize tomato sauces. Toppings have a more Turkish or Mediterranean twist and can include lamb, spinach & feta, lahmacun, ground beef, eggs or beef pepperoni. At Pizza Pide, there are over 20 different topping combinations to choose from!  
If it's your first time, you can order the Karisik, which is an assorted pide that samples all of the most popular topping combinations. This includes lamb, beef pepperoni, spinach & feta and chicken. This is the one I order and it comes piping hot with a 2 slice sample of each topping combo.  
The flavours are absolutely magnificent. It's just the right amount of freshly baked bread, cheesiness, meatiness and savoury. My favourite is the spinach & feta. At $17 for the whole pie, which can easily feed 2 people, it feels like a steal. 
If you happen to be on the Around the World tour, why not stop off in Turkey at Pizza Pide? It is absolutely recommended. Most pides run from $14-18.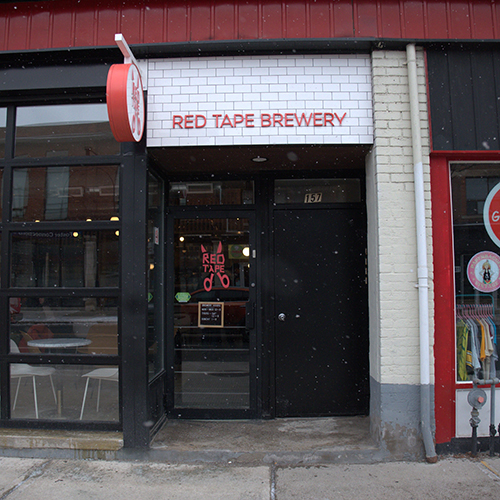 2. Red Tape Brewery
159 Main St, Toronto, ON M4E 2V9
Red Tape is the latest craft brewery to open up in the East End – right at Gerrard and Main. The brewery opened at the height of the pandemic in 2020 and has been growing a steady following for their robust and creative-flavoured brews. The brewery is owned by a husband and wife team – Sean and Sarabeth Holden and is certified as an Ontario Living Wage Employer as well as a member of the Canadian Council for Aboriginal Business. The name refers to the red tape that Sean, who has been homebrewing for over a decade, uses to label the different brews – which one can easily see behind the counter.   
The space is clean and well designed – sharp but still comfortable to sit in and have a quick pint or 2. At the same time, it still carries a strong community vibe as locals, some known by name, wander in to pick up some cans to go. On the recommendations of the really friendly staff, I order the flight consisting of Stout it Out (Dark Coffee Stout), That was Easy (Pale Ale) and the Villano 7 (Lagered Ale). I instantly love the stout – intensely dark and offering a really strong coffee flavour. The ales are also very tasty and That was Easy is a great choice for Pale Ale lovers. Strongly recommended to visit after a very satisfying BBQ meal at Beach Hill across the street. 
Pints for dine-in cost about $6-9 and small cans are around $3.75-$4.50.
-HONOURABLE MENTIONS-
1.Wok and Roast 
349 Broadview Ave, Toronto, ON M4M 2H1
Scrumptious Cantonese Chinese BBQ – what's not to like? Char Siu, Roast pig, duck and chicken hanging in the window is always a good sign of deliciousness – and Wok & Roast does not disappoint – good quality BBQ and value. The Char Siu and the BBQ Chicken Legs on rice make for a good comfort meal after a long day – at very affordable prices. Most rice dishes start at around $10. 
2. Lahore Tikka House
1365 Gerrard St E, Toronto, ON M4L 1Z3
Well known for their tikkas, masalas and curries, Lahore Tikka House is an iconic Pakistani restaurant has been in Little India since the 1990's. The restaurant is a large 2-storey building decorated with beautiful murals, south Asian décor, and their famous bicycle rickshaws (the one inside is a real rickshaw that was actually used by the original owner, Alnoor Sayani – who has since passed – to propose to his wife, Gulshan Alibhai who now runs the restaurant). Definitely try the Daal Gohst – savoury, rich lamb with lentils cooked in a Kharai – goes well with naan or rice. The tandoori is also really solid and the Pani Puri makes a delicious start to any meal. Sharable snacks $11-13, Curries and Tikkas: $14.50-29.
3. Lake Inez
1471 Gerrard St E, Toronto, ON M4L 2A1
Lake Inez is a finer dining establishment on Gerrard just west of Coxwell. Known for their Asian-inspired tapas, you'll find an ever changing menu of delectable small dishes made with fresh ingredients and a touch of flair. At the moment we visited, we had the Tempura'd Eggplant Parmesan – crispy, cheesy and juicy with a really yummy ragu – and the house made Salmon Gravlax, Crudo & Co. – perfectly flavoured and goes really well with the house made soy, capers and roasted wild onions that top it off. It does get busy here on weekends – make sure you book ahead. Dishes run about $16-25.
4. Maha's
226 Greenwood Ave, Toronto, ON M4L 2R2
Famous for their brunch, Maha's is a café serving some of the best Eqyptian comfort food in the city. Try the shakshuka – eggs in tomato sauce with spices, or the basturma scramble for a great introduction to the flavours and cuisine. The Cairo Classic is a really tasty foole served with eggs and fresh pita bread and the Pharoah's Po Boy, topped with tahini and tomeya are a savoury and crunchy treat. And the honey cardamom latte is out of this world amazing. Hot tip: the weekend brunch time does get really busy, so either arrive early or consider going on a weekday (closed Wednesdays). Meals are about $12-19.