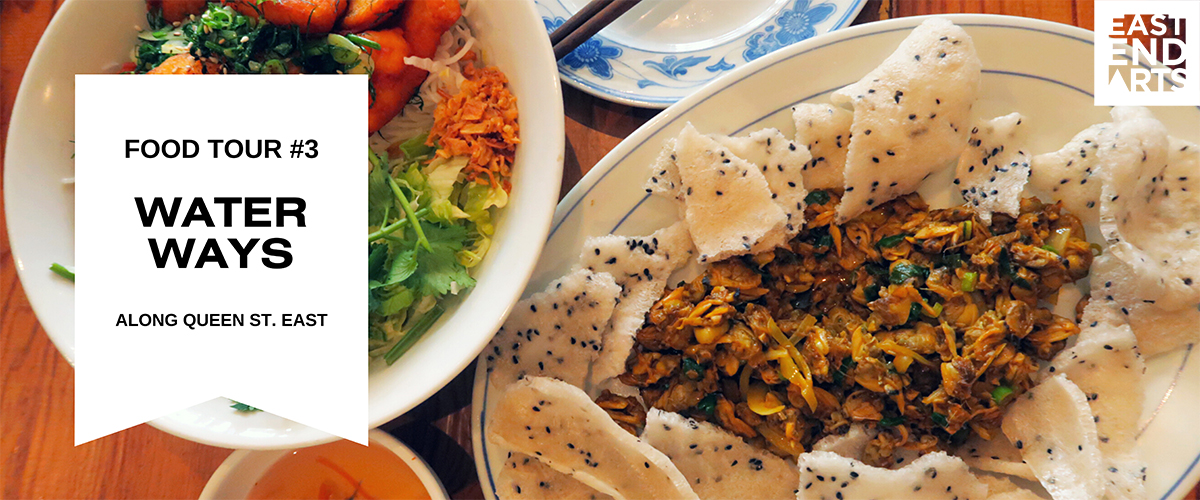 Local Discoveries Food Tours, as part of ArtworxTO
Food Tour #3 – Water Ways along Queen St. East!

Introducing our Local Discoveries Food Tours to complement each of our Local Discoveries Public Art Tours! Our third and final tour was designed to complement our Public Art Tour titled, "Water Ways", which goes along Queen Street East. As you enjoy this last food tour and you're walking along Queen East, we ask you to reflect on your own personal connection and relationship to our water ways. Let's also not forget the very important role that water plays in growing and making the food and beverages we all enjoy. As with our other two food tours, Howard Tam has curated this Food Tour list according to, 1. Great Discoveries, 2. Classics, 3. Tasty Pit Stops, and 4. Honourable Mentions. From Caribbean Fusion to ice cream sandwiches, we know you'll love them all!
QUICK LINKS:
THE FOOD TOUR:
-GREAT DISCOVERIES-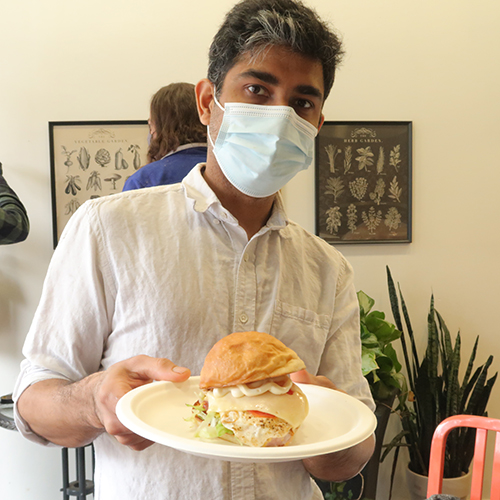 1. Samaira's Kitchen
1056 Queen St E, Toronto, ON M4M 1K5
Don't let the look of this simple and small place fool you – the food here is fabulous with a beautiful origin story. Everything is made in-house – from the burger patties to the pizza to the potato buns. Samaira's is a take over of the former location of Queencity Pizza.
The owner, Chef Rajish and his family, talk about how they bought the business 2 years ago and built it up every step of the way. From the decision to quit over 20 years as a professional chef at the Four Seasons, to crossed business lines as they transitioned the phone number, the struggle to get enough funds to renovate, encountering a generous interior designer who helped them find the right style and how their daughter's teachers and classmates are the biggest supporters and customers, it is a beautiful story of resilience and what it takes to build up a food business from scratch. Samira, by the way, is their daughter's name – and when she is around it IS her kitchen – where she sits with her markers has a commanding view of all the action.
I order the Margarita Pizza and the breakfast sandwich. The crust is crispy and you can taste the freshness of tomato sauce, basil leaves and mozzarella cheese balls. The sandwich is divine and I can see how this would be the great start to a day: fried egg, cheese, lettuce and tomato on a potato bun – fresh and hearty! While the indoor space is small and a little cramped, there is gorgeous bench outside facing Queen Street which makes for nicer café seating in the summertime. 
I bid farewell to my new friends and move on to my next spot – Rajish tells me he has big plans for a patio this year and getting a liquor licence to serve beer. I'm looking forward to that and trying out one of their homemade burgers (which looks scrumptious) on my next visit.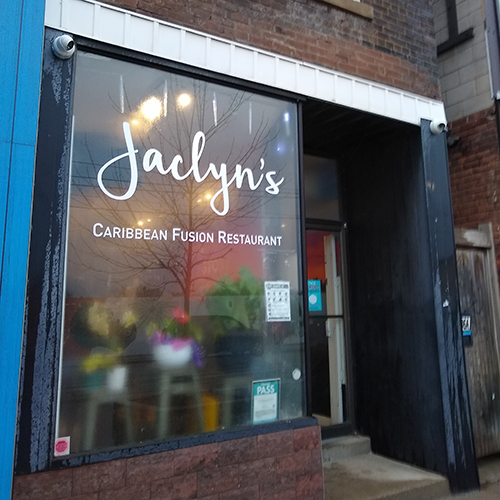 2. Jacklyn's Caribbean Fusion
1588 Queen St E, Toronto, ON M4L 1G1
Jacklyn's Caribbean Fusion is small food stand on Queen just west of Coxwell serving really amazing Jamaican food with lots of passion and love. The eponymous owner, Jacklyn, was previously connected to Tasty's Caribbean on Spadina, but started her own restaurant to fulfil a dream of running her own space. 
The menu isn't very big, but you'll find all of the usual items for a Jamaican place: jerk, oxtail, patties, coco bread and curry. More uniquely there is also shrimp and fish available I order the jerk Chicken meal with a Beef Patty and fortunately I manage to find a stool at the small standing counter where I can taste the food hot & fresh. I meet one of the staff members who tells me that the team is really proud of their food and service as the place really feels like family. This is confirmed to me, as after I order the bone-in chicken and the cashier mistakenly charges me extra for the boneless price,  they give me extra chicken to make up for the difference! 
And this passion really comes out in the food – this is one of the tastiest jerks I've had in a while – the pimento flavour is really intense in the meat – it has definitely been marinated for a very long time. The extra flavour goes really well with the rice and peas and a touch of the really spicy scotch bonnet sauce. The patty is really tasty too – and wonderfully flaky. 
The fact that this is in that quieter zone of Queen between Leslieville and The Beaches makes this the perfect mid-way point to grab a quick snack or lunch! Meals range from $11-16, with side dishes going for $2-15. 
-CLASSICS-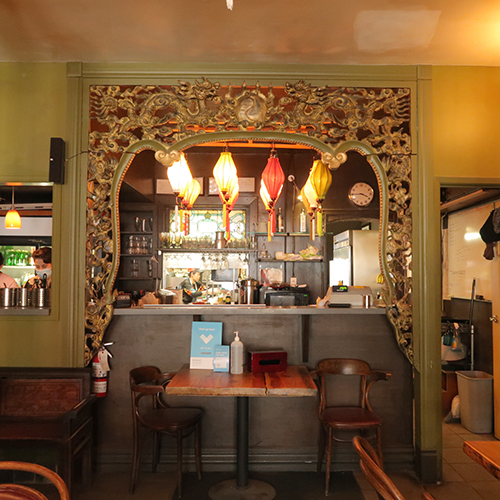 1. Hanoi 3 Seasons
1135 Queen St E, Toronto, ON M4M 1K9
When I heard that there was a Northern Vietnamese restaurant in Toronto, I knew that I had to give it a try. There aren't too many that specialize in meals from the North in Toronto – especially given that much of the city's Diapora are from the South. Hanoi 3 Seasons is a wonderful not just for its unique food, but also its wonderful décor and friendly service. This location on Queen between Pape and Jones is one of 2 locations – there is another on Gerrard at Broadview. 
Walking in, I'm immediately transported to a tranquil café in East Asia complete with Asian wood furniture, colourful lanterns and water colours. Northern Vietnamese dishes are often described as milder and less spicy than from other parts of Vietnam, utilizing a lot of fresh ingredients and a focus on noodles. I can see that Hanoi 3 Seasons includes dishes from different parts of Vietnam, but I instead focus on the Northern dishes.  
I order the Cha Ca – Hanoi style grouper with dill and shrimp paste and Hen – sautéed baby clams served with crispy rice crackers. clams and the fish. The clams and the crackers make a fantastically tasty combination of flavours and texture. The fish comes fried is served atop vermicelli and comes with a side of Nuoc Cham – the sweet vermicelli sauce. The fish is crispy and moist inside – just the way I like it – and makes for a welcome change from the usual meat – beef, pork and chicken – that I would usually get on a dish like this.
Indeed, the flavours are wonderful and I'm really enjoying the experience. Definitely pass by if you can – great spot for a fresh lunch or dinner in some very pretty surroundings. 
Appetizers $4-9, mains: $11.50, House specialities: $8.5-13.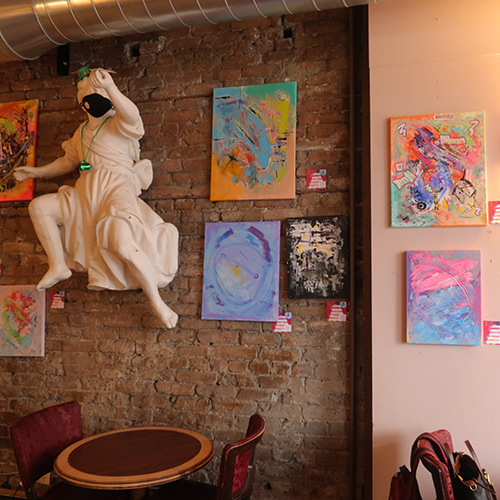 2. Tango Palace
1156 Queen St E, Toronto, ON M4M 1L2
As neighbourhood cafes go, Tango Palace is one of my favourites. With its bohemian, artistic coffee house vibes and it being a truly neighbourhood institution, it is definitely worth the stop for coffee or baked treat. As its name implies, it is also a homage to Tango, and the basic steps for the dance are prominently displayed on the menu. 
This is definitely a local hangout – customers come in and are known by name. The art on the walls along with the many posters advertising local events really adds to how rooted in community this place really is. 
I'm greeted by an extremely enthusiastic barista who is happy to explain to me about the differences between some of the drinks (and it is a big menu) or what are the popular food items. I order a London Fog and a brownie and take a seat. 
It's quite late in the afternoon, but the homely vibe makes me want to stay and take my time. The tea is fabulous and the brownie is scrumptious and just the sugar rush I needed. I watch the patrons come and go for a bit while also looking out onto the activities on Queen. A pleasant way to reach the end of the afternoon. 
Tango Palace is on Queen just west of Jones. Prices are a little less expensive that your usual café – $3-7 for most drinks.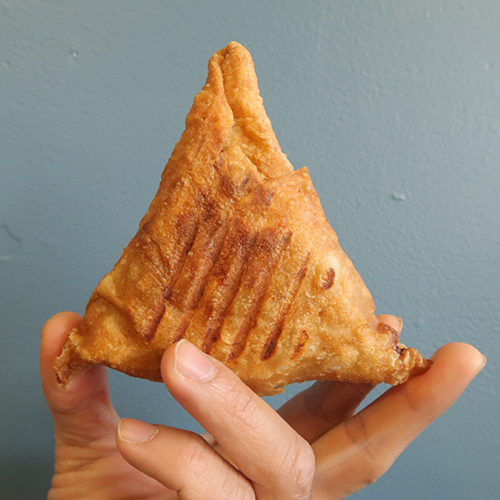 3. Delina
1891 Queen St E, Toronto, ON M4L 1H3
Delina is a wonderful middle-eastern restaurant on Queen just east of Woodbine that offer really tasty and fresh meals at affordable prices. Delina actually has a second location on Kingston Road near Victoria Park, but this is the original one. 
The owner, Abeba Bayrastion, is an Ethiopian-Canadian who worked for many years at the popular Ghazale on Bloor learning how to make Shawarma, Taboule, Hummus and other middle eastern dishes. She now runs this restaurant with her family and I am greeted by her 2 warm and friendly daughters as I walk in. 
The restaurant operates in hot counter fashion where you can order different meat, fish or veggie platters with your choice of 3 sides. I order the chicken platter and pair it with Foul, stewed eggplant and on the advice of one of the daughters, taboule, because it was made with her "blood sweat and tears". (I learn later that all of the dishes are made from scratch by hand – including the cutting of the taboule ingredients!) To top it off, I order one of the gigantic vegetarian samosas.
The food is rich and hearty. I'm loving every bite of this meal – everything is made with quality ingredients and really rich and full of flavour. The soft and tenderness of the Fooul is definitely my favourite and the crispiness of the Samosa a close second. I actually cannot finish the patter in one sitting – so also really good value for money. I'm informed later that Delina adds Ethiopian spices to her dishes, which is what adds the additional flavour not found at other middle-eastern restaurants. I will definitely be coming back when I'm in the area and in need of a quick pit-stop. 
The menu is really simple – platters, including with Veggies or Fish with 3-4 sides are $14-17, while wraps are $8-10.50. 
-TASTY PIT STOPS-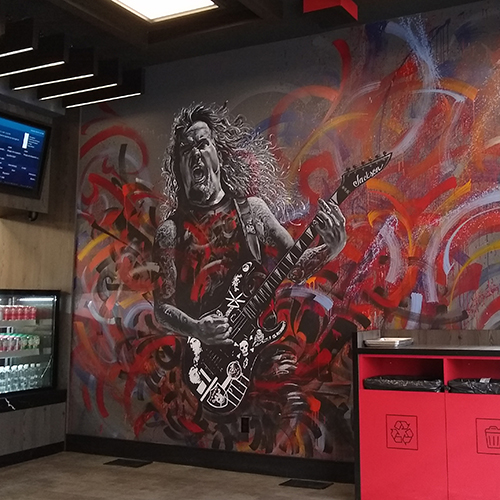 1. Slayer Burger
739 Queen St E, Toronto, ON M4M 1H4
Slayer Burger is a gourmet burger joint with a couple of locations in the east end – one at O'Conner near Bermondsey and this location on Queen east of Broadview. As burger restaurants go, Slayer is definitely one of the more interesting – blending in a theme around heavy metal music with gourmet eats, and overall makes for a very unique setting and vibe. 
It's just after lunch and I wander in to order a burger combo. I'm greeted by a mural of a heavy metal guitarist and a souvenir guitar on the wall. It's clear that the theme is throughout the restaurant including the menu items which include Slayer, Slit and Ripper burgers. On the menu are also some of your not-so-usual burger options – including truffle fries and a Wagyu beef burger (the First Degree Burger which includes truffles, prosciutto and charcoal bun) for $40! I order the Slayer Burger combo which comes with fries and a canned drink.
My first taste is rich and flavourful. This burger comes with fresh beef, bacon, caramelized onions, cheese and a very tasty Slayer sauce which makes it very memorable. The fries are crispy and soft on the inside. Overall – a fantastic burger meal and definitely will be making a return trip. 
If you're definitely interested in seeing what happens when heavy metal culture meets foodie culture, definitely head over to Slayer. Meals start from $14 and single burgers run from $9-40. $5 for a side of fries and $7.50 for poutine. Salads are also available starting at $10.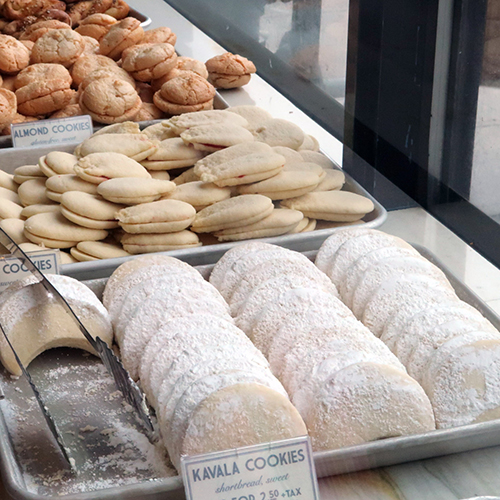 2. Pasaj
1100 Queen St E, Toronto, ON M4M 1K8
While Queen East is home to some of the prettiest restaurants in Toronto, Pasaj definitely takes one of the top spots with its beautiful sunlit façade and faux street patio scene – complete with custom manhole cover! Opened in 2020, Pasaj is a Turkish café and great spot for brunch and their famous Simit (sesame seed Turkish bagels) sandwiches on Queen just east of Pape. 
I'm loving the vibes as I enter on a Saturday afternoon – the brunch crowd still going strong and spinach burek coming fresh out of the oven. Everything on the menu looks amazing and I have a hard time choosing between the brunch platters (including such wonderful sounding treats as a smoked salmon platter with sea asparagus, cream cheese and avocado) and the Simit sandwiches. I order the smoked salmon simit along with an Éclair, Turkish Tea and some of that steaming hot burek and have a seat.
Pasaj is definitely an intagrammers dream as some of the other patrons snap selfies and foodie photos. In addition to cooked meals, there is also a small shop where you can buy all of the ingredients, sauces and spreads to make your own Turkish feast at home. And of course, the pastries and Simit are available for take home as well.  
The sandwich is perfect – the freshness of the simit complementing well with the smoked salmon, lettuce and cream cheese. As expected, the burek is so fresh that the smell alone makes it worth the buy while the éclair is creamy, sweet satisfaction. I watch the world go by as I sip my tea, imagining for a second that I am in Istanbul. 
Definitely not to be missed, Pasaj is definitely worth a snack stop, if not a full brunch meal as you're taking in the murals on Queen. Brunch platters run $16-18.
-HONOURABLE MENTIONS-
1. Mira Mira Sandwich and Ice Cream Bar (Leslieville)
1372 Queen St E, Toronto, ON M4L 1C9
Mira Mira in Leslieville is a take-out only stand serving really good fusion burgers, sandwiches, ice cream and milkshakes at the corner of Queen and Greenwood. You may also have heard of the Mira Mira Diner in the Beaches (also on Queen) – that is their second location with sit-down service and a full menu – whereas in Leslieville the focus is more on take away snack and sandwiches. The theme here is multi-ethnic Canadian fusion: from the Crispy Chicken Katsu sandwich, to Maple Sriracha Wings, East Coast Donair and even a Jerk Banh Mi. Try it with an ice cream sandwich or milkshake to make it a great take out diner experience! Sandwiches $9-11, Desserts & milkshakes $3.25-6.50. 
2. Punjabi By Nature Bar and Grill
782 Queen St E, Toronto, ON M4M 1H4
Punjabi By Nature Bar and Grill is actually a fun experience – it's a modern bar serving drinks and Indian-inspired cocktails paired with Indian meals and snacks. An offshoot of the Punjabi By Nature Indian restaurants in Brampton and North York, it serves many similar dishes – but with a bar food twist and a little fusion on the side. Try the Mac and Cheese Butter Chicken, Chicken Tikka Tacos or the Chicken Tikka Penne Pasta. You can also go more traditional and order from a good variety of curries and masalas. The Fish Pakora (which you can order with the Fish and Chips) is absolutely amazing and the Rose Lassi is just really really good. Sharable appetizers and fusion dishes are mostly $11-14, with some running up to $22. 
3. Isabella's Mochi Donut Boutique
2066 Queen St E, Toronto, ON M4E 1C9
One might be asking what is a Mochi Donut? Well – it's a series of mochi (sticky rice flour) balls arranged in the shape of a donut, deep fried then topped with the flavor of your choice! Flavours include Chocolate, Funfetti, Apple Pie and distinctly Asian tastes like Pandan and Lychee – and they change weekly. It is a very scrumptious dessert – crunchy, chewy, and oh so flavourfully sweet all at once. Stop by for a quick pick up – take out only. $3.50 each, box of 6 for $20.
4. Eastbound Brewing Company
700 Queen St E, Toronto, ON M4M 1G9
Located on Queen just west of Broadview, Eastbound Brewery is as much about the craft beers as it is about the food. Open since 2017, Eastbound has both a brew master and a head chef – which makes the food quite a cut above other craft breweries. On the menu you'll find beer can chicken, fried chicken sandos, beer pickled eggs and even pork schnitzel sitting right next to Ales, Saisons and IPAs. We particularly liked their Ill Gotten Gains Irish Stout paired with the pickled eggs – super yum! Food: $14-17.50, Pints: $8-9 
5. Completo
5 Coady Ave, Toronto, ON M4M 1L2
Completo on Queen is a small take out counter serving gourmet tacos, hot dogs and churrasco sandwiches. It's all really tasty and fabulous – a hot dog topped with avocado and salsa, hard shell tacos with steak, pork or chorizo, and a poutine with refried beans and cheese are all the staples here – great for a full meal or a quick snack when you're out on an art walking tour. Note that there is a second location near Broadview and Gerrard. Sandwiches and Tacos range around $9-12
6. Restaurant Tiflisi
1970 Queen St E, Toronto, ON M4L 1H8
If you've never had Georgian food before, you are definitely in for a treat. Gorgeously decorated like a Georgian Tavern, Restaurant Tiflisi serves up the best from all the regions of Georgia: appetizers, stews, BBQ platters, fresh bread baked with cheese (Khachapuri) and massive meat dumplings (Kinkali). They also serve a nice selection of brunch platters. Definitely try the Acharuli Khachapuri (also known as the Cheese Boat) and the lamb Kinkali. Mains are about $18-21.