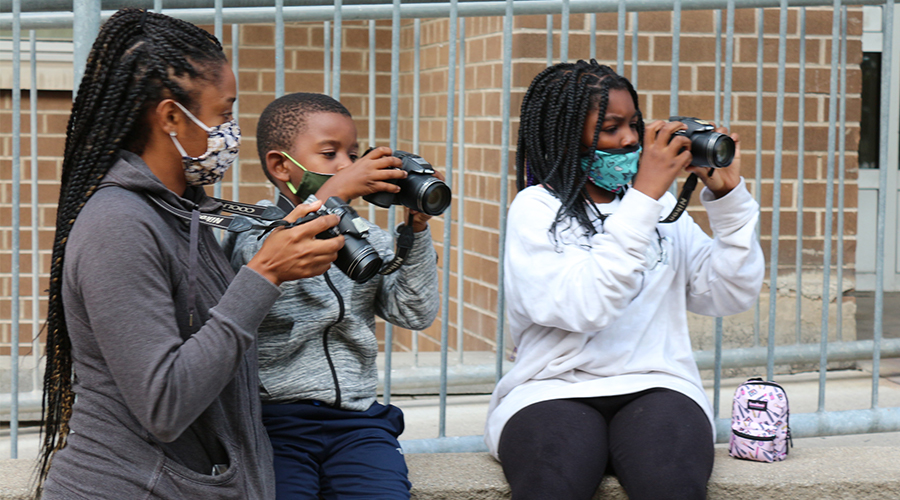 East End Arts is asking for your financial support this December with a one-time donation to help us reach our goal of $4,200!
Our 2020 Story: Staying Connected
We are certain that all of you have the same thoughts and feelings that we do when it comes to this past year: 2020 was a challenging, exhausting, frustrating and confusing time. When the pandemic hit, we were devastated. It's a very hard thing to be asked to stay away from family, friends and neighbours, and as a community arts organization, we were most worried about the loss of in-person connections that are so vital to healthy communities, and the resulting mental, physical and emotional impacts on the people that we serve.
And so, we got to work. We worked hard to pivot and think about the ways we could continue to serve community members across east Toronto, and how we could help keep people connected, despite the new challenges that physical distancing restrictions imposed. Food 4 Thought, Summerville Stories, BYOBeads and our Artist Spotlight Series are just some of the programs and initiatives that we developed during the pandemic to keep some of the most vulnerable and impacted members in our communities connected and supported.
As a small community arts organization, we know that hyper-local, intimate community arts programs such as these, in neighbourhoods all across the east end, will be crucial for rebuilding the social and cultural life of our city! As a small nonprofit organization, we also know that there are a lot of organizations and businesses across east Toronto that need your money and support right now. We too have been hit by low fundraising targets, lost revenue and sponsorships.
So this December, we call on you, our east Toronto champions and community arts supporters, to help us keep the arts strong and alive in our east Toronto neighbourhoods with a financial donation to East End Arts this month. Can you help us reach our goal of $4,200 this December? Any and every little bit helps! We've got big hopes & dreams to continue connecting people through the arts into 2021, and your donation is critical to our success!
For us, the real 2020 story has been about staying positive, staying focused, but above all else, staying connected. Scroll down to continue reading as we look back at some of our 2020 achievements and celebrate all this year had to offer…
Chapter One: Food 4 Thought, Nourishing the Imaginations and Hearts of our Senior Residents
The COVID-19 pandemic has left many people in our communities isolated and alone, but the impact on older adults and senior residents has been profound. In June of this past year we partnered with Applegrove Community Complex, the Neighbourhood Food Hub and the East End United Regional Ministry to present a new program that would be easy and accessible for senior residents already accessing the Glen Rhodes Food Bank: Food 4 Thought. While weekly food hampers being delivered by Neighbourhood Food Hub would feed the bellies of senior residents in east Toronto, we were set on feeding the imaginations and hearts of senior residents through this at-home art program focused on self expression and social connection 💗.
Food 4 Thought originated as a series of art kits and weekly art prompts, focused around recipe sharing and story-telling, to encourage seniors to journal or watercolour paint each week. Food 4 Thought has recently grown into a new online program, offering bi-monthly zoom watercolour painting or collage classes with our talented artist facilitators! Over the course of 2020, we have met some incredibly creative and remarkable seniors, who have shared their stories (and their recipes and artwork) with us, and we are so happy to have made some lasting connections with these important members of our community.
Help us support more seniors at home, and keep them engaged and connected with a one-time donation this month!
Chapter Two: Summerville Stories, Celebrating a Longstanding East Toronto Community
When the final development and revitalization plans for the Don Summerville Apartments were announced, we saw an important opportunity to develop a project that would celebrate the community and history that had grown up there since its establishment in the 1960s. We knew how important it could be for the social and mental health of the Summerville residents to have a way to celebrate their stories of place and home, so we got to work developing a partnership with Applegrove Community Centre, Toronto Community Housing Corporation, RioCan and Context Development, to present Summerville Stories!
What began as a summer program to help Summerville residents develop their skills as photographers and capture special moments of their "final summer in Summerville", has now developed into a multi year initiative to continue telling the stories of the community at Don Summerville. To date, our Summerville Stories program has helped to create a short video documentary; a series of in-person and online photography workshops, (which have resulted in hundreds of community photos); and a series of in-person and online interviews to gather the verbal stories and memories of dozens of residents. Together, we've created the beginnings of a community archive that can be used to tell the continuing story of a community in transition and undergoing revitalization. It's an honour 💕 to have been invited into Summerville to help tell their stories, and we look forward to working with this community for years to come!
Help us tell and share the stories of more community members across east Toronto with a one-time donation this month!
Chapter Three: BYOBeads, Making an Important Digital Space for Indigenous Creators
Led by Queer Metis bead-artist, novelist, & film-maker, Adam Garnet Jones, BYOBeads started in the late fall of 2019 as a way for some artists to get together at St. Matthew's Clubhouse to relax, chat and work on their beading projects. When the pandemic hit, it seemed almost too logical to shift this program online, and as it turns out, this was the most ideal setting for this program to thrive. This past year BYOBeads has grown to become a unique online beading circle that not only brings together Indigenous artists and their allies from all across the country, but also one that celebrates a broad range of Indigenous artistry.
Thanks to our new co-presenter, Native Women in the Arts, BYOBeads officially began welcoming monthly Indigenous guest artists from multidisciplinary art forms to share their work at our beading circles. Since June, we have welcomed seven guest artists from disciplines as diverse as fashion, memoire, podcasting and more to share their stories with a community of nearly 200 traditional, and LGBTQ+/Two Spirit artists from all across Canada & the United States! Toronto, California, Saskatchewan, Montana; Algonquin, Dene, Cree, Ojibway, Métis: BYOBeads provides an important online community for many of our Indigenous participants, and we are eager to watch this program continue growing into 2021 and beyond ❤️.
Help us to continue creating important online communities for members of the Indigenous community and other priority groups with a one-time donation this month!
Chapter Four: Artist Spotlights, Supporting and Affirming Local Artists in their Practice
Did you know that east Toronto is home to over 6,000 artists and creative professionals? Local artists are so important to the health and wellbeing of our communities, helping to make our neighbourhoods better places to live with the murals they create, the music they share, the stories they write, and the products they create. Unfortunately the arts sector has been one of the hardest hit from COVID-19, and supporting artists and creators in their professional practices has never been more important. Supporting artists has always been at the core of what we do, like paying artists proper living wages via full CARFAC rates, presenting yearly professional development workshops, and keeping artists connected to up to date opportunities.
When the pandemic forced a blanket closure of our in-person programs and events this year, we were momentarily puzzled at how we could continue to support as many local artists as possible from behind our screens. In addition to honouring contracts for cancelled or pivoted programs, we began our East End Spotlight Series this past April as a way to shine a deserving light on the hardworking artists, creative people and businesses that make east Toronto so unique and incredible. We are ecstatic to have profiled nearly 50 local artists and arts organizations through our new monthly spotlight series, which has resulted in new gigs, new networks, new sales and more for the artists and businesses we've profiled!
Help us support more local artists in their practices with a one-time donation this month!
Chapter Five: Girls Mural Camp, Empowering Young Womxn to Explore the Male-Dominated World of Street Art
The world of street art comes with its own set of challenges for artists working outdoors in public space, and for many reasons female voices are often unrepresented.In 2018, muralists Bareket Kezwer and Monica Wickeler came to East End Arts with a proposal to start a mural camp specifically for young womxn, and the rest was history. Now in its third year, Girls Mural Camp (GMC) is an art camp for youth between the ages of 14-19 who self-identify as young women, girls, female, or non-binary to explore the history of street art, graffiti and murals, and develop their own individual artistic style. The camp always culminates with the co-creation of a street mural in east Toronto.
We were ecstatic to be able to present this program in August of 2020 with appropriate safety gear physical distancing protocols. Led by two prominent female-identifying street artists, participants of Girls Mural Camp learned the ins and outs of mural making, and got to see firsthand the very real possibility of developing a potential career in the world of street art. We are so proud of GMC not only because we get to empower young womxn to smash into a male dominated field, but because it's a program that is needed. In our 2020 camp one of our participants was slightly late one day, which we later learned was because she had been harassed and followed by a man on the streetcar. Her experience made it clear to us why programs like this need to exist, and why we need to keep creating safe spaces for young womxn and girls!
Help us empower more young womxn, girls, and nonbinary youth to tell their own stories and be their own aritsts with a one-time donation this month.
Chapter Six: #DestinationDanforth, Surrounding our Local Communities with Beauty & Hope
In response to the COVID-19 pandemic, #DestinationDanforth was created to support local businesses, restore consumer confidence, provide safe walking and cycling infrastructure, all while making our main street a more safe, spacious and beautiful destination. This initiative was all about bringing people back to places like the Danforth, to support local east Toronto economies and to keep our communities strong and hopeful!
East End Arts was elated to play a lead role in the beautification of Danforth Avenue through five large-scale public art pieces. With three murals installed in 2020, and another two to come in 2021, the project has been such a success! Murals responded to two key themes – 'Gratitude, Resilience, Hope', and '#EastEndLove' – and have helped to transform the Danforth into an outdoor art gallery, giving residents and families beautiful, thought provoking art to look at and see themselves reflected in. Monica Wickeler included photos of real Danforth residents and commuters in her mural; Poser incorporated prominent Danforth landmarks in his mural; while Elicser observed people in the immediate community, including families from the Mosque next door who now can be seen in his mural.
These significant pieces of art will not only serve as a specific window into history, capturing the feelings, moments and political movements of our year in a pandemic, but will always serve as a beautiful reminder: We may not always be able to gather in large groups, but we are always surrounded by beauty and love.
Help us reclaim more public spaces all across east Toronto with vibrant public art with a one-time donation this month.
Chapter Seven: Toronto Mycelial Network, Building A Network of Resiliency and Connection During Covid
When the pandemic forced a blanket closure of our programs in March, we were faced with the challenge of keeping community members connected while remaining physically distant. Inspired by the pioneering work on creating digital communities explored in Miranda July's "Learning to Love you More" (2002), The Toronto Mycelial Network was born as both as an online prompt and an at home art project to keep people connected digitally, while remaining safe in the comforts of home.
The prompt itself was simple: make any interpretation of a mushroom creation from supplies at home, and post a photo of it on social media with the hashtag #InvisibleNetworkTO. The motivation behind the project was multifaceted: to meditate on the nature of interconnectedness while we make something with our hands; to embrace principles of growth and change as we learn how to adapt during a pandemic; and ultimately to defy the narrative of our communities being disconnected, focusing on our resilience and determination to stay connected.
From mushroom paintings to mushroom sculptures, from mushroom blankets to mushroom beadwork, our invisible network has grown and flowered in all the most unexpected places thanks to the work and excitement of hundreds of makers, artists, mushroom hunters, and families all across our city! This project has reminded us over and over again that we are, in fact, all in this together.
Help us deliver more online initiatives that focus on bringing communities together & keeping people connected with a one-time donation this month.
Chapter Eight: Digital Thought Leaders, Emerging from a Pandemic
This past year has given us an opportunity to stop, reflect, and adapt, and we believe we've developed into a stronger organization because of it. We recognized early on that to stay connected with our east Toronto communities meant adapting in a strong digital way; however, we also recognized early on that we didn't just want to follow the patterns and trends of where the arts sector was headed – we wanted to help lead it! And so, we embraced this past year as an opportunity to challenge the status quo and innovate our sector through various digital initiatives.
From our monthly online Blog feature where we share unique perspectives and ideas on a variety of timely arts topics; to co-creating the 'Community Arts Canopy', an online group of Community Arts Organizations involved in various advocacy meetings and discussions to help advance the practice of community art; to unique online events like our 'Winter is Coming' panel discussion and brainstorm session where we discussed ways to embrace the winter through better winter programs and event design, digital innovation and leadership is at the forefront for 2020, and it will be again as we move into 2021!
P.S. Stay tuned for larger statistical/census research results, and more advocacy work in the new year! Our team (and notably our Executive Director) has dedicated countless hours towards advocacy for our sector, and we're very excited to see the outcomes into 2021 and beyond!
Support digital innovation and leadership in the arts sector of east Toronto with a one-time donation to East End Arts this month.