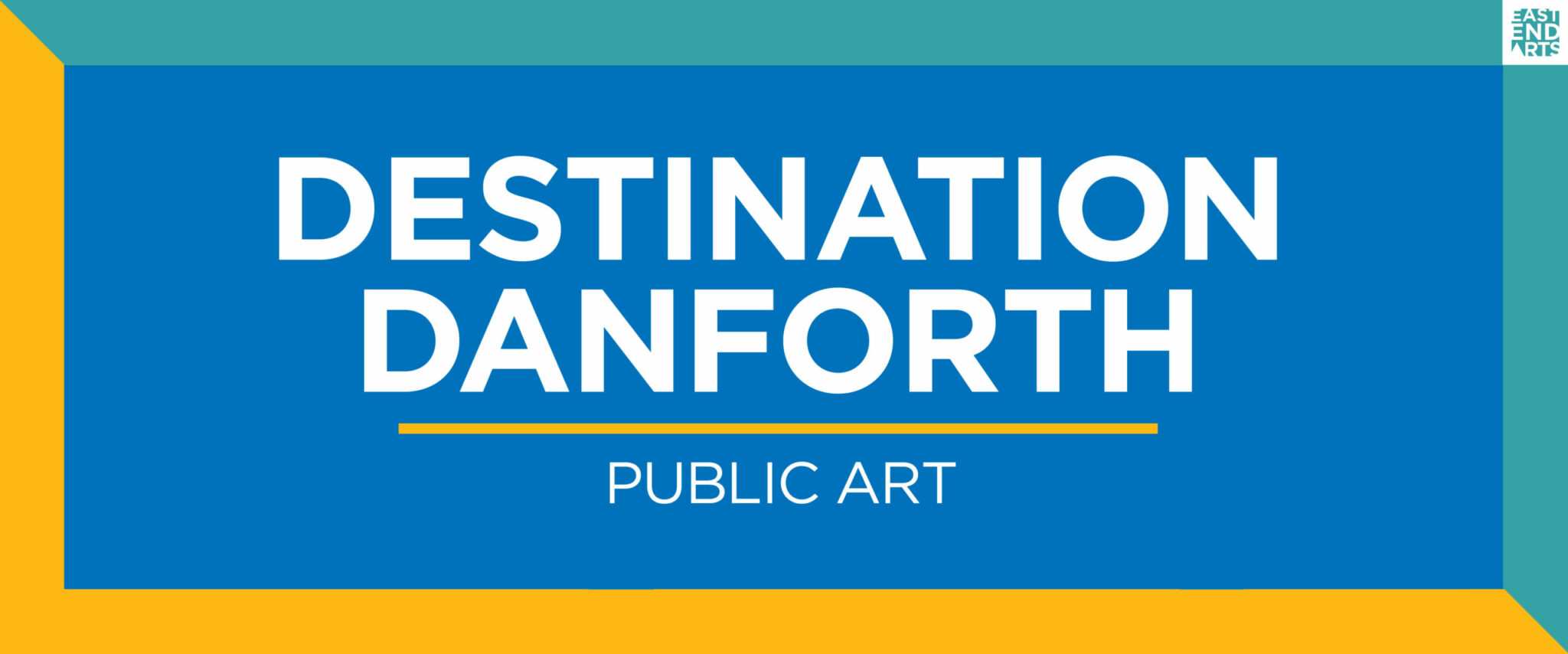 Destination Danforth
East End Arts, City of Toronto, StreetARToronto
Murals to be completed during August 2020 – November 2021
Along Danforth Avenue

#DestinationDanforth launched as a pilot in mid-July, with a focus on Danforth Avenue between Broadview Avenue and Dawes Road. Following the extensive 2016 Danforth Study, #DestinationDanforth set out to support local businesses, provide safe walking and cycling infrastructure, provide adequate room for physical distancing, all while beautifying the street amidst the COVID-19 pandemic. East End Arts has played a crucial role in the beautification of Danforth Avenue through five significant public murals. Scroll down to learn more!
ABOUT DESTINATION DANFORTH:
#DestinationDanforth aims to help our local businesses recover from the COVID-19 pandemic, restore consumer confidence and give people safe alternatives to the TTC. The road to economic recovery goes through main street. 
It's a strange point in human history, when we've been asked to make large sacrifices for the public good and keep ourselves apart. There is also the scary realization that this is now more of a marathon than a sprint. With this in mind there has never been a more important moment to remind one another that we care for each other. 
In addition to expanded bike lanes, restaurant patios, and other programs to support the vibrant communities on Danforth Ave, #DestinationDanforth includes a robust public art program including creative curb cut outs, signal box wraps and five signature murals. On the walls we pass by each day on our anxious, worried ways down the street, we deserve a reminder: We may not be able to gather in large groups, but we are surrounded by beauty.

SCROLL DOWN TO LEARN ABOUT THE FOLLOWING MURALS:
ABOUT THE MURALISTS & MURALS:
1. Neighbourhood Love Mural by Monica Wickeler
2. Colours of the Danforth Mural by Poser ABM
3. Giants of the Danforth Mural by Elicser Elliott
4. Resilience! Mural by Jakarundi Graphics

5. Mother Mural by Kizmet
This mural is slated for completion end of 2021, beginning of 2022 (weather dependent).
MURAL VIDEO:
Check out this video put together by Cass Rudolph that captures the story and progress of our three completed #DestinationDanforth murals of 2020!
MURAL THEMES:
There are two main themes that guide the five murals along Danforth Avenue.
Theme One: Gratitude, Resilience, Hope The creativity of business owners on the Danforth is almost boundless. There are many creative and maker based businesses across the four BIAs (some might even say that there's an art to running a business). Over the course of this pandemic, communities throughout the Danforth – and indeed, the city, the country, beyond – have shown incredible care and love for one another, and this has manifested in the form of many public displays of art. Children's chalk art, window scavenger hunts, light up hearts made of Christmas lights a'blinkin have filled our neighbourhoods with the evidence of this love. Let's celebrate these already-thriving moments and let's enlarge them into wall sized murals. This theme invites submissions that tell stories of gratitude, resilience and hope for our Danforth Community. Even when this pandemic is long behind us don't we all need those reminders sometimes? The artworks should speak to and celebrate the service local businesses bring to the communities that they support, and the community members and residents who support them in return, benefits and opportunities to support local and celebrate community pride.
Theme Two: #EastEndLove #EastEndLove was a community-engaged public art project, presented by East End Arts through 2018 and 2019. This project used conversation, collaboration, stencil screen printing, and public art to facilitate difficult conversations, and to spread messages of love and inclusion in our community. #EastEndLove was born as a response to the increase in discriminatory discourse and vandalism in the east Toronto community, and aimed to unite community members while building stronger, more inclusive and responsive communities at large.Sadly, since the completion of this project East End Arts has observed specific neighbourhoods and communities in east Toronto being subjected to an alarming increase in instances of racism, homophobia, xenophobia, and hate, including vandalism, anti-Black rhetoric, attacks on local residents and more. Clearly the work is not yet done. This theme invites submissions in support of Black Lives Matter. The artworks should speak to past and current injustice against visible minorities, and the importance, benefits and opportunities to build a better future through inclusion, collaboration and knowledge sharing.
BELL BOX MURALS ON THE DANFORTH:
A big thank you to StreetARToronto & Bell Box Murals Project for helping to bring more beautiful art to the #DestinationDanforth project via 12 new murals on outdoor Bell service boxes! Here are a few of the ones found across Danforth Ave.
PARTNERS & SPONSORS:
A big thank you to our main partner, StreetARToronto, and our funder, The City of Toronto! Also with thanks to: Broadview Danforth BIA, The Danny BIA, Greektown BIA, Percy Ellis Development/Construction, Councillor Brad Bradford's Office & Councillor Paula Fletcher's Office!