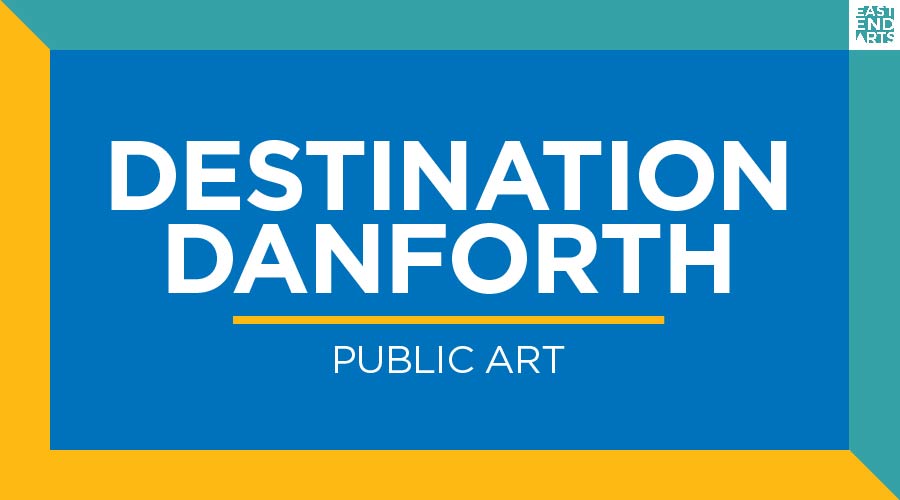 Destination Danforth
East End Arts, City of Toronto, StreetARToronto
August 2020 – Spring 2021 Completion
Along Danforth Avenue

#DestinationDanforth launched as a pilot in mid-July, with a focus on Danforth Avenue between Broadview Avenue and Dawes Road. Following the extensive 2016 Danforth Study, #DestinationDanforth set out to support local businesses, provide safe walking and cycling infrastructure, provide adequate room for physical distancing, all while beautifying the street amidst the COVID-19 pandemic. East End Arts has played a crucial role in the beautification of Danforth Avenue through five significant public murals. Scroll down to learn more!
ABOUT DESTINATION DANFORTH:
#DestinationDanforth aims to help our local businesses recover from the COVID-19 pandemic, restore consumer confidence and give people safe alternatives to the TTC. The road to economic recovery goes through main street. 
It's a strange point in human history, when we've been asked to make large sacrifices for the public good and keep ourselves apart. There is also the scary realization that this is now more of a marathon than a sprint. With this in mind there has never been a more important moment to remind one another that we care for each other. 
In addition to expanded bike lanes, restaurant patios, and other programs to support the vibrant communities on Danforth Ave, #DestinationDanforth includes a robust public art program including creative curb cut outs, signal box wraps and five signature murals. On the walls we pass by each day on our anxious, worried ways down the street, we deserve a reminder: We may not be able to gather in large groups, but we are surrounded by beauty.
ABOUT THE MURALISTS & MURALS:
NEIGHBOURHOOD LOVE MURAL BY MONICA WICKELER

Muralist: Monica Wickeler
Mural Address: 270 Danforth Ave
Artist Instagram: @monicaonthemoon
Artist Website: www.monicawickeler.com


Artist Bio:
Monica is a trained visual artist who has worked in the large-scale painting industry in Toronto for many years. In outdoor advertising as a mural artist, and in the film and television industry, as a scenic artist. More recently she can be found reclaiming community spaces with her vibrant public art. Painting community murals in playgrounds, on wading pools, in pedestrian laneways, on construction hoarding and on just about anything that stays still long enough.
Artist Statement:
Typical to my artistic style, this mural makes use of dynamic imagery, vibrant colours and movement. The background is an aerial map of the Danforth, allowing viewers to recognize their local neighbourhood, and the spots of their favourite patio where friends gather, the street they live on, their favourite local shop, and so on. In the foreground are dynamic, larger than life scaled paintings, which represent local pedestrians in the area, shopping, cycling, walking or playing. There are also some chalk drawing artworks, meant to represent positivity and courage during the pandemic.
The combination of these images reflects both the geographic nature of the diverse Danforth community with the human nature of the neighborhood. This mural captures the essence of neighbours re-entering public spaces, meeting outdoors again on patios, and supporting their local, hardworking businesses with Main Street activation. In my mural I hope you see stories of gratitude, resilience, hope and the capacity to care for one another.Before & After:
Check out these photos of this mural transformation!


COLOURS OF THE DANFORTH MURAL BY POSER ABM


Muralist: Poser ABM
Mural Address: 628 Danforth Ave
Artist Instagram: @poserabm
Artist Bio:
Poser ABM is a self-employed graffiti artist who has been painting murals for over 15 years in Toronto, Ottawa, and abroad. As well as letter-based works, he is also known for his distinctive 'bunny' character and architectural style murals.
Artist Statement:
This mural is an architectural-style mural that highlights the welcoming, resilient, and community-driven culture of the Danforth through the use of warm and inviting colour and imagery. The viewer will notice the inclusion of historic landmarks and establishments along the Danforth, all with wide open doors and bright inviting lights, set in the evening to give the piece a local atmosphere. Illuminated by warm light and, as though huddled together for warmth, the local shops are shown to be vibrant and alive with colour and energy, despite the dark and looming night sky. This piece is meant to inspire a feeling of local pride, a sense of comradery, and an appreciation for the resilience of this tight-knit community, set in such a large city.


Before & After:
Check out these photos of Poser ABM's mural transformation!


GIANTS OF THE DANFORTH MURAL BY ELICSER ELLIOTT


Muralist: Elicser Elliott
Mural Address: 975 Danforth Ave (old 7 11)
Artist Instagram: @elicserelliott
Artist Website: www.elicser.com
Artist Bio:
Since graduating from Sheridan College's animation program, Elliott has amassed a collection of murals and public artworks that have come to help define Toronto's cityscape. Moving beyond notions of the streets being his only canvas, Elliott has exhibited works at The Art Gallery of Ontario, The Royal Ontario Museum, and LE Gallery. Elliott has also acted as an arts educator working with the Art Gallery of Ontario's "Free After Three" youth arts program, and the Toronto Jazz Festival, teaching youth aerosol paint techniques.
Elliott's most notable works can be described as a highly improvised collage of soft characters and organic shapes, layered and blended through transparencies. His character work is often mediated by past experiences and relationships while also drawing on the likenesses of passers-by to complete his community-based murals. Elliott has also illustrated and produced a small run of books titled "Know Love".
Artist Statement:
Elicser Elliott explores narrative structures, new surfaces, and new sensations in his work, through the lens of two decades spent in the global street art community. Known for his intuitive ability to capture the essence of a subject, Elicser incorporates uplifting characters and bright colours with a modern take on traditional landscapes. Over the years, Elicser's murals have become synonymous with the ebb + flow of Toronto life, presenting viewers with familiar faces and encouraging interpretations from contrasting lenses.


Elicser's mural work emphasizes those who build the true warmth in any community, those who create that love story and heart in any city: its people. Elicser endeavours to show the feeling, movement and atmosphere of the Giants of the Danforth conceptually coming together to rebuild and refuel the love and concern for one another in our minds and hearts; this mural celebrates the community love and support found in Toronto's east end.
Before & After:
Check out these photos of Elicser's mural transformation!


Additional Mural Art at 975 Danforth Ave:
Thanks to the efforts of mural artists Flips, Maysr, SPYONE, Sight & Nick Sweetman, the old 7/11 has been fully transformed, front to back, with exciting new mural art! The murals at the front and northwest side of the building were created as part of a collaborative solution to cover temporary plywood with beautiful mural art. The mural at the back of 975 was an impromptu additional mural created by Elicser Elliot, Nick Sweetman, Sight and SPYONE. Check out the photos of all these mural additions below!

MOTHER MURAL BY KIZMET


Muralist: Kizmet
Mural Address: TBC
Artist Instagram: @kizmet32
Artist Website: www.kizmet32.com

Artist Bio & Statement: We are currently in the process of confirming a wall location for this mural, slated for completion this November. Stay tuned for artist bio and statement soon!
P.S. If you are a property owner on the Danforth between Coxwell and Westlake, and you have a wall you'd be interested in providing for this mural, please contact Shana at East End Arts: shana@eastendarts.ca


#EASTENDLOVE MURAL BY CAITLIN TAGUIBAO, XUAN-YEN CAO & LARA LUCRETIA MROSOVKY

Muralists: Caitlin Taguibao, Xuan-Yen Cao, Lara Lucretia Mrosovsky
Mural Address: TBC
Artists Instagram: @taggybowow; @hirondelleduprintemps & @jakarundigraphics
Artists Websites: Coming soon

Artist Bios & Statements: This mural is slated for completion in the springtime of 2021. Stay tuned for artist bios and artist statement!
P.S. If you are a property owner on the Danforth between Coxwell and Westlake, and you have a wall you'd be interested in providing for this mural, please contact Shana at East End Arts: shana@eastendarts.ca

MURAL VIDEO:
Check out this video put together by Cass Rudolph that captures the story and progress of our three completed #DestinationDanforth murals of 2020!
MURAL THEMES:
There are two main themes that guide the five murals along Danforth Avenue.
Theme One: Gratitude, Resilience, Hope The creativity of business owners on the Danforth is almost boundless. There are many creative and maker based businesses across the four BIAs (some might even say that there's an art to running a business). Over the course of this pandemic, communities throughout the Danforth – and indeed, the city, the country, beyond – have shown incredible care and love for one another, and this has manifested in the form of many public displays of art. Children's chalk art, window scavenger hunts, light up hearts made of Christmas lights a'blinkin have filled our neighbourhoods with the evidence of this love. Let's celebrate these already-thriving moments and let's enlarge them into wall sized murals. This theme invites submissions that tell stories of gratitude, resilience and hope for our Danforth Community. Even when this pandemic is long behind us don't we all need those reminders sometimes? The artworks should speak to and celebrate the service local businesses bring to the communities that they support, and the community members and residents who support them in return, benefits and opportunities to support local and celebrate community pride.
Theme Two: #EastEndLove #EastEndLove was a community-engaged public art project, presented by East End Arts through 2018 and 2019. This project used conversation, collaboration, stencil screen printing, and public art to facilitate difficult conversations, and to spread messages of love and inclusion in our community. #EastEndLove was born as a response to the increase in discriminatory discourse and vandalism in the east Toronto community, and aimed to unite community members while building stronger, more inclusive and responsive communities at large.Sadly, since the completion of this project East End Arts has observed specific neighbourhoods and communities in east Toronto being subjected to an alarming increase in instances of racism, homophobia, xenophobia, and hate, including vandalism, anti-Black rhetoric, attacks on local residents and more. Clearly the work is not yet done. This theme invites submissions in support of Black Lives Matter. The artworks should speak to past and current injustice against visible minorities, and the importance, benefits and opportunities to build a better future through inclusion, collaboration and knowledge sharing.
BELL BOX MURALS ON THE DANFORTH:
A big thank you to StreetARToronto & Bell Box Murals Project for helping to bring more beautiful art to the #DestinationDanforth project via 12 new murals on outdoor Bell service boxes! Here are a few of the ones found across Danforth Ave.
PARTNERS & SPONSORS:
A big thank you to our main partner, StreetARToronto, and our funder, The City of Toronto! Also with thanks to: Broadview Danforth BIA, The Danny BIA, Greektown BIA, Percy Ellis Development/Construction, Councillor Brad Bradford's Office & Councillor Paula Fletcher's Office!