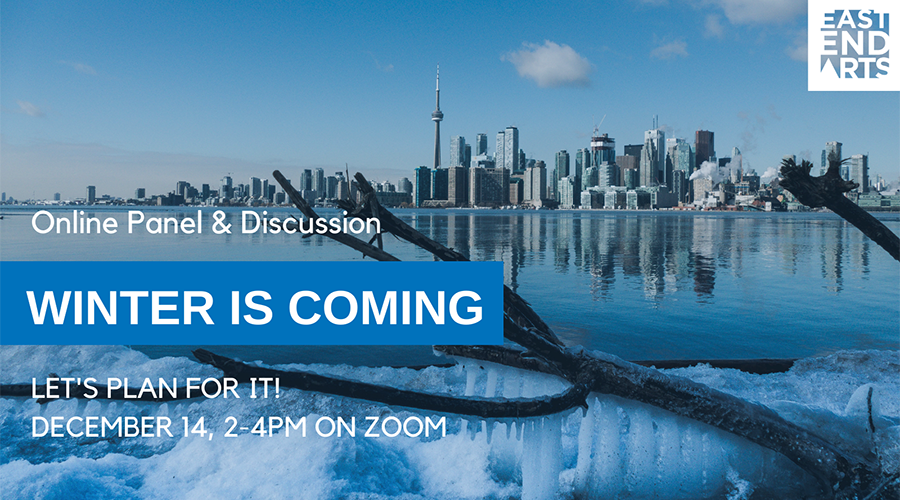 WINTER IS COMING
A Panel and Brainstorming Jam, exploring the idea art in the winter!
December 14, 2020 | 2-4pm
Online over Zoom
FREE or by donation | Register via EventBrite
We've had to pivot so much this past year we're starting to feel dizzy, but one of the ways that artists, communities, and just about everybody has managed to survive (and even thrive) in 2020 has been by embracing the great outdoors, aka moving our work, social lives, cultural activities and big weird art things ​outside.​
We've seen concerts on porches, and parades through parks and neighbourhoods, so as we approach our first snowfall (any day now), and we embrace new but shifting COVID-19 safety restrictions, ​what are we going to do for the winter?
This December, you're invited to join East End Arts for a winter-themed panel discussion and brainstorming session where we discuss how to make and present art in the winter! Let's have a big digital brainstorming session over hot cocoa to ring in the darkest time of year with big dreams, and figure out how we are going to continue surviving and thriving with art through the winter! Arts workers, artists, arts organization leaders, bring your big ideas (but don't worry about your snow pants, the whole thing will be on Zoom).
Who is this session for?
Artists and creatives of all disciplines, creative space-makers, producers, arts workers and/or arts administrators who:
Love working outside and want to share what they've learned over the years!

Want to work outside for the first time, but don't know where to start!

Big Dreamers who want to connect with others who love playing in the snow

Are looking for an opportunity to meet like-minded creatives from east Toronto and all across Canada!
What can I expect?
We know this winter is going to be a tough one. With continued restrictions of gathering sizes, indoors and out, and ongoing "COVID Fatigue" we know that a crucial strategy to survive this winter, will continue to be getting outside as often as we can. Many of us have already started planning our winter events (and buying our long underwear), but we still think it would be fun to hear from some experts and then just … jam. The purpose of this session is to network with other artists and community members, and have some fun dreaming big about playing in the snow. Let's shake off all the stress and anxiety and just spend some time using our big imaginations to buoy us into the chilly winter months ahead.
Following a panel discussion from some incredible winter animators, artists and organizers from all over Canada, we will hop into some Zoom breakout rooms where we will invite groups to collectively imagine "A perfect winter event" at one of four locations around east Toronto: A parking lot beside an abandoned 7-11; Taylor Creek Park and the ravine system that makes east Toronto so beautiful; our very own St. Matthew's Clubhouse, on the edge of Riverdale East Park; and the incredible Kew Beach, on the shore of Lake Ontario. Let's imagine these "perfect events" free from the restraints of budget or timeline, but informed by the public health needs of our current reality, an intimate relationship with the landscapes we inhabit, and the awesome creativity of the best experts we know – you! 
Join other planners, dreamers, and lovers of what the Danish call Hygge and grab a cup of cocoa while we let our imaginations run wild.
Register:
If you're interested in joining us on December 14th, hit the button below to register on Eventbrite!
Accessibility Notes:

A few housekeeping and accessibility reminders: 
We are all Zoom Pros now, but please remember to keep your microphone on mute when you are not talking – but turn it ON when you do (Adam our Program Coordinator forgets every time and all his best lines go into the void). It would also be great if you could set your name in Zoom to include your pronouns.
Please try to not have any ceiling fans or bright lights behind you (and who wants their camera shooting upwards anyway). Also don't use any virtual backgrounds please – we understand you might not want to give away all the details of your home but we've learned for folks on the autism spectrum the glimmer around the edges of you might be distracting. We leave it to your best judgment – your safety and comfort is important too! 
Come in to the room with an open mind, and your ideas. Ask questions, and have fun, but also be respectful to everyone else in the room. East End Arts has a zero tolerance policy for bullying, harassment and hate of any kind.
If you require ASL interpretation or other accommodations for a disability, please contact Adam Barrett our Program Coordinator by December 1, 2020 at adam@eastendarts.ca. Following the session, we will make the panel portion of this event available with subtitles on our Youtube Channel.
About the Panelists: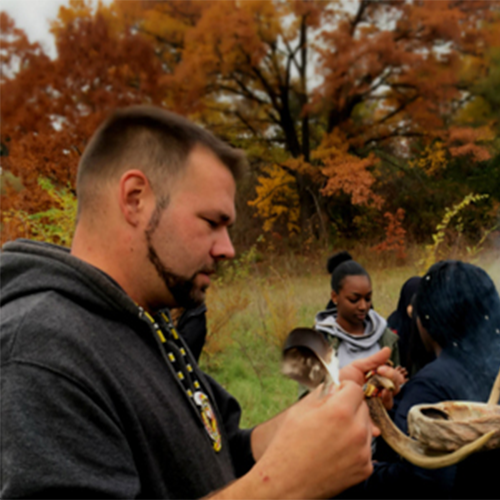 ALAN COLLEY, Storyteller and Nature Guide from Toronto Indigenous Eco Tours
Boozhoo/Aaniin
Hello/Greetings,Ahjiijaak Ndishnikaaz, Ma'iingan Dodem.
My spirit name is Whooping Crane and I am Wolf Clan.
Toronto Aboriginal Eco Tours has been a passion and dream of mine for a long time. I have designed a company which honors our traditional way of life – but also allows for mainstream concepts of tourism and experiential learning.
I believe we are at the point in history where we are able to teach and share with the next generations how to have a sustainable relationship with the environment. This is the focus of Toronto Aboriginal Eco Tours.
My goal is to bring together our beautiful community in a way that allows elders, adults, youth and children to connect and make a difference with actions based on the ground principles of the 7 Grandfather Teachings, 13 Grandmother Moon Teachings and Medicine Wheel Teachings.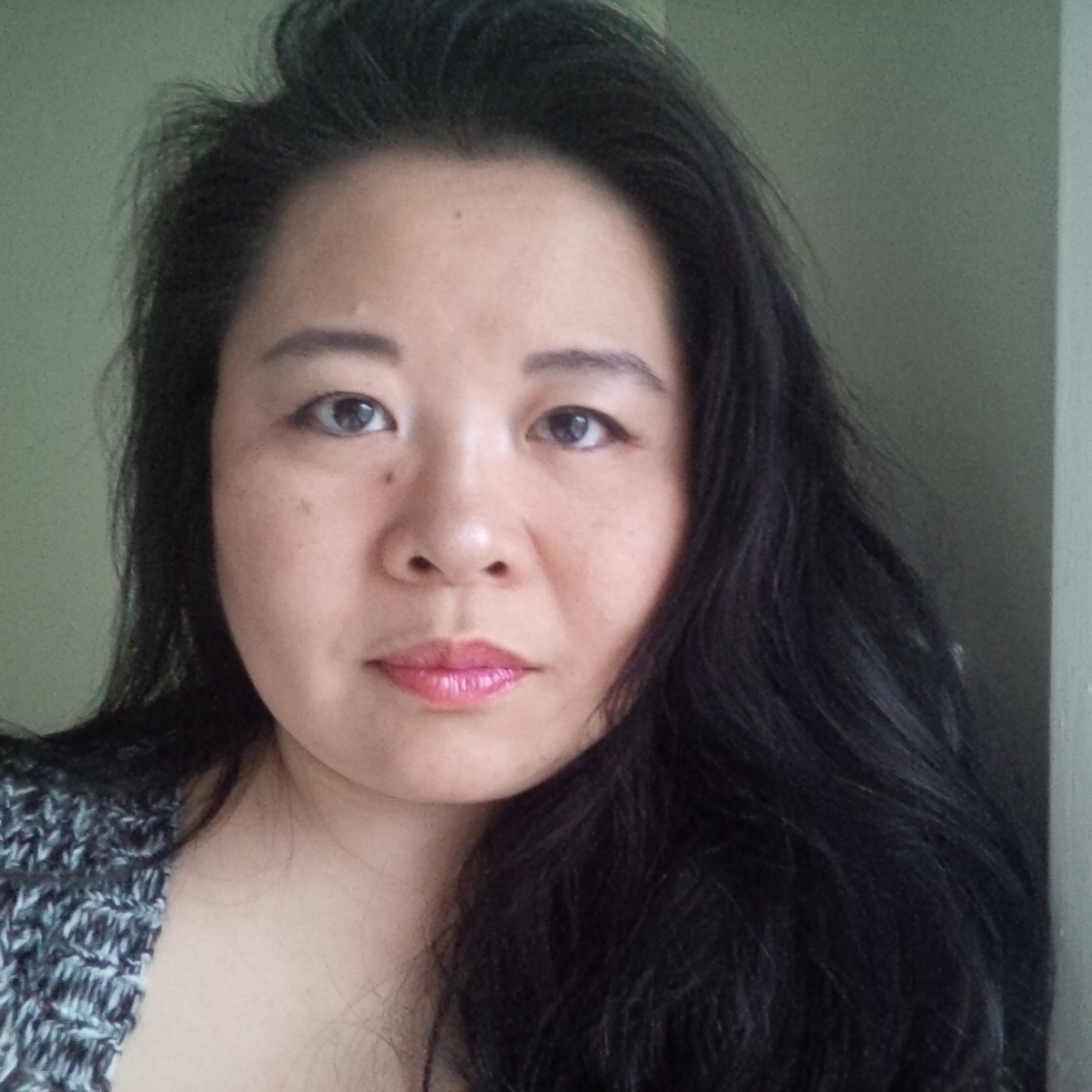 KAY (KAORI) KANBAYASHI, Senior Project Coordinator, Frankfurt 2020 at The Department of Canadian Heritage/Patrimoine Canadien
Kay Kanbayashi has worked for a number of non-profit arts organizations including the Canada Dance Festival, the Great Canadian Theatre Company, Theatre Ontario and the Canadian Music Centre. After working in Toronto for several years, she returned to Ottawa as part of the event planning team responsible for Winterlude, Canada Day, and Christmas Lights Across Canada, as well as the Canada 150 opening and closing celebrations on Parliament Hill. She is currently the Sr. Project Coordinator at Canadian Heritage for the Frankfurt 2020-2021 Project, where Canada is the Guest of Honour country at the Frankfurt Book Fair.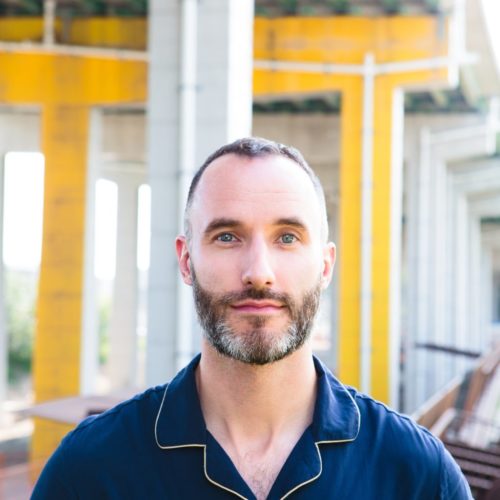 DAVE CAREY, Co-Executive Director of Toronto's The Bentway
Dave Carey is a city animator with a background in public affairs, storytelling, and fundraising. As Co-Executive Director, he builds curiosity, trust, and support of The Bentway through a growing family of audiences, champions, and partners, while ensuring that the organization remains on budget and on brand.
He joined The Bentway team in 2017 as Director of Development. Dave worked for most of his career at the Toronto International Film Festival (TIFF), most recently as Director of Government Relations & Philanthropy. During a formative period of growth for TIFF, his fondest achievements include the Festival's pedestrianization of King Street, the acquisition of key 35mm film collections, the opening of TIFF Bell Lightbox, and the launch of several filmmaker development initiatives.
In 2018, Dave joined the Toronto Arts Council's Cultural Leaders Lab, a leadership development program for arts professionals who have demonstrated the potential to drive change in the sector. He is a yogi, a poet, a cyclist, and an ally. Dave sits on the Board of East End Arts and lives on the East Danforth.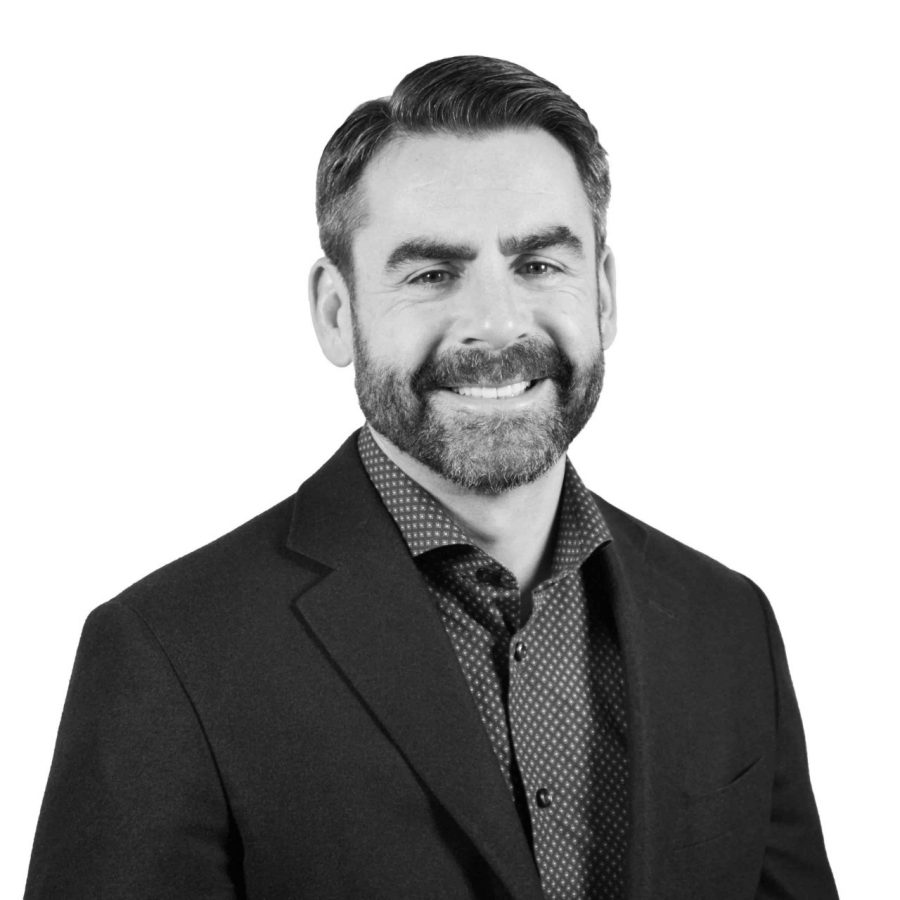 SIMON O'BYRNE, Vice President of Community Development in Canada, and from Edmonton's WinterCity
Simon is an award-winning urban designer and planner and vice president of Community Development in Canada. With his planning expertise, he's frequently quoted in North American media, and he's a regularly sought-after public speaker.

His experience ranges from intensive urban revitalization redevelopments to the creation of many master-planned communities, brownfield, and transit-oriented developments. Simon has led multi-disciplinary design teams in the planning and successful delivery of large, complex, and politically charged projects.

Simon was the 2015 Allard Chair in Business for MacEwan University, and he's been named as one of Edmonton's Power 30 by the Edmonton Journal. Alberta Venture magazine named Simon as one of the 50 Most Influential People in Alberta for 2012, and in 2009, Avenue magazine named Simon as one of the Top 40 Under 40. As a community leader, Simon volunteers and leads many different civic, economic, social justice, charity, and professional boards and committees.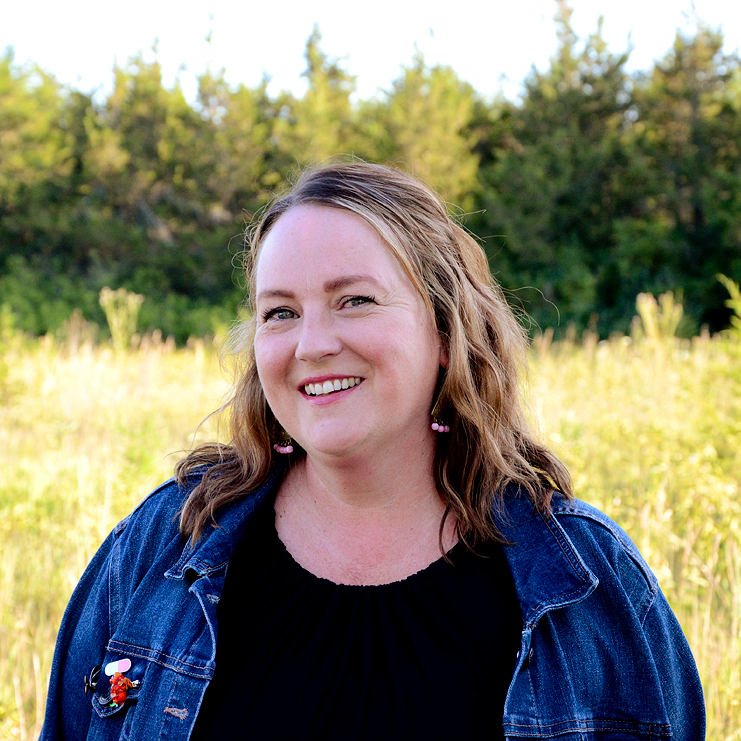 KRISTA DALBY, Multi-disciplinary Community Artist working in Prince Edward County
Krista Dalby is the Artistic Director of the Department of Illumination, whose mission is to bring joy and creativity to the people of Prince Edward County, Ontario, by producing festivals, workshops, and other artistic events. Krista is a multi-disciplinary artist with a passion for community building, exemplified by her co-founding of the Firelight Lantern Festival in 2013 and launching the winter art festival ICE BOX in 2019. Krista is the recipient of the 2019 Community Arts Builder Award from the Prince Edward County Arts Council and the 2016 Arts Recognition Award from the Quinte Arts Council. With an extensive background in theatre, Krista is a playwright, director, designer and producer. She spent seven seasons at Festival Players of Prince Edward County, the region's professional theatre company, in roles ranging from playwright to set designer to Associate Producer. Prior to moving to Prince Edward County, Krista spent four years as Assistant Artistic Director at Toronto's Clay & Paper Theatre, where she produced 16 major productions in public space, including plays, festivals, and the annual Night of Dread, a large-scale community festival and parade.
Recommended Reading Before Joining the Event: 
COVID-19 has cut through red tape for curbside dining and bike lanes — why not for permits for firepits in Toronto parks during a pandemic winter? from the Toronto Star
Funder
This event is supported and funded by the Government of Canada