#EastEndLove 2.0
November 1, 2020 – 2021
Online, at home, in your neighbourhood, and wherever you need a bit of love ❤ 
There is no denying that 2020 has been a really hard year, and one of the toughest things about this past year for us has been the rise in hateful, racist rhetoric around the world and here in Toronto's east end. From hateful acts on construction sites and in parks here at home, to the backlash against a growing global awareness of systemic racism in many of society's institutions, we have seen hateful rhetoric and imagery on our feeds for far too much this year, and while we may not be able to change a lot of things in 2020, we know that hope, love and beauty have the power to change minds and hearts. So let's change the things that we can, and respond in the best way we know how: with love.
INTRODUCING #EASTENDLOVE 2.0 ❤ 
#EastEndLove was a signature program for us in 2019, and was born as a response to the increase in discriminatory discourse and vandalism in the east Toronto community, working to unite community members through screen printed art. Since the conclusion of this program in the fall of 2019, we've seen the real need to continue this work, and continue challenging hate in our communities and responding to it through messages of inclusion, collaboration, anti-discrimination, anti-racism, and above all else, love.
We began this work by bringing #EastEndLove back as one of the guiding themes for our #DestinationDanforth mural projects with the city of Toronto. Three large scale murals celebrating the beauty of our community have already been installed along Danforth Avenue, and more are on the way in 2021. But we know that hate happens on the side streets, and in the back alleys as often as it does on main street, and we want to make sure that #EastEndLove extends well beyond the Danforth, into every corner of east Toronto.
#EastEndLove 2.0 is a new digital phase of this project, which we hope will offer an accessible and engaging way for community members across all neighbourhoods in east Toronto to help us spread some much needed love and inclusion in our communities! The ask is simple: we want you, our east Toronto community members, to help us flood our local hashtag, #EastEndLove, with as much love & hope as you possibly can over these next few months.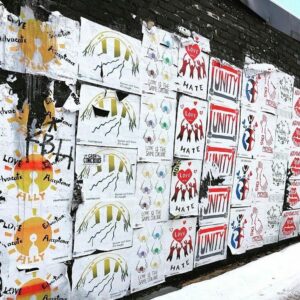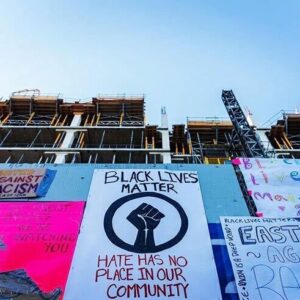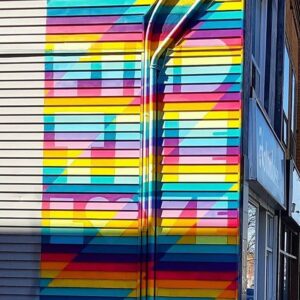 HOW TO GET INVOLVED ❤ 
We are inviting you to help us spread some more #EastEndLove (because, that's the one thing you can never have too much of). Here are the ways to help us kick off #EastEndLove 2.0:
Flood the feed ❤: We want you to share the amazing people, places, projects, feelings, ideas and so on that tell the story of what #EastEndLove means to you. Let's flood our digital universe with as much love as our physical one, using the hashtag #EastEndLove and tagging @EastEndArtsTO so that we can reshare the love on our channels! Show us what makes you proud to be an east ender; what you love most about your neighbourhood; and what amazing actions/projects/initiatives you've seen in your communities to combat hate in all its forms.
Join the Love Squad ❤: Sign up for our monthly newsletter to find out about future updates to this project, and learn about the ways #EastEndLove will grow into 2021 and beyond! P.S. If you see something in your neighbourhood that could use a bit of love, send an email to lovesquad@eastendarts.ca

with a picture and details, and we will dispatch a Love Squad team member with one of our community created posters celebrating diversity in east TO!
#EastEndLove has always been about putting the power in the hands of our community members. Let's continue to remind ourselves that love will always win over hate, and that we have the power to shape the kinds of communities we want to live in, for a better tomorrow.
Check out the video below that tells the story of how #EastEndLove came to be in 2019.