Help East End Arts spread some #EastEndLove! This community-engaged public art project is presented by East End Arts, and uses stencil screen printing, collaborative art workshops, and public art to spread messages of acceptance, anti-discrimination, anti-racism, and love throughout the east Toronto community. Artistically led by lead artist Lara Lucretia, and  guided by local grassroots organization East Enders Against Racism, the #EastEndLove project will conclude with a public showcase of the completed art pieces throughout the east Toronto community.
#EastEndLove is generously supported by the Ontario Arts Council, and the Department of Canadian Heritage through the Community Support, Multiculturalism, and Anti-Racism Initiatives Program (CSMARI). Read our recent #EastEndLove press release here.
COMMUNITY WORKSHOPS
The #EastEndLove project will feature workshops in communities throughout east Toronto, led by lead artist Lara Lucretia. Each workshop is uniquely tailored to the individual community, its members, and their needs. Workshops guide participants in imagining the communities that they want to live in, and how to collaboratively translate these desires into visual artworks to be stencil screen-printed and posted throughout their neighbourhoods. Participants will use their lived experiences and local histories as inspiration in co-creating the artwork, while also externalizing their feelings about community, acceptance, tolerance, anti-discrimination, anti-racism, and anti-hate into visual art. Each participant will take home a hand-pulled print of their #EastEndLove image!
WORKSHOP DATES (PAST & UPCOMING)
Saturday, March 23, 2019, 12-4pm at AccessPoint on Danforth.
Monday, April 8, 2019, 10am-3pm with the Triangle Program at East End Arts, St. Matthew's Clubhouse (closed workshop)
Saturday, April 13, 2019, 12-4pm at Crescent Town Club – Club Room, 2A The Market Place.
Friday, June 7, 2019, 11am-4pm at Kennedy House Youth Shelter, 1076 Pape Avenue (closed workshop)
Friday October 18, 2019, 10am-3pm at Creative Works Studio, 793 Gerrard St. East (closed workshop)
Saturday October 19, 2019, 1pm-6pm at St. Matthew's Clubhouse, 450 Broadview Avenue (closed workshop)

Additional upcoming workshops will be posted here once they are confirmed! Are you a local community group interested in hosting an #EastEndLove workshop? Contact our Program Coordinator, Adam Barrett, for a possible collaboration!
#EASTENDLOVE EXHIBITION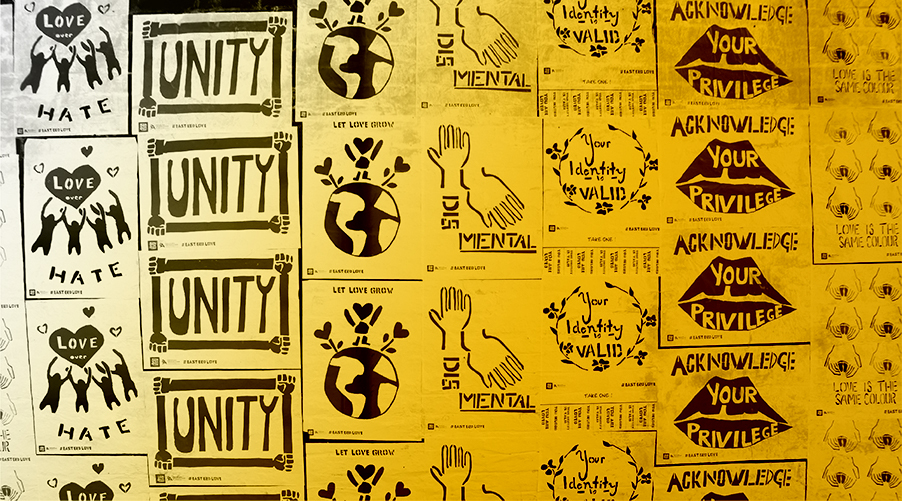 You are invited to join East End Arts for our final #EastEndLove Exhibition taking place this November! Come and view all of the collaborative art pieces we've created with community members throughout the year. This exhibition will run for the full month of November, (from Monday November 3rd until Friday November 29th). The opening reception of this exhibition will take place on Thursday November 7th, 2019. Come and join us to take in all the artwork, enjoy some refreshments, learn more about the art-making process of collaborative screen-printing, and pick up a print or two to take home with you, while supplies last!
COST: Free to attend!
DATES: Opening reception – Thursday November 7, 2019
Full Exhibition runs from Monday November 4th until Friday November 29th, 2019
TIME: Opening reception, 7pm – 9pm. Full exhibition, normal gallery hours.
LOCATION: Riverdale Hub, 1326 Gerrard St. E (Main Floor Gallery)
SPREADING THE LOVE
#EastEndLove posters made by community members from our first round of workshops, can now be found around east Toronto on light & electrical poles, business windows, and more! We also put posters all over the wall on the side of Marvel Coffee, just outside Donlands TTC Station! If you see our posters up, show some love ❤️ and share a photo on social with the hashtag #EastEndLove! You can also tag us at @eastendartsto.
In August, 2019, we also had the immense pleasure of welcoming the Minister of Canadian Heritage, the Honourable Pablo Rodriguez, and our local MP for Toronto-Danforth, Julie Dabrusin, to our clubhouse to learn more about our collaborative, community art project, #EastEndLove. This was a very exciting opportunity to talk about our project alongside our lead artist, Lara Lucretia, and to discuss our plans to grow the project this fall, thanks to the funding we received from the Federal Government!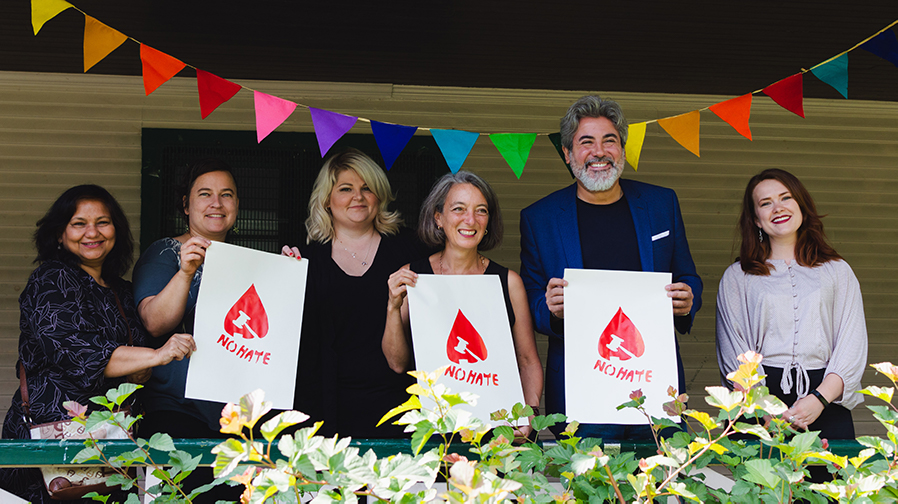 IMPACT REPORT
Stay tuned for East End Arts' Impact Report, which will summarize and synthesize our learnings from the #EastEndLove project, as well as a summary of how the project can be used as a model for creating community-engaged, public art with the goal of responding to common issues within communities such as exclusion, isolation, discrimination, and racism.
If you'd like to learn more, please contact Adam Barrett, Program Coordinator.