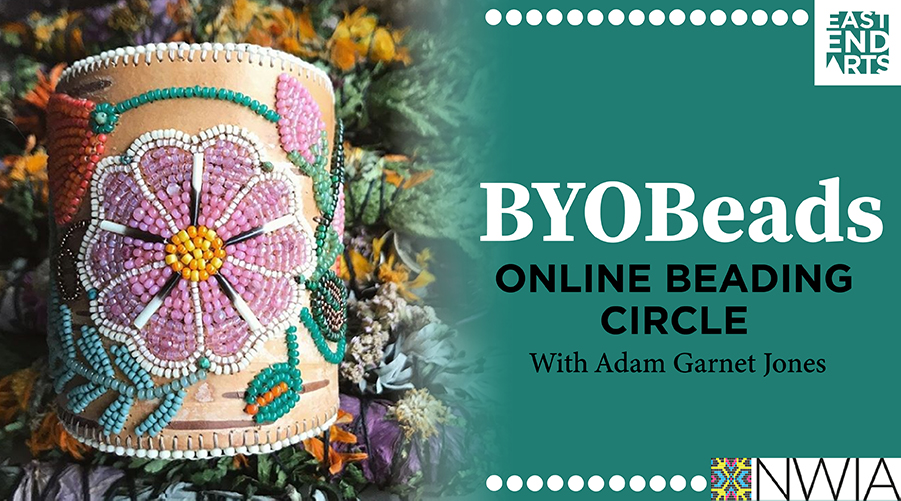 You're invited to join East End Arts, Native Women in the Arts, and Indigenous, 2-spirit Artist Adam Garnet Jones for BYOBeads Online, taking place every second Thursday evening each month!
BYOBeads Indigenous ONLINE Beading Circle
Online Using Zoom & Registration via EventBrite
Thursday Evenings in Sept-Dec
7-9pm – tune in any time!
FREE
Led by Queer Metis bead-artist, novelist, & film-maker, Adam Garnet Jones and hosted by East End Arts, BYOBeads is an intimate opportunity for traditional bead artists, hobby-beaders just learning their craft, experts, elders, and enthusiasts to gather and work together on current project(s), share skills, and show off the beautiful things they've been working on!
For the Fall and Winter of 2020, we are thrilled to be partnering with Native Women in the Arts to present an amazing selection of Indigenous guest artists as part of BYOBeads! Each month, we invite a special Indigenous guest artist from a multi-disciplinary art form to share their work at one of our beading circles, and to have a discussion with our participants, making it a true celebration of Indigenous artistry & talent! Guest artists are drawn from Indigenous arts communities all over Canada, featuring music, playwrights, actors, storytellers, visual artists and more, celebrating the broad range of Indigenous artists from east Toronto and beyond. 
So come meet online, bring a cup of your favourite tea, share your bead work, share your tips, enjoy a performance, and gather socially (from a distance!) with people who share your love of this traditional craft.
NOTE: Participants are not required to call in with video – We all know how zoomed out things can get these days, so please, feel free to join us however you feel comfortable (though we would LOVE to see your work!)
UPCOMING BEADING NIGHTS:
September 10 – No Guest, Just Beads!

September 24 – Sage Paul
October 8 – Iskwē
October 22 – No Guest, Just Beads!
November 5 – Caitlyn Bird
November 19 – Lindsay Nixon
December 3 – Holiday Beading Extravaganza!
REGISTRATION:
For those interested in joining us, please register through EventBrite! This program is entirely free to join. If you have questions, or are having difficulty accessing the Zoom link, email Adam Barrett our Programming Coordinator at Adam@eastendarts.ca!
UPCOMING GUEST STARS:
CIRCLE SCHEDULE:
BYOBeads is a very casual vibe, but for those of you looking for a bit of structure this is the approximate schedule for the evening:
7:00-7:15 – Welcome, Introductions
7:15 – Show and tell/update on Beadwork Projects
7:30-7:45 – Presentation by Guest Artist
7:45-8:00 – Discussion
8:00-8:45 – BEADS, BEADS, BEADS!
8:45-9:00 – Final Presentation by Guest Artist & Closing Thoughts
ABOUT THE LEAD FACILITATOR, ADAM GARNET JONES: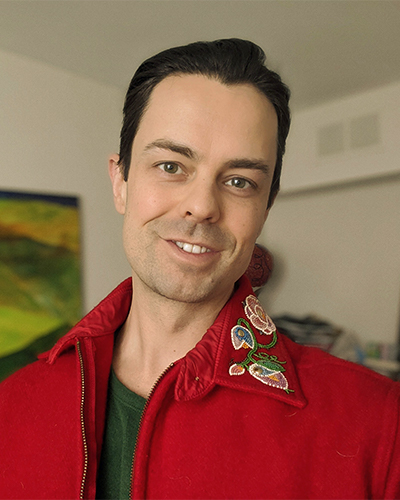 Adam Garnet Jones (Cree/Métis/ Danish) is a Two-Spirit screenwriter, director, bead-worker and novelist from Amiskwacîwâskahikan (Edmonton, Alberta.) Although he had been making short films for quite some time, Adam came into his own as a filmmaker with the release of his first feature, Fire Song, at the Toronto International Film Festival in 2015. Fire Song went on to win the Audience Choice Award at ImagineNATIVE, before picking up three more audience choice awards and two jury prizes for best film at other festivals. Before going into production, the script for "Fire Song" won the Writer's Guild of Canada's Jim Burt Screenwriting Prize. Adam was nominated for a Canadian Screen award for Best Original Screenplay for his second feature Film, Great Great Great, which also won Best Script, Best Performance, and Best Film at the Canadian Film Festival.
Adam has recently shifted his artistic practice away from writing and directing film and is focusing on writing fiction and creating custom beadwork, primarily for Indigenous artists. His first novel, Fire Song (based on the film) was published in the spring of 2018. Publisher's weekly called it "striking and remarkable" while the Globe and Mail said "Fire Song is unquestionably necessary . . . because of its subject matter, perspective and voice." The book received a starred review from Kirkus, and was named an honour book from CODE's Burt Award for First Nations, Inuit, and Metis Literature. It also won a bronze medal for Young Adult fiction from the Independent Publisher's Book Awards. Fire Song has topped innumerable "best of" lists of the year's LGBT YA literature in the US and Canada.
To learn more about Adam Garnet Jones, the lead facilitator, visit his Instagram page, or his website.
PAST GUEST STARS:
CHRISTA COUTURE – July 2020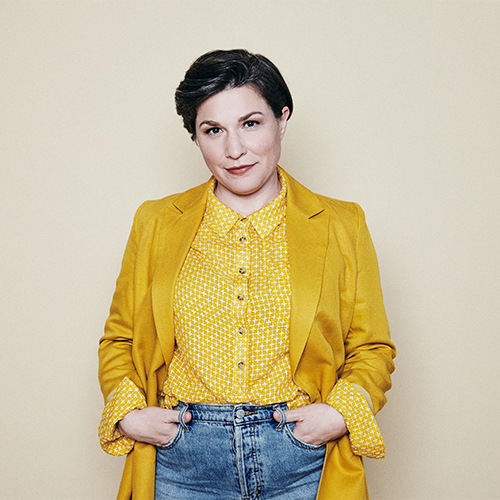 Christa Couture is an award-winning performing and recording artist, non-fiction writer, and broadcaster. She is also proudly Indigenous (mixed Cree and Scandinavian), disabled, queer, and a mom. Her seventh recording, Safe Harbour, was released on Coax Records in 2020. As a writer and storyteller, she has been published in Room, Shameless, and Augur magazines, and on cbc.ca. In 2018, her CBC article and photos on disability and pregnancy went viral. Couture is a frequent contributor to CBC Radio and is currently the weekday afternoon host at 106.5 elmnt fm in Toronto. Her memoir How to Lose Everything publishes in 2020 with Douglas & McIntyre. Couture lived for many years in Vancouver, BC, but now calls Toronto home.
Through her son's heart transplant, his death, his brother's single day of life, the amputation of her leg as a cure for bone cancer, abortion, divorce, and a move across the country to start over after it all, Christa Couture has come to know every corner of grief – its shifting blurry edges, its traps, its pulse of love at the centre, and its bittersweet truth that resilience is borne of suffering. How to Lose Everything is a collection of personal, vulnerable essays, invitations, into how Couture knows that place of exile-and how she survived it.
The stories connect dots of sorrow, despair, reprieve, and hard-won hope; part portrait of grief and part frank revealing of the emotional and psychological experiences of motherhood, partnership, and change.
It's a book for people who want to know about losses they haven't had; an insight into extreme experiences and emotions. It's a book for people who want their own losses to be named. and it's a book that aims to be a friend to anyone who's experienced loss of any kind.
FALEN JOHNSON – June 2020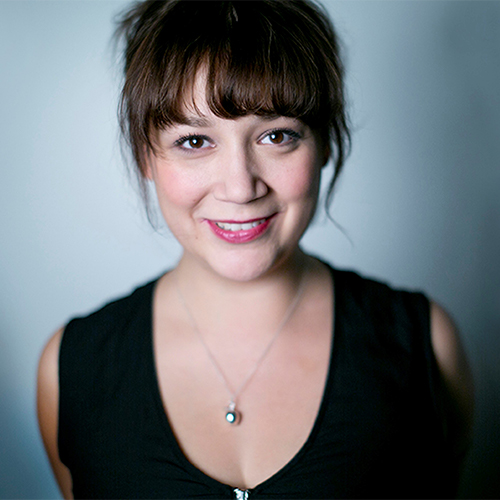 Join us on Thursday June 25th to experience a special performance from Falen Johnson! Falen Johnson is Mohawk/Tuscarora (Bear Clan) from Six Nations Grand River Territory. She is a writer and podcaster. Her plays include Salt Baby, Two Indians, and Ipperwash have played across Canada. Her writing has been featured in Brick, The Canadian Theatre Review, and Granta Magazine. She co-hosts The Secret Life of Canada (CBC Podcasts) with Leah Simone Bowen. She has written for Urban Native Girl and Merchants of the Wild on APTN and was scripted the 2020 Inspire Awards which will air on CBC in June. She was named one of Maclean's 20 to watch in 2020.
FUNDER: