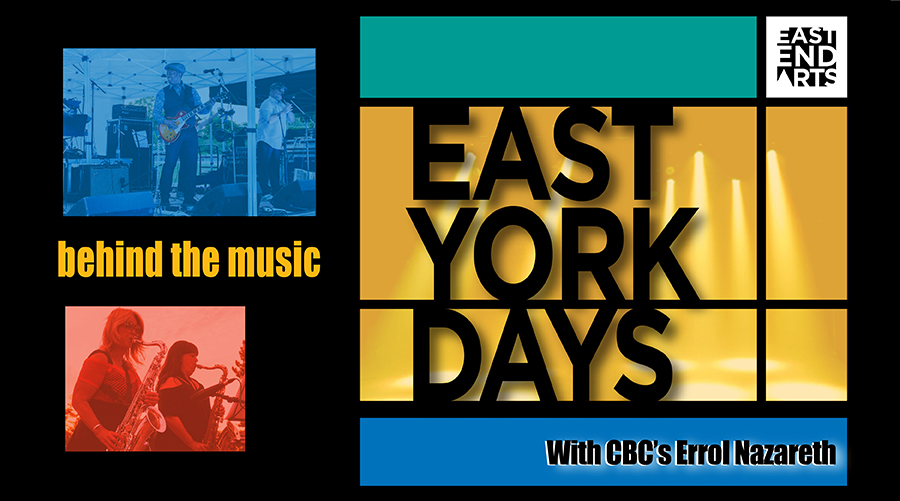 East York Days Behind the Music is an online 'behind the scenes' music series, hosted by CBC's Errol Nazareth this September!
East York Days: Behind the Music
Hosted by Errol Nazareth
September 16, 23 & 30, 2020 | 7-8 PM each night
Online on Facebook Live!
FREE to watch
Have you ever wondered what that song you're singing along to is actually about? Have you ever wanted to know more about the meaning behind the music, taking a closer look at the artist's process and journey?
This year you're invited to join East End Arts and the host of CBC's Big City Small World, Errol Nazareth, for an updated version of our annual concert series, East York Days: Behind the Music! While we may not be able to gather at the East York Civic Centre for what would have been our third summer of East York Days, we are keeping the spirit and celebration of local music alive and well this year, but with a fun, new digital twist! Allow us to take you "off stage" to the fireside at St. Matthew's Clubhouse, where our iconic host will chat with an incredible lineup of musicians to get the captivating stories behind the songs!
On three Wednesday nights in September, tune in to East End Arts' Facebook Page to enjoy 60-minute sets featuring in-depth conversations and music from the talented artists listed below. See where some of your favourite live acts create the tunes you love to groove to, hear about their process, and let the dulcet tones of our host, Errol Nazareth, bring you back to the cool vibes of VH1 circa 1997, (ok maybe not quite, but even better!), where we really dig into the stories and ideas Behind The Music!
ABOUT THE HOST: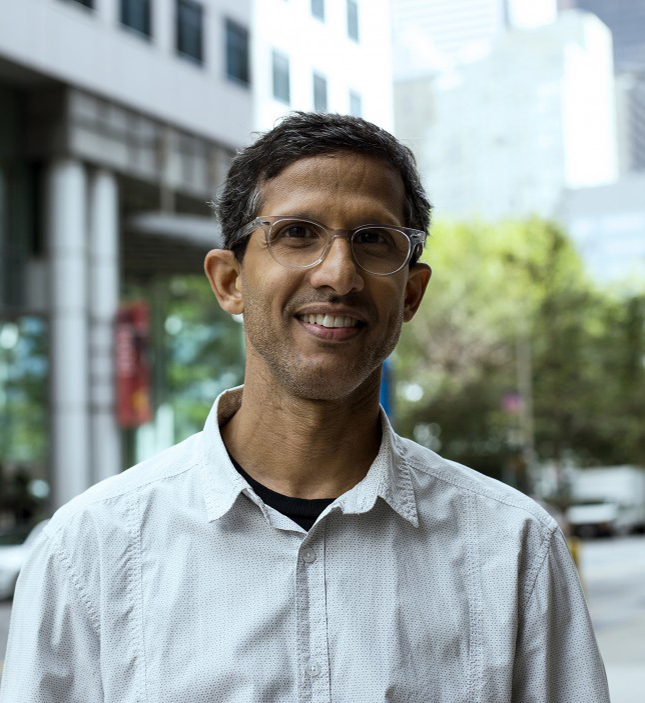 ERROL NAZARETH
Errol Nazareth is a highly respected music journalist and CBC Radio host. He's been playing professionally with words for over 20 years, and has written for The Toronto Sun and the alternative weeklies NOW Magazine and Eye Weekly.
Aside from co-producing and hosting Big City Small World every Saturday on CBC Radio 1 in Toronto, he's hosted national shows and guested on some of the network's most popular shows, including Sounds Like Canada, Definitely Not the Opera, and Writers and Company.
Errol has taught journalism at Centennial College and Ryerson University, and teaches two Writing for Radio courses at Humber College and currently two Media Writing courses at Centennial College.
ARTIST LINEUP:
Wednesday September 16th – Andrea Ramolo and Louis Simão
Wednesday September 23rd – Jenna Marie Pinard & Jay Yoo and Denielle Bassels
Wednesday September 30th –  Joanne Morra and Amélie Lefebvre
ABOUT THE ARTISTS:
Website | Instagram | Facebook | Twitter | YouTube
Andrea Ramolo is a multiple Canadian Folk Music Award nominee and has earned accolades from the press and her contemporaries both for her solo work and her part in the duo Scarlett Jane. Born to Italian immigrants, Andrea began her artistic life as a dancer and actor until she released her debut album Thank You For The Ride in 2008 which sent her on a tour of more than 150 shows across Canada in support of the release. Living out of her van and playing close to 200 concerts per year following that debut earned her the nickname 'road-warrior.'  Following her debut was the release of her second Tim Thorney-produced record The Shadows and the Cracks in 2011" which granted her a nomination at the Canadian Folk Music Awards for Emerging Artist of the Year. 
Her most recent record, Homage, stood as an important next step in her journey. The album honours songs by the late and great Leonard Cohen (once again produced by Timmins) and earned her a 2020 Canadian Folk Music Award Nomination for Contemporary Singer of the Year. 
Andrea has had the pleasure of singing alongside Gordon Lightfoot, Andy Maize, Ron Sexsmith, Tom Wilson, Blackie and the Rodeo Kings, Adam Cohen and the Montreal Symphony Orchestra, and more.  She continues to tour the Canadian festival circuit and has successfully built a following overseas in Europe, especially in Italy.  Andrea performs in both English and Italian and recently released her first Italian single written and recorded in quarantine as a love letter to the people of Italy during the Covid-19 pandemic.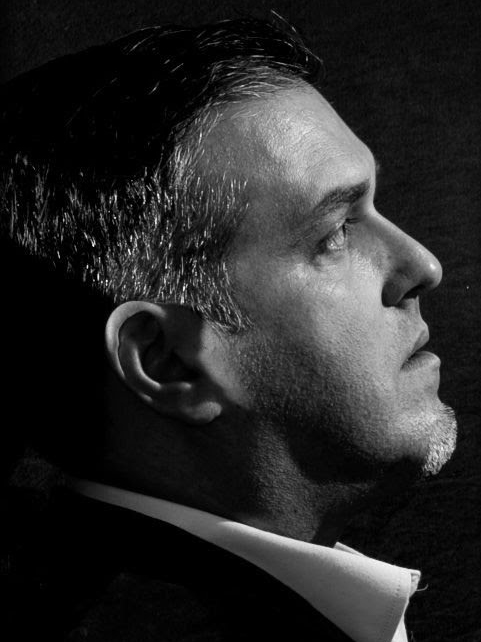 LOUIS SIMÃO
Website | Instagram | Facebook | Twitter 
Award-winning, Toronto-based musician Louis Simão has been composing, performing and recording as a multi-instrumentalist in a variety of genres for over twenty years. Simão has performed and/or recorded with Nelly Furtado, Kiran Ahluwalia, Dominic Mancuso (2010 JUNO winner), Bïa, Michael Occhipinti's Sicilian Jazz Project (2009 JUNO nominee), Luis Mario Ochoa, Justin Rutledge, Guinga, Henrique Cazes, Patricia Cano, Daniela Nardi's Espresso Manifesto, Sophie Milman, "MARIA SEVERA" at The Shaw Festival, Tapestry New Opera Works, Eliana Cuevas and Aline Morales. Described as "utterly unique" (CBC Radio One), he was nominated in 3 separate categories for the 2017 International Portuguese Music Awards (IPMA), and won Song of the Year with his composition "Três Anos" (Simão/Petrilli). In November of 2017, he was named World Solo Artist of the Year by the Canadian Folk Music Awards for his first solo release, "A Luz" (The Light), and in April of 2018, was nominated by the Independent Music Awards for 2018 World Beat Artist of the Year. Louis is currently in the process of completing his next CD.
Jenna – Website | Facebook | Instagram 
Jay Yoo –  Instagram
About the band:
Jenna Marie Pinard and Jay Yoo are a jazz duo from Toronto, Canada. Individually and in a variety of ensembles, they have performed at prestigious Canadian venues such as Old Mill Toronto, The Rex Hotel, Upstairs Jazz, House of Jazz, Koerner Hall, Canadian Stage, Meridian Arts Centre, and Banff Centre for the Arts. The two up-and-coming jazz musicians have played alongside a variety of Canadian jazz icons including Steve Wallace, Chase Sanborn, Mike Murley, Alison Young, Emily Steinwall, Nick Mclean, Brownman Ali, Christine Duncan and many more. Jenna Marie and Jay Yoo released their debut duo album "Here Now", in November 2019. The album consists of inventive arrangements of jazz standards and original music. Inspired by extended technique and improvisation, this duo record was made with the intention of paying homage to the jazz tradition whilst simultaneously creating an emotional, intimate and contemporary sound.
About Jay:
Jay Yoo is a guitarist, composer, and arranger based and active in Toronto. He started out as a blues guitarist and finished his undergraduate degree of jazz performance at the University of Toronto in 2018. Having studied with a number of renowned musicians such as David Occhipinti, Geoff Young, Mike Murley, Chase Sanborn, Terry Promane, and many more, he is an open minded and versatile musician, being involved in different genres such as funk, rock, jazz, pop, and so on. He has performed in various popular venues and events in and around Toronto, such as the Rex Hotel Jazz and Blues Bar, Koerner Hall, Tranzac, and Beaches Jazz Festival to name a few.
About Jenna:
At the vanguard of 'The New Jazz Generation' and freshly graduated from the University of Toronto's prestigious jazz studies program, JENNA MARIE PINARD possesses a signature jazz and blues voice that hints at Ella Fitzgerald, Sarah Vaughan and Aretha Franklin, but is distinctly her own.  She is best known for her smooth-sounding jazz and rich R&B vocals, her wide vocal range, and passionate performances. She is quickly gaining reputation in Toronto as a uniquely warm spirit and engaging performer.  Originally from Montreal, Jenna Marie now lives in Toronto and plays weekly all over the city. 
Website | Facebook | Twitter | YouTube
Denielle Bassels, Toronto based Indie-Swing singer/songwriter, began down her musical path while working as an au pair (nanny) in Lausanne, Switzerland. Her charge, a young boy named Oswaldo, took lessons at one of Lausanne's most prestigious music schools, and it was here Denielle met the teachers, students, and artists who would introduce her to the local jazz scene. One fateful night out, at a jam session at the Hotel De Ville,  an untrained Denielle sang a rendition of Ella Fitzgerald's "Bewitched, Bothered and Bewildered" and quickly caught the attention of the musicians that would make up her first jazz combo.
From jazz caverns to music festivals she ended up performing all across Switzerland and France where she discovered jazz manouche and the Django Reinhardt style of swing music. Audiences were captivated by the tall striking Canadian and club owners kept booking her back, again and again. Denielle however yearned for something more, a deeper foundation to create from. So after two years of working and performing in Europe, Denielle returned home to Canada and enrolled in Humber College's contemporary music program. It was here she found her new band and before long was holding residencies at some of Toronto's finest jazz clubs. Denielle's new album, What About Wool Wishbags,  has been described as "Ella Fitzgerald sipping tea on a rollercoaster with the Mad Hatter". Denielle's voice is as pure and rich as her performance style. She will immerse you in her tales. Her new album is set for release in early November.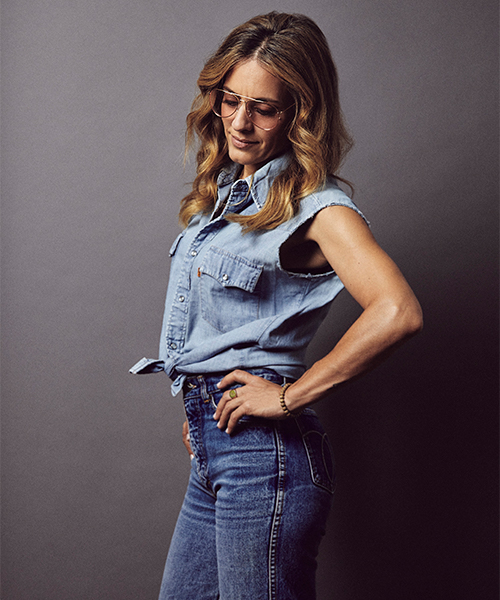 JOANNE MORRA
Website | Instagram | Facebook | Twitter | YouTube
Joanne Morra began her career in the visual arts, with a degree in painting and photography from York University, but her powerful singing voice refused to play second fiddle for long.
For almost two decades she has sung jazz, blues and funk across Toronto and the GTA, and has crooned to audiences everywhere from high toned establishments to gritty late night clubs and street festivals. Joanne has performed at a wide range of venues including: The Spadina Theatre, The Liberty Grand, The Reservoir Lounge, 120 Diner, Castro's Lounge, Coquine Restaurant, The Silver Dollar, Gate 403, The Local Gest, The Spoke Club, The Scarboro Golf and Country Club, The McMichael Gallery, The Gardiner Museum and Heliconian Hall, to name a few.
The Toronto songstress released her debut album Alouette in 2017, a deeply personal collection of classics ranging from Québécois rock to jazz standards, blues and German cabaret. Also featured are original compositions, as well as surprising renditions of French folk songs such as Au chant de l'Alouette and Un Canadien errant, all made magnificent by warm and sensual vocals.
Her training is top notch- she has studied at various workshops at the Royal Conservatory of Music, Humber College, and Shelley Berger Music School, as well as under Micah Barnes, Howard Rees, Paul Cooper, Whitney Smith, Tom Schilling, and Bonnie Brett. Joanne has had the pleasure of working with the finest musicians, most notably Eric St-Laurent, Rachel Melas, John Farrell, Kevin Barrett, Carson Freeman, Kurt Lund, Jeff Hewer, Anthony Panacci, Richard Underhill, Whitney Smith, Jordan O'Connor, and Joey Burke.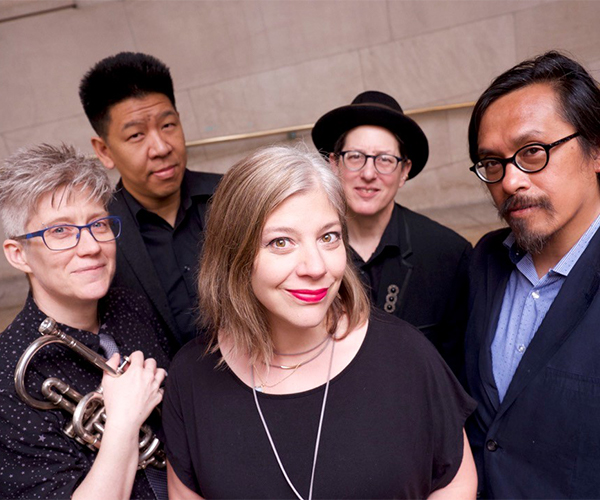 AMÉLIE LEFEBVRE & LES SINGES BLEUS
The band – Instagram | Facebook | Twitter
About the Band:
The members of this band are: Amélie Lefebvre – Lead vocals and Ukulele; Beth Washburn – Horns; Rizaldo Padilla – Guitar; Rachel Melas – Upright Bass; and Tim Shia – Drums.
Amélie & Les Singes Bleus (ALSB) is a band that is hard to put a label on. Following the momentum of their critically acclaimed debut album À l'étage des funambules, ALSB continues to delight and confound with their new album Entre Nous. Do you enjoy French cabaret jazz-country-ska-mariachi-swingtorch-Motown-samba-rock and roll-trip hop?  When you have a listen, the answer is a resounding "oui".  The fact is, ALSB is not concerned with such limiting concepts as genre – they simply go where their musical curiosity takes them.  Cutting their musical teeth on Toronto's club scene, ALSB built a following reinterpreting French classic as seen through a kaleidoscope of other influences. Edith Piaf sitting in with a slow jam rhythm section, Jacque Brel having a bar brawl with Tom Waits… this is the sound that the band has been celebrated for – and won awards for, including the prestigious Coup De Foudre 2012. It is a sound that has thrilled audiences across Canada.
About Amélie:
Amélie Lefebvre is a french singer whose ability to delight and charm her audiences with her smoky jazz voice is well-known in the Franco-Ontarien community. Lefebvre has been a featured performer with Soulpepper in its production of Paris In The 1920s: A Moveable Feast. Past shows include Mariposa Festival (2019), the Toronto International Jazz Festival (2018) and Francofete (2019).