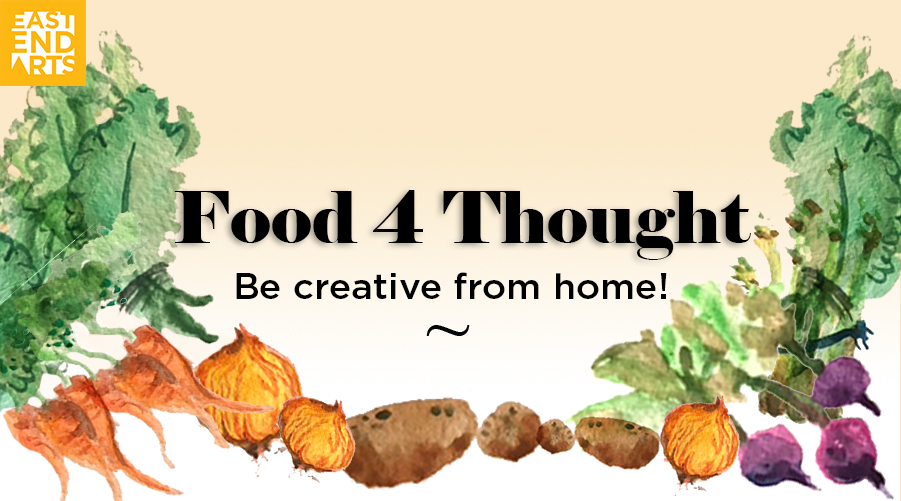 East End Arts, and watercolour artist Christine Walker, are excited to announce a new internal program with the Applegrove Community Complex – Food 4 Thought! Read on to learn more, and find out how you can support this program by sponsoring a senior!
Food 4 Thought
East End Arts & Artist Christine Walker
June & July, 2020
Location: From the comforts of home for participating seniors
Cost: Free to seniors through Applegrove
*Please note that this program is not open to the public for participation
East End Arts, Applegrove Community Complex, and the East End United Regional Ministry are working with local seniors accessing the Glen Rhodes Food Bank on a series of weekly art activities in June and July, focused around recipe sharing and story-telling to help keep spirits up while we all stay at home! Introducing Food 4 Thought!
Along with a weekly food basket, East End Arts and our partners will deliver arts and craft supplies to participating seniors, as well as a weekly set of creative prompts to spark the imagination, as well as feed the soul. Eventually we hope to collect all of the work created to add it to the new Glen Rhodes Food Hub, possibly as a mural/public art piece for the walls of the Hub and/or as part of our growing cookbook and recipe library.
About the Weekly Prompts
Each week, alongside a weekly food basket from the Neighbourhood Food Hub, seniors throughout the east Toronto community will receive creative prompts. Some prompts will be text-based inviting participating seniors to remember places near and far, and some will be visual arts-based using the arts supplies provided.
For example, Week One Prompts:
TEXT PROMPT
What is your favourite "lean times" recipe, and where did you learn it? We all love to stretch a dollar – let's share some of our favourite recipes and memories around them.
In addition to your story, don't forget to include the recipe! You can write your recipes out by hand, or you can include a printed clipping.

WATERCOLOUR PROMPT
Illustrate a bowl of hearty soup or cereal. It could be realistic or imaginary!
Technique:
Blotting with cotton swabs or tissue to remove colour. You can also add paint to the cotton swabs to act as a stamp.
Alcohol- consider dropping alcohol onto the artwork to create circular shapes- like many breakfast cereals!
About the Lead Artist: Christine Walker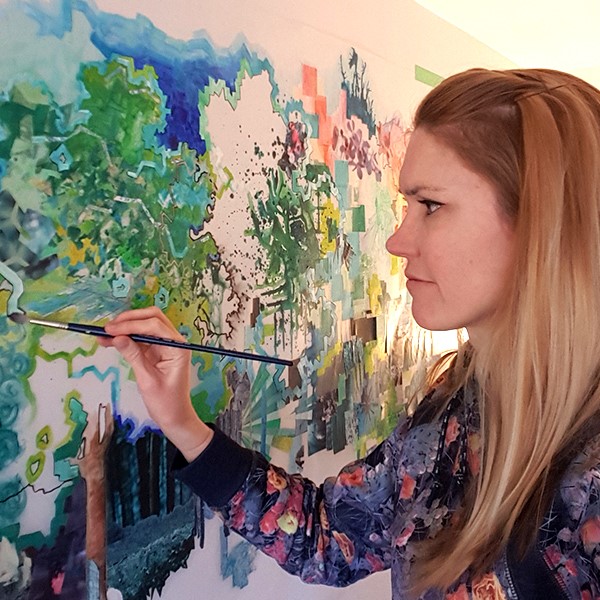 Christine Walker is a painter and an arts educator who currently lives in East Toronto. She has been a Visual Arts teacher with the Toronto District School Board for 16 years, and is very passionate about quality arts education. Christine has her Master of Fine Arts degree (MFA) from OCADU, her Bachelor of Fine Arts degree (BFA) from NSCADU, and a Bachelor of Education degree (BEd), with Arts qualifications from Kindergarten to grade 12. She is experienced in Oil, Acrylic, Encaustic and Watercolour painting, and enjoys creating in all forms. Her current paintings combine Watercolour and Acrylic painting, with a focus on birds often seen in East Toronto. She is currently working with an author to illustrate a children's book, and completing commissioned paintings.
Website  |  Instagram  |  Facebook
Sponsor A Senior!
You can help support this program by Sponsoring A Senior! Donate $65 to East End Arts today, and you will help support a Food 4 Thought Kit, which includes:
A Journal

– A place to record journal entries or poems or rants, for the weekly "text prompts". When the project is over, we will collect these to make digital versions to be displayed in some way at the Neighbourhood Food Hub, and to include the journals themselves as part of our library!

Paint Brushes

– A selection of brushes chosen just for this project.

Hard Palette Watercolour Paint – A selection of good quality colours in various sizes and colours.
A Water Soluble Pencil – To draw outlines for the art prompts.
Pencil Crayons – For the colouring book, of course.
Adult Colouring Pages – All from local Toronto artists!
Please note that there is no cost to participate for Applegrove seniors. If you are a senior experiencing food insecurity, we encourage you to contact the Neighbourhood Food Hub at Glen Rhodes.
*NOTE, BE SURE TO SELECT EAST END ARTS FROM THE TORONTO ARTS FOUNDATION DROP DOWN MENU!*
Our Partners