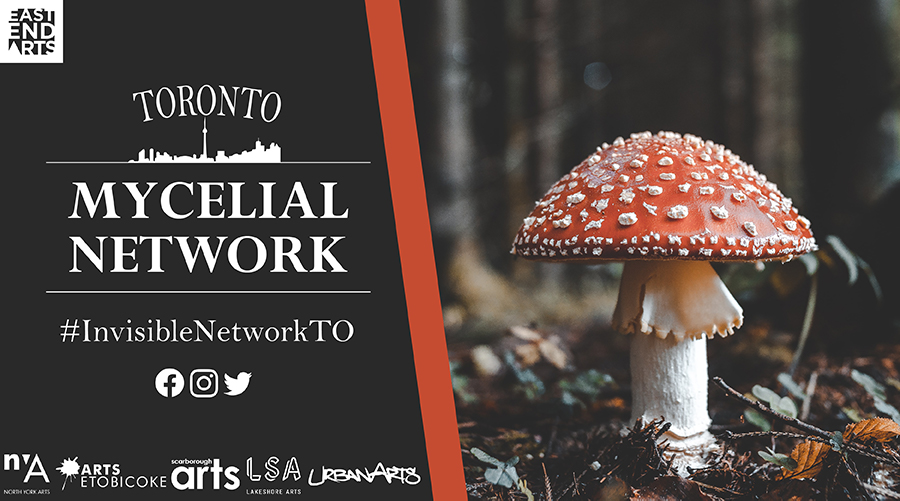 We invite you to connect with us and the Toronto arts community by creating a mushroom from supplies you have at home!
TORONTO MYCELIAL NETWORK
An art project to participate in at home
April 1st – August 30th, 2020

Mushrooms can be a great distance apart, but are connected to the same invisible network.
Mushrooms grow invisibly, connected to an unseen latticework just beneath the surface.
Mushrooms grow on the old, process nature and signify times of change.
So, make a mushroom with East End Arts and our family of LASOs: North York Arts, Arts Etobicoke, Lakeshore Arts, Scarborough Arts and Urban Arts! Your mushroom can be made from felt, papier-mache, origami or whatever art supplies you find in your cupboards. While we are all socially distant, let's make something together to stay connected.

We invite artists and makers to spend this time making any interpretation of a 3-dimensional mushroom that can fit on a 2"x2" square. Once this is all finished and we can gather together, the mushrooms will be collected and displayed as part of Nuit Blanche, East Danforth, and other possible hubs!
Until then, let's be connected through an invisible network of making. Share your mushrooms as a post on Instagram, Facebook or Twitter with the hashtag #InvisibleNetworkTO. It's that simple! This is an invitation to focus on a single shape, and meditate on the nature of being connected to other people across Toronto while we make it!
HOW TO PARTICIPATE:
Make a mushroom. Document & share your process, if you feel like sharing!

Post your mushroom on Instagram, Facebook, or Twitter with the hashtag #InvisibleNetworkTO. Be sure to tag your crafty friends to keep the network growing!

Sign up for our

 EEA Newsletter to be notified about The Toronto Mycelial Network at Nuit Blanche and other opportunities to make magic!
The Toronto Mycelial Network was created and initiated by East End Arts, and has been supported by our family of LASOs to expand and grow the network to all corners of Toronto! Members from any community in the city of Toronto and beyond are invited to join all of us in making a mushroom at home, and being connected in times of social distancing.
Mushroom Photos by: Florian van Duyn, Adrian Infernus & Amy Humphries