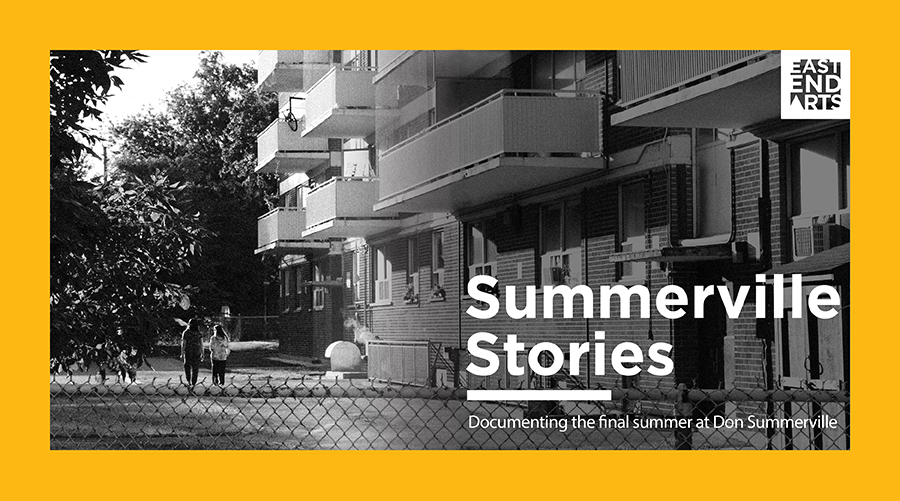 Introducing a new internal program to document the stories and memories from tenants at Don Summerville.
Summerville Stories
A Story-Collecting and Story-Celebration Program at Don Summerville
Ongoing until August 31st, 2021
FREE to participate for Don Summerville Residents

What makes a place home? What are the stories that you carry with you, when you move away? These are the questions we ask ourselves as the Don Summerville Apartments at the corner of Queen and Coxwell undergo massive change. 
In response to the new development and revitalization plan for the Queen Street East and Coxwell Avenue area, East End Arts is thrilled to partner with Applegrove Community Centre, Toronto Community Housing Corporation, RioCan and Context Development for a Heritage Preservation Celebration at Don Summerville: Summerville Stories!
This program will have three main components: professional photography workshops, a series of community interviews, and a beautiful keepsake for the residents of Don Summerville.
Talented local photographer Diana Nazareth will lead three professional photography workshops from July-September, designed to help Summerville residents develop their skills as photographers and capture special moments of their "final summer in Summerville". In addition, a team of local youth Community Leaders will interview tenants to gather verbal stories and memories, based on a set of questions created with the East End Arts team. These stories of how the community began, and images capturing the summer of 2020 in Summerville will be gathered and turned into a keepsake for tenants during the revitalization process, and beyond. Stay tuned for the final plans for this special keepsake project!
"A revitalization includes two components – there is the physical revitalization (i.e. delivering new buildings to tenants), but also there is the social transformation which focuses on all the key social issues that need to be addressed in order for the revitalization to bring about vibrant and inclusive communities… TCHC, Applegrove CC and our developers (Context Development Inc. and RioCan) have entered into a cooperation with East End Arts to provide us with creative advice and support to embark on this journey of capturing the stories and photographs of Don Summerville community. We will be using these stories and photographs to build bridges with the wider neighborhood [as part of our goal of] social inclusion"– Sundus Balata, Manager, Revitalization and Renewal Communities, Toronto Community Housing
Note that there is no cost to participate for interested tenants of the Don Summerville buildings! If you live in the community and want to participate in this project, please contact adam@eastendarts.ca to learn more.
ACCESSIBILITY: Translation services, including ASL, are available for Summerville tenants to share their stories and participate in all photography workshops.
ABOUT THE LEAD ARTIST: DIANA NAZARETH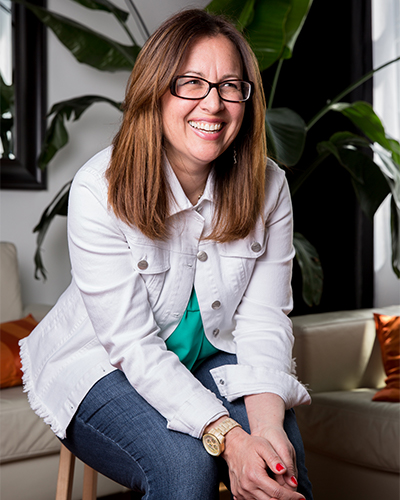 LIFESTYLE FAMILY PHOTOGRAPHER, PHOTOGRAPHY EDUCATOR
Diana Nazareth is a Toronto-based lifestyle family photographer with a passion for photographing families who want to document what's most important to them; the real, daily-life kind of love they share with each other. If that's you, she'd love to explore how to best photograph you and your loved ones. 
Diana also loves teaching photography. She's the founder of Project Kids & Cameras, a unique photography program designed for kids and youth ages 7-14, and Rock That KidShot!, in-home workshops for moms who want to learn how to take better photos of their kids. Diana is also the creator of KIDCLICKS, a fun photo walk series designed for kids ages 4-11.
Diana is the proud mom of two awesome boys and together with her family she lives and loves in downtown Toronto.

Website  |  Facebook  |  Instagram  |  Twitter

PARTNERS: