We're bringing ArtMEETS back for its fifth year! There are eight workshops in total: July workshops will open for registration on June 22nd, while August workshops will open for registration on July 6th. Scroll down to learn more!
ArtMEETS: Textile Edition
Saturdays from July 9th to August 27th, 2022
Time: 1-4 pm each Saturday
St. Matthew's Clubhouse, 450 Broadview Avenue
Cost: PWYC

Back by extra popular demand! East End Arts is thrilled to announce that ArtMEETS is back at St. Matthew's Clubhouse this summer for its fifth year! Led by talented, engaging, and supportive artist facilitators, each ArtMEETS workshop is an opportunity for adults to learn a new art skill, meet new people, and let your creative side shine! This year's workshops are focused on textile skills, are presented in partnership with Workman Arts, and are all PWYC (Pay What You Can)! Workshops run on Saturday afternoons in July and August (eight workshops total) from 1-4pm. We are accepting a maximum of 20 participants per workshop, so register early for those that interest you!
HEALTH & SAFETY
Participant & staff safety are of utmost importance to East End Arts and will be a priority during the program! Please note the following:
Following Ontario public health guidelines, visitors to our Clubhouse are not required to produce proof of vaccination to enter. Enhanced cleaning routines will remain in place in our space, and East End Arts does require all employees, facilitators, and volunteers to be fully vaccinated against COVID-19.
If you are feeling unwell, we ask that you please postpone your visit to our Clubhouse, and let us know about your absence as soon as you're able.
Following Ontario public health guidelines, masks are no longer mandatory inside our Clubhouse, however we continue to operate a mask-friendly space, and we welcome all visitors, employees and volunteers to wear them.
We continue to ask all of our participants and visitors to practice social distancing, when and where possible.
Hand sanitizer and disposable masks will be available on site for anyone who needs them.
We have a fully accessible, gender-neutral bathroom on site.
COST & REFUNDS
In order to continue to support the ArtMEETS program and pay its facilitators a fair CARFAC rate, as well as to offset the cost of high quality art supplies provided during each workshop, each ArtMEETS workshop will cost $10-$50 per person to attend (on a sliding scale of Pay What You Can). Payment is to be made online at the time of registration, which will be done via Eventbrite. Payments through Eventbrite can be made with any major credit card, or through PayPal. If you are unable to pay online, we also accept cash or cheque, which is to be paid before the day of your workshop. If you need to pay with cash or cheque, or you would like assistance through the payment process, please contact East End Arts at info@eastendarts.ca.
If you are not able to attend an ArtMEETS workshop that you've registered for, specifically if you are feeling unwell, please let us know as soon as possible and we will be happy to issue you a refund, or offer you a spot at an upcoming ArtMEETS workshop, if and where possible. You may also feel free to transfer your ticket to a friend! If you're transferring your spot to another person, be sure to email them your ticket or hand it to them personally, and let East End Arts know in advance.
PLEASE NOTE: If you require financial assistance, please contact EEA's Office Coordinator Tyler, at tyler@eastendarts.ca. Nobody will be denied participation due to lack of funds, but please note that there will be high demand to participate in this program, so if you require financial assistance, please reach out early!
REGISTRATION
In an effort to to make the ArtMEETS registration process a more equitable experience for community members, East End Arts is again presenting tiered registration dates. Registration for ArtMEETS workshops taking place in July will open on Wednesday June 22nd by 2pm, and registration for ArtMEETS workshops taking place in August will open on Wednesday July 6th by 2pm. Capacity for each workshop is 20 participants, so register early!
To register for an upcoming ArtMEETS workshop, please click on the individual workshop that you are interested in attending below!
ArtMEETS 2022 TEXTILE WORKSHOPS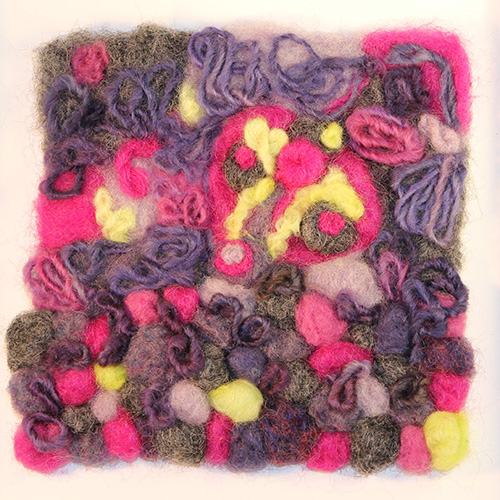 ArtMEETS: Needle Felting!
Facilitator: Sarah Bennett
Saturday July 9th, 2022 | 1-4pm
PWYC, $10-$50
Felting for Fun!
A simple art skill, with endless possibilities to explore, learn how to create everything from flat pieces of abstract art, to more complex, 3-dimensional pieces and beyond. Participants will each take home their own felting needle and other materials to continue using their newfound art skill at home!
Learn more here & register here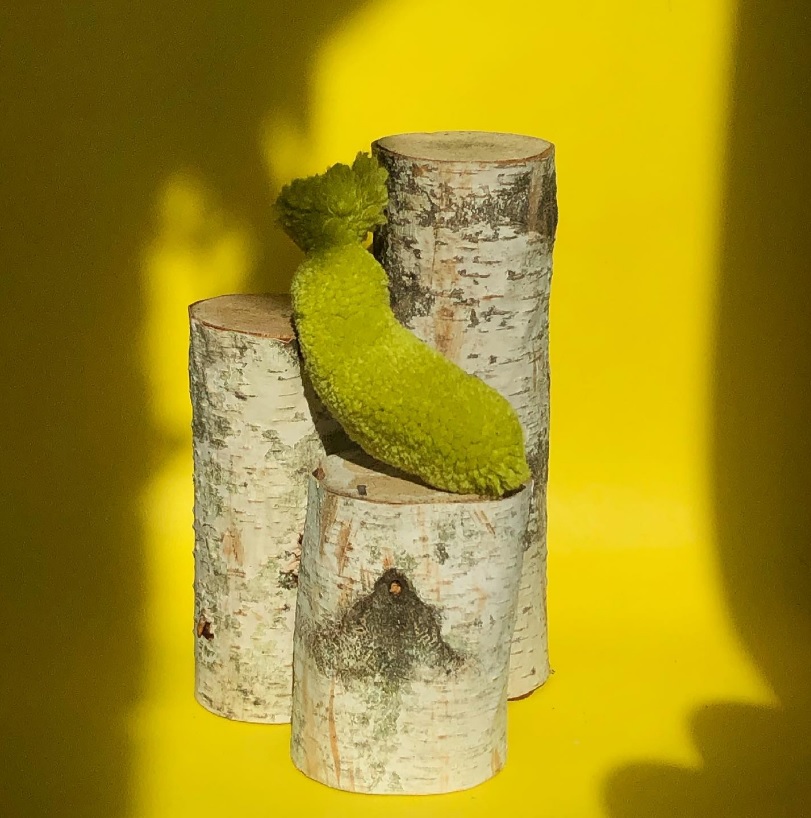 ArtMEETS: Pom Pom Making!
Facilitator: Carmina Miana
Saturday July 16th, 2022 | 1-4pm
PWYC $10-$50
Pom Pom Fruits for the Summer!
Join in for this fun workshop all about pom-pom making. The process involves winding yarn around a pompom maker (can be the actual tool or improvised with a u-shaped/donut-shaped piece of cardboard, a fork, or even one's own fingers!), tying the bundle securely and cutting the loops. Then the pom-pom is trimmed to create a desired shape, like bananas, avocados and other fun fruits!
Learn more here & register here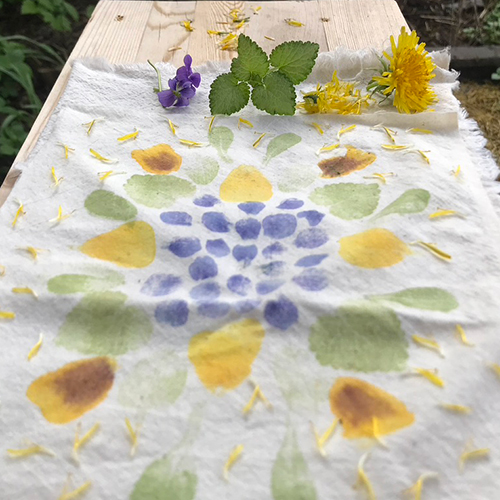 ArtMEETS: Tataki Zome (Hammer Dying)!
Facilitator: Sandra Nakata
Saturday July 23rd, 2022 | 1-4pm
PWYC $10-$50
Colourful Plant Designs!
Come and explore an art form known as tataki zome, (literally "hammer dyeing"). This is sometimes also called hapa zome, which translates to "leaf dyeing". Using tools such as a small hammer, a rolling pin, craft roller or even a rock, the colour from fresh plant material can be transferred onto paper or fabric by using pressure and a tapping or rolling technique. Participants will take home a beautiful handkerchief or homemade cards!
Learn more here & register here

ArtMEETS: Natural Dyeing!
Facilitator: Kiran P. Gill
Saturday July 30th, 2022 | 1-4pm
PWYC $10-$50
Explore Milk Paint Printing!
Learn how to create inks from natural materials like onion skins, leaves, tree bark, minerals, roots, mushrooms, berries, charcoal, and nuts. These natural inks can be 'painted' onto cotton fabric to create fun designs and patterns, and once dried, the printed fabric is safe to wash and use. Participants will also leave with milk-paint so they can continue their experiments at home!
Learn more here & register here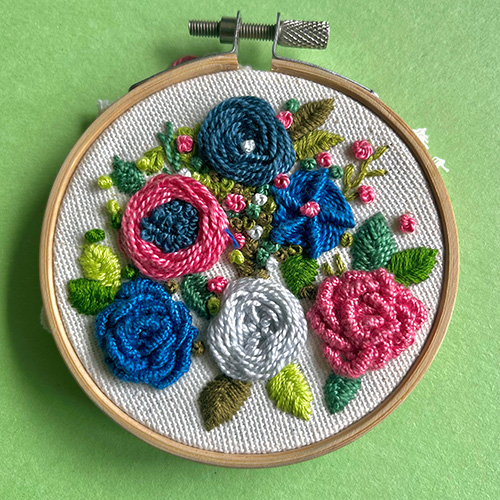 ArtMEETS: Floral Hoop Art!
Facilitator: Khadija Aziz
Saturday August 6th, 2022 | 1-4pm
PWYC, $10-$50
Summer Floral Embroidery!
Stitch your own garden on fabric! Learn to create floral hoop art with techniques like the straight stitch, chain stitch, French knots, fishbone leaf stitch, rose stitch. These stitches can be used to embellish your garments, in mending projects, or in stand-alone art projects. This workshop is beginner-friendly.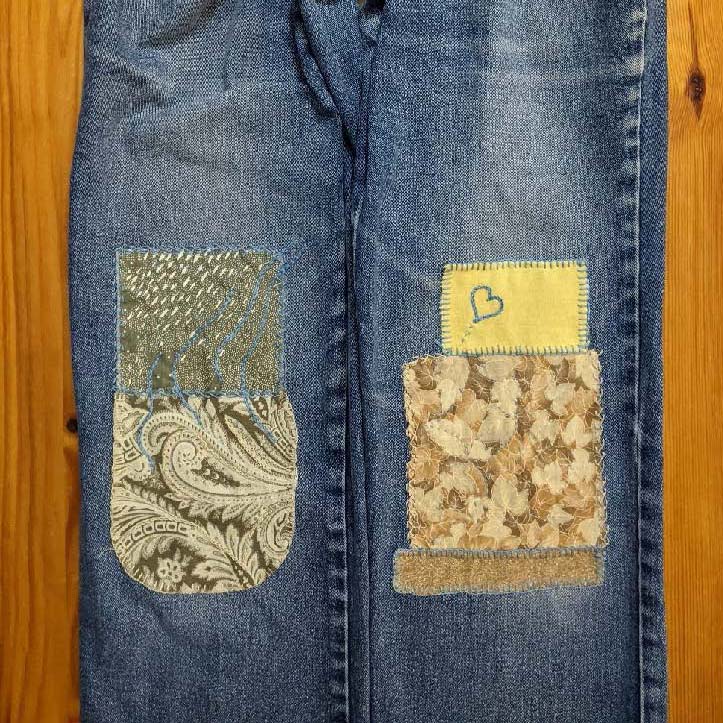 ArtMEETS: Patching Jeans!
Facilitator: Julia Lee
Saturday August 13th, 2022 | 1-4pm
PWYC, $10-$50
Creative Mends & Patches!
Save your jeans with a fun, creative patch or design. Participants will be invited to bring a pair of jeans (in need or repair or not), and shown how to create and apply attractive patches. Cotton patching fabric, embroidery thread, and needles will be supplied. Some simple embroidery stitches (e.g., blanket, feather, chain, satin) will be taught, along with tips on how to shape, attach, and embellish the patch to combine practicality and visual appeal.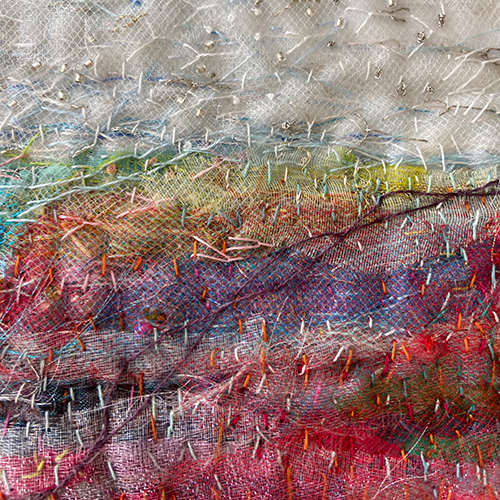 ArtMEETS: Textile Collage!
Facilitator: Diana Fox-Revett
Saturday August 20th, 2022 | 1-4pm
PWYC, $10-$50
Reimagined Textile Landscapes!
Come and explore your perception of landscape through textile collage! We'll begin by selecting a landscape image and then, through the process of choosing, arranging and layering fabrics, participants can create an abstract representation of the view or the mood it evokes. Once the base layers are secured, participants can embellish their piece with a variety of stitches (we'll learn running stitch and several basic embroidery stitches) which can be used to enhance the final work.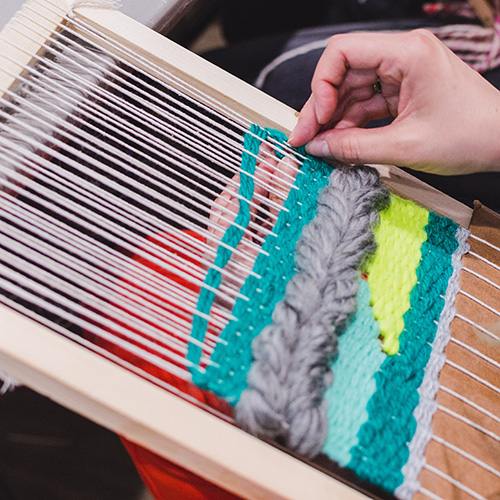 ArtMEETS: Tapestry Weaving!
Facilitator: Johanna Thompson
Saturday August 27th, 2022 | 1-4pm
PWYC $10-$50
Make your very own 8×10" Wall Tapestry!
Explore colour and geometric organic form while designing and weaving your own unique piece of tapestry artwork. Learn every step of the way, including wrapping a basic frame loom, creative techniques such as plain weaves, soumak stitches, rya knots, and more! Participants will not only take home a unique piece of tapestry art, but also the confidence to use their newly acquired skills on their own.
FUNDERS & PARTNERS
Thank you to our partner, Workman Arts, and to our funder, the Slaight Family Foundation for their support of this program!