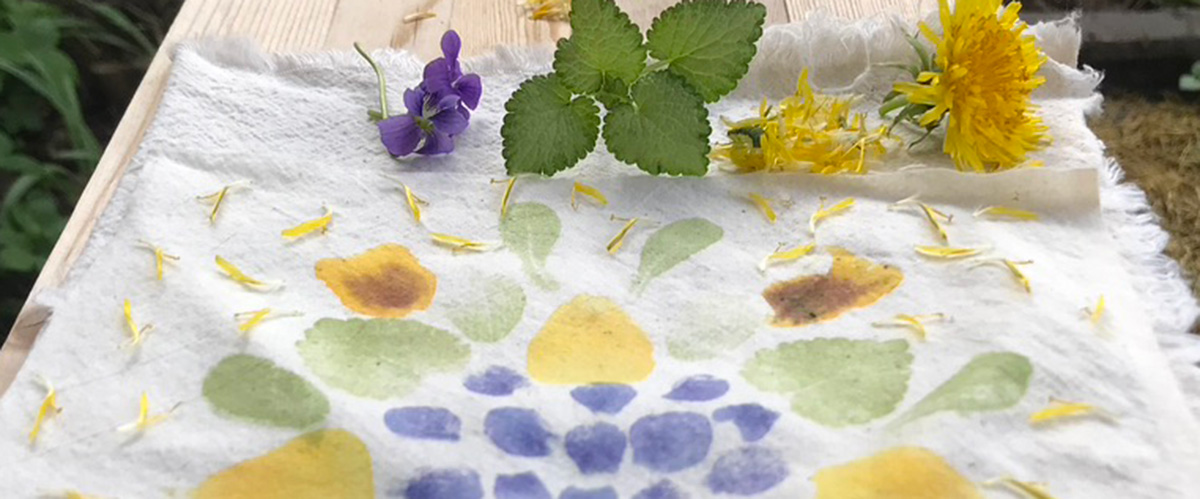 ArtMEETS: Tataki Zome
Facilitator: Sandra Nakata
Saturday, July 23rd, 2022 | 1-4PM
St. Matthew's Clubhouse | 450 Broadview Avenue
Cost: $10-$50 PWYC | Register on Eventbrite

ABOUT THE WORKSHOP
Colourful Plant Designs!
Come and explore an art form known as tataki zome, (literally "hammer dyeing"). This is sometimes also called hapa zome, which translates to "leaf dyeing". Using tools such as a small hammer, a rolling pin, craft roller or even a rock, the colour from fresh plant material can be transferred onto paper or fabric by using pressure and a tapping or rolling technique. Participants will take home a beautiful handkerchief or homemade cards!
ABOUT THE FACILITATOR
I am a nature lover who loves dabbling, doing and learning. While I have had the same office job for over 20 years, I had originally studied early childhood education and I still love seeing people discover the wonders of the natural world through creative endeavours.
In my spare time, I have had the pleasure of volunteering with the city to study the health of the Don River, and working with various food security agencies for the past two decades, most recently with our very local organization Club Sandwich.
COST
Each ArtMEETS workshop will cost $10-$50 per person to attend (on a sliding scale of Pay What You Can). Payment is to be made online at the time of registration, which will be done via Eventbrite. Payments through Eventbrite can be made with any major credit card, or through PayPal. If you are unable to pay online, we also accept cash or cheque, which is to be paid before the day of your workshop. If you need to pay with cash or cheque, or you would like assistance through the payment process, please contact East End Arts at info@eastendarts.ca.
If you are not able to attend an ArtMEETS workshop that you've registered for, specifically if you are feeling unwell, please let us know as soon as possible and we will be happy to issue you a refund, or offer you a spot at an upcoming ArtMEETS workshop, if and where possible. You may also feel free to transfer your ticket to a friend! If you're transferring your spot to another person, be sure to email them your ticket or hand it to them personally, and let East End Arts know in advance.
PLEASE NOTE: If you require financial assistance, please contact EEA's Office Coordinator Tyler, at tyler@eastendarts.ca. Nobody will be denied participation due to lack of funds, but please note that there will be high demand to participate in this program, so if you require financial assistance, please reach out early!
HEALTH & SAFETY
Participant & staff safety are of utmost importance to East End Arts and will be a priority during the program! Please note the following:
Following Ontario public health guidelines, visitors to our Clubhouse are not required to produce proof of vaccination to enter. Enhanced cleaning routines will remain in place in our space, and East End Arts does require all employees, facilitators, and volunteers to be fully vaccinated against COVID-19.
If you are feeling unwell, we ask that you please postpone your visit to our Clubhouse, and let us know about your absence as soon as you're able.
Following Ontario public health guidelines, masks are no longer mandatory inside our Clubhouse, however we continue to operate a mask-friendly space, and we welcome all visitors, employees and volunteers to wear them.
We continue to ask all of our participants and visitors to practice social distancing, when and where possible.
Hand sanitizer and disposable masks will be available on site for anyone who needs them.
We have a fully accessible, gender-neutral bathroom on site.
DIRECTIONS & PARKING