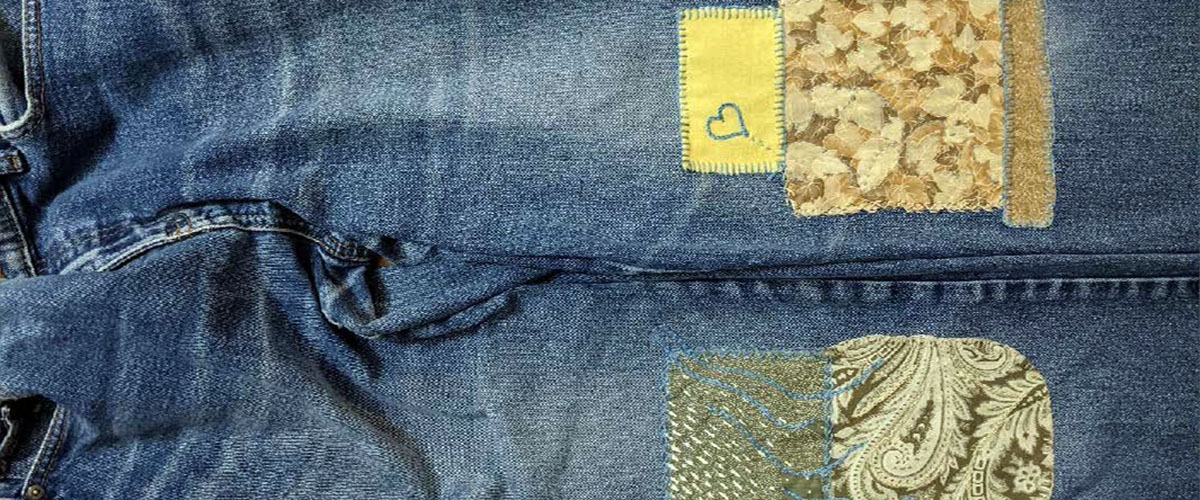 ArtMEETS: Patching Jeans
Facilitator: Julia Lee
Saturday, August 13th, 2022 | 1-4PM
St. Matthew's Clubhouse | 450 Broadview Avenue
Cost: $10-$50 PWYC | Register on Eventbrite

ABOUT THE WORKSHOP
Creative Mends & Patches!
Save your jeans with a fun, creative patch or design. Participants will be invited to bring a pair of jeans (in need or repair or not), and shown how to create and apply attractive patches. Cotton patching fabric, embroidery thread, and needles will be supplied. Some simple embroidery stitches (e.g., blanket, feather, chain, satin) will be taught, along with tips on how to shape, attach, and embellish the patch to combine practicality and visual appeal.
ABOUT THE FACILITATOR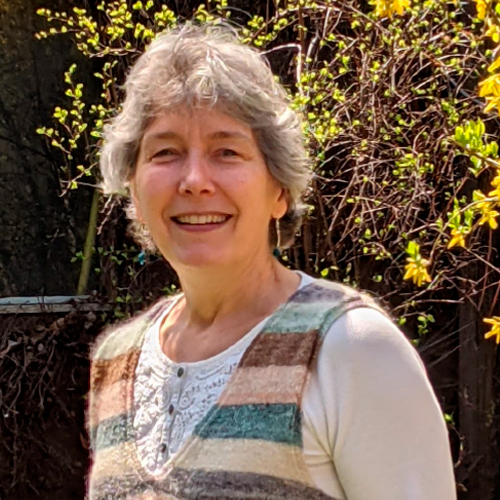 Julia Lee is a dyer, spinner, knitter, teacher, mender, and weaver who has lived and worked in Riverdale, Toronto, since 1986. She graduated from the Ontario Handweavers and Spinners' Spinning Certificate course in 2000, and is now a coordinator and instructor for that program in Haliburton.
Founder of Provenance Yarns and Textiles and a member of Upper Canada Fibreshed, Julia currently the Executive Chair of Toronto Guild of Spinners and Weavers and the Spinning Education Chair for Ontario Handweavers and Spinners.
Dedicated to encouraging fellow fibre artists to keep their carbon footprint small, Julia promotes and uses Ontario-grown fibres in her work and in Provenance's monthly Fibre Club subscriptions. She teaches spinning (on a spinning wheel) at her home studio and spins on commission – often turning clients' pet fur into beautiful custom yarns to create lasting mementos. Julia knits or weaves her natural-fibre yarn into elegant or whimsical creations: garments, home textiles, and knitted tapestries. She also accepts commissions to mend knitwear, patch jeans, and otherwise extend the lives of much-loved garments.
COST
Each ArtMEETS workshop will cost $10-$50 per person to attend (on a sliding scale of Pay What You Can). Payment is to be made online at the time of registration, which will be done via Eventbrite. Payments through Eventbrite can be made with any major credit card, or through PayPal. If you are unable to pay online, we also accept cash or cheque, which is to be paid before the day of your workshop. If you need to pay with cash or cheque, or you would like assistance through the payment process, please contact East End Arts at info@eastendarts.ca.
If you are not able to attend an ArtMEETS workshop that you've registered for, specifically if you are feeling unwell, please let us know as soon as possible and we will be happy to issue you a refund, or offer you a spot at an upcoming ArtMEETS workshop, if and where possible. You may also feel free to transfer your ticket to a friend! If you're transferring your spot to another person, be sure to email them your ticket or hand it to them personally, and let East End Arts know in advance.
PLEASE NOTE: If you require financial assistance, please contact EEA's Office Coordinator Tyler, at tyler@eastendarts.ca. Nobody will be denied participation due to lack of funds, but please note that there will be high demand to participate in this program, so if you require financial assistance, please reach out early!
HEALTH & SAFETY
Participant & staff safety are of utmost importance to East End Arts and will be a priority during the program! Please note the following:
Following Ontario public health guidelines, visitors to our Clubhouse are not required to produce proof of vaccination to enter. Enhanced cleaning routines will remain in place in our space, and East End Arts does require all employees, facilitators, and volunteers to be fully vaccinated against COVID-19.
If you are feeling unwell, we ask that you please postpone your visit to our Clubhouse, and let us know about your absence as soon as you're able.
Following Ontario public health guidelines, masks are no longer mandatory inside our Clubhouse, however we continue to operate a mask-friendly space, and we welcome all visitors, employees and volunteers to wear them.
We continue to ask all of our participants and visitors to practice social distancing, when and where possible.
Hand sanitizer and disposable masks will be available on site for anyone who needs them.
We have a fully accessible, gender-neutral bathroom on site.
DIRECTIONS & PARKING