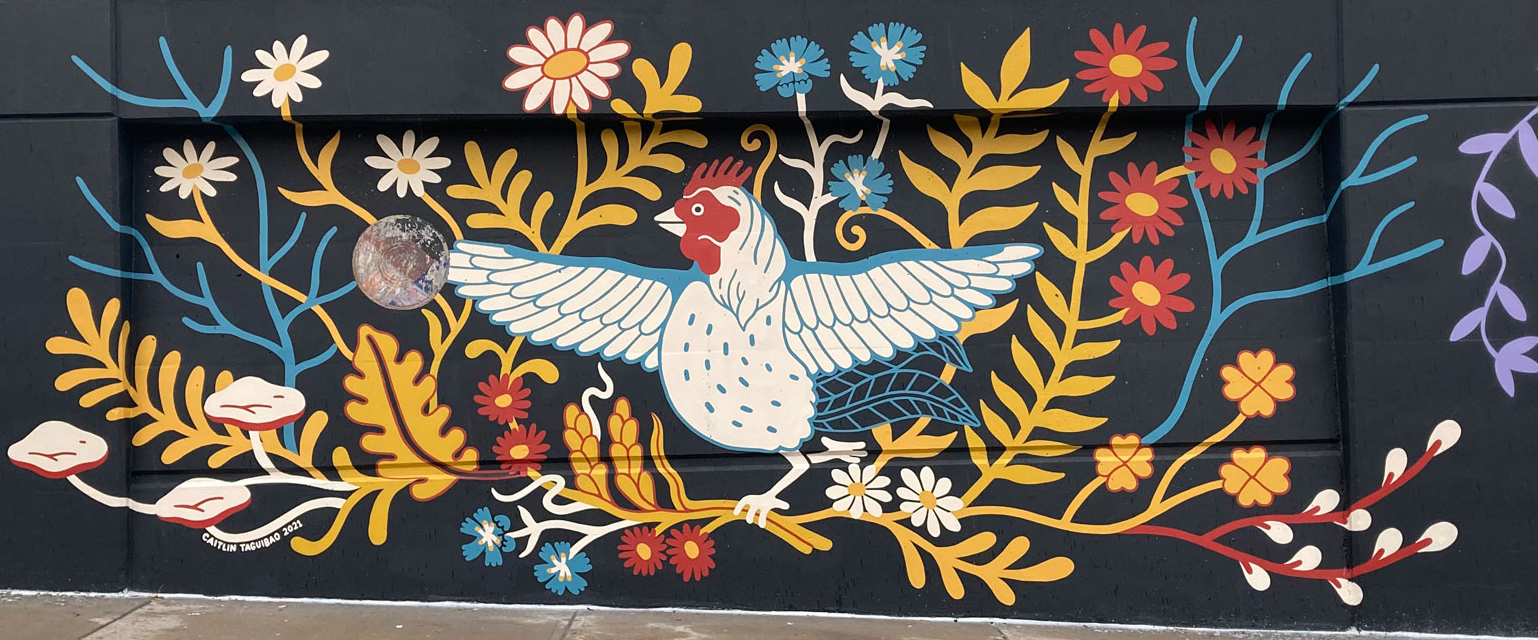 East End Spotlight is a monthly news piece where we highlight a series of east end artists, arts organizations, creative spaces & professionals that we want to shine a spotlight on💙!
August East End Artist Spotlights
For August 2021, we got in touch with some new artists and arts organizations who live or work in east Toronto. Scroll down to read more about the following people and organizations this month:
*Banner image is an image of  a mural by Caitlin Taguibao*
1. Artist Spotlight: Caitlin Taguibao
Discipline: Illustrator & Muralist
Artist Website:
Artist on Social:
Instagram @taggybowow
Artist Pronouns: She/Her
Tell our readers a bit about yourself and your art:
I love being outside and working with my hands, especially when I can be surrounded by plants, birds and nature. After graduating from the illustration program at OCAD U, I was more interested in how growing, making and eating food brought people together, and became involved with local gardening and urban agricultural initiatives. My first mural ended up being painted with friends on a fence surrounding a community garden which eventually led to more opportunities in the city. I also spent a few seasons painting murals with the street art community in Yogyakarta, Indonesia. My work is inspired by personal stories, walks with friends, and moments of self-reflection and growth. Using bright colours, my murals provide warm, inviting moments to appreciate the beauty of nature.
What are you excited about for the future of your arts practice?
I am excited to finally be painting our Destination Danforth mural! With Lara Lucretia and Xuan-Yen Cao (under Jakarundi Graphics). This has been our first time collaborating together and I've been learning so much about their processes of working together and developing a community-based mural. I hope to explore more collaborations with different artists, and work on larger projects on my own as well as with my frequent collaborator Andrea Manica.
How can audiences support the work you're doing right now?

Take time to appreciate and think about the art and the space that it lives in. Ask for more murals and less corporate advertising.
What are some upcoming Toronto arts events, programs or initiatives you're interested in?
I'm pretty excited to see how the "Year of Public Art" will unfold and in general, any upcoming gallery shows.
What does #EastEndLove mean or look like to you?
When I think about #EastEndLove, I think about taking the time and effort to understand the various communities that make up the east end, and how some may experience racism and discrimination more than others. Questioning where we fit in to that spectrum, and how we can acknowledge and address barriers in the systems we are part of.
A fun fact about you for our readers:
I was once in a car commercial as a dashboard hula girl that came to life.
2. Artist Spotlight: Hanan Hazime
Discipline: Multidisciplinary Artist & Creative Writer
Artist Website:
www.hananhazime.com
Artist on Social:
Instagram @the.mad.muslimah
Artist Pronouns: she/her
Tell our readers a bit about yourself and your art:
I am a multidisciplinary artist, creative writer, community arts educator and, creative writing instructor living in Tkaronto/Toronto. I also identify as a Lebanese-Canadian Shi'a Muslimah Feminist and Mad Pride Activist.  I have a Master of Arts degree in English Literature and Creative Writing from the University of Windsor. 
Through my intersectional and interdisciplinary artwork and creative writing, I aim to push boundaries, question arbitrary binaries, shatter stereotypes, and challenge the status quo. My primary mission as an arts educator is to provide accessible arts education to marginalized communities with a special focus on crafting safe, empowered spaces for Muslims, individuals with mental health challenges, folks with disabilities, and BIPOC youth to discover and enhance their writing and art skills.
When not writing or creating art, I enjoy reading fantasy and science fiction novels, overanalyzing things, photo-blogging, dancing with faeries in the woods, and drinking copious amounts of tea.
What are you excited about for the future of your arts practice?
I am excited for a post-pandemic arts world. It has been very lonely to work in isolation. I'm looking forward to being able to collaborate in person again with other artists. 
How can audiences support the work you're doing right now?

Folks can support me and my artwork in the following ways:
They can purchase my poetry chapbooks and artwork on

Etsy

.  

Follow me on

Instagram!

Hire me to facilitate a writing or art workshop. 
What are some upcoming Toronto arts events, programs or initiatives you're interested in?
I'm really looking forward to facilitating the Self-Portrait Collage workshop for EEA's Doorstop Diaries series. I'm also looking forward to reconnecting with fellow artists and hopefully collaborating on some projects and events which are currently TBA. It's not upcoming but I am loving the ongoing "Rocky Smiles" community art project at Kew Beach; I'm working on some of my own rocks to add to the snake. I love taking a walk at the beach and seeing the lovely work that other artists have created. 
What does #EastEndLove mean or look like to you?
#EastEndLove to me means an inclusive, diverse, safe, and accessible community where everyone feels loved and supported. #EastEndLove means no to ableism, no to sanism, no to racism, no to misogyny, no to Islamophobia, no to homophobia, no to transphobia, no to sexism, and no to bigotry or hate of any kind. #EastEndLove means open hearts, open minds, open spirits, and open arms ready to embrace others.
A fun fact about you for our readers:
While I have a M.A in English Literature & Creative Writing, my undergrad degree is actually a Bachelor of Arts AND Science. I double-majored in English and in Biology. Folks are always shocked when I tell them I have a bio degree because in people's minds the arts and sciences are like fresh water and salt water, they don't mix. That attitude is bewildering to me because I see the disciplines as being interconnected and complimentary to one another. My work is very much interdisciplinary and cross-disciplinary; I love to integrate my science and mathematics background into my art whenever I can.

3. Artist Spotlight: Henry Vanderspek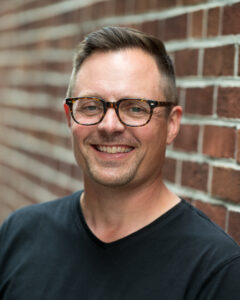 Name: Henry Vanderspek
Discipline: Art and Documentary Photographer

Website:
www.culturesnap.ca

Artist on Social:
Instagram @culturesnap
Twitter @culture_snap
Facebook @CultureSnapPhotography
Artist Pronouns: He/Him
Tell our readers a bit about yourself and your art:
I am an art and documentary photographer who loves meeting people and learning about their stories and unique skills. My 2017 "Taxi Drivers of Toronto" photo exhibit, part of the Contact Photo Festival, allowed me to share the voices and experiences of Toronto cab drivers during a time of upheaval in the industry. I also capture street scenes, using digital and film photography, where objects, symbols and human figures exist in tension and combine to create something visually engaging. I am inspired by artists such as Andre Kertesz, Fred Herzog, Sally Davies and Jamel Shabazz. I have been showing and selling my work in art shows for some ten years now and am thankful for the artists and community members I have met and the friendships I have built along the way.
What are you excited about for the future of your arts practice?
 I have several long-term projects that I hope to exhibit one day. More immediately, I am excited to be showing my new documentary project, "Old World Shoes", which celebrates older shoe stores of Toronto in December as part of the 2021 Contact Photo Festival.
How can audiences support the work you're doing right now?

 Come visit Humans on the Danforth as it is exhibited and support your local independent stores! Follow me on social media to learn about my upcoming shows and exhibits. If you enjoy photo art visit my www.shopculturesnap.ca where I sell many of my art images as prints, on tote bags, pillows and more!
What are some upcoming Toronto arts events, programs or initiatives you're interested in?
I am thrilled to just be entering any indoor art space once again. Seeing my favourite musical artists perform live might just bring me to tears (of joy!).  I am also looking forward to the new exhibit of Andy Warhol at the AGO this summer, as well as Dawoud Bey, John Edmonds and Wardell Milan later this fall.
What does #EastEndLove mean or look like to you?
I love life in the East End.  There's a great sense of community and care for others around here. I am so thankful for the friendly and supportive neighbours on my street. There are so many amazing businesses to shop at and such talented creatives in this part of Toronto. I love seeing how people are using their talents to spread goodness and joy, especially throughout this past year.
A fun fact about you for our readers:
One of my photos was featured in the final episode of Kim's Convenience. My family and I are big fans of the show, so it was a real thrill to see how it was used when the episode aired.  

4. Artist Spotlight: Natalie King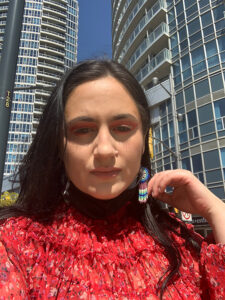 Name: Natalie King
Discipline: Painting, video, sculpture, installation, community engagement, curation and arts administration.
Website:
Artist on Social:
Instagram @natalielauraking
Artist Pronouns: She/her
Tell our readers a bit about yourself & your art:
My current artistic practice ranges from video, painting, sculpture and installation as well as community engagement. Often involving portrayals of queer femmes and queer Anishinaabeg futurities, my works are about embracing the ambiguity and multiplicities of identity within the Indigenous queer femme experience. My practice operates from a firmly critical, decolonizing, equity-oriented, non-oppressive, and future-bound perspective, capturing the realities of lived lives through frameworks of desire and survivance. Alongside my own artistic practice, I work full-time in arts programming and facilitation at Xpace Cultural Centre here in Tkaronto. 
What are you excited about for the future of your arts practice?
I want to continue working with Xpace Cultural Centre to expand my existing skills and continue to support emerging artists. I will also continue to create my own works/worlds and have some exciting shows and residency opportunities on the horizon. I would love to continue to engage community and create new and exciting opportunities for emerging artists as well as expanding my professional arts practice!
How can audiences support the work you're doing right now?
You can follow me on social media (@natalielauraking) and check out my websitehere.
What are some upcoming Toronto arts events, programs or initiatives you're interested in?
Nia Centre for the Arts, Xpace Cultural Centre, Whippersnapper, Hearth Garage, tea base, Wildseed Centre for Art and Activism, and Scarborough Arts are always doing great things! These places not only support the arts but care for the people within them with tenderness and joy. There are also many great initiatives happening currently in Tkaronto for youth including:  lilsis.ca, Our Stories Our Truths among many others!
What does #EastEndLove mean or look like to you?
To me it means place-making and holding space for one another, building sustainable and equitable communities.
A fun fact about you for our readers:
Most of the artists I am inspired by or look up to are my peers. These artists who I admire include Mo Thunder, Kaya Joan, Khadlijah Morley, and Fallon Simard, among many, many others, my peers inspire me greatly and I am so honoured to also know these wonderful people.
5. Arts Organization Spotlight: Queen Books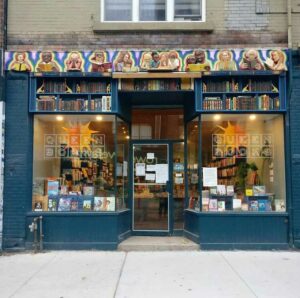 Name: Queen Books
Organization Type: Bookstore
Website:
www.queenbooks.ca
Org on Social:
Instagram @queenbooksto
Facebook @queenbooksto
Twitter @queenbooksto
Tell us a bit about your arts organization, your history, your mission etc.:
We are a female-founded community bookstore that opened in April 2017. We have a large children's section, a wide range of adult books, and we aim to accommodate all different types of readers and prominently feature diverse voices.
What makes your arts organization unique or different?
Above all else we are dedicated to encouraging a love of reading. We believe that there is a special book out there for every person and that reading should be a guilt-free pleasure, and so we are committed to providing a snobbery-free book browsing experience. 
What are you most excited about for the 2021 season?
We are so thrilled to just get back to normal and start talking books in person again–it's really the little things! We were incredibly fortunate to have our online shop operating throughout the pandemic but we all desperately missed interacting with our community and customers. Getting to see people again and catching up is very exciting.
How can community members interact or support your organization right now?
We are open to the public every day from 12-6 and online shopping is still available for pickup or delivery. 
What does #EastEndLove mean or look like to your organization?
For us, #EastEndLove means prioritizing our community and its needs. We believe in promoting local authors and publishers, donating to and supporting charities, schools, and funds that operate locally, offering plenty of events that are free and open to all, and participating in east end initiatives. We have felt the love from our east end community since the moment we opened our doors and we have been blown away by the care and support we experienced during the past year and a half. We both live in Leslieville, too, and we want to do whatever we can to contribute positively to this outstanding neighbourhood. 
What are some other upcoming Toronto arts events, programs or initiatives that you're excited about?
Ordinarily we host a wide variety of events like story times, book launches, panel discussions, workshops, and even murder mystery parties, and we cannot wait to start having in-store events again. We don't have any on the docket just yet–hopefully those will start up again soon! We have loved seeing and attending so many virtual events over the past year and we are especially looking forward to this year's virtual Word on the Street.