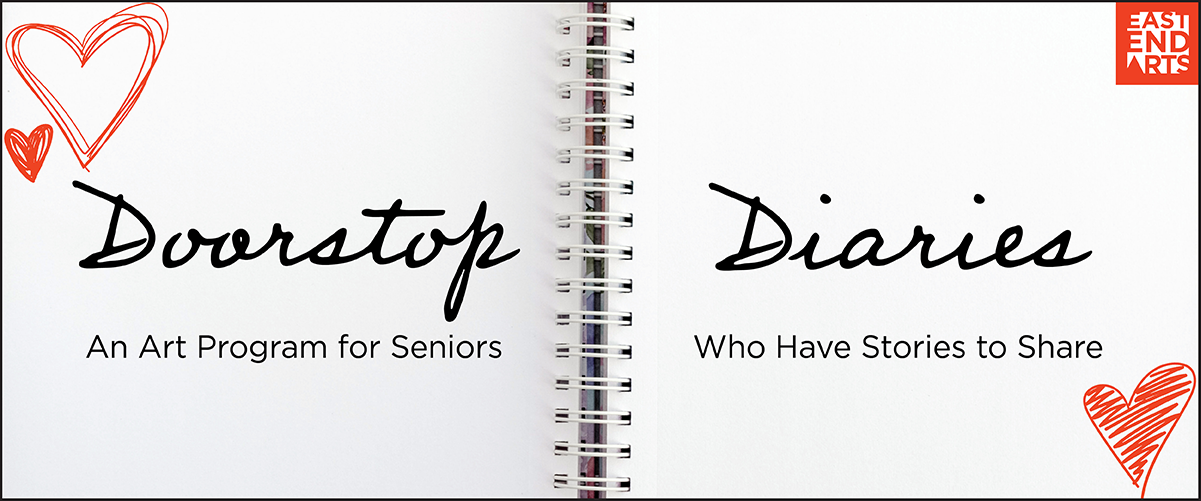 East End Arts introduces Doorstop Diaries, a 6-month art program for seniors! Please note that registration for this program has now passed, and the program is underway!
DOORSTOP DIARIES
July 2021 – February 2022
Taking Place Online through Zoom and through the mail!
ABOUT THE PROGRAM, DOORSTOP DIARIES
Doorstop Diaries is an at-home art program that will help to share the untold stories of our local senior citizens. The program will run from July 2021 until February 2022, and will engage up to 24 local seniors in the creation of a set of "travelling journals". Each month participants will learn a new art technique over Zoom (6 new techniques in total) and respond to a series of email art-prompts to fill the pages of their journals. They will then pop the journals in the mail so that they can swap diaries with other participants throughout the course of the program. After March of 2022, we will collect all of the journals to share them online and in the East End Arts library at St. Matthew's Clubhouse for all the world to enjoy!
Doorstop Diaries will be an exciting opportunity for east Toronto seniors to have fun, be creative, express themselves, learn new art techniques, and acquire new digital skills in how to use Zoom, Social Media, and other important online tools.
WHAT TO EXPECT:
Participating seniors will receive:
Their own "travelling notebook" or doorstop diary
All the art materials required to engage in the arts workshops
6 arts workshops (Online using Zoom) with our talented artist facilitators to learn new creative techniques to use in the diaries
Bi-weekly art prompts sent to your email inbox, to spark your creativity and help fill the pages of your diary
Lessons on using online technology, as well as one on one tech support throughout the course of the program
And a unique opportunity to be a part of a vibrant community of creative elders!
ABOUT THE ARTIST FACILITATORS:

SOME ARTWORK FROM OUR SENIOR ARTISTS: