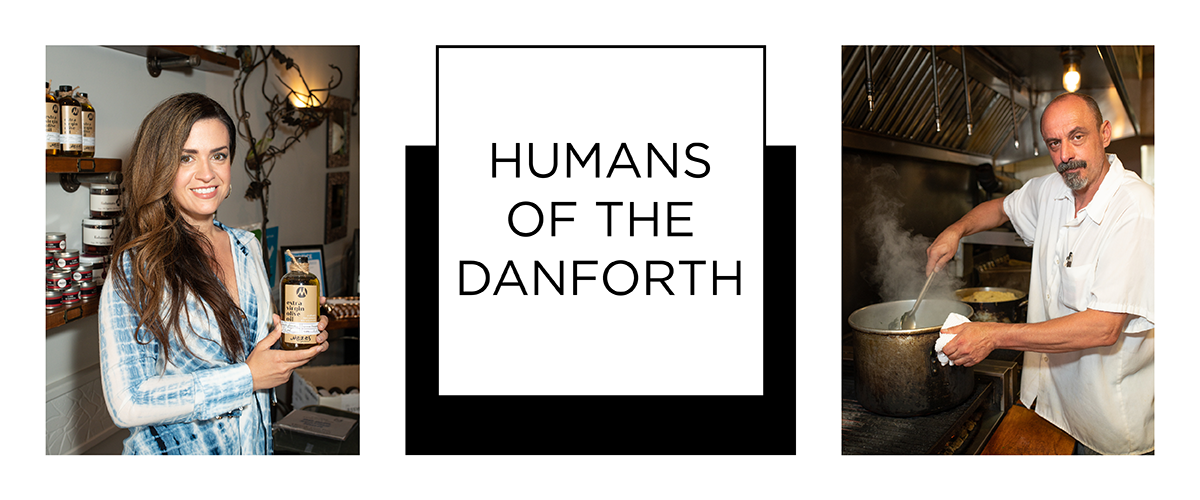 HUMANS of the DANFORTH
Presented with The GreekTown on the Danforth BIA
FREE to enjoy!
ABOUT THE PROJECT
Taking a cue from the wildly successful series, Humans of New York, Humans of the Danforth was a series of installations that put a face and a human story to the businesses we love, or maybe hadn't yet gotten to know. In partnership with the GreekTown on the Danforth BIA, and featuring images and interviews of local photographer Henry Vanderspek, storefronts in GreekTown were be transformed into gallery spaces for the full month of August in 2021, allowing residents and visitors a chance to explore the large scale portraits and stories while remaining socially distanced. Each portrait was accompanied by a QR code leading visitors to the STEPS Public Art App where visitors could listen to short interviews and view additional photos. Later, thanks to the Toronto Public Library, Humans of the Danforth was on display at Pape Public Library from September 15th – December 15th 2021. Now, these portraits and interviews can be viewed at your leisure on YouTube HERE, or simply scroll down to the gallery below.
P.S. You can access our complementary ArtSkool Education Guides below!
ABOUT THE LEAD ARTIST
Photographer, Henry Vanderspek

Website | Twitter | Facebook | Instagram
Henry is an art and documentary photographer who loves celebrating people through his work. His "Taxi Drivers of Toronto" exhibit, part of the 2017 Contact Photo Festival, shared the voices and experiences of Toronto cab drivers during a time of upheaval in the industry. Henry's latest project, "Old World Shoes" features images and voices of owners of older independent Toronto shoe stores, and will be exhibited in December 2021 as part of the Contact Photo Festival.
Henry also enjoys capturing street scenes, using digital and film photography, where objects, symbols and human figures exist in tension and combine to create visually engaging images. Henry is inspired by artists such as Andre Kertesz, Fred Herzog, Sally Davies and Jamel Shabazz. He has been showing his work in art shows and galleries for some ten years now and has been published in a wide range of print and online publications. Henry has a work background in the non-profit sector, working with refugee settlement with Matthew House (2001-2004) and in Advocacy & Education with World Vision Canada (2004-2012). He lives in the east end with his wife Suzi and their three kids.
Sound by Anahita Dehbonehie
Website

Anahita Dehbonehie is an Iranian performance creator, designer, and installation artist. Her practice is founded on the principle that truths are communicated most powerfully through evocative sensory experiences. She is committed to work that questions form and content while creating space for contemporary conversation: the evolving relationship between participant, creator and the exchange of ideas is what fuels her interest in the arts.
Anahita's work has been featured across Canada and internationally, including at the Prague Quadrennial, The Vilnius Capital of Culture, and the Moscow Museum of Modern Art. Her work on both stage and screen has been recognized with multiple awards and nominations. Anahita is currently based in Toronto.
ARTSKOOL EDUCATION GUIDES!
ArtSkool Education Guides offer kids and kids at heart an additional fun way to engage with our public-facing programs, and learn something new! There are five editions in total, each complementing a different East End Arts program. Inside each guide you'll find fun activities for kids, interesting facts and history lessons, and so much more. Print off your guide, put on your running shoes, and go set off on an adventure with your family and friends to check out some cool public art in your neighbourhood!
You can download the Humans of the Danforth ArtSkool Guide HERE and print it at home. Alternatively, you can find ArtSkool Guides available at the front desk of all east Toronto libraries from Broadview to Victoria Park!
To access all of the ArtSkool Guides, visit HERE. ArtSkool packages are a part of ArtworxTO. ArtSkool educational material has been created by Marietta Fox, while ArtSkool design and illustrations were completed by Chelsea Virginia.
THE HUMANS OF THE DANFORTH
Bill – Mister Greek Meat Market
Chris – Soulas Modern Greek Cuisine
Dustin & Lina – Greekwood Smokehouse
George – Apollon Pharmacy
George – Ellas Meat Market
Leo – Christina's on the Danforth
Lori & Kate – Treasure Island Toys
Tashi – Momo Hut & Gardens
Marinos – Messini Authentic Gyros
Marissa – Caruso Fine Tailoring
Shawn – Korry's Clothiers