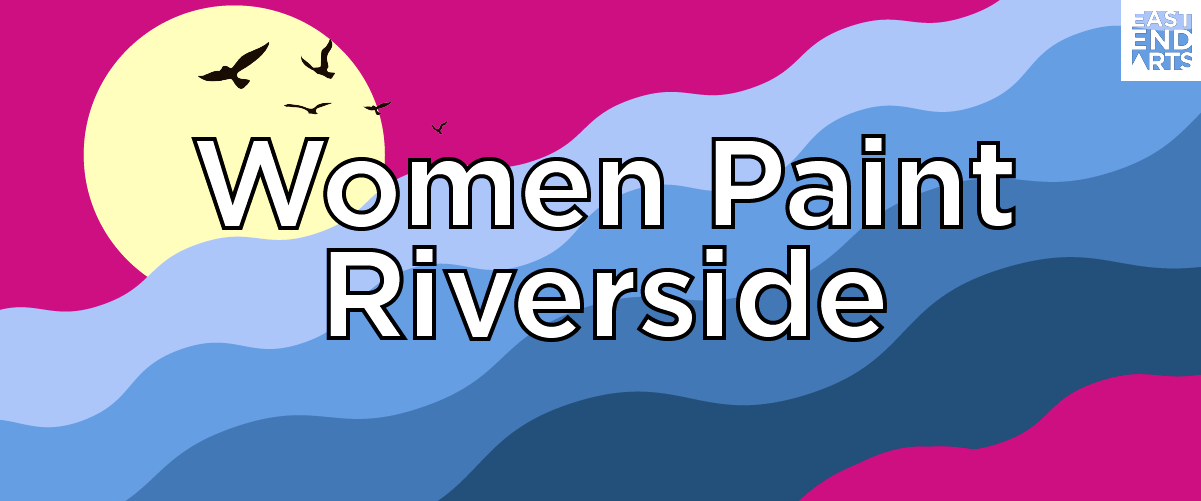 East End Arts and our partners are excited to present, Women Paint Riverside, an exciting public art transformation of a laneway within the Riverside Business Improvement Area around Queen Street East and Broadview Avenue, Toronto, in September, 2021!
ABOUT WOMEN PAINT RIVERSIDE:
A partnership between East End Arts, Women Paint, Native Women in the Arts, and the Riverside BIA, 'Women Paint Riverside' is an exciting opportunity to beautify and enhance the Riverside neighbourhood with a series of interconnected murals, exploring the relationship between the vibrant urban Riverside community and the Don River from which it takes its name. The project builds upon the area's existing public art legacy, and will feature the work of 20+ street artists, as well as an opportunity for the participants from Girls Mural Camp 2021 to put what they learned at camp this summer to the test as apprentice mural artists. 
Working with  co-curatorial consultants Bareket Kezwer and Ariel Smith, Women Paint Riverside aims to bring diverse women and gender marginalized* street artists, muralists and graffiti writers together to create new work, bring attention to the importance of the Don River within an urban setting, and share their diverse stories in public spaces—a place these voices are often underrepresented. 
Women Paint Riverside will take place on the treaty lands and territory of the Mississaugas of the Credit First Nation, which is also the traditional territories of the Huron-Wendat, the Haudenosaunee confederacy and the Anishinaabe. This territory is subject to the dish with one spoon treaty, a covenant between the Anishinaabe and Haudenosaunee to share and care for the land and resources in the lower Great Lakes area.
In many Indigenous nations across Turtle Island, women and Two Spirit people have long carried sacred responsibilities to protect the water, and are strong  leaders in the growing movement for water sovereignty around the great lakes. Given the close relationship of the Riverside community to the Don River and Lake Ontario, the murals for this exciting laneway transformation will all explore the element of water.
Laneways and alleys have historically been areas that do not always feel safe for women and other gender marginalized people, and can be associated with the threat of violence. Projects like Women Paint and Girls Mural Camp take up space in the public sphere and help facilitate discussions about important issues that affect our overlapping communities such as misogyny, transphobia, homophobia, white supremacy, colonization and gentrification. 
*East End Arts and our partners respect trans women as women. We use the term gender marginalized to be inclusive of trans feminine, trans masculine, Two Spirit, non-binary and gender queer folks who may not identify as women.
EXHIBIT THEME

"Currents of Change"
The Riverside neighbourhood is in the midst of a great shift. The Don River is at the heart of a huge infrastructure project looking at the ecology and the environment of the floodplain – literally changing the shape of the river. As we have seen in the many historic floods of recent years, despite our best efforts to control the element of water that is so closely knit with our community and our city, we remain lake people, and our lives are directed by the currents of change in those lakes and rivers. Some of these changes are massive, political and cultural, like moving a river, but some are tiny personal moments shared between people beside the water that forms the geography of this place we call home. We invite artists to consider in their proposed works the incredible power and beauty of these waters, their eons of supporting human life, and the urgency required to protect them.
Women Paint Riverside builds on Riverside's long history and connection celebrating the Don River, and asks participating artists and viewers to remember our environment, ecology, mobility, built form in the neighbourhood, waterways, and the traditional keepers of those waterways. 
The project will also build upon and connect to the existing repertoire of Riverside BIA's 'open air gallery' of 10+ public art pieces, including the 'Tkaranto Past, Tkaranto Future'. This work, completed in 2017 by artists Chief Lady Bird (Chippewa/Potawatomi), Odinamaad (Anishinaabe), Dave Monday Oguorie (Ojibwe/Nigerian), and Philip Cote (Shawnee/Lakota/Potawatomi/Ojibway/Algonquin), speaks to Indigenous knowledge and worldviews.  Featuring a large eagle feather the artists shared the meaning: "The eagle feather is the highest honour you can receive, based on contribution to the community, given from one Indigenous person to another. The Tkaranto skyline provides a contemporary connection whereby the feather becomes your medicine and symbolizes the enduring Indigenous presence here in Tkaranto." Indigenous community members spoke to how this mural had touched them and helped re-build connection by physically inviting and recognizing them in the community. 'Women Paint Riverside' will help to further build upon that positive connection.
'Women Paint Riverside' will provide a platform and opportunity for artistic expression for women, transfeminine, transmasculine, Two Spirit and,  non-binary muralists in a cis male-dominated field. 
2021 WOMEN PAINT RIVERSIDE VIDEO
A big thank you to Cass Rudolph, for creating this video for us!
CURATORIAL CONSULTANT BIOS
Ariel Smith

is a nêhiyaw, white settler, and Jewish filmmaker, video artist, writer, and cultural worker. Having created independent media art since 2001, much of her work has shown at festivals and galleries across Canada and internationally. Ariel is largely self-taught, but honed many of her skills by becoming heavily involved in artist-run centres in Vancouver, Montreal, Toronto and Ottawa. Her passion for artist-run culture has become an integral part of her practice.

Ariel has over a decade of experience in arts administration and management. She has worked as the Technical Director of SAW Video Media Arts Centre in Ottawa Ontario from 2006 to 2014, was the Director of the National Indigenous Media Arts Coalition from 2013 to 2016 and, most recently, was the Executive Director of imagineNATIVE Film + Media Arts Festival where she oversaw the 2016 and 2017 festival editions. Ariel has worked as a programmer and/or curator for such organizations as Galerie SAW Gallery, the Ottawa International Animation Festival, Reel Canada, and imagineNATIVE. She was a guest curator for Àbadakone, an international Indigenous exhibition at the National Gallery of Canada in 2019/2020 Ariel currently works as the Artistic and Managing Director at Native Women in the Arts and is completing an MFA in film production at York University.
Bareket Kezwer is a muralist, community engaged artist and facilitator, curator, cultural producer, graphic designer, frequent collaborator and eternal optimist. Her multidisciplinary practice is motivated by a desire to spread joy, cultivate individual and collective gratitude, celebrate the power of kindness and compassion, and support the growth of inclusive and connected communities. She programs and facilitates projects that uplift and connect people through creative engagement and increase representation of Toronto's diverse population. In 2017, she founded Women Paint, a street art jam celebrating the strength, resilience and diverse stories of women and gender non-conforming humans. As the initiative's creative director, she has produced 80 murals by emerging and early career artists and facilitated an intergenerational community mural with residents in Rexdale. In her murals, she works with bright colours, bold patterns and typography to captivate people's attention and fill them with delight. She is passionate about creating art that both aesthetically and psychologically brightens environments.
2021 MURALISTS
Carol-Ann aka KARE
Social Media: Instagram @carolannapilado

About the Artist: Carol-Ann (aka KARE) is a Tkaronto-based dreamer, weaver, artist and designer.
Having completed a Bachelor in Interior Design and having several years of experience in Graphic and Set Design, Carol Ann has contributed to major projects including the Hockey Night in Canada Broadcast Set (2014), Toronto Fashion Week (2014-2018), and the Toronto Sign with the Maple Leaf and Medicine Wheel additions (2015-2018) at Nathan Phillips Square. Her interest in spatial design, the future of spaces in conjunction with technology, the micro/macro, and temporary/permanent interactive public art installations, has led to several collaborations with Javid Jah, including projects such as Stac'd (2016) in Trinity Bellwoods, XSITE (2019 Nuit Blanche & 2022 ArtworxTO), and the Medicine Sphere (TBD).
Over the last 9 years, KARE has painted murals of her name and signature character at various scales in Toronto, the Philippines, Miami, New York, and Costa Rica. But as of late, her style and focus have slightly shifted as she re-connected with her heritage. Through this journey of re-membering her path and roots and traditions, she is using art as a vehicle to heal herself and her ancestral lineage—past, present, and future —  through decolonizing (as a settler on Turtle Island as well as a being of the Filipinx diaspora) by re-membering the plant medicines, rituals, amulets, symbolism, and textile patterns of her ancestors. She believes this is the path to finding peace and harmony as an individual as well as a member of the larger community and collective.
Cedar-Eve
Social Media: Instagram @cedareve
Facebook @CedarEveCreations
About the Artist: My name is Cedar-Eve and I'm a visual artist currently based in Montreal. I am Anishinabae (Ojibway), from Saugeen First Nation and Wikwemikong Unceded Territory, but born and raised in Toronto. I graduated from Concordia University in 2012 from Studio Arts, where my focus was primarily on painting and drawing. The last few years, I have had opportunities to teach beading to Cree youth in different communities within Eeyou Ischtee (Northern Quebec) during the school year. I create beaded jewellery full-time, along with screen-printed clothing for my business, Cedar Eve Creations.
Claire Browne
Website: clairebrowneart.com
Social Media: Instagram @clairebrowneart
About the Artist: Claire Browne is an artist living and working in Toronto. Graduated from OCAD University in 2015 with a Bachelor of Fine Art degree. Her artwork features a focus on the botanical world, tropical spaces and the Black diaspora. Claire Browne has exhibited extensively in group shows in the Greater Toronto Area. Her work has been acquired as part of Scotiabank's private art collection.
Emily May Rose
Website: emilymayrose.format.com
Social Media: Instagram @emilymayrose
About the Artist: Emily May Rose is an award-winning artist and illustrator based in Toronto, Canada. Based on her own experiences, Emily's work features a cast of recurring characters (most notably her weed-smoking, pizza-eating raccoons) to depict humorous situations that are relatable to many of us who are trying to survive in an urban environment. Her work can be found in many formats including murals, editorial illustration, apparel design, installations, and gallery settings. Her murals can be found all over the world where she's painted in street art festivals, artist residencies, and other commissions during her various travels.
Haenahhh Studios
Website: behance.net/haenahhh
Social Media: Instagram @haenahhh
About the Artist: I'm a freelance illustrator/animator and also a mural artist. Not having an art background, I've been having more of a freedom to explore different mediums and ways of showing my artwork. Painting murals has been one of my biggest passions lately, which I'd like to push more forward. I draw people, spaces and plants. Also, I'm in the process of studying and developing a character which will  hopefully make my paintings more abundant.
Hello Kirsten
Website: hellokirsten.com
Social Media: Instagram @hello.kirsten
About the Artist: Inspired by textiles, my detailed artworks showcase layered histories, using ornamentation and patterning to reveal alternate narratives that celebrate diversity in all its forms. I approach each public artwork I create as representative of a particular time and place, one that speaks not only to who has passed through and who is here now, but also who might come in the future. In the complicated reality of a contemporary globalized world, my paintings are a commentary on the fact that we are all in this together: collaborating, teaching, learning from, and inspiring one another. I have been creating murals and public art installations for over a decade, in cities spanning the globe.
For 12 years I ran the art subscription Papirmass, which I founded as an experiment in removing barriers of access to art. It was a success, mailing out over 200,000 prints and expanding the definition of what it means to be an art collector.
My art has been exhibited widely, and featured in publications such as Fast Company, The Globe and Mail, Canadian Art, and BUST, and books such as Print/Maker (Uppercase, 2018) and Printopolis (Open Studio, 2016). I live in Toronto with my partner and collaborator JP King.
Jacquie Comrie
Website: jacquiecomrie.com
Social Media: Instagram @jacquiecomrie
About the Artist: Jacquie Comrie is a Toronto-based multidisciplinary artist whose vibrant body of work intersects contemporary art and wellness at a global scale, using colour as a medium of social impact and mental health.
Whether as murals on buildings, large scale structures, or canvases, her body of work is a dynamic exploration of the science of colour as the universal language of human emotion. Colour has been proven to have a direct effect to human emotion, for which her palettes are consciously designed and orchestrated aiming to cater to mental wellbeing at large.
In such divisive times, and with mental health issues on the rise across the globe, her work aims to contribute to much needed spaces of mental elevation and reset, to ultimately help improve quality of life of all individuals- one wall at a time.
Julia Prajza
Website: juliaprajza.com
Social Media: Instagram @juliaprajza
About the Artist: Julia Prajza is an Emerging Muralist, Lettering Artist, and Designer based in Toronto who aims to bring more joy and positivity into our everyday lives. As an OCAD University graduate, with experience in Art Direction and Graphic Design, she has returned to her first love: the art of drawing and painting.
Bringing her design expertise and graphic style to her work, Julia creates intrigue with ornate details, vibrant colours, and a whimsical feel. Often focusing on floral or text-based imagery, Julia has produced diverse murals from private to public spaces, on brick to glass textures, in vinyl print or hand painted.
Recently she co-founded Neighbourhood Love, an artist collective that's collaborating with neighbourhoods to bring colour to our streets in Toronto and beyond. With her lively spirit, Julia is excited to have joined the community-engaged art world because she strongly believes in the power of art and its ability to cultivate human connection and improve our mental health.
Margaret Cresswell
Website: muralsbymarg.ca
Social Media: Instagram @muralsbymarg
About the Artist: Marg is an award-winning muralist who spent her final year of study in Florence, Italy & graduated from OCA. After graduation she began working as a muralist and over the past 20+ years, has painted numerous fine art paintings and murals.
In 2007, Marg was invited to exhibit her large-scale paintings at the Biennale Internazionale Dell'Arte Contempranea in Florence, Italy. Since 2015, she has painted over 3 dozen public art murals in the City of Toronto. 2018 brought her art to be included in an international publication on street art, "Urban Scrawl" (Australia). In 2019, Marg participated as a wildcard for the first season of Landscape artist of the Year, Canada, which aired on CBC in the fall of 2020.
During the recent lock-down, Marg revisited her love of the natural world through landscape painting. She focused on the shifting elements of the sky and water. 2021 brings Marg a residency at the Chateau D'Orquevaux, France, for the month of November.
Merryn Connelly-Miller
Website: merryn.ca
Social Media: Instagram @merrynmoon
About the Artist: I am an emerging illustrator and artist from Toronto, with a love for storytelling and projects that build community. I graduated from OCAD University in June 2021 with a Bachelor of Design in Illustration. I've exhibited work in several group shows around the city and have taken part in community arts projects in my East End neighbourhood from a young age. In 2019 I participated in a residency at SparkBox studio in PEC as the recipient of an Emerging Artist Residency award, and in 2020 I began painting murals in projects with StreetARToronto.
Drawing inspiration from the natural world and the oddities of human life, I enjoy playing with form, texture, and colour in a variety of mediums to bring forth new landscapes and their imagined inhabitants. My work also explores questions of belonging and memory as related to place, the interaction of organism and environment, and the human relationship with control in and over our environments.
Mo Thunder
Website: mo-thunder.com
Social Media: Instagram @mo_thunder
About the Artist: Mo Thunder (They/Them/Theirs) is Onkwehonwe [Onyota'a:ka with family ties to Oneida Nation of the Thames x Aamjiwnaang First Nation] and French-Canadian. They're a non-binary, neuroemergent artist x visual storyteller from a small town along the St. Clair River and are currently based on One Dish One Spoon Territory x Tkaronto (Toronto). Through their multidisciplinary art practice (painting, collaging, beading, journaling, poetry and textiles), they aim to express stories about their lived experiences with their mind, heart, spirit and body.
Mo is inspired by intergenerational connections, ancestors, kin, community, healing and growth, all of creation, sky world and personal/collective empowerment. For the last 5 years, Mo has co-created and co-facilitated a community, art and land-based creative expression program for Indigenous youth aged 18-30 in Tkaronto called Our Stories Our Truths (OSOT).
They are currently completing their major project at the Toronto Art Therapy Institute and working on a visual art journal with and for Indigenous folks, scheduled to be released in 2022!
Monica Wickeler
Website: monicawickeler.com
Social Media: Instagram @monicaonthemoon
About the Artist: Monica is a trained visual artist who has worked in the large-scale painting industry in Toronto for many years. In outdoor advertising, as a mural artist and in the film and television, as a scenic artist. More recently she can be found reclaiming community spaces with her vibrant public art. Working together with Business Associations, City Councillors, Community members to produce meaningful public art that will leave a positive impact on the viewers. Most recently Monica has been working as a TDSB artist in the classroom mentoring young students to create public art projects that instil pride and empowerment.
Moonlight Murals Collective
Website: moonlightmuralscollective.ca
Social Media: Instagram @moonlight.murals.collective
About the Artists: Yasaman Mehrsa is a visual artist based in Toronto. Born and raised in Tehran/Iran, Yasaman's love of art began in her childhood and developed an early passion for art in middle school and further shaped by her studies at Brock University/Canada (BA-Honours in Visual Arts), and Tehran University (BA in Visual Communication & Graphic Design).
Ghazaleh Rastgar is an award-winning multidisciplinary artist who grew up in Shiraz, Iran and later moved to Toronto, Canada. Graduating from OCADU, she studied graphic design and advertising. Shortly after receiving her Bachelors of Design, Ghazaleh began working in a corporate environment and after 7 years, she decided to dive back into her original passion, visual arts.
Melika Saeeda started her artistic path in Iran. After getting her BFA, she studied Graphic Design at TM university in Tehran. Meanwhile She started working as a freelance illustrator. Over the past 10 years Melika has been illustrated more than +20 children's books in Turkey and Iran and all the time She was trying to tell her story with my special language, picture language. Her works have been shown in exhibitions and book fairs in Iran, The Emirates, South Korea and here in Canada. Since Melika moved to Canada in 2017, she start using this potential of telling story to do some mural projects such as collaborative projects with Bell Box mural, "Womxn" Paint, live painting at Tiff festival 2020, Window Wonderland Junction BIA 2020 and Pirate's life, …
Sadie Rock
Social Media: Instagram @sadierock13
About the Artist: Sadie is a downtown Toronto born multidisciplinary artist. Her work celebrates nature as human beings greatest teacher. She paints, dances, sews, films & photographs to express her connection to herself and the world around her. In her murals and paintings she combines elements of realism with abstract form, expressionism and vivid transitions of colour to create her personal style.
As a graffiti and spray paint artist her skills have developed from quick sketches into large scale street art projects and canvas work. Her mentors encourage her to be creative while honouring the rich history of this street art form. Through her graffiti works she captures, portrays and celebrates different aspects of city life, incorporating new subject matter, style and painting techniques as she learns.
Scarbrite x Memengwaa Kwe Originals
Social Media: Instagram @scarbrite, @franniepotts, @sylvietheartist, @memengwaakweoriginals
About the Artists: Scarbrite is a Scarborough-based arts collective consisting of emerging, professional artists Frannie Potts and Sylvie Stojanovski. Their goal is to brighten the streets of East Toronto through co-creating visual works of art with members of the community that bring to light the stories of this suburb.
Frannie and Sylvie first started working together in summer 2019 when they were invited to mentor five youth on the Scarborough Gardens Arena Mural Project, Kinetic Motion, designed by Sean Martindale. Commended for their exceptional work on the project by VIBE Arts and StreetARToronto, the two artists decided to continue working together to design accessible arts programming and public art interventions in the community.
Caterina Sinclair is a multidisciplinary Saulteaux-Filipina artist and new mom, based in Tkaronto. Currently, her business and art practice consists of merging her beadwork and abstract India ink paintings, into an online art catalogue for purchasing her work. As her business grows, Caterina hopes to continue to build her platform into one that encompasses and celebrates the beauty and importance of Indigenous motherhood and entrepreneurship.
Shawna Howe
Website: earthskycollective.com
Social Media: Instagram @shawnhowe_
About the Artist: Shawna Howe (They/Them/Theirs) is Anishinaabe, Irish, Scottish and French. They are a Non-Binary, queer, neurodivergent, disabled person living in Tkaronto. They come from Neyaashiinigmiing First Nation, with membership in Sipekne'katik First Nation. Shawna has been creating art since they were young, and recently made the decision to pursue art and visual storytelling professionally, after having spent the last 10 years working in frontline Indigenous community initiatives in Tkaronto.
They are a self-taught painter, emerging visual storyteller, muralist and poet. They also work as a co-facilitator for Our Stories our Truths (OSOT) which is a community based, land, art and creative expression program for Indigenous youth. Shawna's art practice is informed by their own lived experiences with mental illness, disabilities, and being an Indigenous queer non-binary person. They are inspired by the profound beauty of the land, cosmos, water, woodlands, animals, plant medicines, community, kin and ancestors.
Shawna seeks to tell visual stories where people who live with similar lived experiences— feel represented, seen and loved. Visual storytelling allows Shawna to translate their love for the land and how the land holds them, and give that love back, by creating transformational stories that uplift and encourage people to connect with our own authentic selves and to each other, through self-love and self-compassion.
Victoria Day
Website: artistvictoriaday.com
Social Media: Instagram @artistvictoriaday
About the Artist: Victoria Day is an interdisciplinary artist whose practice combines her love for minute, technical processes with introspection and personal narratives. Victoria is interested in identity and social perception. Each of her works is a visual expression of her experiences with anxiety, depression, life as a woman, and as a mixed race member of the Korean diaspora in Canada – all with the goal of sparking dialog around gender, race, and mental health.
Victoria's recent work allows her to process her status as a visible minority through the study of the rich history of Korean decoration. As she approaches learning about her Korean heritage with a great sense of gratitude, Victoria hopes to spread an appreciation of Korean arts through intricate and joyful drawings, prints, and murals.
Victoria graduated from the University of Guelph's Studio Art program in 2014. She has exhibited at Gallery 1313, George Gilmour Gallery, FCP Gallery, #Hashtag Gallery, Northern Contemporary, NO Foundation, and the Art Gallery of Guelph among others. Recently, Victoria completed an OAC Chalmers Professional Development Projects Grant and was awarded Open Studio's Jeannie Thib Mentorship Residency.
Wandy Cheng
Website: wandycheng.com
Social Media: Instagram @wandy_cheng
About the Artist: Wandy Cheng (she/her) is a multidisciplinary artist from Hong Kong currently based in Tkaranto, Canada. Her studio work embodies contrasting textures and repeated patterns both on paper and with clay. Her artistic practice is an exploration of the interactions between interior spaces and exterior facades. Passionate about arts and culture, Wandy has experience bringing impactful community-engaged installations to life. Her illustration work can be seen both on the streets of the city and within the pages of international publications.
ARTSKOOL EDUCATION GUIDES!
ArtSkool Education Guides offer kids and kids at heart an additional fun way to engage with our public-facing programs, and learn something new! There are five editions in total, each complementing a different East End Arts program. Inside each guide you'll find fun activities for kids, interesting facts and history lessons, and so much more. Print off your guide, put on your running shoes, and go set off on an adventure with your family and friends to check out some cool public art in your neighbourhood!
You can download the Women Paint Riverside ArtSkool Guide HERE and print it at home. Alternatively, you can find ArtSkool Guides available at the front desk of all east Toronto libraries from Broadview to Victoria Park!
To access all of the ArtSkool Guides, visit HERE. ArtSkool packages are a part of ArtworxTO. ArtSkool educational material has been created by Marietta Fox, while ArtSkool design and illustrations were completed by Chelsea Virginia.
2021 MURALS
Check out the photos of all the final Women Paint Riverside Murals here:
FUNDERS