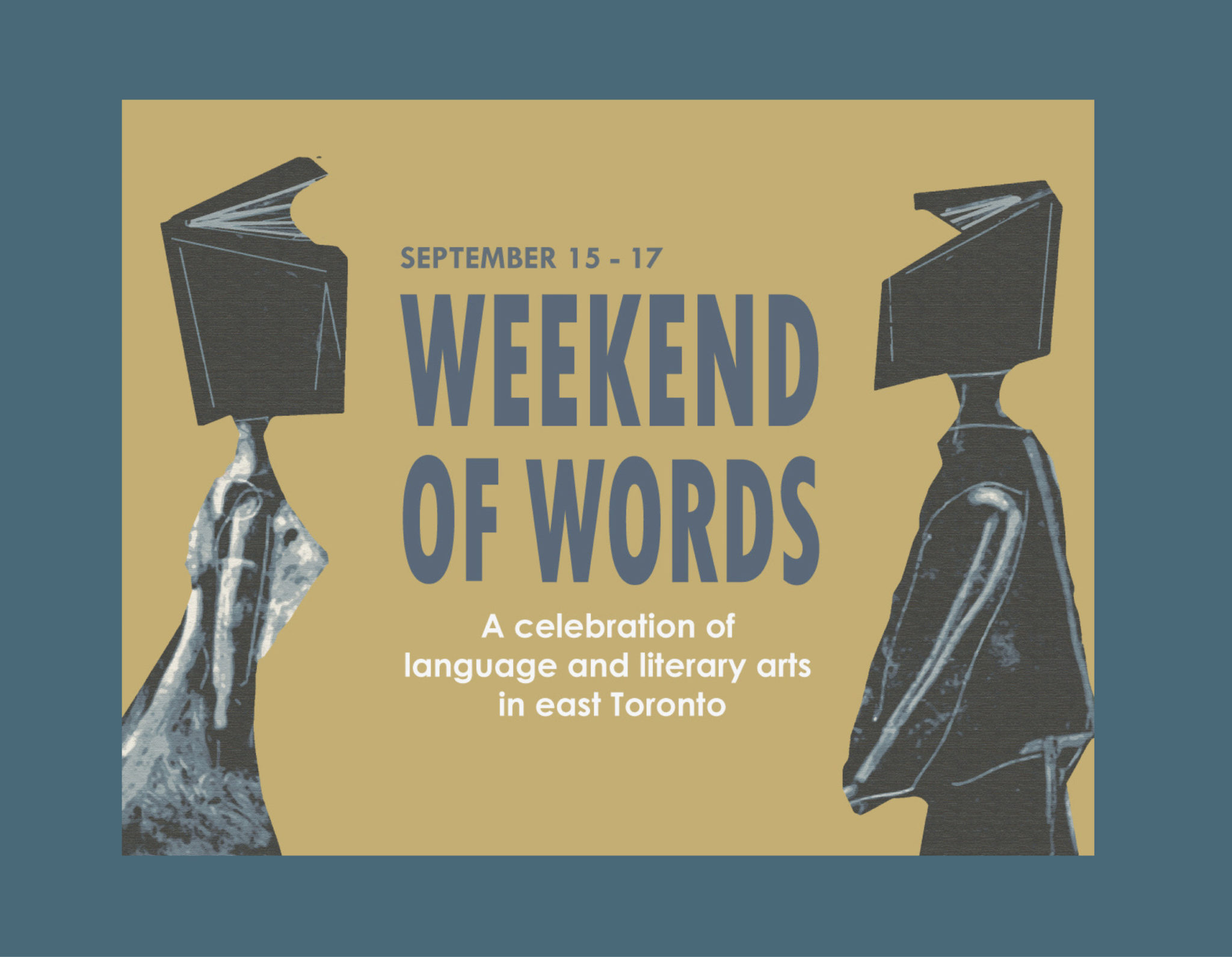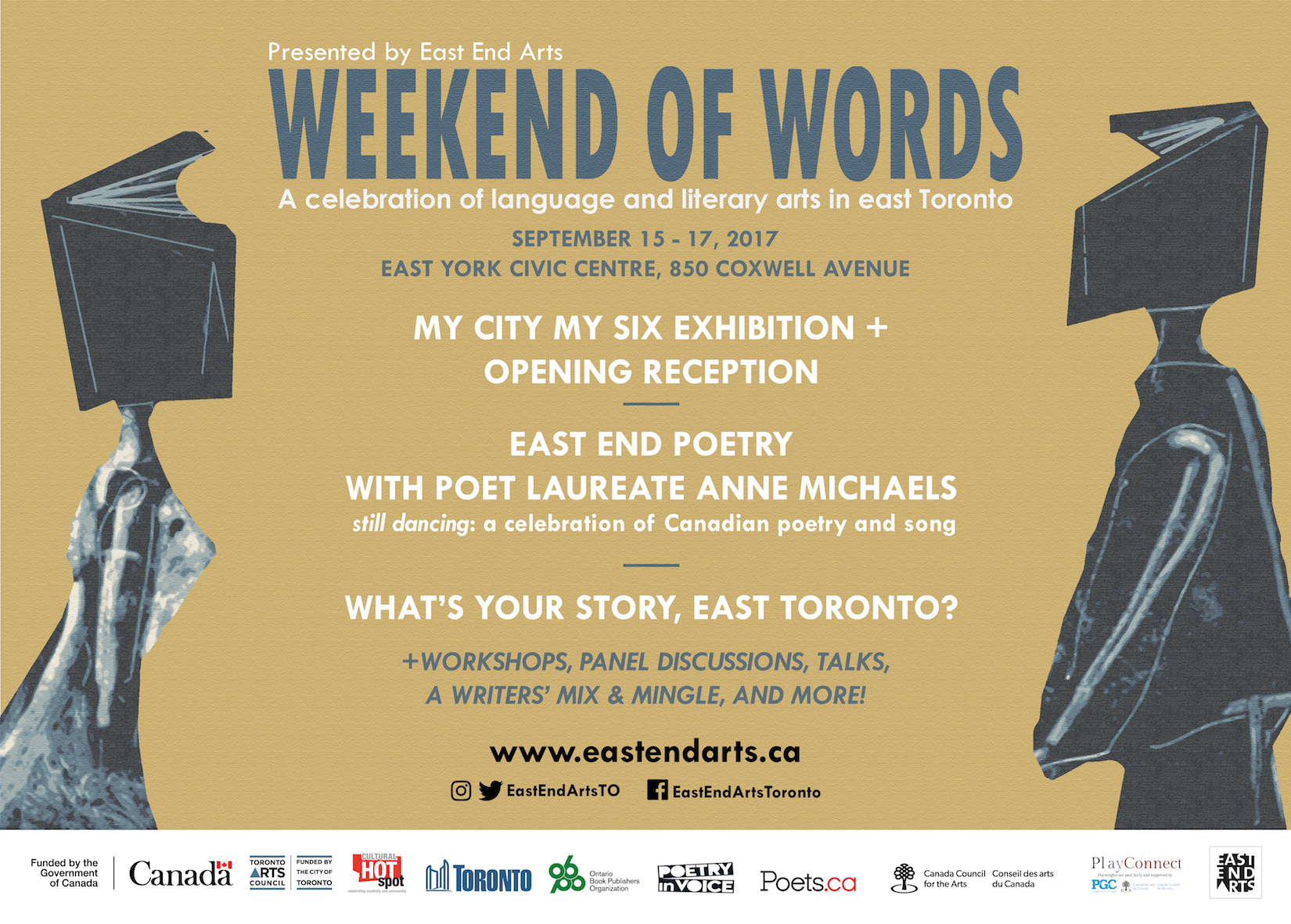 ---
Weekend of Words in Toronto's East End – September 15 – 17
Thursday, September 7, 2017, Toronto: East End Arts presents the 2nd annual Weekend of Words, a free, three-day celebration of language and literary arts from September 15-17 at the East York Civic Centre. The festival features three signature events, plus talks, workshops, activities, and a mix & mingle event for writers.
The My City My Six Exhibition transforms the East York Civic Centre into a unique, public gallery space featuring over 200 six-word stories submitted by east Toronto residents. The opening reception on September 15 from 7-9pm introduces the diverse stories of east Toronto, six words at a time. My City My Six is a Cultural Hotspot project, in celebration of Canada 150, in partnership with the City of Toronto.
"This participatory public art project has inspired Torontonians of all ages and backgrounds to share something essential about themselves and provided them with the opportunity to see their stories reflected in the public arena. With Toronto as the backdrop, it gives us all the chance to appreciate that there are thousands of stories to be told that reflect the dynamic and diverse people of this city," says Nadira Pattison, Manager Arts Services, Toronto Arts and Culture.
At still dancing on September 16 from 2-4pm, enjoy an intimate afternoon of stories, songs, and poetry recalling Canada's rich literary legacy from East Toronto and beyond. Featuring Toronto Poet Laureate Anne Michaels with Karen Mulhallen and Paul Dutton, students from Poetry in Voice reciting Canadian poetry, and musical performances by David Sereda, Dave Gray, and Tyler Wagler. Presented in partnership with the City of Toronto and East End Arts.
"Join us in celebrating the rich literary history of Toronto – we will be telling stories about the spectacular blossoming of Canadian literature half a century ago – the rise of our great poet songwriters, including Leonard Cohen, Joni Mitchell, and others, the rise of literary magazines and small presses, the beginning of sound poetry, and the vibrant cafe literary life that has nurtured so many of the artists who have influenced our culture over the decades," says Anne Michaels, Toronto's Poet Laureate.
The What's Your Story, East Toronto? writing competition winners share their East Toronto-inspired works on September 17, featuring award-winning author Terri Favro, and emerging East Toronto writers Jason Freure, Susana Molinolo, and Sadi Muktadir, hosted by Charlie Petch. A celebration of reading and writing, presented by Ontario Book Publishers Organization (OBPO), Toronto Arts Council, and East End Arts.
Free writing workshops throughout the Weekend of Words will be offered by author Karen Krossing, spoken word artist Charlie Petch, poet and playwright charles c. smith, and writer Tatum Dooley. A D.I.Y. Self-Publishing Panel Discussion features authors Lia D. Munro, Sharon Smith, and Nathalie Prézeau, moderated by Nina Munteanu (Water Is…). Meet the dynamic father-son duo behind #JacksLibraryTour during a Talk & Q&A session, participate in an Open Mic session, enjoy a performance piece led by artist Annie Wong, and hear PlayConnect: Playwright Readings by Briana Brown and Emil Sher. Everyone is invited to attend a Writers' Mix & Mingle event with Firefly Creative Writing.
The Weekend of Words honours, shares, and celebrates the stories and voices of East Toronto.
WEEKEND OF WORDS (full schedule of events)
September 15 – 17, 2017
East York Civic Centre, 850 Coxwell Avenue, Toronto
My City My Six Exhibition – Sept. 15-17 (Opening Reception – Sept. 15, 7-9pm)
still dancing: A Celebration of Canadian Poetry and Song – Sept. 16, 2017, 2-4pm
What's Your Story, East Toronto? – Sept. 17, 12-5pm
www.eastendarts.ca | Facebook | Twitter | Instagram
Further information, photos, and interviews are available upon request.
Contact: Tanya Oleksuik, Communications Manager, East End Arts
Email: tanya@eastendarts.ca | Tel: 647-715-2150 x2