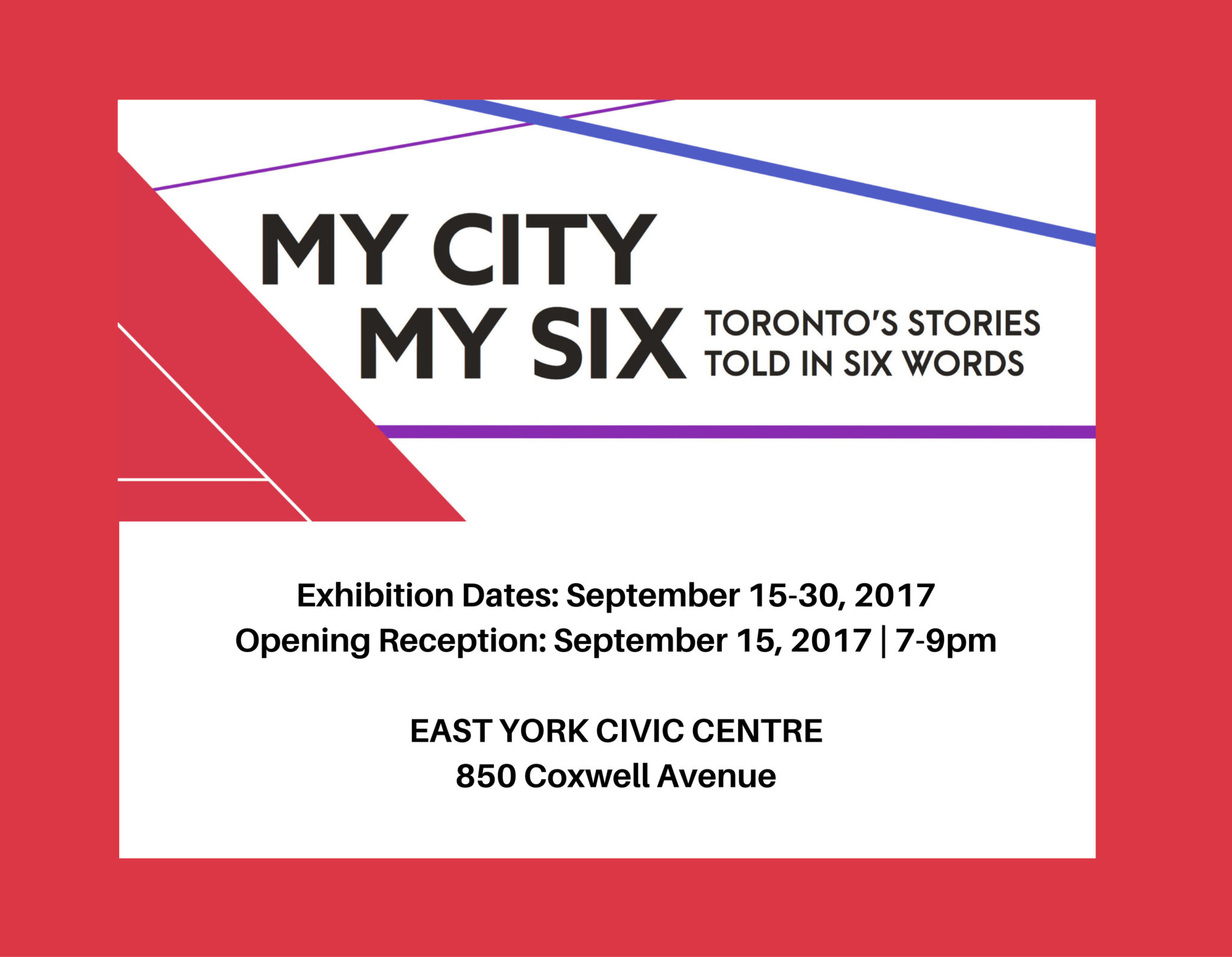 My City My Six Exhibition
Exhibition Dates: September 15-30, 2017
Opening Reception: Friday, September 15, 2017, 7-9pm
East York Civic Centre, 850 Coxwell Avenue, Toronto
Part of the Weekend of Words
Facebook Event Page
FREE!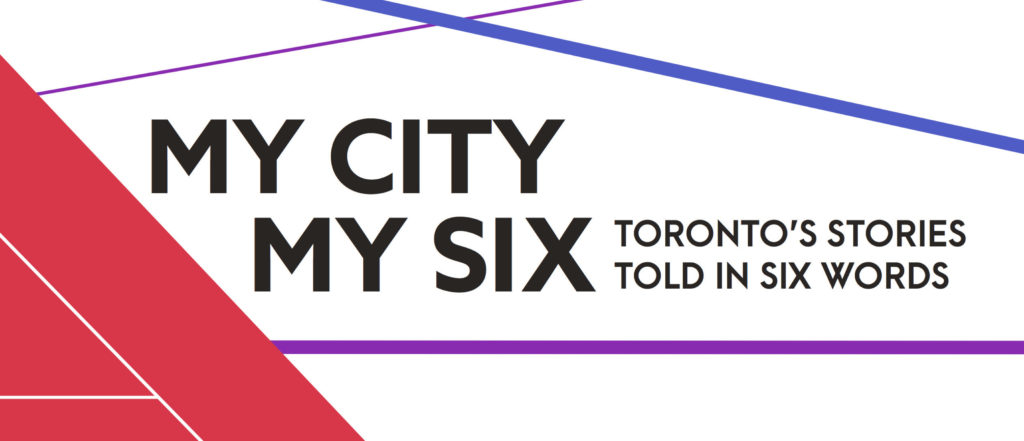 My City My Six is a participatory public art project that reveals Toronto and its residents in celebration of Canada 150, six words at a time. The My City My Six project asked Torontonians of all ages and backgrounds to share something essential about themselves in six words.
---
Exhibition
The My City My Six Exhibition transforms the East York Civic Centre into a unique, public gallery space featuring over 200 six-word stories submitted by east Toronto residents. The opening reception on September 15 from 7-9pm introduces the diverse stories of east Toronto, six words at a time.
The My City My Six exhibition will be on display throughout the Weekend of Words, a series of free literary events presented by East End Arts, and the exhibition will continue until September 30.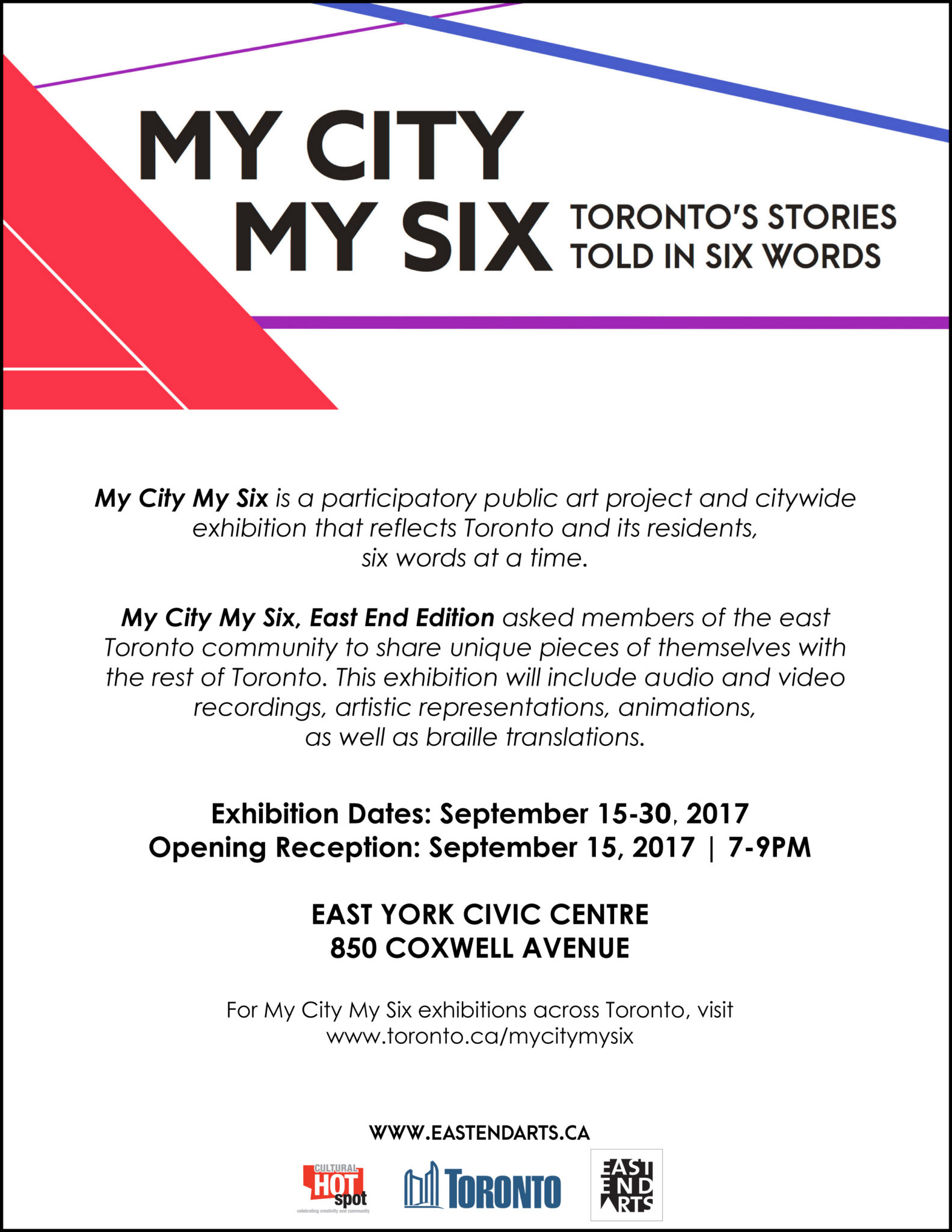 Community Partners
Many local coffee shops and cafes in the east end have joined the My City My Six initiative as community partners. Stop in for a hot beverage and friendly atmosphere, and receive a special My City My Six coffee sleeve featuring a local story with your purchase while supplies last.
---
---
---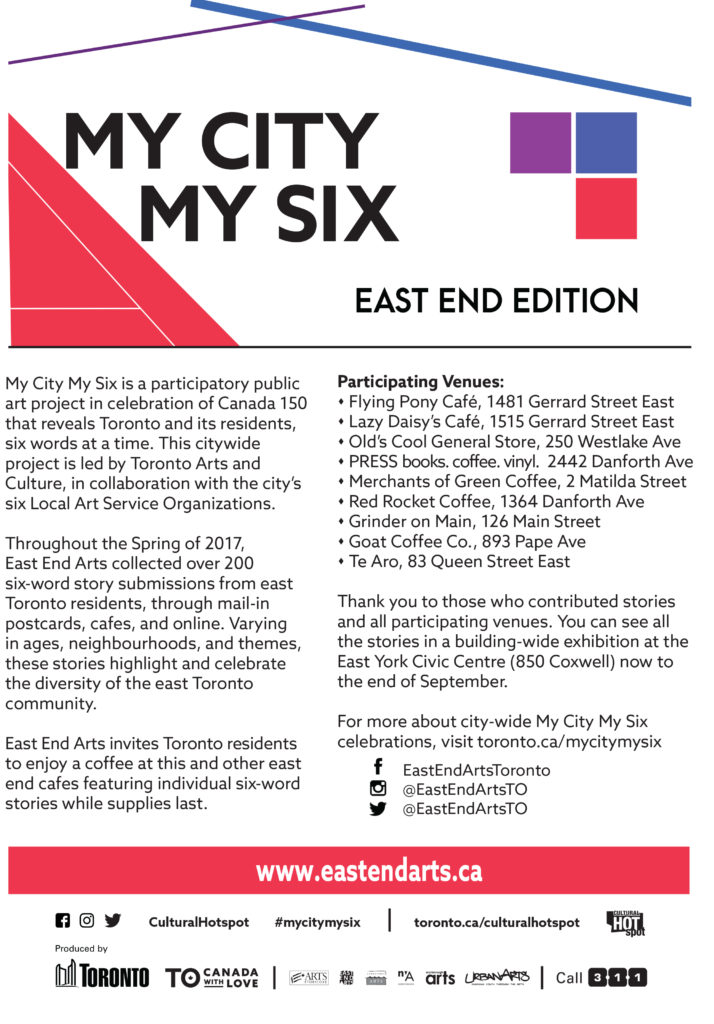 My City My Six is a Cultural Hotspot project, in celebration of Canada 150, in partnership with the City of Toronto. The My City My Six project is led by Toronto Arts and Culture in collaboration with the city's six Local Arts Service Organizations. Stories have been collected through emails, workshops, and events. A jury, including Toronto's Poet Laureate Anne Michaels, selected stories to appear in the city-wide exhibition, which include transit shelters, transit interiors, billboards, and other public spaces. Local galleries, businesses, and public spaces will also be animated as part of the exhibition in September and October 2017.
---
This event is part of the Weekend of Words, a free, three-day celebration of language and literary arts in east Toronto from September 15-17 at the East York Civic Centre, presented by East End Arts. See the full weekend lineup including an exhibition, readings, performances, workshops, and activities: www.eastendarts.ca/weekend-of-words