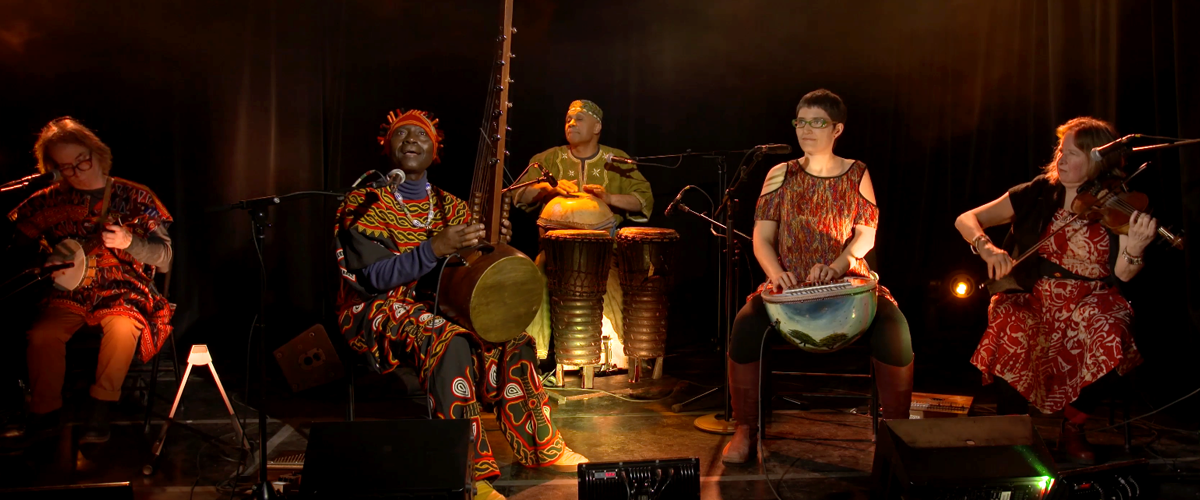 East End Spotlight is a monthly news piece where we highlight a series of east end artists, arts organizations, creative spaces & professionals that we want to shine a spotlight on💙!
September East End Artist Spotlights
For September 2021, we got in touch with some new artists and arts organizations who live or work in east Toronto. Scroll down to read more about the following people and organizations this month:
*Banner image is an image of Njacko Backo and Kalimbas at Work at a performance for Batuki La.*
1. Artist Spotlight: Julia Prajza
Discipline: Muralist & Multi-Disciplinary Designer
Artist Website:
Artist on Social:
Instagram @juliaprajza
Artist Pronouns: She/Her
Tell our readers a bit about yourself and your art:
I'm a one-woman-creative-team based in Toronto with a focus on murals, lettering and design. As an OCAD University graduate, with experience working as an Art Director & Graphic Designer, a strong desire to create with my hands again has led me back to drawing and painting. I'm a maximalist at heart with a love of details that can be seen in my floral and text-based work. Creating designs with vibrant colours and a whimsical feel, my aim is to bring more joy and positivity into our everyday lives.
Recently I co-founded Neighbourhood Love, an artist collective that's collaborating with neighbourhoods to bring colour to our streets in Toronto and beyond. Emerging into the community-engaged art world has been so meaningful because I strongly believe in the power of art and its ability to cultivate human connection and improve our mental health. I'm super passionate about following my unique curiosities and am constantly exploring new mediums, from mini mural mailboxes to wedding calligraphy – always keeping things fresh.
What are you excited about for the future of your arts practice?
I'm super excited to continue growing my art practice in the public and community-engaged art world, painting bigger and bigger murals, as well as connecting with different communities to create meaningful work. This leads me to the partnership program I will be leading in Spring 2022 for the Year of Public Art, where the Neighbourhood Love Collective will be painting our largest mural ever! I'm also excited to expand my art practice in general and start leading workshops, starting with the EEA Doorstop Diaries program where I'll be facilitating a hand lettering workshop.
How can audiences support the work you're doing right now?

You can follow me on Instagram for live updates of what I'm working on. Sign up for my newsletter on my website for a monthly dose of colour, insights into my life as an artist and upcoming workshops. I also encourage you to go on a mural tour in your own neighbourhood or a new one. Explore some of the amazing public art we have in our city, try to pause and appreciate the beauty in art, nature, and life itself.
What are some upcoming Toronto arts events, programs or initiatives you're interested in?
I'm excited for ALL of the public art happening in Toronto right now, it's mural season and there are so many muralists doing wonderful things in the city. It's such a great time to explore new neighbourhoods and events. There are so many upcoming art events etc, it's overwhelming, but I'm definitely interested in checking out the Women Paint Riverside project, as well as the Window Wonderland project coming to the Junction in a few months.
What does #EastEndLove mean or look like to you?
East End Love means making the world a better place with an artistic touch. It means creating real connections and positive human experiences with new people.
A fun fact about you for our readers:
I used to be part of a Czech folk dance group called Moravanka, complete with petticoats, puffy sleeves, flower headbands and ribbons galore.
2. Artist Spotlight: Yiannis Kapoulas
Discipline: World Musician & Multi-Instrumentalist
Artist Website:
www.yktunes.com

Artist on Social:
Instagram @yianniskapoulas1
Facebook @yianniskapoulasmusic
Twitter @yianniskapoulas
Spotify @yianniskapoulas
Artist Pronouns: He/Him
Tell our readers a bit about yourself and your art:
Yiannis is a unique artist in the World-Instrumental, World-Fusion, Musical Genres.
Award-winning multi-instrumentalist, Yiannis is an artist that is impossible to define. He continues to break new ground with his infectious blend of Ethno-Fusion, World Instrumentals – a unique sound that runs the gamut of influences from Latin, Mediterranean, Middle Eastern, Jazz, Classical and Funk. He tours extensively with a 6-piece ensemble comprised of top-talent from Toronto; and plays a multitude of exotic stringed instruments with agility, speed, precision and a passion that has been awing music fans at countless festivals across Canada.
A Hamilton native of Greek descent, Yiannis' earliest memory of music is of the many hours he spent deconstructing a traditional Zeimbekiko melody and mapping it out as a mathematical pattern – it seemed to be a puzzle that simply needed to be unraveled. He was 4-years old at the time. Soon after, Yiannis came to discover the special connection he has with the music. Never having imagined doing anything other than making music, Yiannis has always approached music with a single-minded focus, an obsession to perfect his skill level to match the music he hears within and around him.
Now, with three North American CD's released, Yiannis endeavours to continue collaborating with other artists and gaining inspiration from all cultures in the hopes of creating music that both transforms and inspires his listeners.
What are you excited about for the future of your arts practice?
I am excited to get back to playing with my band family, The YK Project, and getting back to performing live.  In all my life, from the age of 4, since my father placed a Bouzouki in my hands, I have never not performed, until COVID hit.  So you can say, I'm out of my element and having music withdrawal.
I am looking forward to writing new material and possibly venturing into some collaborations with genres other than my own.  So I'm up for any invitations to collaborate.
I also wanted to remix some of my existing work into a mesh of genres.  Stay tuned… We are also hoping to take the project out on a small local tour in small, intimate venues
How can audiences support the work you're doing right now?

As with any local musicians, buy our music, stream our music, share our music with others, engage with us on social media and, when we can get back to it, come to our shows.
What are some upcoming Toronto arts events, programs or initiatives you're interested in?
I love working with our local arts communities, local music festivals, radio stations, just keeping it local.  Toronto puts on some of the greatest, world-renowned festivals, and I am so glad I have been a repeated participant at these events such as Beaches International Jazz Festival, Taste of Danforth, Taste of Little Italy, just to name a few. And, I would love to work with a symphony orchestra and perform some of my music with them. 
What does #EastEndLove mean or look like to you?
Although I'm originally from Hamilton, I now live in the east end.  The east end is where I met my wife, where we made our home and one of many cities/regions that have embraced my music. So, I'm grateful for #EastEndLove.
3. Artist Spotlight: millie bee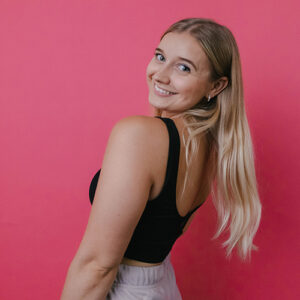 Name: millie bee
Discipline: Singer/Songwriter & Actor

Website:
www.missmilliebee.com

Artist on Social:
Instagram @missmilliebee
Spotify @milliebee
Artist Pronouns: She/Her
Tell our readers a bit about yourself and your art:
I have been singing, acting, playing instruments, and entertaining for as long as I can remember. Performing musical theatre was a huge part of growing up, and I inevitably studied Music Theatre Performance post-secondary. After a lifetime of singing other people's lyrics, 2021 was the year I decided to put my own music and message into the world. 
I am heavily influenced by theatre, pop/indie pop, jazz, and singer-songwriter music. My music is a fusion of my theatre training and love of other genres. Aaaaand *drumroll* I just released my debut single, "little apartment" which you can now stream on all music platforms!
"little apartment" is ultimately a song about gratitude. It is about feeling stuck, small, and insignificant in this big world. However, when you practice gratitude, you will feel whole, blessed, and loved again. In this song, I sing about being grateful for my little apartment (in the East End, of course!) and for the sun streaming in. 
I wrote this song when I was feeling particularly small in the world, specifically in the entertainment industry. This song will hit home for anyone who has dreams bigger than themselves, or anyone who has ever felt overwhelmed by this big world. Gratitude will always bring you home to your heart and soul. 
I want my music and creative content to uplift, inspire, and evoke emotion within people's hearts. My mission is to be honest, authentic, to lead with love, and to encourage others to do the same. 
What are you excited about for the future of your arts practice?
I am excited to continue to develop my craft as an artist and a singer. Everything I experience, hear, and feel influences what I create. As I live out my life and learn lessons, my music and lyrics follow. As I experiment with my voice and my range, my singing develops further. I am also constantly inspired by new music I listen to. Sharing this journey in real time with my audience makes it all even more exciting.
How can audiences support the work you're doing right now?

Stream "little apartment" and follow my artist profile, millie bee, on Spotify! Share the song with anyone you think might enjoy it. You can also follow me on Instagram to watch the journey unfold and for all the latest updates on writing, recording, releasing, and my life overall. I aim to create entertaining and encouraging content.
What are some upcoming Toronto arts events, programs or initiatives you're interested in?
I am so excited for the comeback of live theatre and shows! I was happy to support digital shows, theatre, and festivals this year, but nothing compares to live performance. I am thrilled for venues to open up for theatre, concerts, stand-up comedy, and all other forms of live entertainment. I'm ready to support performance arts like never before!
What does #EastEndLove mean or look like to you?
To me, East End Love is about human connection and empathy. You never know what someone is going through, and this past year has been particularly challenging for the collective. It is more important than ever to share love, kindness, and humanity with those you encounter. A warm smile or a random act of kindness can change the course of somebody's day or even their life. More love, always.
A fun fact about you for our readers:
Fun Fact! I'm a huge fan of peanut butter and even wrote a song called "peanut butter lover." So if you like peanut butter too, stay tuned for the release!  

4. Artist Spotlight: Njacko Backo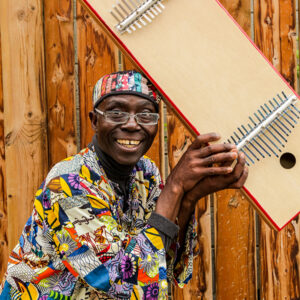 Name: Njacko Backo
Discipline: Musician & Storyteller
Website:
www.NjackoBacko.com

Artist on Social:
Instagram @njackobacko
Facebook @NjackoBacko
Twitter @njackobacko
Youtube @nbacko
Artist Pronouns: He/Him
Tell our readers a bit about yourself & your art:
Music and art have always been an integral part of my life; in fact, it's saved my life on more than one occasion. My parents divorced when I was 7 and my mom, my siblings and I became homeless. Fortunately I was sent to live in the village (Bazou, Cameroon) with my Grandmother. She was a heavy-duty musician and storyteller. Every moment of my day, I was immersed in music. Sadly, that time ended and I was sent back to Douala but both my parents had remarried and neither stepparent wanted me around. I suffered a lot and decided I had to leave the misery behind. I left my family and country when I was 17 with only $5 in my pocket. My only luggage was the music that was flowing in my veins. 
I share these early stories to give some context for my creative vision and dedication to my art. I have been making music professionally for more than 40 years and have independently released 12 albums, and performed for countless festivals, promoters and charities during that time. For more than 35 years, I have been introducing children to African music, culture, storytelling and dance through my arts education programs. 
Children are one of my greatest inspirations; their energy, curiosity and open minds are a huge gift to the world. I write my songs with children in mind and emphasize the importance of love, togetherness and respect. Every time I perform, my goal is to touch people's hearts, make them dance and have fun together.
What are you excited about for the future of your arts practice?
I love having folks listen to my music, and know that it spreading around the world. My goal is to spread the message of love to as many people as possible. 
I'm also working towards an intensive study of the kora (21 string African harp) in Gambia. My plans were put on hold due to the COVID-19 pandemic. I currently play the ngoni (normally a 6 string harp, however my ngoni has 12 strings).
How can audiences support the work you're doing right now?
Folks can buy my music directly from me on my website, and ask your local festivals to invite my band Njacko Backo and Kalimbas At Work. Encourage your local schools and libraries to bring me in for a special assembly or workshop (either outdoors or virtually) so that I can share my art with the students. I work a lot with Inner City Angels in schools.
What are some upcoming Toronto arts events, programs or initiatives you're interested in?
Toronto is a city of festivals, and I look forward to getting back to in-person performances. I will be part of a storytelling festival coming up in November (The FOLD – Festival of Literary Diversity). I'm half way through an Arts in the Parks series with Shadowland Theatre called Home Follies. I'm also very excited to hear about Black Lives Matter Toronto's new community space Wildseed: Centre for Activism and Art.
What does #EastEndLove mean or look like to you?
The East End is totally my village. Since I moved to Toronto from Montreal in 1998, I have always lived in the East End. Being in the parks with my kids it is always so lovely to see everybody together. Harmony between people from all walks of life, together and having fun.
A fun fact about you for our readers:
I was 17 years old the first time I saw a television. I was shocked and confused because the presenter on the TV was just in this box talking to me. I mean, I didn't know this person, and he was talking directly to me! I spoke back to the presenter, asked him what he was doing talking to me and pointing at me, when we hadn't met before. Everyone I was with laughed and laughed. And that is how I first learned about television.
5. Arts Organization Spotlight: Red Door Family Shelter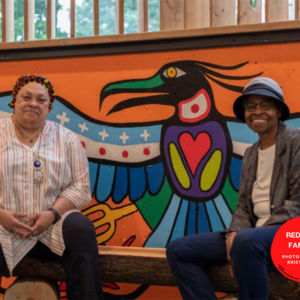 Name: Red Door Family Shelter
Organization Type: Non-profit helping to end family homelessness
Website:
https://www.reddoorshelter.ca/

Org on Social:
Instagram @reddoorfamilyshelter
Facebook @RedDoorFamilyShelter
Twitter @RedDoorFamilySh
Tell us a bit about your arts organization, your history, your mission etc.:
We are a safe sanctuary working towards ending homelessness for women, children, & families. We support families through offering a variety of programs and resources both while they are in shelter and once they have transitioned to permanent housing in our community. We operate a family shelter with 106 beds and cribs available for families and a VAW (Violence Against Women) shelter with 56 beds available; supporting over 350 families yearly. Provincial and City of Toronto funding as well as valuable donations from our community allow the Red Door Family Shelter to provide programs for our residents that go beyond food and shelter; programs that open doors to opportunity to achieve long-term objectives.
What makes your arts organization unique or different?
As an emergency shelter offering safe sanctuary for families in crisis, we know the healing power of art. Our new family shelter is filled with light and colour and we have two special rooms for pre-school and school-age children where homework, play and art will be explored. From the walls to the furniture, these spaces are filled with colors and shapes, giving children a creative and stimulating experience and the perfect environment to enable learning and facilitate healing.
What are you most excited about for the 2021 season?
We are most excited about the opening of our new family shelter featuring a beautiful mural wrapping around the building – created by Indigenous Artist Philip Cote! As an Indigenous artist and graduate of OCAD University's Interdisciplinary Master's in Art, Media and Design, Philip uses research to unearth, and reveal, his cultural experience and knowledge of signs of Indigenous symbols, language, and interpretation. He emphasizes the resurgent power of nature and the importance of listening to Indigenous teachings through his Mural Art. We believe Philip's work will educate, inspire and imbue healing energy to our clients, staff, volunteers, and supporters for years to come. We're looking forward to creating special programming opportunities for children, and adults too, to learn and understand the Seven Grandfather Teachings which are illustrated in Philip's mural.
How can community members interact or support your organization right now?
Get involved, meet new friends, and help raise awareness! Learn more about hosting your own event in support of Red Door by clicking here. We know our community is full of awesome people like you who can make a difference! Donate or start a fundraising page today and help us support over 350 families.
Help moms and families heal and build a bright future for less than $1 a day. Learn more about the impact you can make by joining the Red Door Family Guardians monthly giving club.
What does #EastEndLove mean or look like to your organization?
For us this means community, home, and healing. Art is such a wonderful way to express feelings that may have no words and encourage healing. Throughout the pandemic our community has come together like never before; we have experienced an outpouring of compassion and generosity.
What are some other upcoming Toronto arts events, programs or initiatives that you're excited about?
We can't wait for programming to begin again and children can return to their fun activities. To help us inspire creative minds, please consider purchasing a gift to empower of arts supplies for children and youth! You can find this here. Although we are not hosting any programming events currently due to COVID, we are participating in the Yorkville 5K and Scotiabank marathon and are excited to see runners to registering under the Red Door!