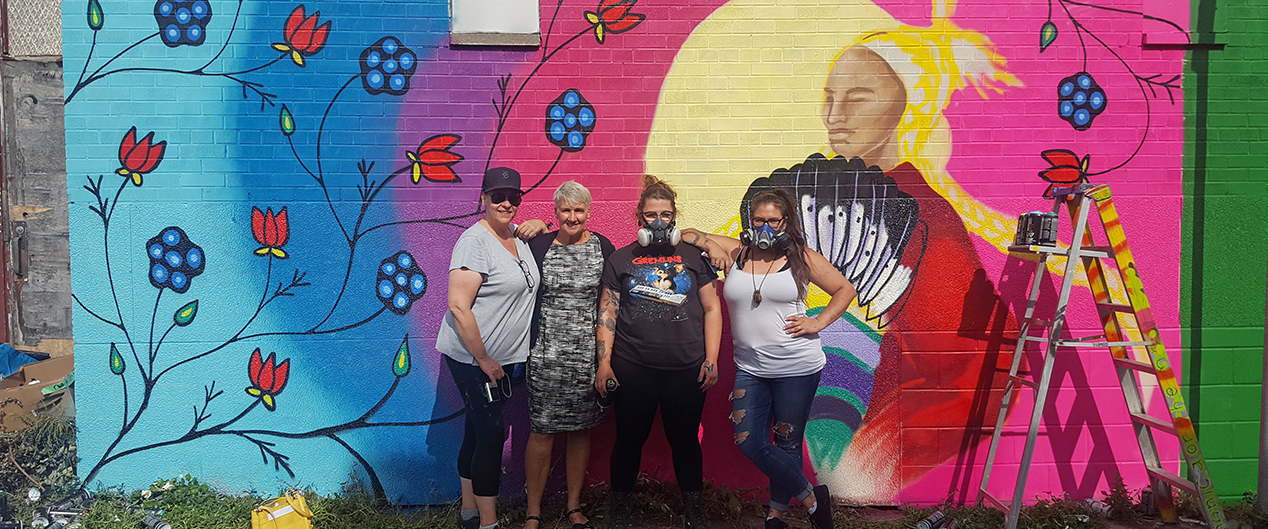 This month of the #EEABlog, we invited one of our local Councillors, Paula Fletcher, to reflect on Toronto's Year of Public Art, and what it means to her. 
A Thought on Public Art from Paula Fletcher
I always say that we are so fortunate here in the East End to have such incredible public art. You can find art in almost every neighbourhood, in our lanes, parks, and even on our roads. Sometimes you have to "stop and smell the roses" to truly experience the art you're walking by – because it can be found in so many different places thanks to artists, advocates and community builders who have made sure the East End has an abundance of top notch public art.
I strongly believe that public art makes our communities better places to live, work and visit. Not only does art brighten and animate our public spaces, it shows the diversity and beauty of local artists and neighbourhoods. I'd like to share some fantastic public art with you in this blog post.
Back in 2014, City Council adopted the Carlaw + Dundas Community Initiative, which I put forward to establish a vision for the Carlaw and Dundas community. A suite of public space improvement projects were undertaken as part of this initiative, including the Carlaw + Dundas Triangle. This area was transformed into an iconic urban outdoor gathering space and the overall design was inspired by the new Signature Marker – the obelisk by internationally-acclaimed Toronto artist and designer Pierre Poussin.
The obelisk was created with laser-cut Corten Steel and backlit LED lights, with maps of various stages of the neighbourhood's history etched into the steel. The 9.2 metre-high obelisk and its beautiful lighting completely changed the look and feel of this space, and I'm so proud to have such a remarkable piece of public art in Ward 14. You can learn more about the obelisk and the Carlaw + Dundas Community Initiative on my website here.
Another magnificent piece of public art is Dean Baldwin's Typha located at the south-east corner of Lakeshore and Leslie. As part of the site plan agreement for the TTC's Leslie Barns in 2009, I negotiated a major contribution for public art to anchor Leslie Street as the gateway to the Leslie Spit. This piece is constructed of Toronto streetcar railway track, rods and other profiles of Corten weathering steel, which have been sculpted into an impressive collection of reeds, rushes and cattails bundled into a five ton flower arrangement.
The East End is also full of beautiful and colourful murals. You can find them on the sides of buildings, on bridge underpasses, in lanes, on garage doors, and on our sidewalks and roads. What's even more special is that many of these murals were painted by women and non-binary artists. Several along Gerrard St. East in Little India were painted as part of the Women in the Walls event in 2017. One of my favourite murals is by Indigenous artists Chief Lady Bird and Mo Thunder on the side of Udupi Palace. It was so great to meet with them while they were in the process of painting this vibrant and inspiring mural.
The most recent public art in Ward 14 can be found in the Riverside neighbourhood. I encourage you to take a walk in the lane north of Queen St. East that runs from Munro Street to just east of Broadview Ave. Here you will find 20 stunning murals part of the Women Paint Riverside project, a collaboration between East End Arts, StreetARToronto, Women Paint, the Riverside BIA and Native Women in the Arts. These murals celebrate our relationship with water and were painted by women and gender marginalized artists. Congratulations to everyone involved with this amazing project!
I'd also like to share the East End Bridges to Art Underpass Project which I initiated in 2017. All nine bridges in Ward 14 will be painted by mural artists chosen by the community. Three bridges have already been completed and the Coxwell Bridge is underway. You can learn more about the project on my website here.
You can see why we're so fortunate here in the East End. Our neighbourhoods are full of public art, vibrant spaces and talented artists.
The City has also kicked off ArtworxTO: Toronto's Year of Public Art 2021-22. This will be a year-long celebration of Toronto's exceptional public art running from fall 2021 to fall 2022. Supporting local artists and new artworks that reflect our diversity, ArtworxTO is creating more opportunities for residents to engage with art in their everyday lives. You can learn more at www.artworxto.ca.
I hope you have a chance this fall to get out and explore the public art in your community. You never know what you'll find!