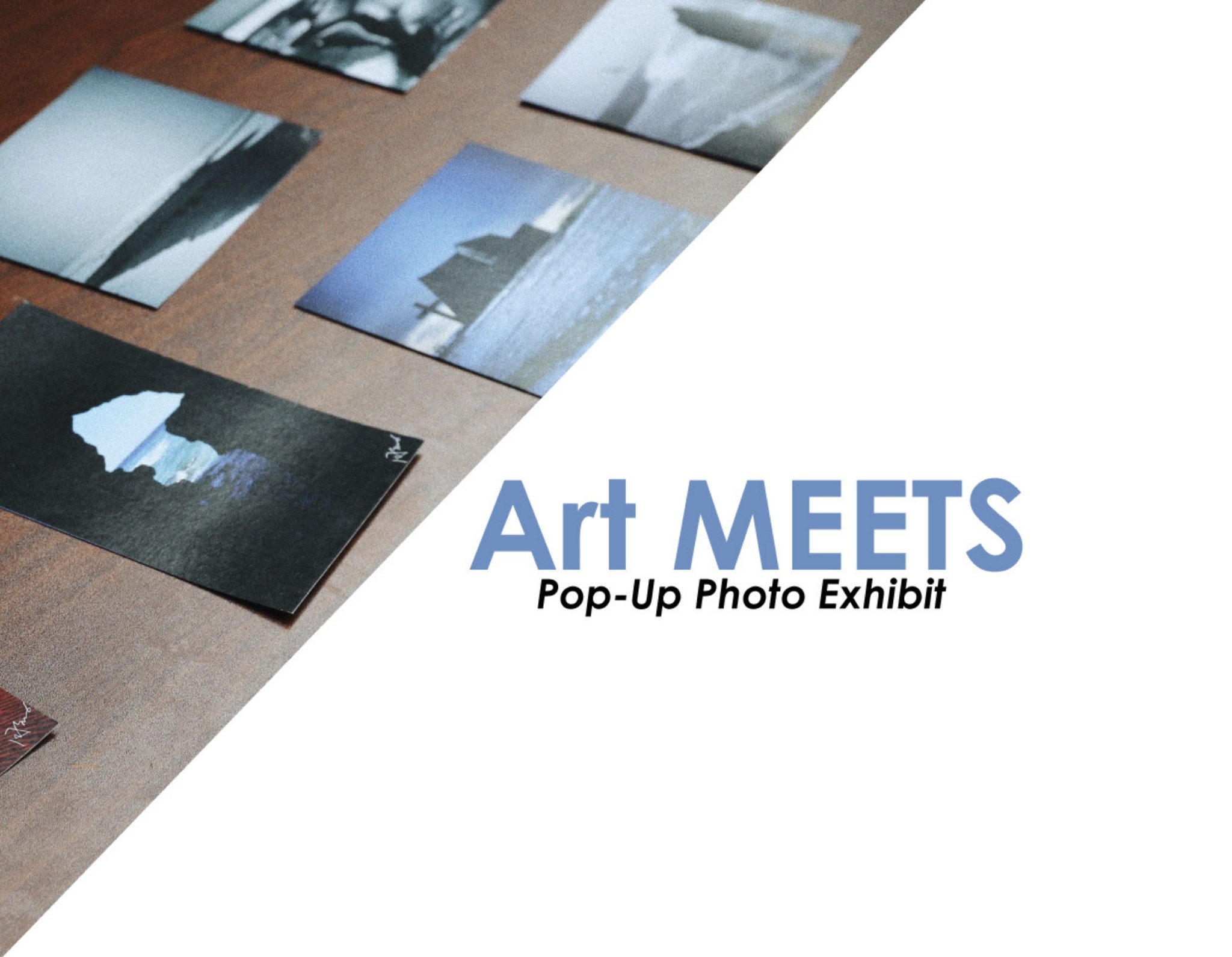 Art MEETS: Pop-Up Photo Exhibit
Facilitator: Diana Nazareth
Saturday, August 4, 2018 | 1-4pm
St. Matthew's Clubhouse | 450 Broadview Avenue
Part of the 2018 Art MEETS series of free workshops
Facebook Event Page
FREE | SOLD OUT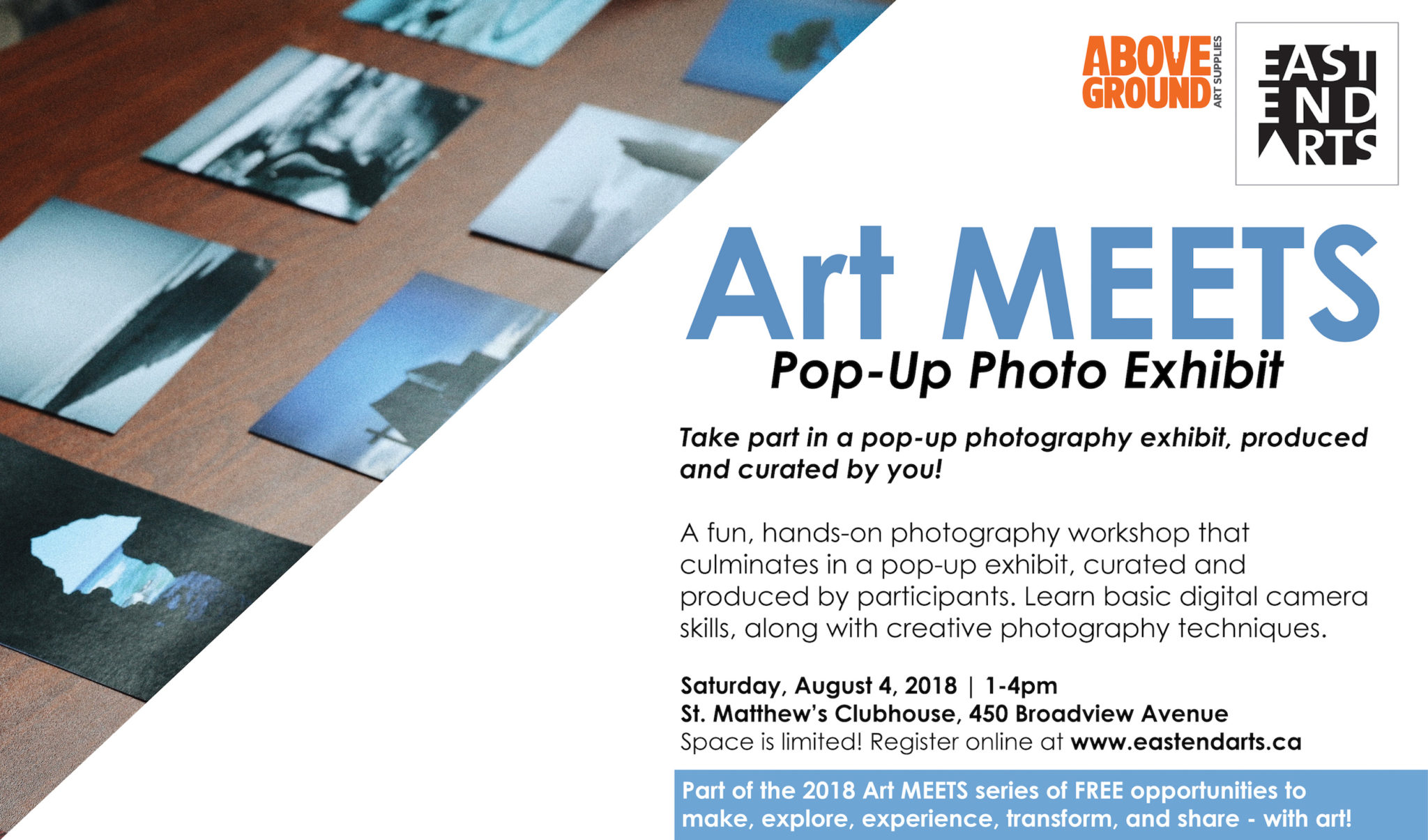 ---
Take part in a pop-up photography exhibit, produced and curated by you!
The Pop-Up Photo Exhibit is a fun, hands-on photography workshop that culminates in a pop-up exhibit, curated and produced by participants. Learn about basic digital camera skills, along with a set of creative photography techniques, while producing a series of photographs exploring a collective theme.
---
WHAT TO EXPECT
Participants will be introduced to a set of creative photography fundamentals such as vantage points, composition, elements of design, and basic digital cameras skills. You will be invited to create a series of photographs exploring a theme of your choice. Your images will be printed on-site with the intent of mounting a pop-up photo exhibition.
This workshop is inspired by the many individuals of all ages who have participated in Diana's community-based photo workshops across the GTA. The ubiquitous nature of photography allows for individuals of all levels of interest and skill sets to contribute to a creative initiative that can inform and enrich us all. The spontaneous, immersive, and creative impulse of any pop-up validates the efforts of all of its participants while showcasing the collective spirit accessed to create something visually interesting, beautiful, impactful, weird, fun, and engaging!
All materials are provided by the artist facilitator including digital cameras, portable printers, and all necessary elements for use during the workshop.
---
FACILITATOR BIO
Diana Nazareth is a professional photographer, certified teaching artist, and the founder of Project Kids & Cameras. Her participatory photography programs are informed by an extensive study of key progressive methods such a Literacy Through Photography, PhotoVoice and Visual Thinking Strategies, and she has facilitated digital photography workshops for thousands of kids and adults across the GTA. She designs photography programs that integrate visual literacy with traditional literacy, and that offer learners an opportunity to express themselves through both image and the written word.
Diana received her B.A. in Communications/Photojournalism from Temple University, and her Teaching Artist Certification from The University of The Arts, Philadelphia, PA. She lives in the East end with her husband and two teenage boys. She loves meeting new people and sharing her love of photography with others.
Website | Twitter | Instagram | Facebook
---
REGISTER
Thank you for your interest in this event. Registration has now closed.
---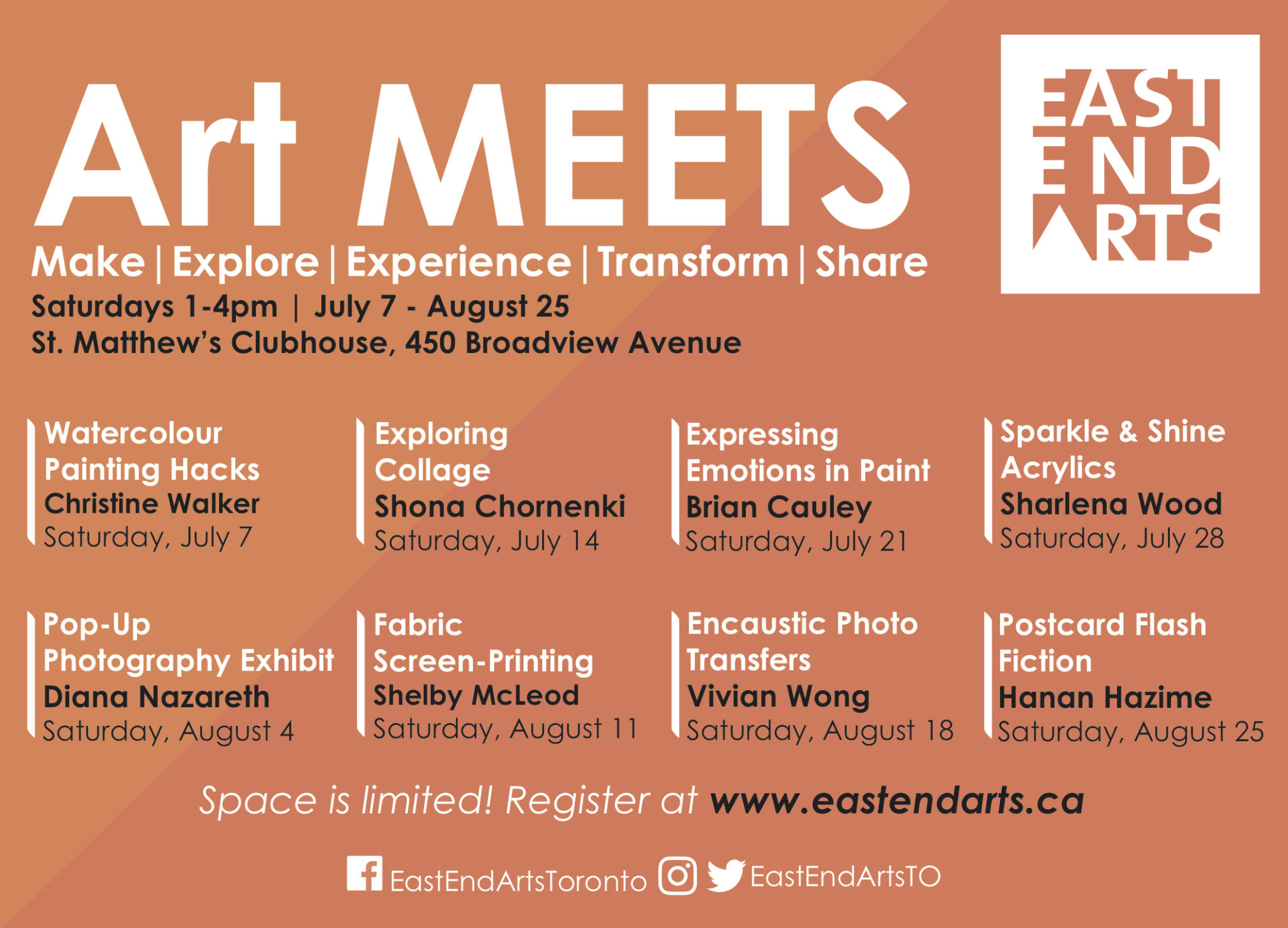 Art MEETS is a series of eight FREE art-making workshops and opportunities to make, explore, experience, transform, and share. Let your creativity shine!
Led by talented, supportive, and engaging arts facilitators, each workshop offers an opportunity to learn a new art skill, have fun, meet new community members, and find new and creative ways for self expression.
Art MEETS is presented by East End Arts with the generous support of our community partner Above Ground Art Supplies.
---
East End Arts strives to make our programming as accessible and inclusive as possible. If there are any accommodations that you need for any of these workshops, please email info@eastendarts.ca – we will do our best to meet your needs.
---
Register to receive ARTS-E-NEWS, a monthly e-newsletter update from East End Arts that shares Toronto-wide opportunities for artists and arts-related events in the east end. Sign up for Youth ARTS-E-NEWS for news about youth opportunities and events.
Follow us online at our social media channels to stay in the loop!