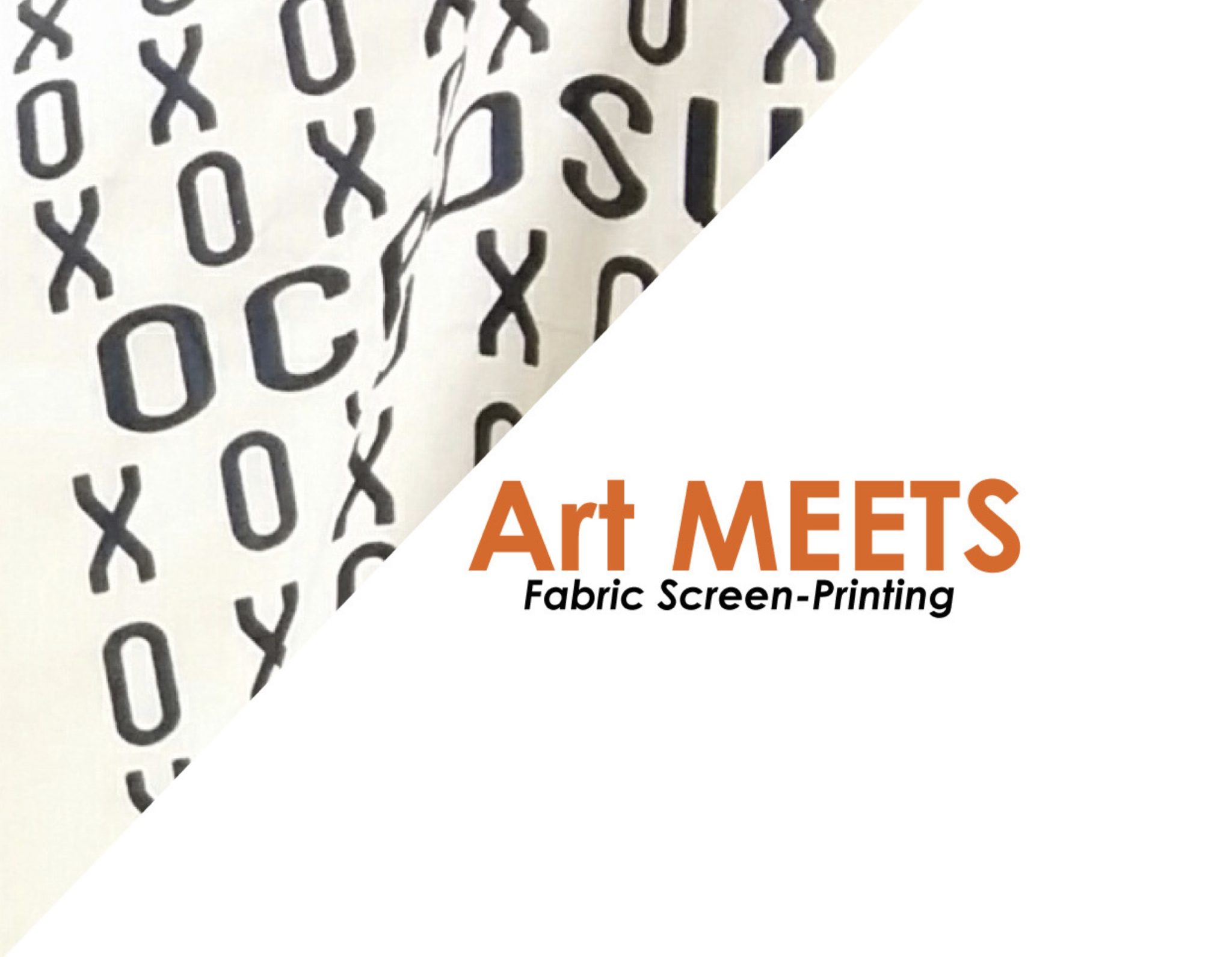 Art MEETS: Fabric Screen-Printing
Facilitator: Shelby McLeod
Saturday, August 11, 2018 | 1-4pm
St. Matthew's Clubhouse | 450 Broadview Avenue
Part of the 2018 Art MEETS series of free workshops
Facebook Event Page
FREE | SOLD OUT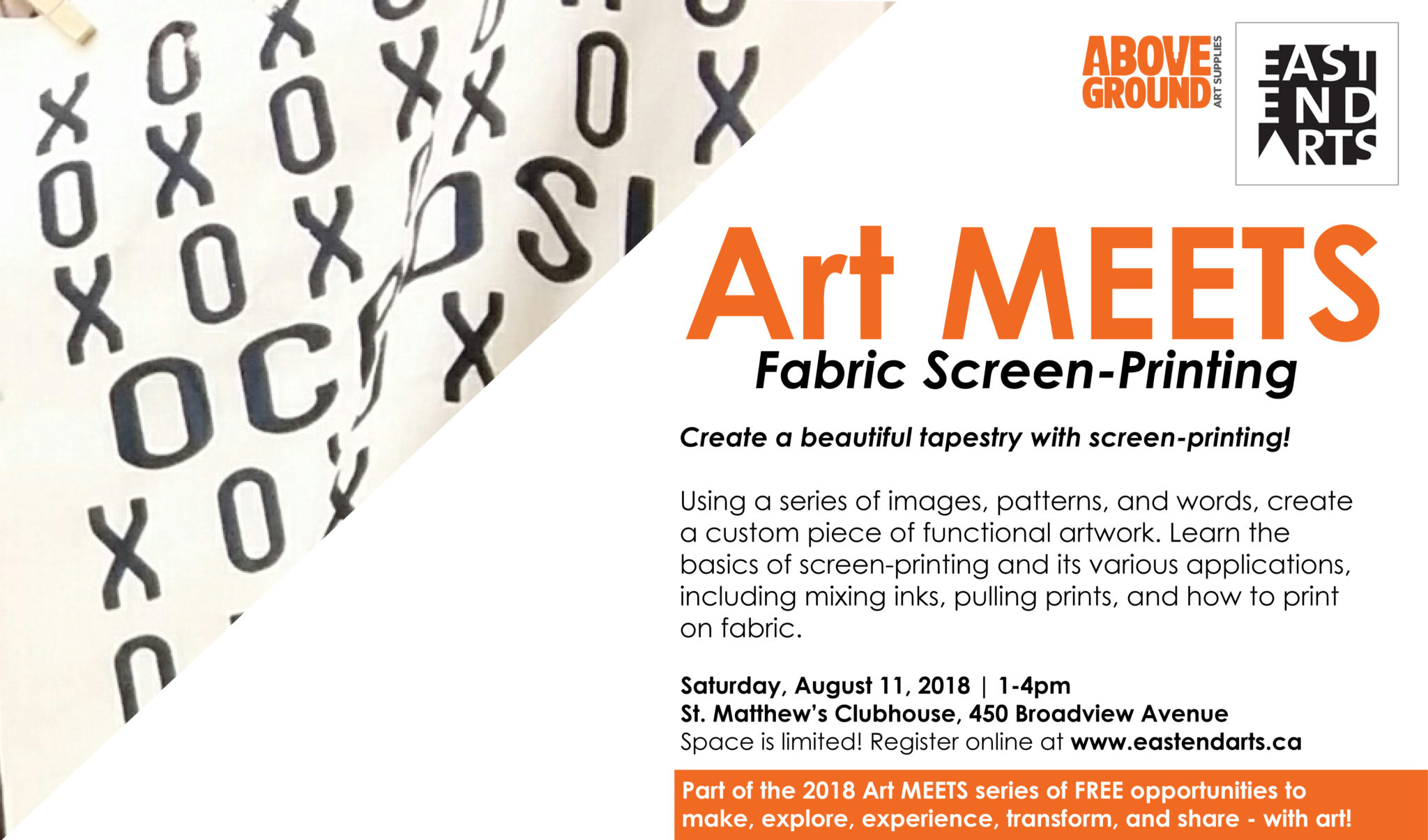 ---
Create a beautiful tapestry with screen-printing!
Using a series of images, patterns, and words, create a custom piece of functional artwork. Learn the basics of screen-printing and its various applications including mixing inks, pulling prints, and how to print on fabric.
---
WHAT TO EXPECT
Over the course of three hours, participants will learn the basics of screen-printing. The goal of this workshop is for participants to gain a basic understanding of screen-printing, its uses in the world, how to print on fabric, and to create their very own screen-printed fabric piece. This workshop allows for a great amount of customization. Participants can use their 24×18 squares of fabric to create anything from a dish cloth, tea towel, fabric gift wrap, or wall tapestry.
The workshop will start with a short introductory lecture on screen-printing history, best practices, and common uses of screen-printing. Next, we will move to hands-on learning. We will start with how to mix inks before pulling the first print, lining up fabrics, and printing on cloth. The workshop will be set up with five silkscreens, all pre-exposed with images, patterns, and slogans of the artist facilitator's own design. Participants will be able to mix and match these images and slogans in order to create their tapestry. Participants will then create a patterned image choosing from the five designs and three ink colours available. Each participant can create their own unique pattern by overlapping designs or adjusting inks. This will ensure that every design comes out differently and will allow for customization and practice. There will be plenty of time for troubleshooting errors, asking questions, and practicing these new skills.
---
FACILITATOR BIO
Shelby McLeod is a Toronto-based illustrator and screen printer who uses her practice as a vehicle to tell stories that are familiar and representational of day-to-day life, inspired by alleyways, commuting around the city, as well as snapshots into the minutiae of her own and friends' personal lives. She creates illustrations, posters, zines, and ephemera that explore these themes. She is also active in artist education and outreach, teaching screen printing workshops in her community, organizing mural projects, and hosting critique nights at her studio. Shelby is a graduate of OCAD University with a BFA in illustration and a minor in screen printing currently practicing in the Junction, Toronto.
---
REGISTER
*SOLD OUT! Please fill out the form below if you would like to be put on a waiting list to attend this workshop. We will contact you by email if a spot opens up!
[contact-form-7 id="30432″ title="Art MEETS: Fabric Screen-Printing"]
---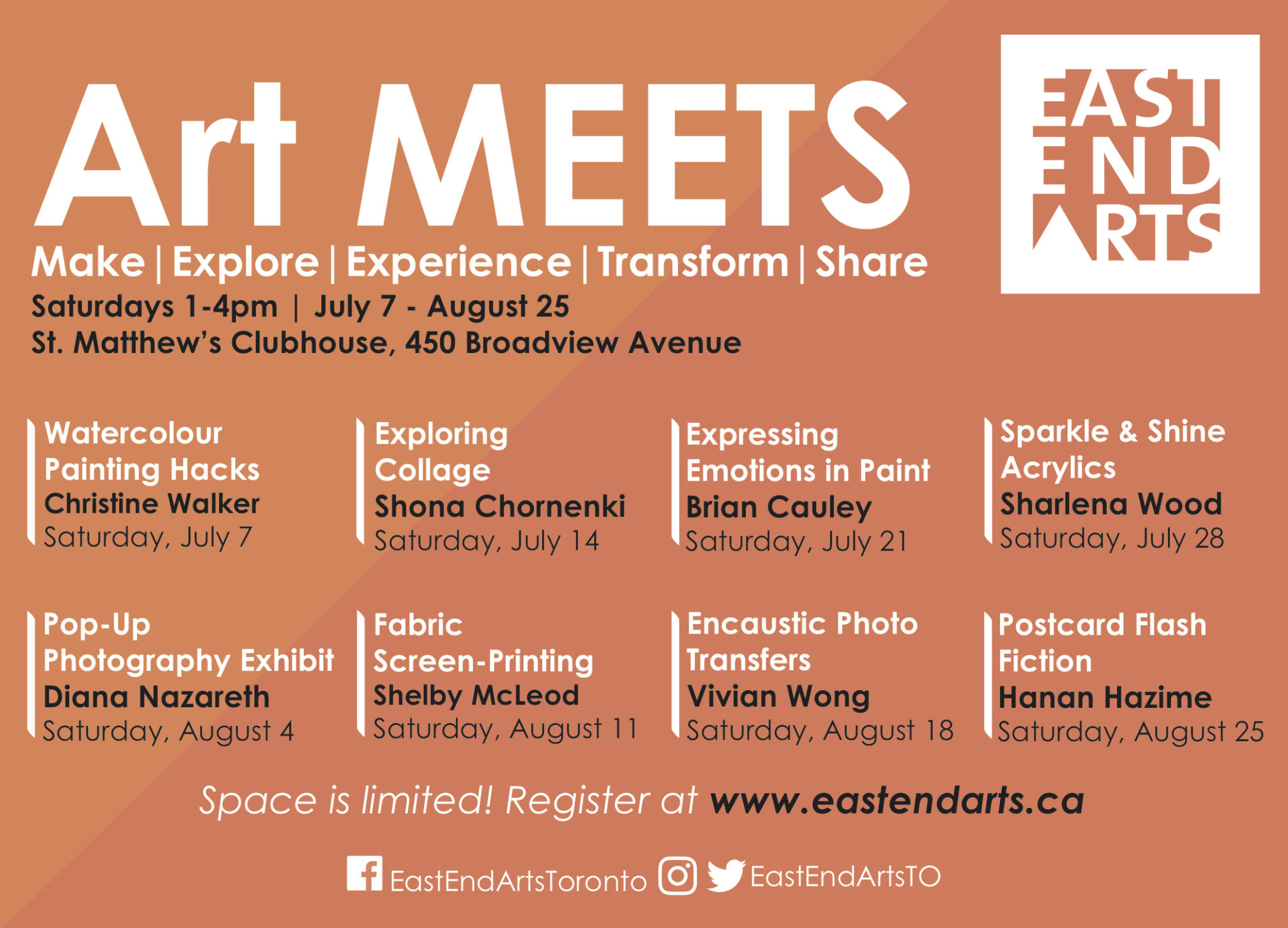 Art MEETS is a series of eight FREE art-making workshops and opportunities to make, explore, experience, transform, and share. Let your creativity shine!
Led by talented, supportive, and engaging arts facilitators, each workshop offers an opportunity to learn a new art skill, have fun, meet new community members, and find new and creative ways for self expression.
Art MEETS is presented by East End Arts with the generous support of our community partner Above Ground Art Supplies.
---
East End Arts strives to make our programming as accessible and inclusive as possible. If there are any accommodations that you need for any of these workshops, please email info@eastendarts.ca – we will do our best to meet your needs.
---
Register to receive ARTS-E-NEWS, a monthly e-newsletter update from East End Arts that shares Toronto-wide opportunities for artists and arts-related events in the east end. Sign up for Youth ARTS-E-NEWS for news about youth opportunities and events.
Follow us online at our social media channels to stay in the loop!
Website | Twitter | Facebook | Instagram| #EastEndLove