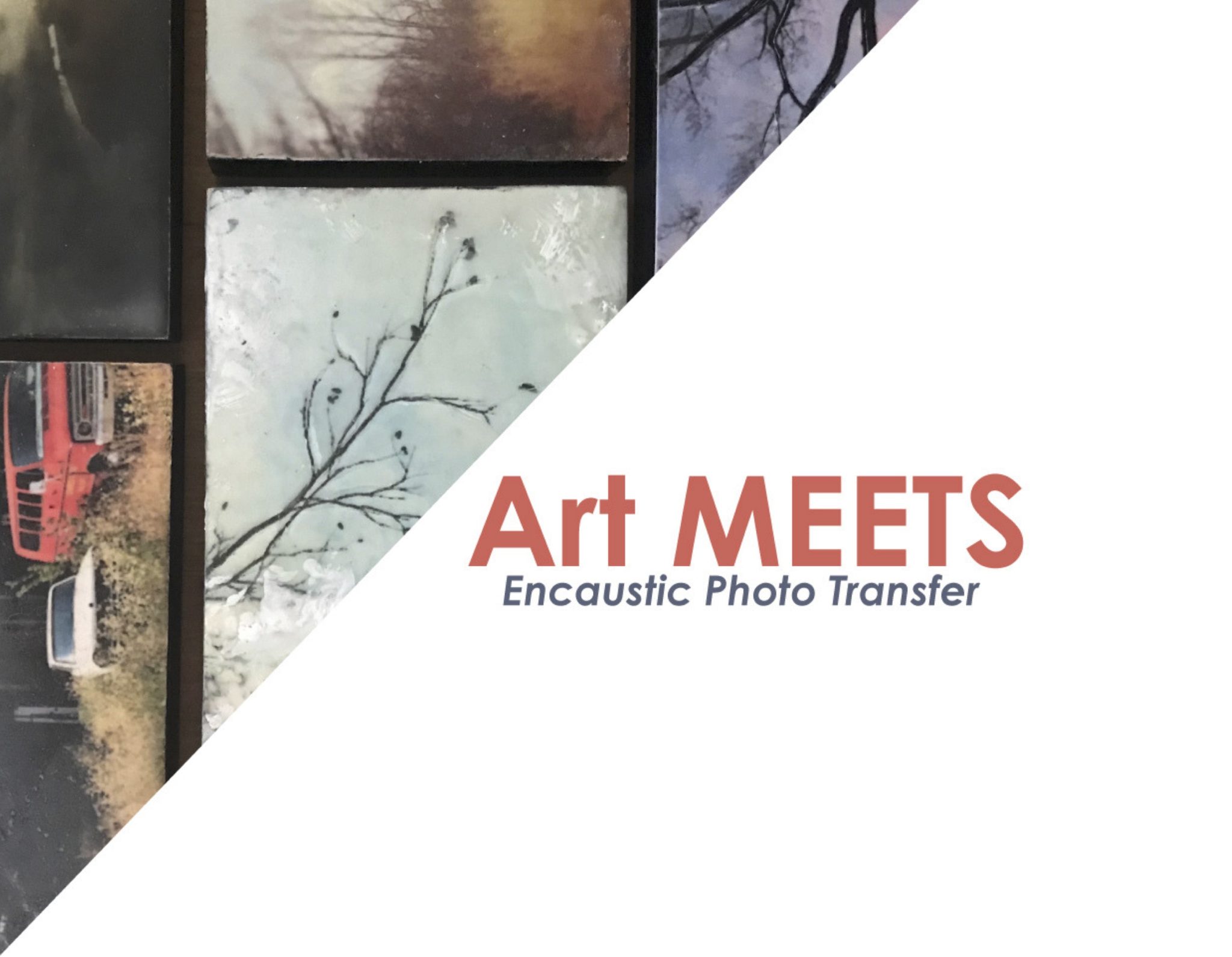 Art MEETS: Encaustic Photo Transfer
Facilitator: Vivian Wong
Saturday, August 18, 2018 | 1-4pm
St. Matthew's Clubhouse | 450 Broadview Avenue
Part of the 2018 Art MEETS series of free workshops
Facebook Event Page
FREE | SOLD OUT!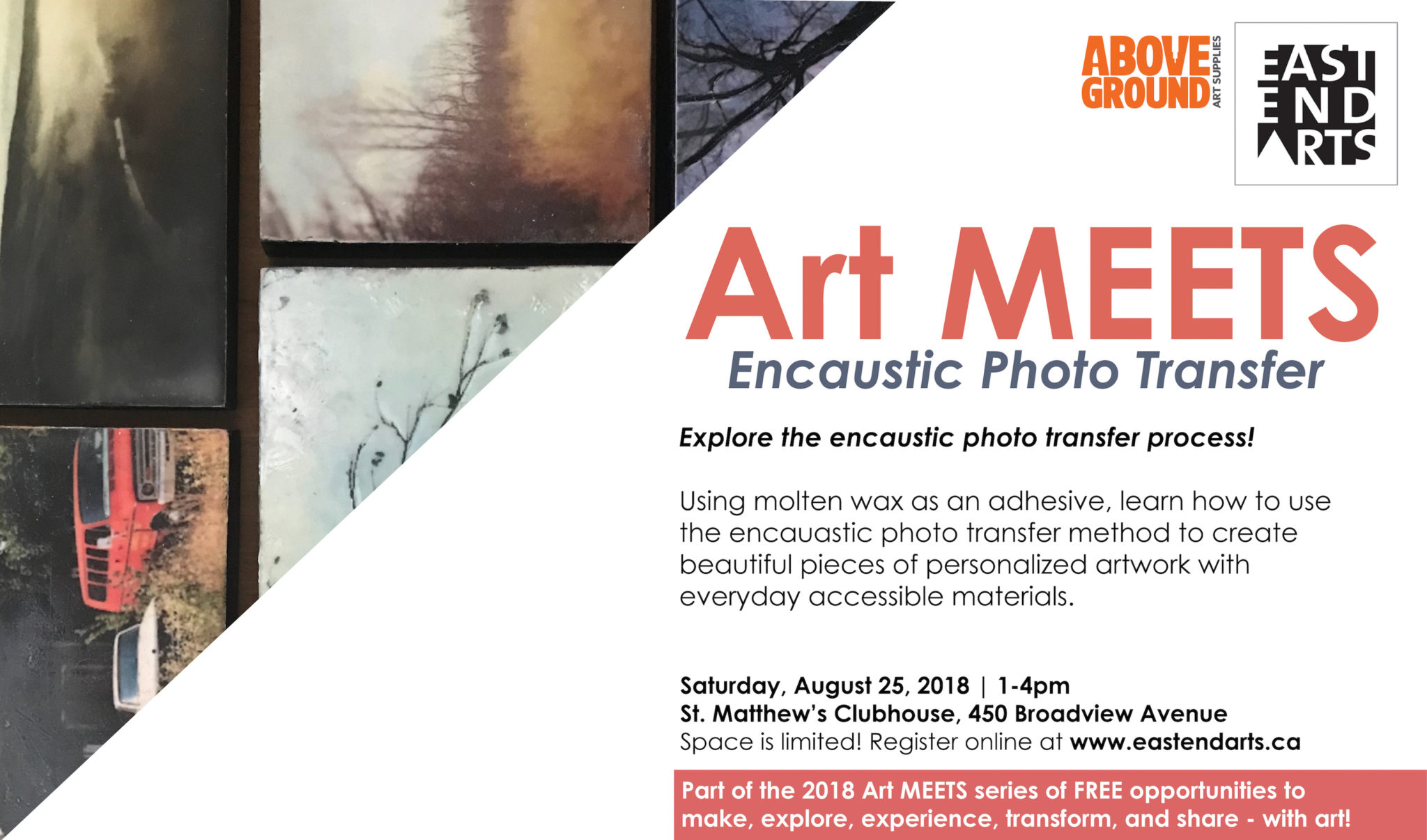 ---
Explore the encaustic photo transfer process!
Using molten wax as an adhesive, participants will learn how to use the encaustic photo transfer method to create beautiful pieces of personalized artwork. This workshop will provide participants with the building blocks for further independent exploration in encaustic painting and collage techniques on a variety of substrates and surfaces including paper, wood, and glass.
---
WHAT TO EXPECT
The Encaustic Photo Transfer workshop is an introduction to encaustics using accessible and everyday materials and equipment. While encaustic painting can be very materials-intensive, image transfer is a simple process that can be done with minimal requirements: wax medium, a paintbrush, and a household heating element like an electric hot plate or griddle.
Participants will learn how to transfer a photo image to a molten wax surface using only a burnishing tool like the back of a spoon. The results are almost immediate, requiring no mediums, solvents, or drying time. Molten wax is adhesive and many collage elements can be easily embedded. The transferred image can be layered with pigment and other photographs or maps, narrative, dried natural elements, or other lightweight objects to create a collage or palimpsest. This workshop will provide the basic building blocks for further, independent explorations in encaustic painting and collage techniques on a variety of substrates and surfaces such as paper, wood, and glass.
---
FACILITATOR BIO
Vivian Wong is a multidisciplinary artist, arts educator, and workshop facilitator. She loves to collaborate and has animated spaces like Evergreen Brick Works, Nuit Blanche Toronto, and the Gardiner Museum with interactive and ephemeral installations and community art.
---
REGISTER
*SOLD OUT! Please fill out the form below if you would like to be put on a waiting list to attend this workshop. We will contact you by email if a spot opens up!
[contact-form-7 id="30428″ title="Art MEETS: Encaustic Photo Transfer"]
---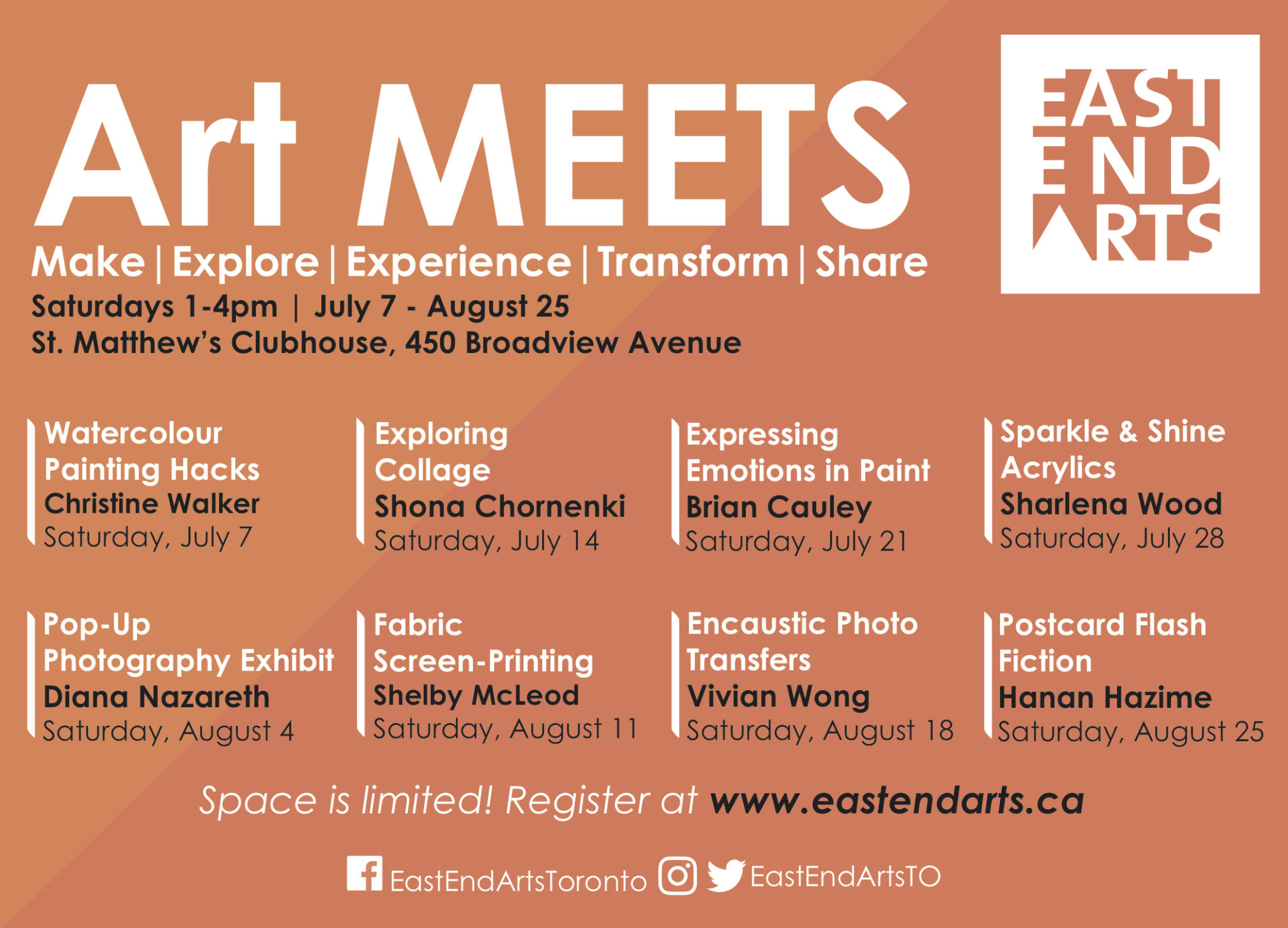 Art MEETS is a series of eight FREE art-making workshops and opportunities to make, explore, experience, transform, and share. Let your creativity shine!
Led by talented, supportive, and engaging arts facilitators, each workshop offers an opportunity to learn a new art skill, have fun, meet new community members, and find new and creative ways for self expression.
Art MEETS is presented by East End Arts with the generous support of our community partner Above Ground Art Supplies.
---
East End Arts strives to make our programming as accessible and inclusive as possible. If there are any accommodations that you need for any of these workshops, please email info@eastendarts.ca – we will do our best to meet your needs.
---
Register to receive ARTS-E-NEWS, a monthly e-newsletter update from East End Arts that shares Toronto-wide opportunities for artists and arts-related events in the east end. Sign up for Youth ARTS-E-NEWS for news about youth opportunities and events.
Follow us online at our social media channels to stay in the loop!
Website | Twitter | Facebook | Instagram| #EastEndLove