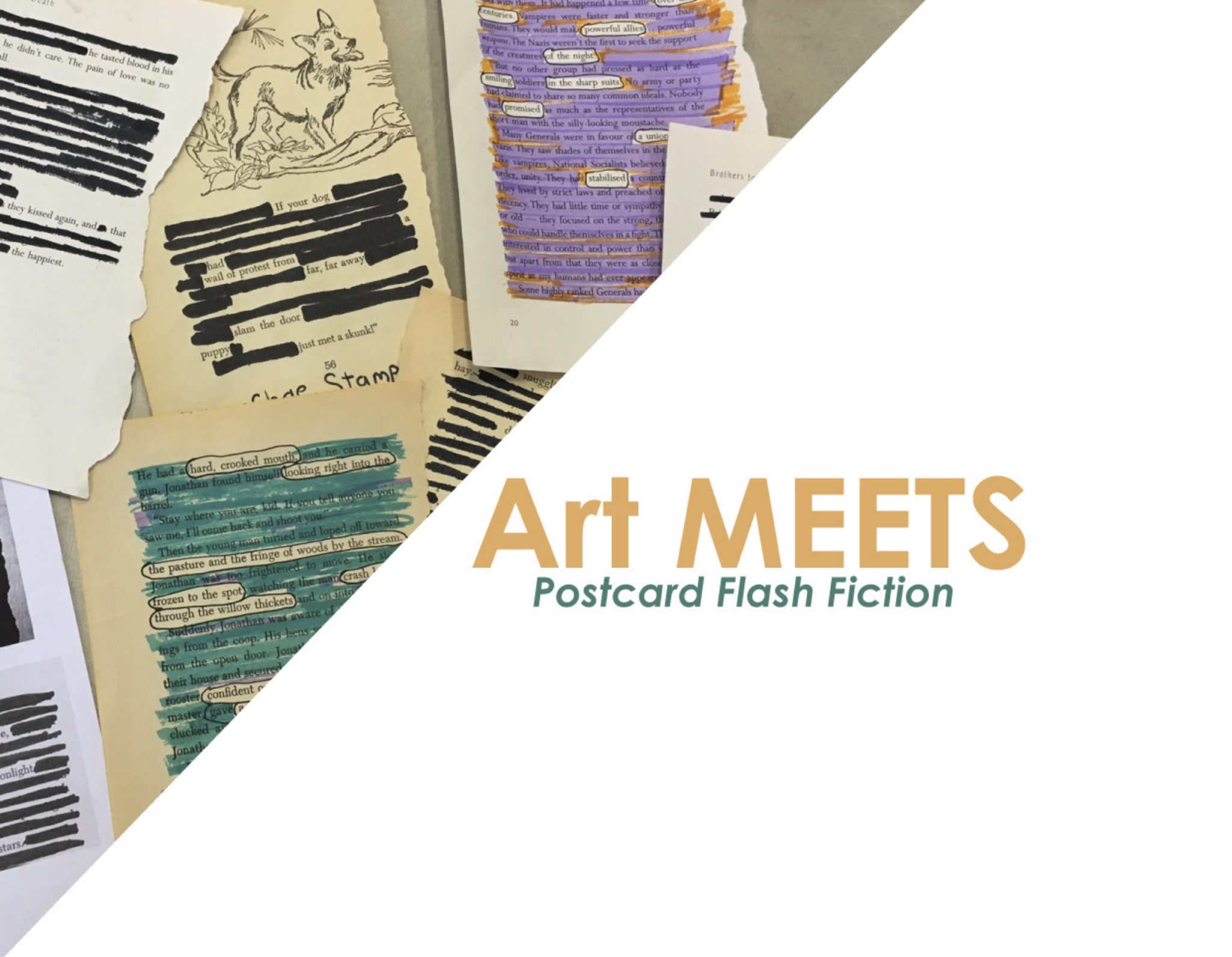 Art MEETS: Postcard Flash Fiction
Facilitator: Hanan Hazime
Saturday, August 25, 2018 | 1-4pm
St. Matthew's Clubhouse | 450 Broadview Avenue
Part of the 2018 Art MEETS series of free workshops
Facebook Event Page
FREE | SOLD OUT

---
Visual arts and short fiction collide!
Explore the different forms of flash fiction, including the drabble, sudden fiction, and the nano-tale! Learn the ins and outs of writing flash fiction, and create your own piece of artful flash fiction using engaging writing prompts and vintage postcards.
---
WHAT TO EXPECT
The workshop will begin with a short but thorough introduction to flash fiction, which is fictional work of extreme brevity that still offers character and plot development. The various forms of flash fiction include, the dribble (50-word story), the drabble (100-word story), sudden fiction (750-word story), and the nano-tale (1,000-word story). Participants will learn about the technicalities of writing flash fiction and be given useful writing tips. Participants will also be provided with examples of well-crafted pieces of flash fiction.
Participants will have the chance to choose from an exciting selection of writing prompts and vintage postcards to craft their own pieces of flash fiction. After receiving feedback on their pieces, the participants will edit/revise their work, then transcribe their final, polished written work onto to their selected postcards to create unique pieces of flash fiction and visual art.
---
FACILITATOR BIO
Hanan Hazime is a poet, story teller, and scripturient wordsmith living in Toronto. She has a Master of Arts degree in English Literature and Creative Writing from the University of Windsor.
Currently, Hanan is working as a freelance copy-editor, writing coach, literary arts instructor, and creative writing workshop facilitator.
Hanan's writing has appeared in a number of publications including The Windsor Review, and Generation Magazine. Her writing has also won several awards including the Alistair & Anita MacLeod Prize in Creative Writing in 2011, and the Dr. Eugene McNamara Award for poetry in 2013. Her debut poetry chapbook "Aorta" was recently published by ZED Press in April 2018.
When not writing, Hanan enjoys reading fantasy and science fiction novels, overanalyzing things, photo-blogging, dancing with faeries in the woods, and drinking copious amounts of tea.
---
REGISTER
*SOLD OUT! Please fill out the form below if you would like to be put on a waiting list to attend this workshop. We will contact you by email if a spot opens up!
[contact-form-7 id="30435″ title="Art MEETS: Postcard Flash Fiction"]
---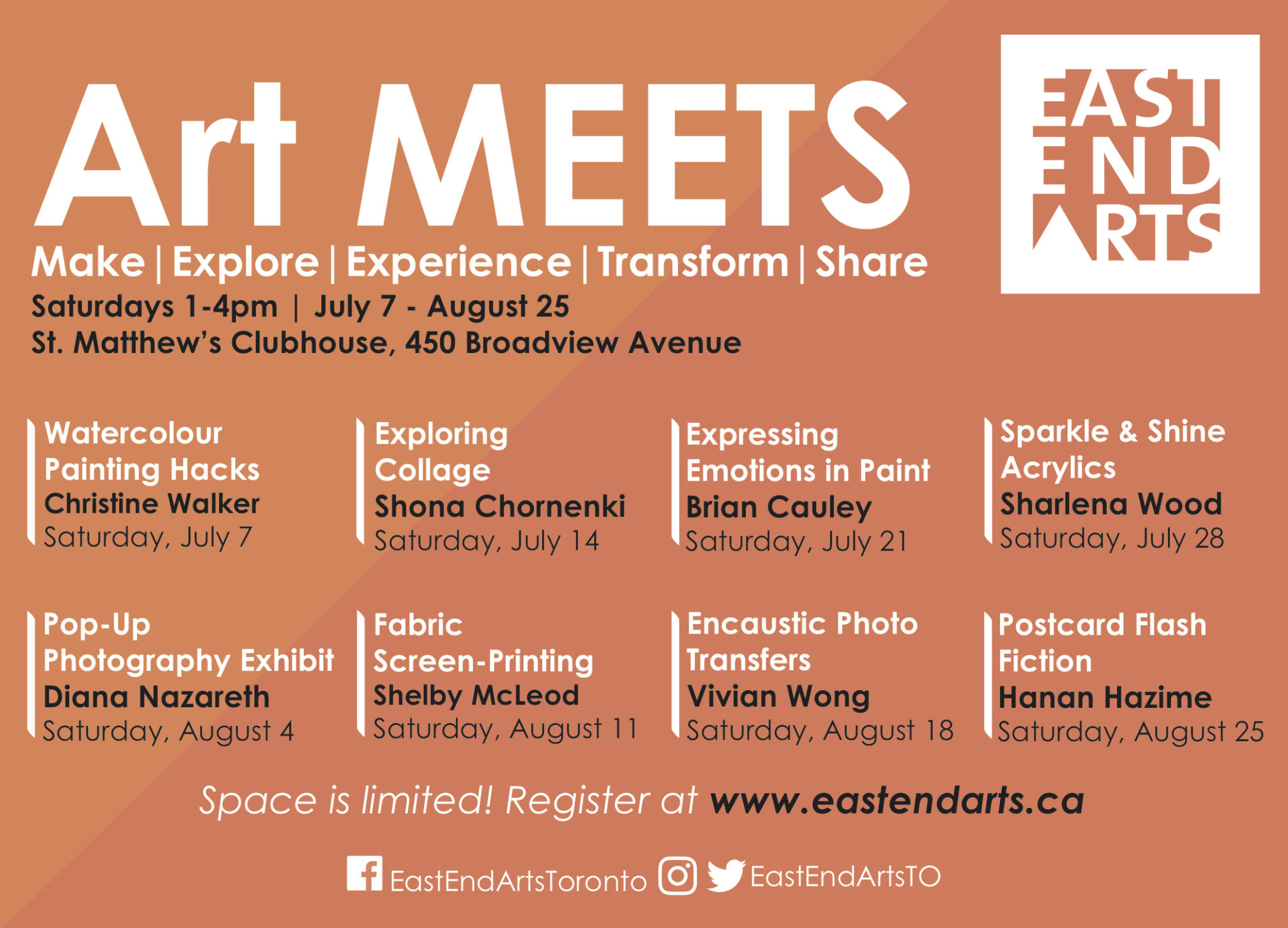 Art MEETS is a series of eight FREE art-making workshops and opportunities to make, explore, experience, transform, and share. Let your creativity shine!
Led by talented, supportive, and engaging arts facilitators, each workshop offers an opportunity to learn a new art skill, have fun, meet new community members, and find new and creative ways for self expression.
Art MEETS is presented by East End Arts with the generous support of our community partner Above Ground Art Supplies.
---
East End Arts strives to make our programming as accessible and inclusive as possible. If there are any accommodations that you need for any of these workshops, please email info@eastendarts.ca – we will do our best to meet your needs.
---
Register to receive ARTS-E-NEWS, a monthly e-newsletter update from East End Arts that shares Toronto-wide opportunities for artists and arts-related events in the east end. Sign up for Youth ARTS-E-NEWS for news about youth opportunities and events.
Follow us online at our social media channels to stay in the loop!
Website | Twitter | Facebook | Instagram| #EastEndLove