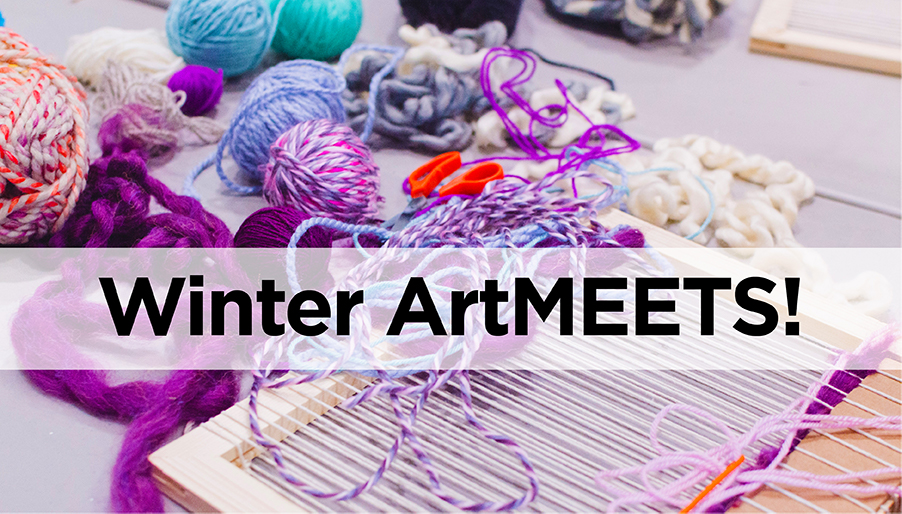 We're bringing ArtMEETS back early for some special winter workshops! Registration is now open. Scroll down to learn more!
Back by extra popular demand! East End Arts is thrilled to announce that ArtMEETS is back for it's fourth year in a row, but with a special winter edition series that we're calling our 'Best Of Series'! Led by talented, engaging, and supportive artist facilitators, each ArtMEETS workshop is an opportunity for adults to learn a new art skill, meet new people, and let your creative side shine! While comparable, high-quality workshops can run upwards of $100 or more, we are committed to bringing you the same great art workshops that you've come to expect with ArtMEETS, at a more affordable cost. 
Workshops take place every Saturday, from February 1st to March 7th
1:00 pm – 4:00 pm
East End Arts, St. Matthew's Clubhouse
$25/workshop (Some free spots available via Energy Exchange!)

COST & REFUNDS
In order to continue to support the ArtMEETS program and pay its facilitators a fair CARFAC rate, as well as to offset the cost of high quality art supplies provided during each workshop, each ArtMEETS workshop will be $25. Payment is to be made online at the time of registration, which will be done via Eventbrite. Payments through Eventbrite can be made with any major credit card, or through PayPal. Payment is to be made online at the time of registration, which will be done via Eventbrite. If you are unable to pay online, we also accept cash or cheque, which is to be paid before the day of your workshop. If you need to pay with cash or cheque, or you would like assistance through the payment process, please contact East End Arts at info@eastendarts.ca.
Unfortunately, East End Arts is not able of offer refunds or exchanges at this time. If you are not able to attend an ArtMEETS workshop that you've registered for, please feel free to transfer your ticket to a friend! If you're transferring your spot to another person, be sure to email them your ticket or hand it to them personally, and let East End Arts know in advance – thank you!
To ensure that the cost of each workshop does not serve as a barrier to participation, community members will have the opportunity to participate in an ArtMEETS workshop for free via Energy Exchange! An Energy Exchange is a way for you to pay for an ArtMEETS workshop with energy and time, as opposed to with money. Click here to learn more.
REGISTRATION
Registration for Winter ArtMEETS workshops open as of Wednesday January 8, 2020. Capacity for each workshop is 25 participants.
To register for an upcoming winter workshop, please click on the individual workshop that you are interested in attending below!
Winter ArtMEETS 2020 WORKSHOPS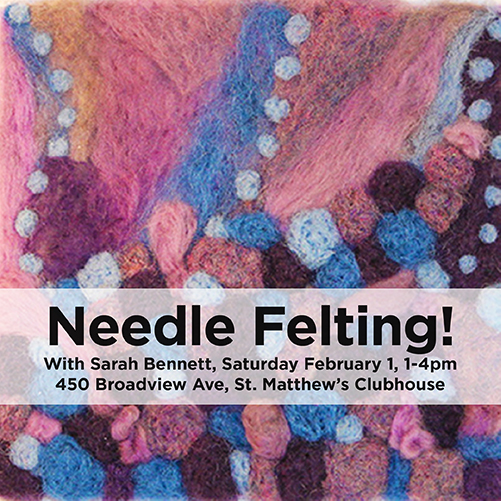 ArtMEETS: Needle Felting!
Facilitator: Sarah Bennett
Saturday February 1, 2020 | 1-4pm
$25
Felting for fun!
A simple art skill, with endless possibilities to explore, learn how to create everything from flat pieces of abstract art, to more complex, 3-dimensional pieces and beyond. Participants will each take home their own felting needle and other materials to continue using their newfound art skill at home!
Learn more here & register here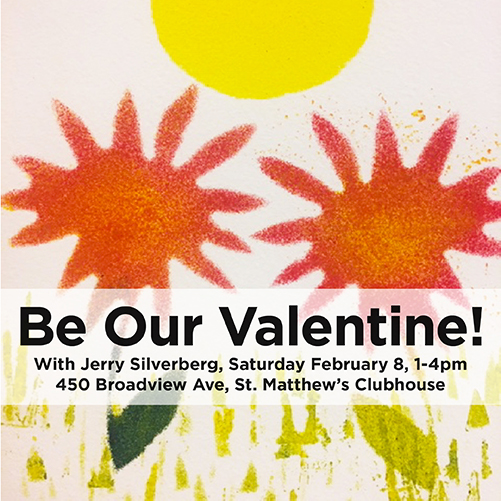 ArtMEETS: Be Our Valentine!
Facilitator: Jerry Silverberg
Saturday February 8, 2020 | 1-4pm
$25
Stencil your own unique Valentines!
Stencil printmaking is a simple technique that offers a rewarding process for transferring ideas from a non-porous surface such as paper or cardboard, onto paper, furniture, fabric, t-shirts, greeting cards and more! Come learn new stencil techniques and create some fun custom pieces of art under the theme of Valentines Day!
Learn more here & register here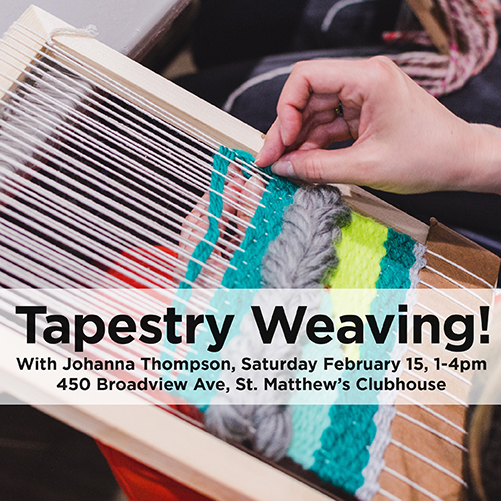 ArtMEETS: Tapestry Weaving!
Facilitator: Johanna Thompson
Saturday February 15, 2020 (Family Day Long Weekend) | 1-4pm
$25
Make your very own 8×10" wall tapestry!
Explore colour and geometric organic form while designing and weaving your own unique piece of tapestry artwork. Learn every step of the way, including wrapping a basic frame loom, creative techniques such as plain weaves, soumak stitches, rya knots, and more! Participants will not only take home a unique piece of tapestry art, but also the confidence to use their newly acquired skills on their own.
Learn more here & register here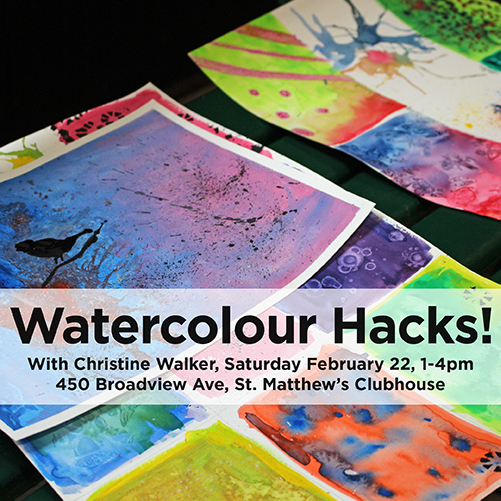 ArtMEETS: Watercolour Hacks!
Facilitator: Christine Walker
Saturday February 22, 2020 | 1-4pm
$25
Take your watercolour skills to the next level!
Join Christine Walker for this fun and accessible workshop where participants will learn how to create unique and visually stunning effects using water-based paint, paper, and everyday household items. Come and produce up to ten miniature paintings to practice some of these techniques, and can then create a larger artwork combining multiple effects if time permits.
Learn more here & register here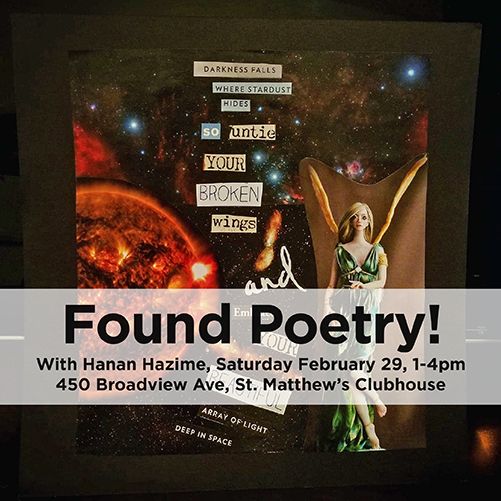 ArtMEETS: Found Poetry!
Facilitator: Hanan Hazime
Saturday February 29, 2020, 1-4pm
$25
Create inspiring poetry with materials around you!
Poetry is everywhere, you just need to find it! Found Poetry is the literary equivalent of a visual collage: you combine concepts and phrases from multiple media (i.e. newspapers, magazines, books, diary entries, and even to-do lists) to create new "found poems". Come refashion, reorder, and reframe ordinary texts into creative poems with local poet Hanan Hazime, and leave with several "found poem collages" that you can frame into unique pieces of literary art!
Learn more here & register here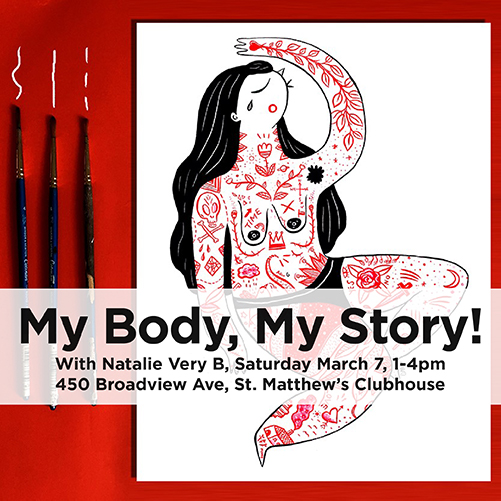 ArtMEETS: My Body, My Story!
Facilitator: Natalie Very B.
Saturday March 7, 2020, 1-4pm
$25
Empower yourself through art for Women's Day!
Join illustrator Natalie Very B. in a three-hour workshop where you'll learn how to create an empowering version of a self portrait with ink and tell YOUR story through visual imagery. During the process you'll look at yourself with a newly found kindness and appreciate your own body as a sacred temple and a real work of art. This workshop will focus on body positivity and a variety of inking techniques. International Women's Day is the following day, Sunday March 8, 2020.