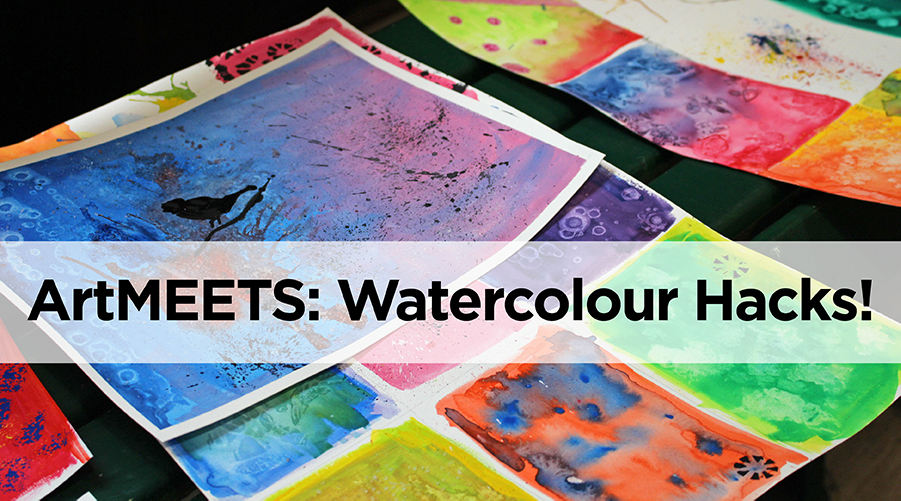 Winter ArtMEETS: Watercolour Hacks!
Facilitator: Christine Walker
Saturday Feb 22, 2020 | 1-4pm
St. Matthew's Clubhouse | 450 Broadview Avenue
Cost: $25 | Register on Eventbrite

ABOUT THE WORKSHOP
Take your watercolour skills to the next level!
Watercolour Hacks is a workshop that will be fun and accessible for both beginning and experienced painters of all ages. Come and learn how to create unique and visually stunning effects using water-based paint, paper, and everyday household items. Participants will produce up to ten miniature paintings to practice some of these techniques, and can then create a larger artwork combining multiple effects if time permits. The ten techniques that will be explored are: salt, plastic wrap, wax resist, wet on wet, splatter, blowing, blotting, alcohol, stencils and stamping.
ABOUT THE FACILITATOR: CHRISTINE WALKER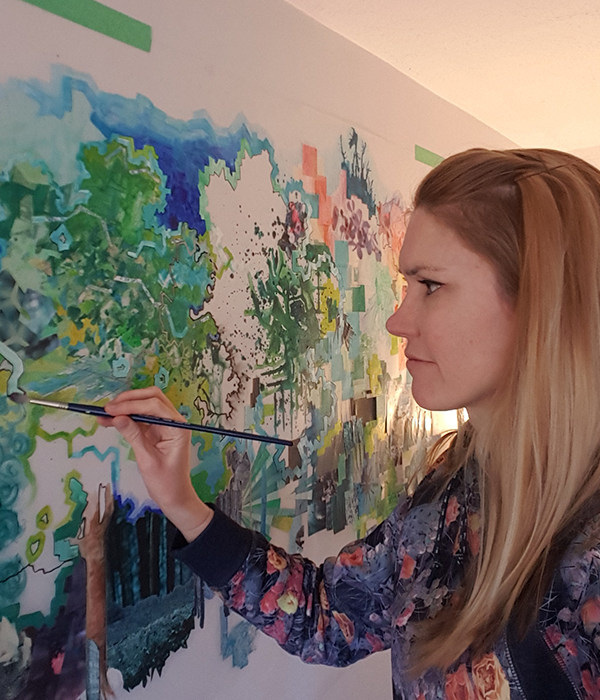 Christine Walker graduated with her Master of Fine Arts degree at OCADU in 2012. She also has Bachelor of Fine Arts degree from NSCADU, and a Bachelor of Education degree, with Arts qualifications from Kindergarten to grade 12. She has been a Visual Arts teacher with the TDSB for 14 years, and is very passionate about quality arts education.
Christine Walker's recent artwork explores the experiences of migratory songbirds in urban environments through painting, photography, and collage. The merging together of materials and information functions as a metaphor for the fragmented and disoriented vision of birds when confronted with urban architecture. While also experienced in oil and acrylic painting, Christine has been experimenting extensively with watercolour paints and using them to achieve unusual effects. She appreciates the wide range of possibilities afforded by water-based paints and uses them frequently in both her teaching practice and in her own work.
COST
In order to continue to support the ArtMEETS program and pay its facilitators a fair CARFAC rate, as well as to offset the cost of high quality art supplies provided during each workshop, each ArtMEETS workshop will be $25. Payment is to be made online at the time of registration, which will be done via Eventbrite. Payments through Eventbrite can be made with any major credit card, or through PayPal.
Unfortunately, East End Arts is not able of offer refunds or exchanges at this time. If you are not able to attend an ArtMEETS workshop that you've registered for, please feel free to transfer your ticket to a friend! If you're transferring your spot to another person, be sure to email them your ticket or hand it to them personally, and let East End Arts know in advance. Thank you!
REGISTER FOR WATERCOLOUR HACKS HERE
ENERGY EXCHANGE
To ensure that the cost of each workshop does not serve as a barrier to participation, community members will have the opportunity to participate in an ArtMEETS workshop for free via Energy Exchange! An Energy Exchange is a way for you to pay for an ArtMEETS workshop with energy and time, as opposed to with money. Energy Exchange positions will include setting/packing up tables and chairs before and after an ArtMEETS workshop, or dedicating your time as a volunteer at one of our upcoming events. Energy Exchange positions will be provided on a first-come, first-serve basis, with preference being given to individuals from low-income households, and/or those who identify as belonging to one or more of the following equity priority groups, as identified by the Toronto Arts Council and the Ontario Arts Council:
2SLGBTQIAP
Indigenous
Francophone
Person of Colour
Deaf
Person with Disability/ies
Person Living with Mental Illness