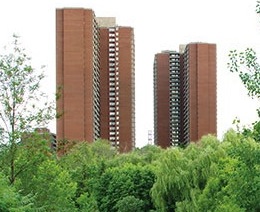 Toronto is proud to host the Toronto 2015 Pan Am and ParaPan Am Games this summer. The city will welcome more than 7,000 athletes from across the Americas and Caribbean, as they compete in world-class sporting competitions.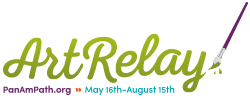 The Pan Am Path is an active living legacy project that will connect 84 kilometres of multi-use trails through Toronto's diverse communities. The Pan Am Arts Relay is comprised of 14 consecutive weeks of arts programming in 14 zones spanning from Claireville Dam in the West, to Rouge Beach Park in the East. You can explore the Pan Am Path route HERE or through Google Maps HERE, and see great photos of the path through Flicker HERE. Learn about and download the Pan Am Path App HERE.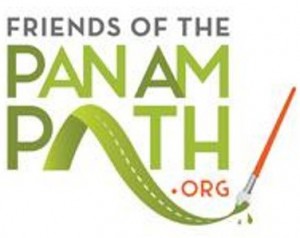 East End Arts is proud to be a Community Arts Partner on this project. We are working with community artists to bring the Pan Am Path to life with local arts and cultural programming for Zone 9 – Shift.
Take a free guided bike tour and explore the art along Zone 9 of the Pan Am Path!
Pan Am Path 
Zone 9: Murals, Semi-Permanent Installations & Bike Tour
Launch: July 11, 2015, 1-3pm starting at Taylor Creek Park Parking Lot
1:00pm – Check in to Taylor Creek Parking Lot
1:20pm – Speeches
1:30pm – Leave parking lot for bike tour
1:30 – 3:00pm – Tour the Path along the Lower Don Trail and uncover works from Labspace Studio, Project Gallery Collective, the STEPS Initiative and the Z'otz* Collective.
3:00 pm – Tour ends at the No. 9 Eco-Art-Fest near Todmorden Mills with speeches and free ice cream to the first 100 bike riders at Todmorden Mills courtesy of Toronto Pearson.
Directions: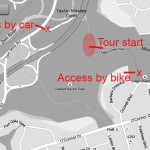 Biking: near Cullen Bryant Park (50 Barbara Crescent)
Driving: Taylor Creek Park parking lot off Don Mills Road. The entrance to the parking lot can be accessed off Don Mills Rd. between O'Connor and Overlea, on the east side of the street. When going east you will pass the on ramp for the Don Valley Parkway North and South. The entrance is immediately after those on ramps. Please keep an eye out for the Art Relay flags.
Tips: Bring your own bike and helmets. Participants are also advised to bring water and sunscreen. Please note participants under 18 are required by law to wear a helmet.
Rain or shine!
RSVP: Facebook Event
Shift features a variety of temporary and permanent art installations and murals created to celebrate arts in the east end of Toronto. The artworks selected for this project playfully explore themes of diversity and emphasize the potency of a simple shift of perspective. Shift will be launched on July 11th with a bike tour from 1-3pm starting at the Taylor Creek Park parking lot. Stops along the route will include a mural by the Z'otz* Collective, painted benches by the STEPS Initiative, an installation by Labspace Studio, and a mural by the Project Gallery Collective.
Click below for more info about the: