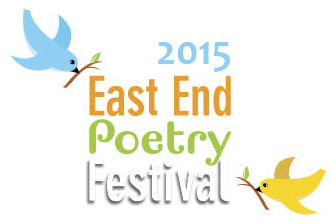 2015 East End Poetry Festival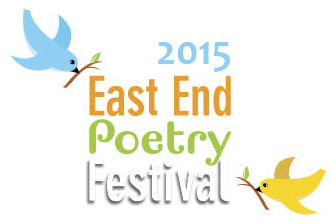 Sunday, September 20, 2015, 12-4pm
Children's Peace Theatre 
305 Dawes Road, Toronto
Rain or Shine!
Facebook Event page
The 2015 East End Poetry Festival returns to the beautiful, outdoor amphitheatre at Children's Peace Theatre on Sunday, September 20 from 12-4pm.
Enjoy an afternoon of superb poetry with Toronto's Poet Laureate George Elliott Clarke, featuring John Oughton, Cathy Petch, Jill Jorgenson and Patrick Walters. With special guest Jermaine Henry, an all-ages interactive poetry workshop with Sidrah Maysoon Ahmad, and live music by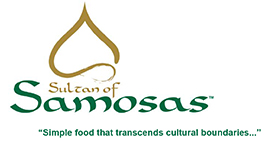 Emily Steinwall. Fun for the whole family including children's activities and free refreshments including delicious samosas from Sultan of Samosas.
This free, family-friendly event is proudly presented by East End Arts, Children's Peace Theatre, and the City of Toronto.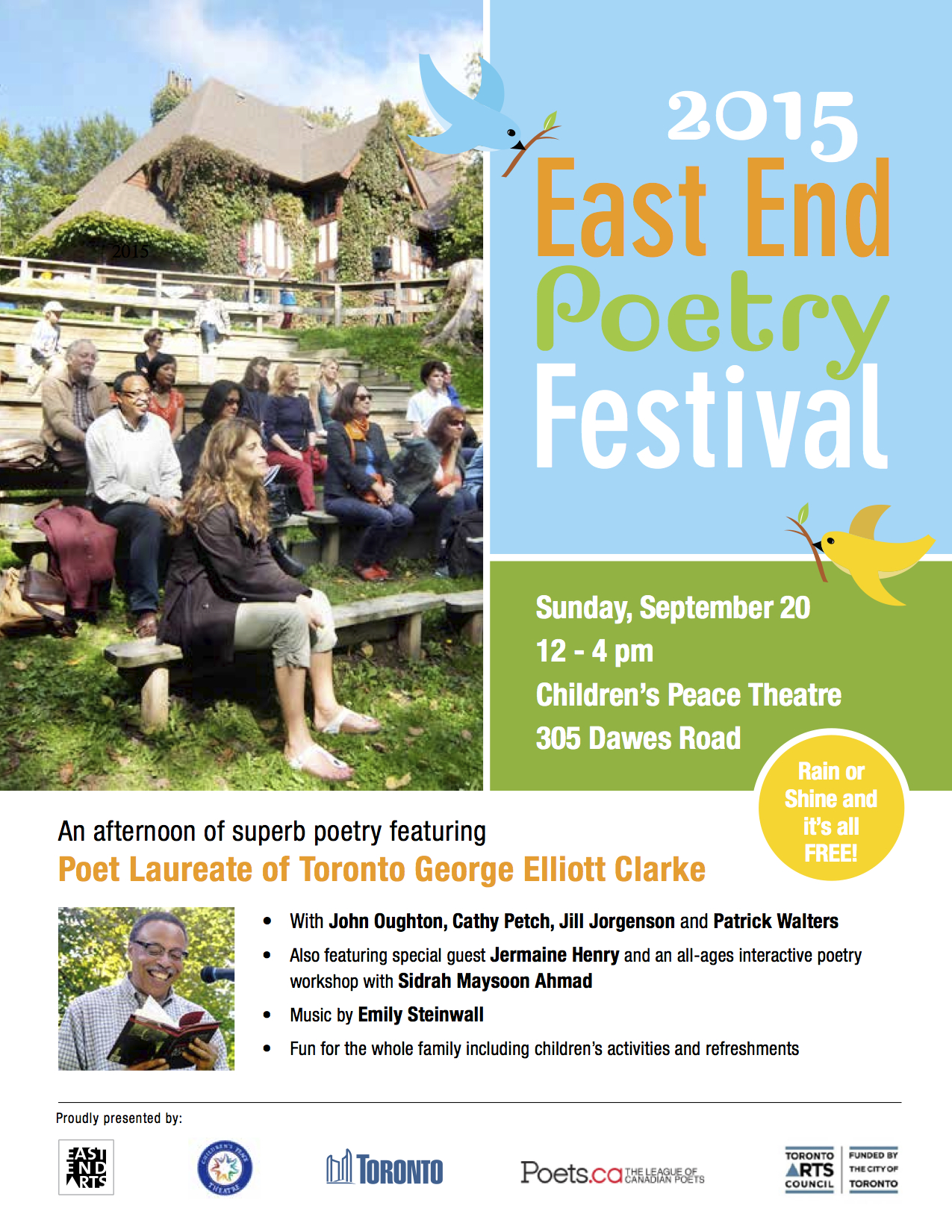 East End Poetry Festival 2015 LINEUP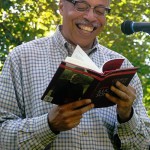 George Elliott Clarke is descended from African-American refugees from the War of 1812, who escaped to British North America and were relocated to Nova Scotia, where he was born. He is one of Canada's most popular poets. He won The Governor General's Award for Poetry in 2001 for Execution Poems and his classic verse-novel, Whylah Falls (1990) was selected in the CBC's national poll, Canada Reads, in 2002. He is Toronto's Poet Laureate (2012-2015) and in 2013-14 he was a visiting professor at Harvard University. Mr. Clarke's latest book is Traverse (Exile Editions).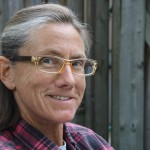 Jill Jorgenson lives with her partner in a little bungalow in Toronto's old East York. She works in East York too, delivering the mail. At other times, there's a good chance you might find her writing or drawing, mostly in the quiet of her backyard. Jill's first book of poetry is Looking East Over My Shoulder (Cormorant Books, 2014).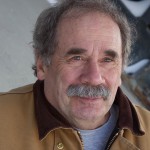 John Oughton was born in Guelph, Ontario, a block away from the home of John McCrae (author of "In Flanders Fields"). He completed a BA and MA in English at York U., where he studied with Irving Layton, Eli Mandel, Miriam Waddington and Frank Davey. He worked at Coach House Press and as a journalist and corporate communicator. He attended the Jack Kerouac School of Disembodied Poetics at Naropa University, and served as a research assistant to Allen Ginsberg and Anne Waldman. John began teaching English in community colleges, and is now Professor of Learning and Teaching at Centennial College. He has published a novel, Death by Triangulation, five books of poetry, most recently Time Slip (Guernica Editions, 2010), several chapbooks, and over 400 articles, interviews, reviews and blogs. He is also a photographer with three solo shows and several book and magazine covers to his credit. For fun, John plays guitar and drums.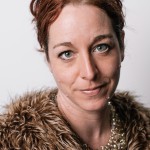 Cathy Petch is a playwright, spoken word artist, haiku deathmaster and musical saw player for The Silverhearts. She has several handsome chapbooks and most recently published her poetry book "Late Night Knife Fights" with LyricalMyrical Press. She has been published by Descant, The Toronto Quarterly and Joypuke journals. She is a member of The League of Canadian Poets and "The Dildettes" a queer spoken word/comedy troupe along with Regie Cabico and David Bateman. Petch was a member of both the 2011 and 2012 Toronto Poetry Slam Teams and is the creative director of "Hot Damn It's A Queer Slam". She is happiest onstage.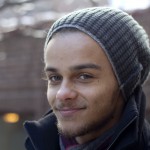 Patrick Walters is a spoken word artist and arts educator who has spent over two years professionally using poetry to place emphasis on mental wellness and overall well being – a simple message, but one of paramount importance in today's society. Through the execution of workshops and showcases, this message is passed on to the hearts and minds of his growing audience.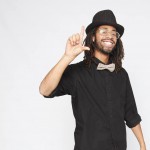 Jermaine Henry Jermaine is Social ARTrepreneur who is passionate about connecting and inspiring people to self-actualize. Through drama, emceein, facilitation and spoken word he aims to co-create meaningful moments rooted in compassion and kindness. Jermaine has had the privilege to perform and facilitate arts-based for community programs, events and initiatives with various schools boards, community agencies and arts companies including York District School Board, Children's Mental Health of Ontario, Children Peace Theatre, 360°kids, and Sketch Working Arts. His mission is to use his artistry and facilitation skills to curate brave spaces for people to be their full-selves and connect with our humanity. Jermaine is is apart of Spoke N' Heard arts based social enterprise who has connected him with key partners such as with Grass-roots Youth Collaborative (GYC), Youth Social Infrastructure (YSI) Collaborative, The New Mentality and NIA centre for the Arts.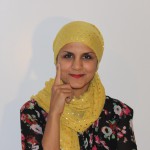 Sidrah Maysoon Ahmad is a Toronto-based writer, poet, and community-engaged artist who believes that poetry is a powerful tool of survival, resilience, and social change. She has published poetry on topics of feminism, growing up Muslim in Toronto, and on issues of bullying, gender-based violence, and accessing safety. Sidrah has facilitated poetry workshops for youth in diverse communities in the GTA, and is currently spearheading the Motherbird Project in Scarborough, which aims to celebrate community stories in a multi-lingual Visual Poem.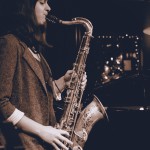 Emily Steinwall was born in 1995 in Toronto and is currently completing her degree in Humber College's Bachelor's of Music program. Emily has studied with some of Canada's top musicians, including Kirk MacDonald, Lorne Lofsky, Mike Downes and Seamus Blake, and is the recipient on MusicFest Canada's "Rico Golden Reed" Award (2013) and Humber College's Scott Henshaw Memorial Award (2014) and Greg Wells Music Scholarship (2015). Currently, Emily plays around Toronto as both a leader and side-man and hosts a weekly jazz jam session in the city's west end.