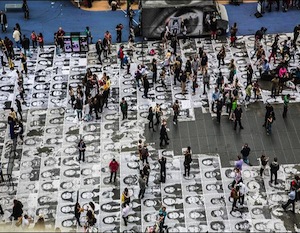 JR's Inside Out – The People's Art Project
A one-day Scotiabank Nuit Blanche Toronto event in the east end
Monday, September 28, 2015 from 10am-6pm
TTC Coxwell Subway Station, 1612 Danforth Avenue, Toronto (Green P lot)
Facebook Event

Picture yourself in a unique community snapshot and take part in a one-day community art installation event in the east end. Internationally-acclaimed artist JR's interactive photography project Inside Out will transform the wall surrounding Coxwell Subway Station, and you're invited to help create the art.
"I wish for you to stand up for what you care about by participating in a global art project, and together we'll turn the world…INSIDE OUT." – JR
You can see JR's Black and White Night exhibition at Scotiabank Nuit Blanche, a free all-night contemporary art event on October 3 from sunset to sunrise. Starting September 28, add your face to the installation at an Inside Out photo booth truck at Nathan Phillips Square and claim space as yours in the public and political epicentre of Toronto.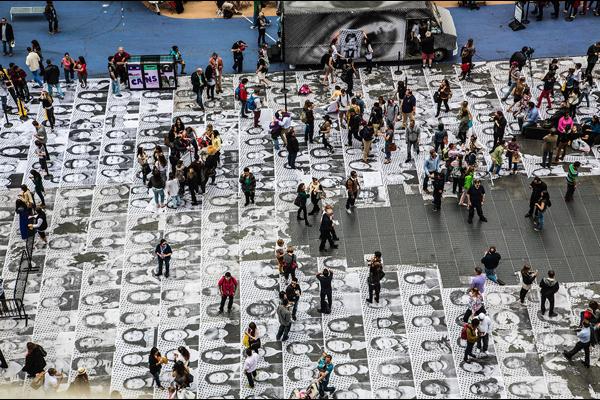 JR is interested in participatory art where there is no stage separating the actors from the spectators, where people don't just see art; by contributing their stories and portraits, they make it.
In 2011, after receiving his TED Prize, JR called for the creation of a global art movement. His Inside Out art project allows participants to be photographed and have their portrait pasted in support of a shared idea, project or action.
A socially-engaged practice based in relational aesthetics, the act of participation gives meaning to the ephemeral work. As the project is completed and infused with energy, emotion and intellect, it evolves into a larger work, resulting in a collective memory.
Breaking down generational, socioeconomic and racial barriers, Inside Out has become a social phenomenon that over 250,000 people from more than 120 countries have participated in worldwide.
JR exhibits freely in the streets of the world, catching the attention of people who are typically not museum visitors. As he remains anonymous and doesn't explain his large scale full-frame portraits of people making faces, JR leaves the space for an encounter between the subject/protagonist and the passer-by/interpreter. JR's work is about raising questions…
VOLUNTEERS: If you'd like to volunteer at this event, we'd love your help! Please send an email to: info@eastendarts.ca
If you want to really be prepared, check out this video: How To Paste: An Inside Out Project Tutorial.
The Inside Out installation at Coxwell Subway Station is made possible by: