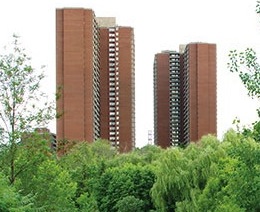 Take a free guided bike tour and explore the art along Zone 9 of the Pan Am Path! 
Pan Am Path 
Zone 9: Murals, Semi-Permanent Installations & Bike Tour
Launch: July 11, 2015, 1-3pm starting at Taylor Creek Park Parking Lot
1:00pm – Check in to Taylor Creek Parking Lot
1:20pm – Speeches
1:30pm – Leave parking lot for bike tour
1:30 – 3:00pm – Tour the Path along the Lower Don Trail and uncover works from Labspace Studio, Project Gallery Collective, the STEPS Initiative and the Z'otz* Collective.
3:00 pm – Tour ends at the No. 9 Eco-Art-Fest near Todmorden Mills with speeches and free ice cream to the first 100 bike riders at Todmorden Mills courtesy of Toronto Pearson.
Directions: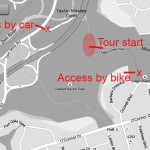 Biking: near Cullen Bryant Park (50 Barbara Crescent)
Driving: Taylor Creek Park parking lot off Don Mills Road. The entrance to the parking lot can be accessed off Don Mills Rd. between O'Connor and Overlea, on the east side of the street. When going east you will pass the on ramp for the Don Valley Parkway North and South. The entrance is immediately after those on ramps. Please keep an eye out for the Art Relay flags.
Tips: Bring your own bike and helmets. Participants are also advised to bring water and sunscreen. Please note participants under 18 are required by law to wear a helmet.
Rain or shine!
RSVP: Facebook Event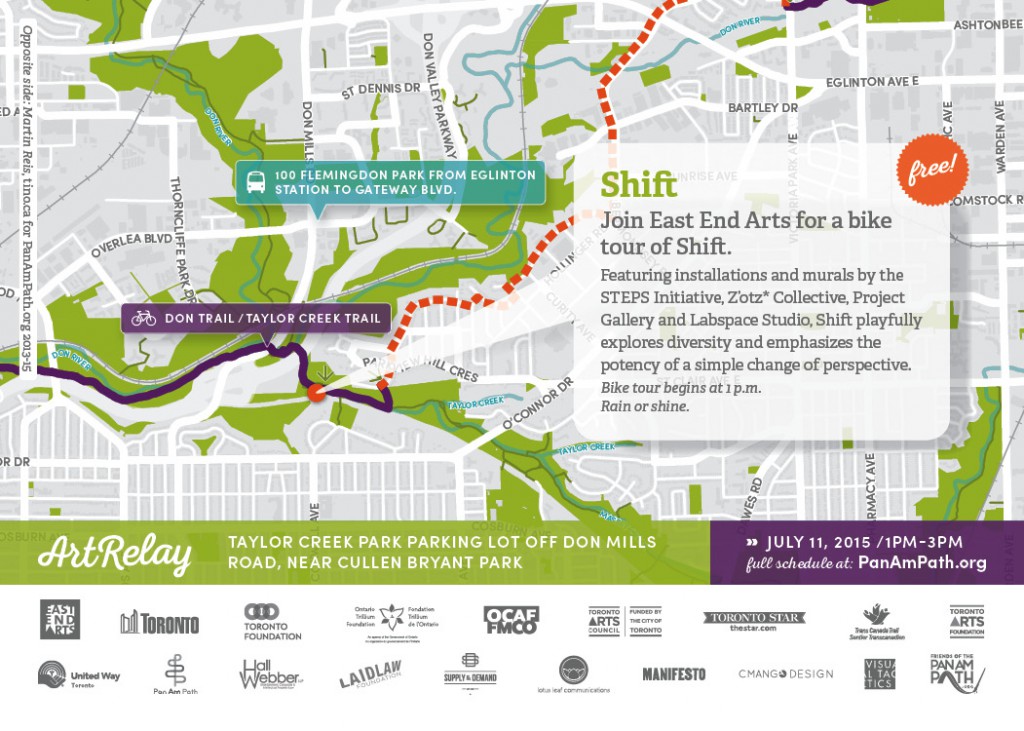 Shift features a variety of temporary and permanent art installations and murals created to celebrate arts in the east end of Toronto. The artworks selected for this project playfully explore themes of diversity and emphasize the potency of a simple shift of perspective. Shift will be launched on July 11th with a bike tour from 1-3pm starting at the Taylor Creek Park parking lot. Stops along the route will include a mural by the Z'otz* Collective, painted benches by the STEPS Initiative, an installation by Labspace Studio, and a mural by the Project Gallery Collective.
ARTIST INFORMATION
PASSAGE
Labspace Studio (John Loerchner & Laura Mendes)
Set against the backdrop of Toronto's infamous Don River, cross sections of a canoe are scattered, divided and sunken into a concrete landscape. This large-scale installation pays tribute to the river's long and tumultuous history, suggesting a civic call to action — a fierce reclamation and reconnection to Toronto's waterways.
About
John Loerchner and Laura Mendes have been collaborating for nine years under the Labspace Studio banner. Their art projects and curatorial initiatives are often site-specific and participatory in nature, blurring the lines between art and life, incorporating elements of performance, installation, multimedia and public-generated content.
Recent and upcoming projects include commissions for Maison Des Arts in Quebec, Toronto's Pam Am Games, Art Souterrain, Nuit Blanche, The Artist Project Contemporary Art Fair, Art in Transit, Harbourfront Centre, and No.9 Contemporary Art & The Environment.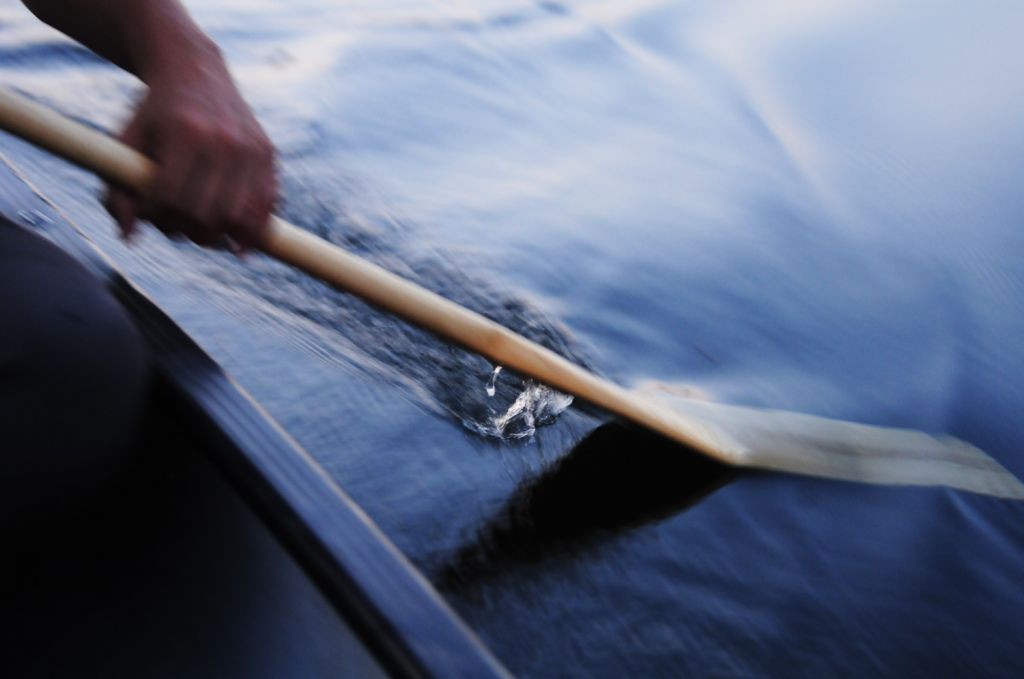 The Meeting Place is a gathering of various individuals that are in dialogue. Each character brings a narrative to the scene. The whimsical situation that enfolds represents cooperation, community, and diversity… where there is a place for everyone. This collaborative project invites the viewer to participate by creating his or her own stories about this moment.
About
Z'otz* Collective was formed in Toronto in 2004 by three artists of Latin American heritage, Ilyana Martinez, Nahúm Flores, and Erik Jerezano. In a shared studio, they meet weekly to collaborate on works which incorporate drawing, painting, collage, sculpture, and site–specific installations.
Drawing is their primary means of expression and is used to visually respond to each other and to what surrounds them. The direct approach allows the group to create quirky and often outrageous images that examine, with humour, the immigrant experiences of displacement, transition and transformation. The work connects to the storytelling traditions of their cultural backgrounds, with mythological beings and symbols.
The trio has shown work at multiple public galleries (Dunlop Art Gallery, Durham Gallery, Thames Gallery, Esplande Art Gallery and MacLaren Art Centre, among others). All three members have been awarded grants from the Pollock–Krasner Foundation and the Canada Council for the Arts, for their individual practices.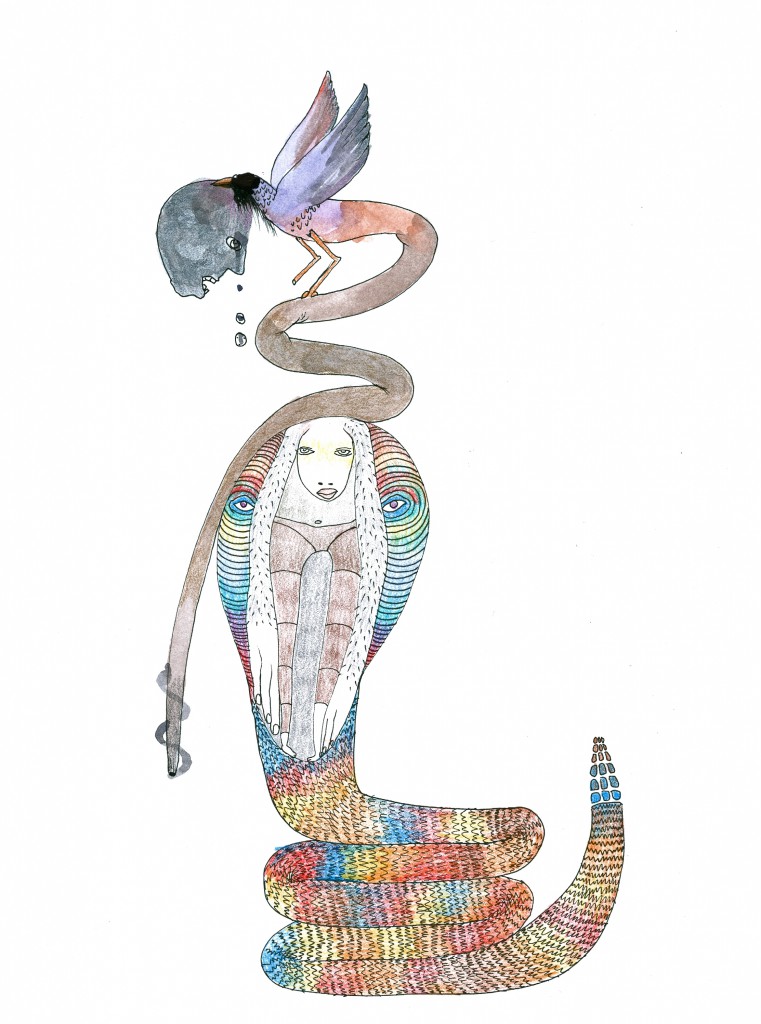 ORBITAL will incorporate painted pendulums at select intersections of the path to help bikers navigate unclear areas. There will also be a culminating mural of a large pendulum in the Taylor Creek Parking Lot where the bike tour Launch of Zone 9 will begin on July 11th 2015. Project Gallery and East End Arts will also commission young artists and community members to collaborate on this project by painting unique planets in provided areas alongside professional artists.
The imagery of the pendulum shows us the sensitivity of interconnectedness. In the context of various intersections, networks of roads and paths the project will serve as an obvious navigational tool. As well as a reminder of the deep interconnectedness the constituents of a city share, and globally alike through a dazzling optical contribution by artist Callen Schaub.
About
The Project Gallery Collective incorporates primarily Toronto-based contemporary artists working in a variety of media on unique creative projects. With a showroom gallery space at 1109 Queen St East that has exhibited over 500 artists, as well as a studio and alternative exhibition space at Broadview and Dundas that regularly hosts exhibitions and 5 permanent artist studios, Project Gallery is an up-and-coming figure in Toronto's contemporary art world. The Project Gallery Collective was created to facilitate unique external projects involving artistic contributions for various murals, art activations, commissioned artworks, public art, exhibitions, and special events. The collective has worked on significant projects with collaborators like The Drake, TIFF, AGO, Power Plant Gallery, Timeraiser, RBC Emerging Artist Project, Toronto Life, and more.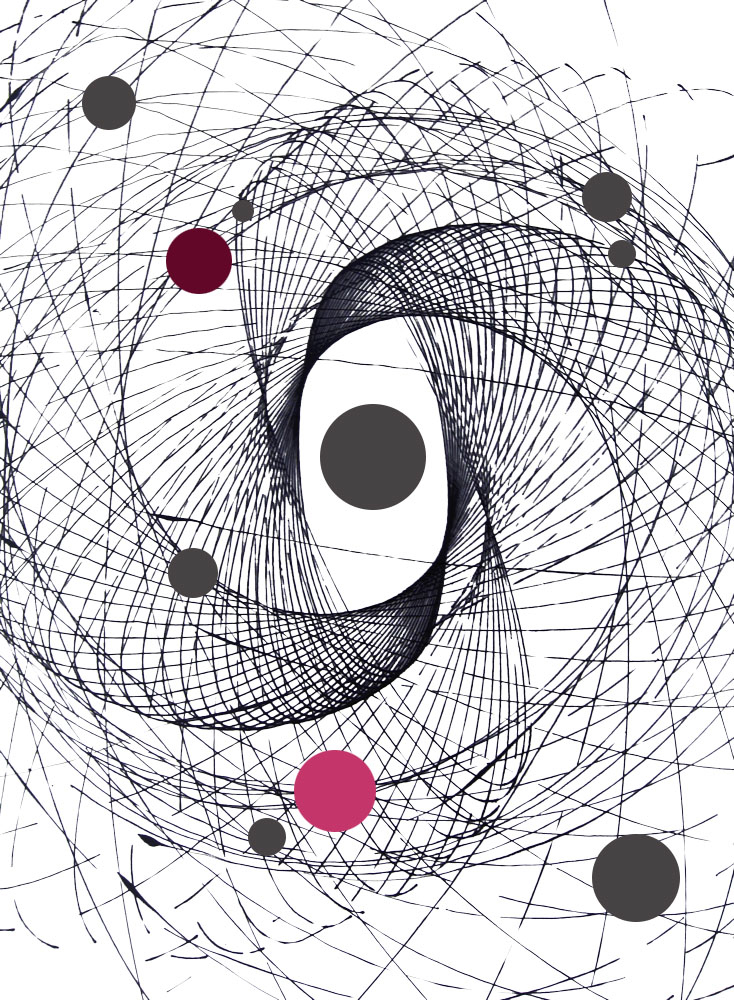 PAN AMERICAN PATTERNS: Textiles inspiring cross cultural exchange
STEPS Initiative
Pan American Patterns: Textiles inspiring cross cultural exchange, and… street furniture! The STEPS Initiative, an activation partner along an east end stretch of the Pan Am Path, have painted benches inspired by textile patterns from Caribbean, North, South, and Central American cultures, as well as the South Asian communities that live in their host community of Thorncliffe Park. These new work provide much needed seating, as well as a spot for stretching and socializing in the Don Valley, while celebrating the storytelling, history, science, math, and art that intersects in textiles from across the globe. Artists Anjuli Solanki and Carlos Delgado collaborated on this public art project.
About
Anjuli Solanki is a painter who became interested in weaving and textiles across different cultures and communities after she worked with Musqueam Weavers Debra Sparrow and Vivian Cambell, who were instrumental in reviving this art form in their community. Their focus on a traditionally female art form that integrated math, science, history, and, art inspired her to pay more attention to weaving and textiles, and to find certain cross-cultural parallels between weaving and other art forms – which ultimately inspired the overarching theme for Pan American Patterns. Solanki's benches were inspired by patterns from Musqueam (North West Coast BC), Ojibwe (Southern Ontario/ Northern USA) and Oaxacan (Southern Mexican) textiles but also South Asian textile designs, making a connection between these different communities and the communities located around the Zone 9 Portion of the path.
Carlos Delgado, born in rural Colombia and now living in Toronto, believes that art can act as a tool to reflect the world around us while simultaneously being part of it. He creates works which bring beauty and vibrancy while allowing the viewer to create a sense of personal connection with the artwork and the space in which it is painted. One of Delgado's benches is inspired by Colombian sombreros (or "straw hats") which are widely worn across the nation. In Colombia patterns that appear on sombreros are representative of different regions, and the patterns which form the bench illustrate a range that are present on various sombreros. While the design of the hat is distinctive and identifiable by region, the black and white lines can be found across nearly every region and are characteristic of Colombian headwear. Another one of Delgado's benches is inspired by a traditional textile pattern used widely by the indigenous people of Colombia on garments like bags, shoes, clothes, and ponchos.