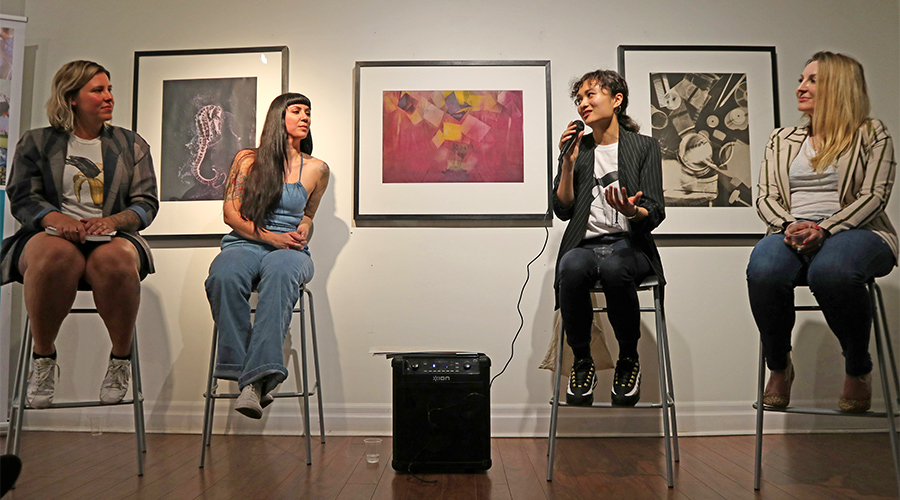 On Thursday May 16, 2019, East End Arts presented Net(work): Dollars & Sense, a professional development and networking event held at Connections Gallery! The evening was facilitated and hosted by Dawn Laing, of Notion, and featured a panel of three talented local artists – Caerina Abrenica, Alex Garant, and Kyra Kendall. Each artist came from a different artistic discipline and level of experience to talk about: the ways they've diversified their revenue streams; use social media to promote their work; and use different avenues to make a living making art!
East End Arts had an outstanding time meeting so many diverse artists and creative professionals, and we want to thank everyone who came out to make it such a success!
One of our Youth Arts Council members, Emma Hansen, wrote a fantastic piece about her experience at Net(work), and we are excited to share it with you. Check it out below!
$$$$$$$ DOLLARS AND SENSE $$$$$$$
How to impose oneself on the art world? How to make some money in the process?
Material survival and dedication to an artistic practice are not always compatible, much to the chagrin of creators facing economic instability. So, with an event named Net(work): Dollars and Sense, East End Arts set out to equip local up-and-coming artists with some tools.
About 50 of us gathered at Connections Gallery, enticed by the possibility of business advice and a bit of community. Multilingual conversations erupted as people filtered in the door, waiting to hear from panelists established in their practice and now working in Toronto. Thanks to a collaboration between Connections Gallery, local artists, and East End Arts, we were lucky to glimpse Homage, a group photography exhibition that celebrates the history of the medium, the night before it opened to the public.
The panelists were Alex Garant, Caerina Abrenica, and Kyra Kendall. Dawn Laing—fixer, former ornithologist, entrepreneur, and 'art mom'—skillfully moderated. It was a space where we could learn from peers in the industry, see our own journeys reflected, and build connections. "I thought it was fabulous," said Lisa Wilson. "I really liked that there were different artists, at different levels in their careers. They were able to talk about that."
Dawn and the panelists generously presented us with their stories: relatable portraits of artists making art and getting by. Younger members of the crowd were especially motivated by Caerina, a modern emblem of interdisciplinary artistic practice, who is an illustrator and B-girl (for the uninitiated, that's break dance) who recently completed a residency at Farside in Toronto's Chinatown East neighbourhood. Caerina impressed the audience with vibrant and integrative pieces.
Panelists encouraged young artists to explore, offering solace as we navigate the twists and turns inherent in any artistic career. Finding one's niche—and one's audience!—can be a long and circuitous process, so the need for mentors and artistic representation is palpable. Thankfully, we were in the right place. Discussing the business of art in the digital age, panel members encouraged us to be strategic about how people consume culture: whether that means making use of the metrics provided by social media, or developing 'buy-in' by offering art products that are economically accessible to more people. (For Kyra, this strategy means selling stickers on her website: and audience members went home with her eye-catching acrylic work printed on a palm-sized sticker.) Two attendees told me after the panel that they enjoyed the speakers' honesty about what it means to engage with audiences.
Although the discussion focused on visual arts, the lessons were transferable. Many of the issues faced by artists at their careers' trail heads don't vary much across artistic disciplines: should I keep my 'day job'? Can I afford to pursue my art full-time? Can I afford not to? The sense of solidarity fostered by the event was vital. "I didn't know there were so many of us here [in east Toronto]," Michelle Ramos, another attendee, told me as the event wrapped up. "This is bigger than I thought." And Lisa's key take-away was to explore the many channels that are available: "experiment, research, plan." I certainly left the event with a better understanding of how I might do that.
Homage, curated by Bob Carnie and Carissa Ainslie, is open until June 30 at Connections Gallery. Check out the rest of the Contact Festival at www.scotiabankcontactphoto.com. If you enjoyed this content, support your local artists!