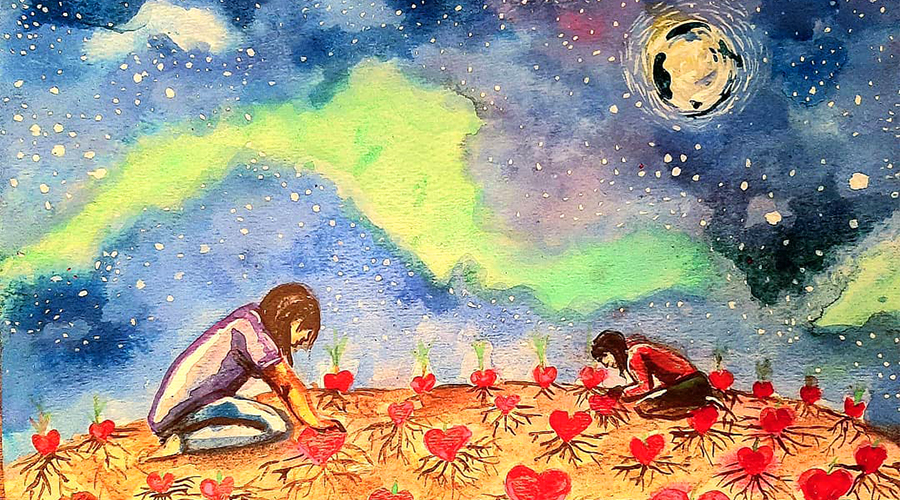 East End Spotlight is a monthly news piece where we highlight east end artists, arts organizations and creative spaces & professionals that we want to shine a spotlight on💙!
For May 2020, we got in touch with a few more different artists & arts organizations (who reside or work in east Toronto), to learn more about what they're doing and how we can all support them!
*Banner image from Ana Gabriela Lopez Castro*
Scroll down to read more about the following artists & arts organizations:
1. Artist Spotlight: Ana Gabriela Lopez Castro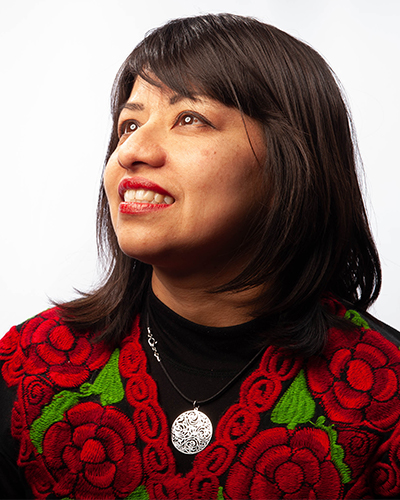 Name: Ana Gabriela Lopez Castro
Discipline: Visual Artist
Artist Website: aglcreativestudio.com
Artist on Social: @anagabylc on Instagram; @anagabylopezcastro on Facebook; @anagabylopezC on Twitter
Tell our readers a bit about yourself:
I am a Mexican visual artist, living in the East End since 8 years ago. I started my artistic formation in Mexico City, in printmaking, photography beside paper mache. I have participated in diverse exhibitions in Mexico and Canada since 2000, and some of the most recent are: 'Happening 2019', organized for Muse Arts, and 'The Day of the Death' at Harbourfront Theatre during the presentation of Mexican Dance Show, organized by Casa Cultural Mexicana Toronto.
I have a bachelor degree in Visual Arts from the Faculty of Arts and Design at UNAM inMexico City and an Advanced Diploma in Graphic Design from Centennial College. I have been collaborating as an artist facilitator with Muse Arts since 2014.
My body of work is inspired by Mexican folk art – colourful, diverse and rich. You can find as a part of my work the handcrafted Alebrijes, fantastic figures created of paper mache. The love for my roots and Mother Nature are always present. With my work, I want to share that through learning about other cultures we can create and inspire within the community.
How has social distancing affected your art practice?

For the first time, I got a grant from TAC to develop a community arts project as part of the artists collective that I have founded with a friend of mine. We were facilitating a free visual arts program for seniors living as Toronto Community housing tenants in the East End. We delivered about 8 classes, with between 6-12 participants in each class, where we taught seniors to create art, working in the creation of their paper mache " alebrijes". Unfortunately, we had to stop the program and put it on stand by until social distance and lock down is over. It was very upsetting because we could not finish our alebrijes, and we could not display the final pieces at 'The Happening 2020' festival. This festival has to move online and we are not able to participate and display their work.
How can audiences support the work you're doing?

I would love if people who see my work on social media, give a thumbs up and share with others.
What are some virtual art events/initiatives that you're excited about?
'Happening LIVE 2020'. Usually this multicultural festival would have been hosted at 918 Bathurst, but right now will be online at the end of the month. As an artist, I shared the dove that I have created to be a part of their art project.
I am looking forward after this social distance ends, to continue working with the seniors to assist them to finish their pieces (alebrijes) and with the possibility of expanding this community arts project to another Toronto Housing Building.
In the Fall, I am looking forward to being a part of the artists that will display their art projects in Nuit Blanche in the East End. Also, hopefully in the Fall, I will be a part of the 'Artist in the Library at Mimico' from September to December. These two projects are waiting until the COVID situation ends.
2. Arts Organization Spotlight: Luc Sculpture Art School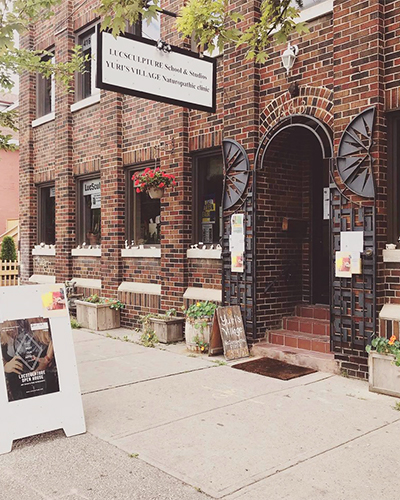 Name: LucSculpture Art School
Type of Organization: Art Studio
Website: lucsculpture.com 
Social Handles: @lucsculpture_art_school on Instagram, and @Lucsculpture.LS3 on Facebook
Tell our readers a bit about your arts organization, your history, artistic mandate etc.: 
We started our art school in the East End 13 years ago, when there was not much "happening" for the arts in the East End. We started off with a full scale clay sculpture studio with a few drawing and painting classes, and now we are expanded to offer camps for kids, pottery classes, and various painting and drawing classes everyday. Over the years, we have served both children and adults in the East End community and now expanded to serve the whole GTA by providing art classes & workshops, school field trips, and a variety of events. Many people recognize us as a "unique" art school; when people enter the studio, people feel at home right away and feel great being in our safe and creative environment.
What makes your arts organization unique or different?

Ever since the beginning, our focus was "relief through creativity", focusing on personal development through art. This focus creates much deeper connections in people to people. We have seen people transforming their lives, gaining confidence, and freeing themselves to be who they are. Another aspect that is unique to our philosophy is creating an "environmentally friendly art school". We have been using natural or recycled materials in art-making and creating the studio to be petroleum-free/plastic-free, less electrical pollution, etc. as much as possible. So without knowing, when people enter the space, people feel relaxed and able to slow down naturally.
How has social distancing affected your arts organization?
Unfortunately we are no longer able to keep the studio open; not getting much income and paying the high rent in the city has impacted us greatly. So, we have came to the conclusion that we are no longer able to keep the business, and we are closing our doors at the end of June, 2020.
How can community members interact or support your organization right now?
Since we made our closing announcement, we are selling artworks and contents online. People have been purchasing them and that has been a great support to help what we have lost, but also to get through the next two months.
Art Sale: visit this link.
Contents Sale: visit this link.
What are some virtual art events/initiatives you're excited about?
We have also started online art courses, and it's going much better than expected! These are live classes and workshops, so students can ask questions, get feedback, and many people who did not want to do online first have told us that it actually feels like a regular class. Our teachers are all doing extra extra work to make fun and valuable lessons! Explore Luc Sculpture's Classes.
3. Artist Spotlight: Marusya Bociurkiw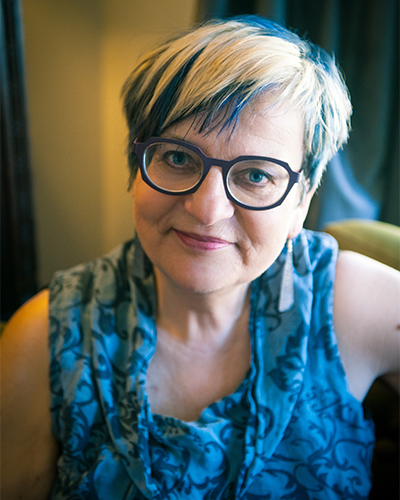 Name: Marusya Bociurkiw
Discipline: Multidisciplinary – writer,  filmmaker, community organizer and professor
Artist Website: marusya.ca; Wikipedia Page
Artist on Social: @Marusya01 on Twitter; @femmeunicorn on Instagram
Tell our readers a bit about yourself:
I'm a writer, filmmaker, community organizer and professor, living and gardening in Leslieville! I've published six books, the last two of which were food memoirs. Comfort Food for Breakups: The Memoir of a Hungry Girl (Arsenal Pulp Press) was the first-ever queer food memoir. My last book, Food Was Her Country (Caitlin Press) is, as a friend put it, about a love triangle between food, my mother and me. It came out last year and was shortlisted for a Lambda Award!
Right now I'm developing a documentary film about the history of feminist media collectives in Canada, which is a bigger story than you'd think: in the 1990's there were hundreds of women's presses, radio shows, newspapers and media collectives across Canada, most of which got cut back in the austerity-era 1990's. I'm doing it so my students know about the kick ass feminists that came before them. It's called "Before #MeToo: The Story of a Feminist Media Revolution". I'm also completing a novel , Truth, about an HIV-Positive chef who gets drawn into a corruption scandal at a university after catering an academic reception. I'm a daughter of immigrants and food, central to diasporic identity, appears in almost all my work.
How has social distancing affected your art practice?

I'm doing things much more collaboratively right now! I've been working with an amazing group of LGBT refugees through the MCC Church in Riverdale; we did a series of participatory video workshops at Ryerson in the winter, during which I got to know these gracious, resilient folks who have fled African countries with anti-gay laws. When the pandemic began, I couldn't stop thinking about them: their refugee hearings have been delayed, many have lost work, many are working on the front lines as PCWs, most are not eligible for CERB. So, I've invited friends and colleagues to lead online workshops for them on video, photography, podcasting and digital storytelling. We even made an advocacy video together about the need for CERB to be made available to all, regardless of immigration status. These workshops are the highlight of my week. I'm also rethinking my documentary film practice. Once I get the grant funding I've applied for, I'm going to distribute funds to my interview subjects across the country so that they can film themselves, and then send me the footage. They are all media makers of one sort or another so the results should be interesting!
How can audiences support the work you're doing?

Write to your city Councillor, MPP and MP and urge them to speak about making CERB available to all, regardless of immigration status.
Donate to Migrant Rights Network migrantrights.ca to support the important advocacy they are doing for undocumented folks. There are over 200,000 undocumented in Toronto who lack access to healthcare, social services, and worker's rights.
Join me and my colleagues at The Studio for Media Activism & Critical Thought, May 25-28, for a speakers' series: Maydays: Radical Pandemic, during which activists and academics will speak about what they are doing to foreground the rights and struggles of vulnerable communities during the pandemic. Follow at @ryersonstudio
What are some virtual art events/initiatives that you're excited about?
I'm super excited about Buddies in Bad Times' online and offline programming, like Queer Far Wherever You Are, nightly at 5pm on Instagram Live, as well as the forthcoming Buddies "Analogue Projects Celebrating Pride in Place." You can apply for funding for a queer analogue project here. I'm on the board of Buddies and love how theatre is (or was?) one of the few analogue non-digital experiences we have left. So we're going to keep live theatre and queer theatricality happening in a series of distancing events!
4. Artist Spotlight: Phillip Vonesh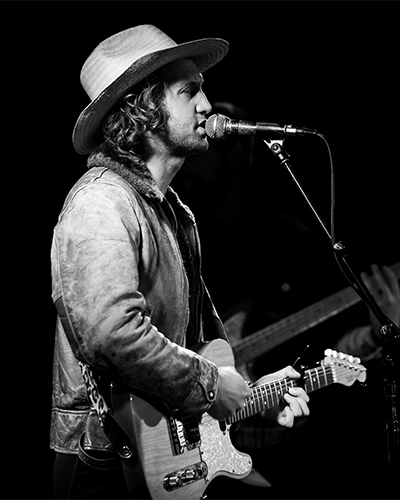 Name: Phillip Vonesh
Discipline: Musician
Artist Website: phillipvonesh.com
Artist on Social: @phillipvonesh on Instagram; @phillipvoneshmusic on Facebook; Phillip Vonesh on Youtube; Phillip Vonesh on Patreon; @phillipvonesh on Bandcamp
Tell our readers a bit about yourself:
My name is Phillip Vonesh. I am an independent musician, songwriter and singer from the East End of Toronto. I grew up in the Upper-Beaches. My first gig was at The Only Cafe, and I still play every Sunday at Might and Main (when not in quarantine). I recorded my debut EP Lost Our Way at The Trailer at Dawes and Danforth with East-End producer, Aaron Comeau. My songs deal with relationships, all drawn from my own experience: breakup songs, love songs, and songs about friends and family. I often play as a solo acoustic performer in the singer-songwriter tradition as well as with my band, Phillip Vonesh and the Spare Parts, which is a little more Rock 'n' Roll.
How has social distancing affected your art practice?

Social distancing has made it basically impossible for musicians to perform live. I had to cancel numerous shows and postpone my first East Coast tour. I find it's best not to focus on the negative, I am a naturally optimistic person, and this break from gigging and working has allowed me to do a lot of writing and to focus more on my online presence. I started a Bandcamp page as well as a Patreon page. And, I have been performing as many online streams as possible.
How can audiences support the work you're doing?
The best way to support me, or any artist, is to buy art. For me, the most direct lines of support are via Bandcamp and Patreon. It's a tough time right now for everyone, though. And, I appreciate that some people just don't have an extra dollar. If money is tight, following my social media pages is a huge help, both for now and for the future! Promoters and bookers look at 'Likes' and 'Follows' on Facebook, Instagram, and Youtube when deciding who to book. Lastly, just to listen to my music. All of my released music can be streamed for free on all of the major streaming services.
What are some virtual art events/initiatives that you're excited about?
How the arts community has responded has been pretty amazing. My friend and fellow East-Ender, Jerry Leger, put out a great new EP on his bandcamp. To help support local visual artists, another East-End friend, Tatum Dooley, has started an online art sale through her Canadian Art Forecast Instagram page. Initiatives like these give me hope for the arts. I really believe that there is going to be a huge creative boom after this all blows over. It's already happening now. While isolation can be a struggle, artists are at home (some eligible for government funding) and supporting one another from a distance. If that's not a recipe for great art, I don't know what is.
6. Artist Spotlight: Unicorn Shannon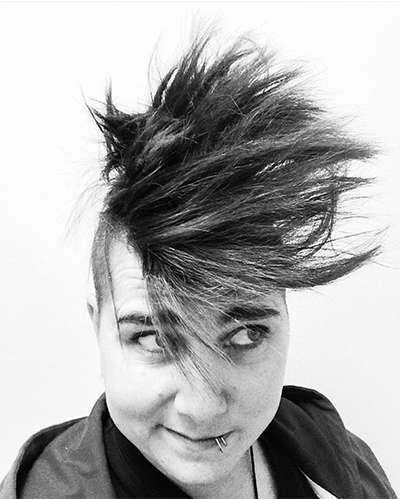 Name: Unicorn Shannon
Discipline: paint + ink + sparkles + queer magick
Artist Website: theunicornstudios.ca
Artist on Social: @unicornstudiostoronto on Instagram
Tell our readers a bit about yourself:
Oh this silly unicorn is a queerly whimsical being from Toronto who believes art is as essential to life as air. They are often painting at midnight, using acrylic paint + palette knives to create abstract art where texture is just as important as colour. Each painting is a conversation with the universe, as well as catharsis + fuel for the unicorns' soul.
Additionally, the unicorn is projecting sparkles outward into the community, attempting to spark rainbow joy throughout Beast York with their current unicorn project :: 'love in the time of covid'. The corner of Secord + Barrington avenue is the beginning of this outdoor, hands-free unicorn gallery, containing a couple dozen paintings full of messages of love, gratitude + hope.
How has social distancing affected your art practice?

Art is vital to the unicorn's existence, especially their ability to process + function in this world. Social distancing has provided some extra challenges for the unicorn, in terms of time + space to create, as well as mental capacity + motivation. With 3 kids under 10 at home all day and night, it is challenging to have a moment of silence, let alone transform the living space into the unicorn's studio.
Somehow this magickal beast started painting in the middle of this chao , directing all of the feels into uplifting, whimsical art – they even got the kids painting a few signs + called it homeschool art class. The unicorn created this outdoor gallery as much for the community as for the benefit of their own mental wellness. Feeling dread? Paint a rainbow unicorn sign. Ache in your soul? Channel your inner RuPaul + paint a love message. 22 signs later … and counting.
How can audiences support the work you're doing?

You can follow the unicorn on instagram + reach out. But really, anything artsy + weird makes the unicorn feel happy + inspired, so create art fiercely + celebrate your own unique inner unicorn. Please choose to support local artists, arts organizations + local artsy shops when you can. Engage in the arts + let your creative, magickal soul shine! Remember, you are poetry. You got this!
What are some virtual art events/initiatives that you're excited about?
Toronto Mycelial Network – this project is so magickal! Mushrooms are wickedfascinating + the creations so far have been fabulous. Hopefully we will be able to venture out of our homes one day + attend art events so we can experience this wonderful collection together.