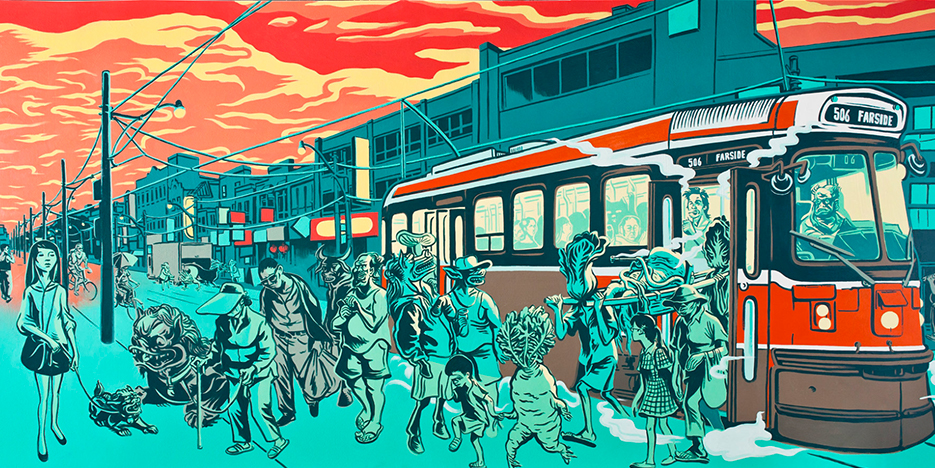 East End Spotlight is a monthly news piece where we highlight east end artists, arts organizations and creative spaces & professionals that we want to shine a spotlight on💙!
For June 2020, we got in touch with different artists & arts organizations (who reside or work in east Toronto), to learn more about what they're doing and how we can all support them!
*Banner image from Dmitry Bondarenko*
Scroll down to read more about the following artists & arts organizations:
1. Artist Spotlight: Dmitry Bondarenko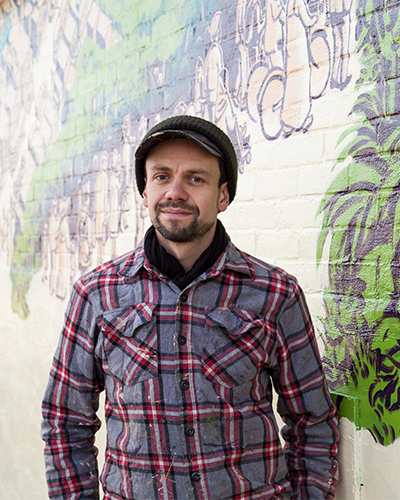 Name: Dmitry Bondarenko
Discipline: Illustration, Comics, Drawing and Painting
Artist Website: dmitryillustration.com
Artist on Social: Instagram accounts: @handdrawndmitry (illustration + drawing and painting) and @parts_market (comics)
Tell our readers a bit about yourself:
I've been drawing for as long as I can remember. I grew up surrounded by art books as a child. They were my first introduction to the visual arts, and have sparked a life long interest in book arts and Illustration. After coming to Canada from the USSR in 1989, pop culture cartoons and comics made a huge impression on me and expanded my interest. Drawing for me also became a primary tool for expression and communication, and helped me to make sense of my surroundings.
I've been fascinated by the intersection of fine and popular art forms ever since, studying Animation, then Illustration at Sheridan College and OCAD U (respectively). Since graduating, I have continued to experiment and learn through my own practice, besides working as an Illustrator and designer for print, web, on murals, show posters, and for film, and tv. I believe in learning the craft of drawing and painting as a key to developing universal skills for observation, communication, and self-expression, and have been teaching at OCAD U since 2018.
How has social distancing affected your art practice?

Since the lock down began, normal teaching practices as well as group based learning have been indefinitely suspended all around the world. Visual art practice is often a solitary pursuit, and the need for images means that work is being made and commissions for artists are still coming in from a variety of sources. Aside from that, lots of personal ideas and projects are currently in development. The good weather also means that more drawing and painting from life can be done outside at safe distances. All that being said, social gatherings provide a point for peers to meet, provide criticism and mutual support, and help facilitate collective learning. Drawing from life and learning in a group environment are key to developing artistic skills. The absence of these opportunities are impacting our students and artistic communities around the world. Not having events or spaces to gather, such as book fairs, galleries, and classes has also impacted how art is encountered by the general public. Online spaces have filled some of this gap, but this can only go so far. I'm looking forward to a time where we can all safely return to these irreplaceable spaces to work and be together again.
How can audiences support the work you're doing?

I've been lucky enough to receive grants from the TAC and OAC to independently write and draw a graphic narrative/ comic and have spent most of my time in lock down working on this project. Besides this, I am still getting commissions so that I am still employed as a freelancer throughout the lock down and am not currently in need of support. A portion of the comic I'm working will be printed in the next issue of Taddle Creek magazine (out this summer) and future updates and posts of this work will be made on the parts_market Instagram page. Both of these could use your subscription as support. I'm hoping to return to zine and book fairs in the future and to return to offering our life drawing classes for the public at East End Arts. Though I'm OK for now, if they are able I urge people to commission works at fair prices from local artist, support their patrons, and buy their books and prints directly if they have set up online shops. Also, support local bookstores by buying artists albums, comics, and kids books if you can to help pass the time and keep the arts alive.
What are some virtual art events/initiatives that you're excited about?
The OCAD U Illustration Website and Instagram is currently hosting its year end exhibition – there is so much talent this year from graduating students who have worked really hard without getting a chance to exhibit at the annual grad show. Please go and check out their work. Also, local bookstores such as Sidekick Comics and Cafe have either partially reopened, or like the Beguiling are offering deals on their books. Im really excited to have art fairs like TCAF, Zinedream, and Canzine again, and cant wait for museums and galleries to reopen, not to mention life drawing and painting sessions!
2. Arts Business Spotlight: Little Robot Friends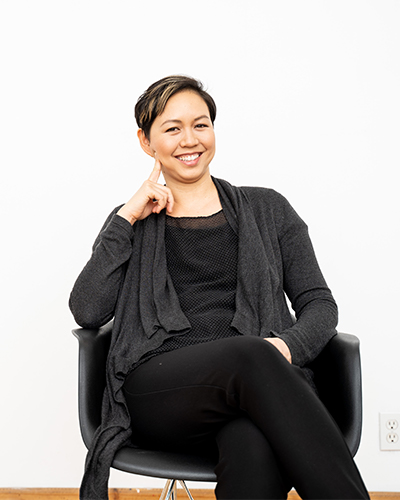 Name: Little Robot Friends
Type of Organization: A studio for kids to learn about coding & electronics
Website: www.littlerobotfriends.com
Social Handles: @lilrobotfriends on Instagram; @littlerobotfriends on Facebook; @lilrobotfriends on Twitter; Little Robot Friends on YouTube
Tell our readers a bit about your arts organization, your history, artistic mandate etc.: 
Little Robot Friends teaches kids age 7 and up about coding, electronics, and how technology works. Using adorable robots, our hands-on and project-based approach to teaching keeps kids engaged and interested in all areas of STEAM subjects. Our mission is to inspire kids to be creative with technology and develop important digital skills for their future.
What makes your arts organization unique or different?

Our founders, Mark Argo and Ann Poochareon, spent over a decade building one-of-a-kind installations for art museums and science centres, working closely with educators and museum professionals in their fields. From this working experience, Ann and Mark became passionate about how to best engage kids so that they can learn while they're having fun. They also noticed that STEM education was gaining momentum but teachers have a hard time learning new materials; Little Robot Friends exists to bridge that gap by making technology fun to learn and easy to teach.
How has social distancing affected your arts organization?
Unfortunately we have had to cancel all our in-person workshop offers (camps, classes, birthday parties) for the time being and moved all activities online. Our families have been resilient though, and we have been impressed at how fast the kids adjusted to online learning, but we know that learning isn't the same. We really look forward to when we can open our doors again.
How can community members interact or support your organization right now?
If you have kids who are bored at home, our online coding classes open up for registration every month. We have DIY electronic kits on our online shop, which we are doing free delivery in the east end of Toronto. Coming soon is our online summer camp registration! Our Online Summer Camps include a 2.5hr. live class every morning and a hands-on project box to be done on their own in the afternoon.
What are some virtual art events/initiatives you're excited about?
Our Online Summer Camps for age 7 and up! During this COVID19 shut down, we have redesigned our curriculum and ran many online sessions with kids and we are confident that the virtual camp for this unprecedented summer will be a memorable at-home experience.
3. Arts Organization Spotlight: Max the Mutt College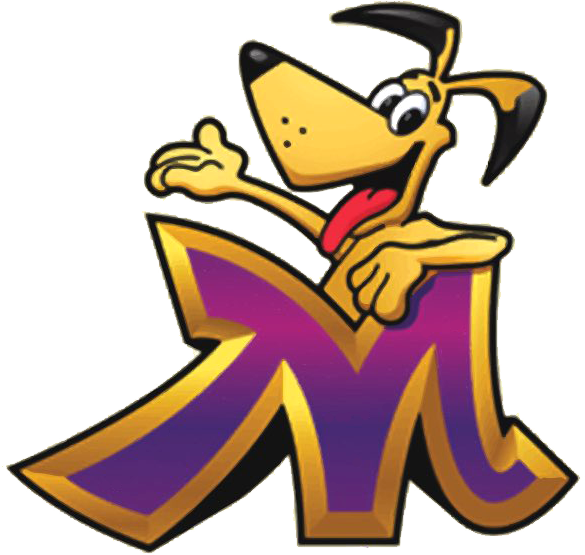 Name:Max the Mutt College of Animation, Art and Design
Type of Organization: A Canadian private Career College of Animation, Art & Design
Website: www.maxthemutt.com
Social Handles: @max_themutt on Instagram, @maxthemutt on Facebook; @maxthemutt on Twitter; Maxthemutt on Tumblr; and Maxthemuttanimation on YouTube
Tell our readers a bit about your arts organization, your history, artistic mandate etc.: 
Max the Mutt was founded by artists and animators in 1996. Our goal is, and always has been, to create and maintain a vibrant, ethical community dedicated to passing on skills to upcoming generations, while fostering a sense of community.
We offer three diploma programs: Classical and Computer Animation, Concept Art for Animation and Video Games, and Storytelling for Sequential Arts and Illustration. As well we have workshops and portfolio development for ages 13 plus, and professional development courses.
We believe in taking our work seriously and encouraging students to keep their joy in creating alive. We believe in an inclusive environment where every student matters. Humility and mutual respect are the first requirements for growth, for a happy, creative, productive college, and a meaningful career. We seek students and faculty who share our vision.
We've always cared about being as affordable as possible without compromising the quality of instruction. For our diploma programs, we offer limited bursaries and scholarships to qualified students.
Our instructors are working professionals, drawn to Max the Mutt by their passion to share their expertise, by the prospect of small classes, motivated students, and an environment that values their input. Our graduates are working for companies including Pixar, Sony Imageworks, Guru Studio, Yowza Animation, Brown Bag/ 9 Story Media, UbiSoft, ShadowMachine, Warner Brothers Games, Corus/ Nelvana, the National Film Board/NFB and many others.
What makes your arts organization unique or different?

Max the Mutt College of Animation, Art and Design provides an environment in which students are encouraged to work hard to achieve their full potential. The college guarantees small class size with serious individual instruction by highly qualified instructors who are working professionals in their fields. We offer students a solid, well-rounded education, and the encouragement to help them develop as artists. At the same time, we expect students to conduct themselves in a professional manner, which includes the ability to take direction, meet deadlines, work cooperatively, and fulfill responsibilities. The development of good work habits is important in preparing for a successful career in animation, concept design, advertising, graphic design, art direction, comic books, or graphic novels. Our mission is to provide the industries we serve with professionals who are ready and able to contribute as entry level employees, and to provide our graduates with the knowledge, skills and confidence required, not just for their first job, but to build careers.
How has social distancing affected your arts organization?
Like many schools, we moved online in mid-March so that our diploma students and workshop students could finish their courses. We also made the decision to keep offering our workshops online throughout the spring and into the summer, which has actually been really exciting as we now have students from across the globe including Brazil, India, and Australia!
Although the online experience has been a positive one for many of our students, for some it was not as smooth a transition, and the backdrop of the pandemic has of course added its own layers of difficulty. Some students really benefit from in-person interaction and the isolation and loneliness has been challenging for many (particularly those who live on their own). We have student support services and we are there for our students as much as we can be at this time.
We've had some of our diploma students withdraw or postpone their studies due to financial reasons, while our first year international students who were hoping to start in the fall are worried they won't be able to get into Canada. So the pandemic is definitely affecting us for September 2020.
On the flip side, every year, we host an in-person Graduate Showcase where we invite Industry to meet our graduating students. This year was the first time we hosted the event online! It was very well attended and the feedback was very positive. It also allowed us to have people from far and wide attend, who normally wouldn't be able to attend in person. So there have been some definite positives out of this time too.
How can community members interact or support your organization right now?
There are a number of ways for the community to become involved and engaged with us. We have several workshops for people to take, from Intro to Animation, to Beginner Photography, to Writing for Children's Books, and much more. We have our Fine Art Portfolio Development Course which has always been very popular and is now moving online too. We also usually host Creator Talks (public talks where local artists come to the school to share their experiences as working professionals), which we're hoping to move online as well.
To stay up to date with all our offerings, you can follow us on social media! We also use social media to post some of our student work and interviews with creative professionals (including some of our own graduates!) and it's always nice for the students to hear positive feedback. You can also view our 2020 Graduate Animated Student Film "Battleversary" and our Third Year Compilation of Animated Shorts on Youtube – check them out and let the students know what you think! We're so proud of what they accomplished.
What are some virtual art events/initiatives that you're excited about?
As previously mentioned, we're really excited about our online workshops happening now (Spring workshops are already in progress) and our new batch of workshops starting in June.
Throughout this whole process we've been exploring ways to engage with people more online so we've beefed up our social media presence. It's been a great way to connect with our community and to find out what our followers are looking for. Back around the time when our animation students had to finish their projects from home, we asked them to send in photos of their DIY home animation studio setups – those were really great! Many of our students and instructors also submitted drawings relating to Covid 19 (some of which are very touching!). You can see all of these submissions on our Instagram account. We also ran a #stayathome giveaway contest where one lucky winner won a free workshop with us. We'll be running another giveaway contest beginning in June – check out our social media platforms and website for details! We look forward to continuing these kinds of initiatives and incentives to help people not only cope while staying at home, but to thrive while at home!
4. Artist Business: Old's Cool General Store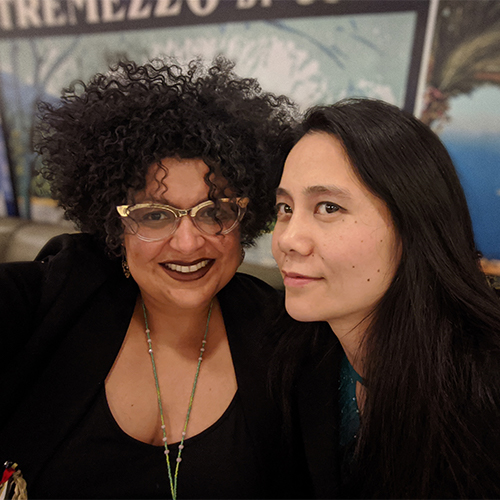 Name: Old's Cool General Store
Type of Organization: An arts store focused on community
Website: oldscoolgeneralstore.com
Social Handles: @oldscoolgeneralstore on Instagram, and @oldscoolgeneralstore on Facebook
Tell our readers a bit about your arts organization, your history, artistic mandate etc.: 
We are an Art, Community and Social Justice Retail Hub. Our store front is curated artistically, featuring art made into accessible products from tea cups to socks. It's a unique combination of beauty and awareness that you won't find anywhere else. We also carry a very specific selection of books that are gorgeous, smart and centre art, social justice and marginalized voices.
Our store front is really a front for our community building activities, we engage our community in events, protests, change-making and conversations that build consciousness, inclusion and safety. We are founded with a Rebel Heart and a Soul for Change. It's the heart, soul and authenticity with which Old's Cool operates that makes it the unique and magical place it is. We exist to promote that good ole thing called humanity.
What makes your arts organization unique or different?

More than a store or organization, this is a movement.
A movement for human kindness and connectedness.
Guided by two age-old principles: relationships matter and spending time together in person matters. We believe that people need to regularly congregate in community, sharing the ups and downs of life, banding together to overcome immense challenges. Our goal is to provide the space and resources for this to happen.
We fund our community building goals primarily through social enterprise. To that end we provide our customers with an eclectic array of some of the finest creations available.
We call it a "Boutique" Community Center and we hope to prove that this is a sustainable model.
We are modeled on the general stores of old.
We believe that there are some things that just cannot be substituted and should not be replaced, that is why we call them the "golden oldies".
In urban centers, having a place to share in person and to have contact that feels caring, has become hard to come by. In earlier times, the general store was that place. The general store was the hub of local activity. Neighbours would not only find the supplies they needed, but also all of the community news. It was a social centre, where people would: congregate, tell stories, eat pie, talk politics and engage in all things relevant to the locals. The general store was often one of the only gathering places in the area and played an integral role in the lives of people.
With urbanization, the advent of the car, big boxes and dollar shops, general stores have generally been dumped. We take our community on a journey back in time, by providing that place where they can get their supplies but more importantly talk to someone who knows them and cares about them. This is not just a business venture, but very much a community venture. To us being kind and connected will never get old!
How has social distancing affected your arts organization?
Social Distancing has meant that we cannot do our regular community events.  We really miss gathering with the community. It's also meant scaling down everything we do, we are seen as an essential business so we stayed open but couldn't have the daily contact and conversations with our neighbors that were so integral to us.
How can community members interact or support your organization right now?
Coming up at Old's Cool:
Currently we are asking people across the East End to do chalk drawings on their sidewalks or at the Olds Cool property, sharing their protest message.
Virtual Community Pride Event- With Rainbow Selfie Booth at Old's Cool (organized with DECA)
Children's Books Giveaway Day: Giving over 1000 books to Secord Families (organized with Children's Book Bank, SCONE and East End Young Women's Empowerment Collective)
All the details on FB and Instagram!
6. Artist Spotlight: Sarah Switzer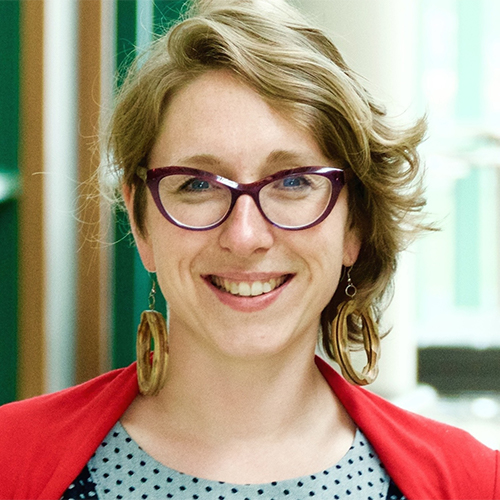 Name: Sarah Switzer
Discipline:Community Arts and Community-based Research
Learn more about Sarah's work: https://utoronto.academia.edu/SarahSwitzer
Learn about a recent project: https://pictureparticipation.wixsite.com/gallery
Tell our readers a bit about yourself:
I am an adult educator, community artist, and community-based participatory researcher living in Tkaronto. I work primarily within the HIV and Harm Reduction sector doing community-based research, training/facilitation, and consultation. My larger work aims to support organizations or their stakeholders in thinking more deeply, and in more nuanced ways about how to engage people living with or impacted by HIV and/or people who use drugs in programming and policy change. I also work with young people. I work collaboratively with community members and community-based organizations to co-develop, and co-lead projects. I use participatory, creative or arts-based strategies to do this work, which is strongly informed by equity and social justice principles. I also deliver organizational workshops, trainings, and consultation on participatory approaches, popular education, program design, participatory visual methods, and arts-based evaluation.
For example, a recent community-based participatory project of mine involved partnering with community members, staff and local community-based HIV organizations to explore how stakeholders within these organizations understood 'engagement'. Together, we use participatory, creative or arts-based strategies to do this work, which is strongly informed by equity and social justice principles. Then we worked together to share our work widely at exhibitions, and co-led workshops across the sector. The project was called Picturing Participation and you can read about it here.
Photo Caption: Installations above were co-created as part of the Picturing Participation project.
How has social distancing affected your art practice?

My community arts practice involves working with communities to help them identify or discuss issues of relevance to their communities, or organizations. I use participatory activities, popular theatre or visual methods to spark dialogue. This can be difficult to do when we're not in the same room. I've been spending the last few months thinking about how to transition this work to online spaces and learning a lot. I have learned that paying attention to the conditions of participatory approaches (e.g., what we do when we're in a room together, whether its arranging chairs in a particular way, or playing music upon entry) can go a long way towards thinking about how this work might be adapted to online spaces.  There are benefits to meeting online compared to in-person, but also some unique challenges especially when thinking about issues of equity and access.
I am currently a post-doctoral fellow at the University of Toronto where I teach and write about many of these issues. I am now thinking creatively how to move this work online in a way that honors the principles of the work and is accessible to those who might not have access to online platforms, or a private space to participate in conversations.
How can audiences support the work you're doing?

I am currently working with some network organizations to create training on how to adapt participatory work to online contexts. If you have ideas of community-engaged work you've been doing online in your own community, I'd love to hear about it. I am in the partnership building and ideation stage of a new arts-based, participatory project on facilitation and social justice. I love to learn from others – learning about how community-engaged practitioners are adapting to this current moment is of interest. Reach out!
What are some virtual art events/initiatives that you're excited about?
The COVID-19 pandemic creates many challenges, deep loss, and exasperates larger inequalities especially around class. It's been a difficult few months for many. At the same time, it's been interesting to observe what new virtual initiatives have sprouted up. I am particularly in awe of the creative ways that communities have been connecting through crisis – from online organizing, to public venues like the online queer dance party, Club Quarantine to more informal webinars or zoom meetings where communities come together to brainstorm, connect and build larger movements. I've been particularly inspired by this moment to think about what kind of world we want to create – in particular a world marked by equity (especially racial equity, where all Black Lives Matter), and environmental justice.
I've also been excited by the launch of Neighbourhood Arts Network's digital mentor in residence program; free online creative facilitation workshops (with a global audience) by Partners for Youth Empowerment; and Buddies and Bad Times Queer Far Wherever You Are program.
For a podcast highlighting conversations with queer and trans Black, Indigenous and people of colour artists, check out the Possibilities Podcast on Instagram live (@possibilitiespodcast)
7. Artist Spotlight: Susana Molinolo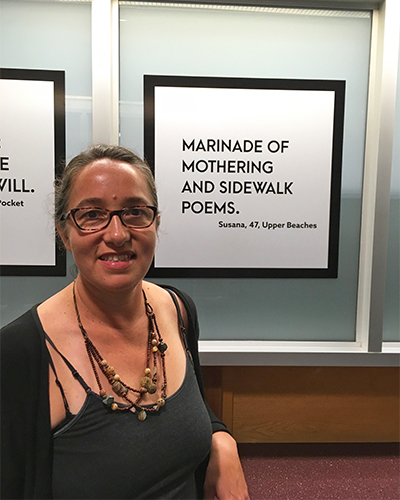 Name: Susana Molinolo
Discipline: Poet, Digital Writer, Community Builder
Artist Website: susanamolinolo.wordpress.com
Artist on Social: @foodplayground on Instagram; @foodplayground on Twitter
Tell our readers a bit about yourself:
I was born in Argentina and raised in Canada. I speak Spanish, English, French, and get by in Italian and Portuguese. In the memory I have about writing my first poem, I see diffused light coming in through the windows of a cold portable in Toronto's west end. I was probably 8 or 9. I remember writing, erasing a lot, and not knowing how to say things in English. In that first decade of my life, my family kept going back and forth between Argentina and Canada, so my languages were jumbled for a long time. As an adult I truly appreciate that being multilingual has been a huge gift, it's instrumental in my ability to write poetry. What I love about poetry is that it's an egalitarian art form. No fancy tools required, you don't even need a pencil or piece of paper, you can just write and memorize. To date I've received writing grants from the Toronto Arts Council, Ontario Arts Council, and won a couple of emerging writing awards, and my first full collection of poems is in the works.
How has social distancing affected your art practice?

Social distancing has been a blessing in disguise when it comes to my creative life.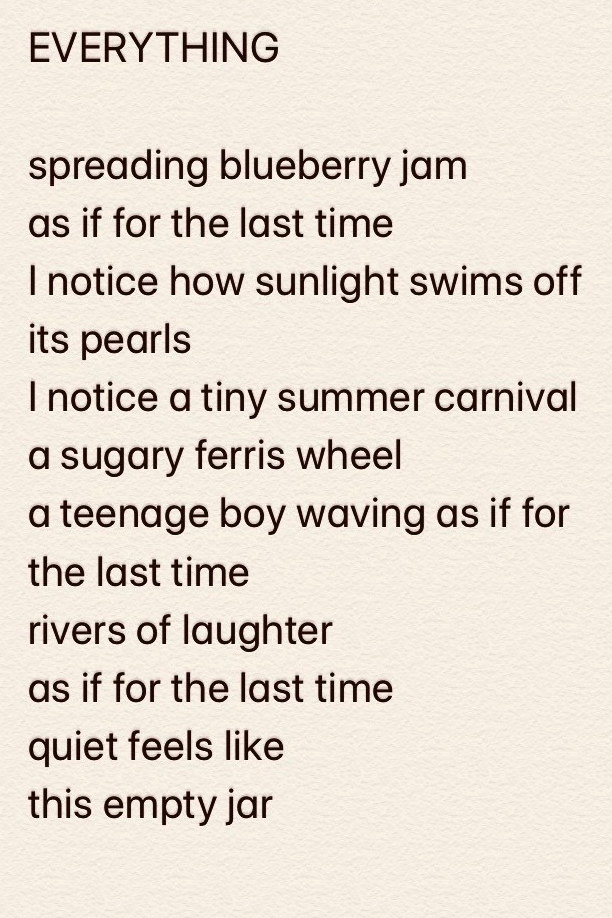 It was shocking to see everyone having to stop their routines so abruptly. My kids stopped going to school. Local cafes, restaurants and bakeries closed overnight. It was just like a nightmare walking through the Gerrard India Bazaar, the neighbourhood we've lived in for 15 years and see that everything was closed indefinitely. Although quarantine was happening on the other side of the planet, it was just news stories. When it happened to us you realize it's not one big thing that happens, it's that there are so very many tiny losses. My hour long walk into work, and the streetcar ride home stopped, which was a huge loss to my creative time. A very quiet and eerie end-of-the-world anxiety crept into my bones, but one morning a poem spilled out of me as I was emptying a jar of blueberry jam. Then a few hours later I jotted down ideas about another poem. Plus my already intense and colourful dream world sped up, and my journal got fuller with dreams and poems. I've read a ton of poetry, read at several virtual open mics, and published poems, including a lockdown poem co-written with my friend Pamela Yuen-Elkerbout. I've gotten closer to a lot of my writer friends during this time.
How can audiences support the work you're doing?

I occasionally publish poems on my Instagram and Twitter accounts. Follow me and I'll follow you back!
What are some virtual art events/initiatives that you're excited about?
In March I became the Programs Chair of the Canadian Authors – Toronto branch, and to date we've hosted 3 online events. We hosted a virtual café and open mic, celebrated poetry month, and delved into independent publishing. Next up: our June 25th workshop is tentatively called "How to brave up your open mic". Learn more by following us on Twitter: https://twitter.com/AuthorsToronto,  Instagram: https://www.instagram.com/authorstoronto/
and Facebook: https://www.facebook.com/CanadianAuthorsAssociationTorontoBranch
I'm also excited about the Eastwood Writers Collective, the creative writing group I belong to. Our members are diverse, inspiring, and doing great things in writing, education, advocacy and the community. You can follow our journey on our Instagram page: @eastwoodwriters
The pandemic has wreaked havoc on every single industry, if you have the means, I can't stress enough the importance of shopping locally. A few of my can't-live-without places are: Queen Books for books that they now deliver; Lazy Daisy's Café for their breakfast sandwiches, salted caramel brownies and their General Store; and Blue Crow Gallery for jewellery and art we've been able to buy and have delivered to friends and ourselves!