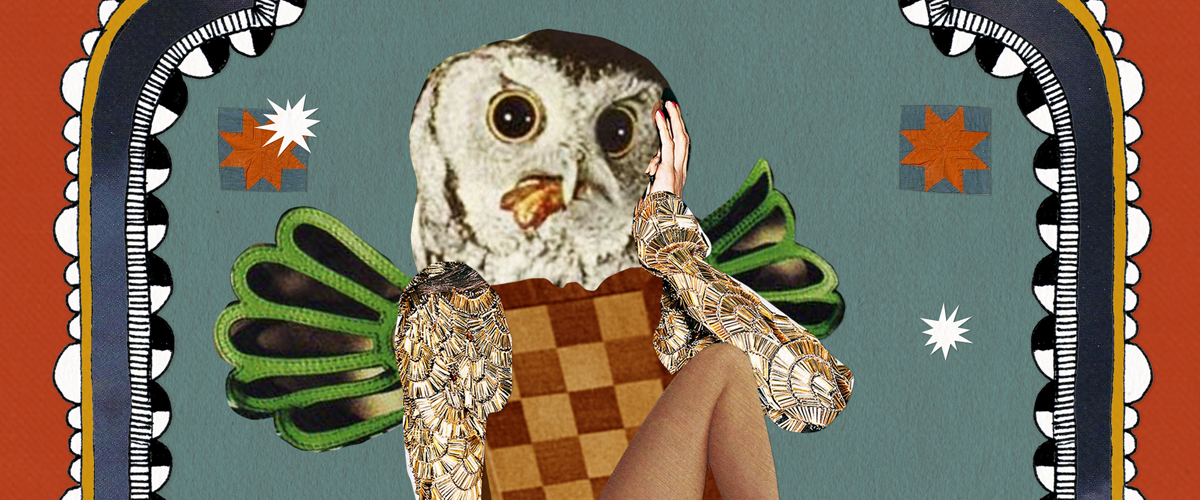 East End Spotlight is a monthly news piece where we highlight a series of east end artists, arts organizations, creative spaces & professionals that we want to shine a spotlight on💙!
March East End Artist Spotlights
For March 2022, we got in touch with some new artists who live or work in east Toronto. Scroll down to read more about the following people and organizations this month:
*Banner image is a photograph of a collage by Katia Engell titled, "Sova Chou".*
1. Artist Spotlight: Flips
Discipline: Murals, Sculptures, Graphics, Tattoos
Artist Website:
FlipsBSC.com

Artist on Social:
Instagram @FlipsBSC

Artist Pronouns: He/Him
Describe yourself and your artwork:
I'm a Toronto based multi-media artist, life enthusiast and visual storyteller. Inspired by the blending of cultural forces seen in Toronto and my homeland of Bulgaria, my focus is on promoting and celebrating world cultures and connectivity amongst people. 
How does your culture, background, and/or upbringing influence your creative work?
Knowing where you come from helps you know where you're going. My Bulgarian heritage mirrors the heritage of my new home in Toronto, a beautiful mixed community of wild loveable characters that helped to shape and mold me. From village life in Bulgaria to a Scarborough/Malvern upbringing, I've learned that we are all in this beautiful life together, and each of us holds a unique fire. That's what spawned my signature Swirl Style. 
What is one of your greatest achievements as an artist thus far?
Aside from being artist of the month?! Tattooing my swirl design on people. 
What is a goal that you have for the future?
Swirl up the world! One wall at a time, spreading good vibes and making friends along the way. 
Where do you find inspiration? Or what do you do to become inspired?
My inspiration can be seen in the meaning of the Swirl Style, which reflects the philosophy of unity through art in the swirling of color and line. The Swirl Clusters represent the state of flux that exists in life – a beautiful mess of movement and energy. At the heart of each swirl is a circle that represents the individual soul, linked to others through infinite ties. A grouping of swirls signifies a strong presence of community, creativity, and care. Keeping all this in mind helps me ground myself and find the peace needed to create. 
Who do you look up to?
Just to name a few: Mark Stoddart (@mstoddart68), Ryan Rubin (@Longboard_Living), Ashley McKenzie-Barnes (@ashleymckenziebarnes), Adrian Niman (@chefadrianniman), Francisco Urena (@franciscourena), Neli Atanassova and most importantly my ma and pops (Valia and Atanas <3) 
How do you want communities to remember your art?
Speaking to the Swirl Clusters – I want them to remember that it represents all of us, as a beautiful community.
What advice would you give to emerging artists?
Look within, bring forth the light, share it passionately and respectfully. The role of an artist is to hold fire without burning.
A fun fact about your for our readers:
I got my name by falling off a building and doing a Flip on my way down, falling all smooth-like, downright acrobatic!
2. Artist Spotlight: Katia Engell
Discipline: Visual Arts & Community Arts
Website: katiaengell.com
Artist on Social:
Instagram @katiaengell_

Artist Pronouns: She/Her
Describe yourself and your artwork:
My name is Katia and I am Toronto-based creative. I like to leave the door open to all kinds of art-making in my practice, however the modality that draws me in time and time again is collage! Collage allows the process of making to delight and surprise me, and it allows me to play with reality. It allows me to create work full of exciting juxtapositions and unexpected twists and turns. Plus, it allows me to integrate all my other interests – my illustrated or painted elements can be used too! For the last year, I have been working on a series of characters paired with written prompts which explore themes for self-reflection and dialogue. What lessons do these characters have for me? How can they help mobilize my thoughts and ideas into the world beyond me?
How does your culture, background, and/or upbringing influence your creative work?
Part of my "philosophy of collage" is inspired by my creative work with persons living with dementia. I have been working in this field for almost a decade and it really opened my mind to alternative ways of making, to the idea of putting process before product, and to staying curious and explorative in my work! I am also very passionate about ways art-making brings us together – and I think that's why I strive to create literal "conversation pieces" from my collage characters.
What is one of your greatest achievements as an artist thus far?
My greatest achievement has been learning to use the arts to connect with others – especially persons living with memory loss, and their care partners. I can't think of a better gift that being an artist has given me, it is such a privilege. I have used the arts as a researcher with aims to make long-term care a better place for people, and I have engaged in art-making with our community at The Bitove Method, where I am currently Artistic Project Manager. I also love to host gently-guided collage workshops online for anyone who wants to come!
What is a goal that you have for the future?
I would love to explore ways to take my collage practice to a larger-scale, physically! The nature of working with magazines and other paper goods is you often end up with smaller pieces. I'm not sure what bigger looks like – but it would be fun to play around and find out.
Where do you find inspiration? Or what do you do to become inspired?
Connections with others inspire me so much – be it a meaningful conversation, an insight someone else shares that expands my views, or making art with others and seeing their minds conjure something totally different than anything my mind would have gone towards!
Who do you look up to?
I look up to my team of artists at The Bitove Method – they bring such talent, expertise, feeling, and compassion to the work we do there, and I constantly learn so much from them. It is possibly my life's greatest privilege so far to get to work with them.
How do you want communities to remember your art?
I want people to feel invited into my art, welcomed into my little world. I want my art to intrigue people and help bring about deeper understandings about ourselves and our lives. 
What advice would you give to emerging artists?
Don't put yourself into a corner trying to find your "style" or "niche". Explore how your art practice can go beyond YOU, how it might exist in the community (even while still being an important personal practice). I think our art can make our own lives so much richer when we don't limit it, when we leave ourselves open to continually learning and staying curious.
A fun fact about your for our readers:
My undergraduate thesis was about an alien named Spencer who comes to earth and tries (and fails in humorous ways) to engage in human activities and rituals that are, in some ways, a little absurd! It was fun to playfully point out things we take for granted as "normal" in our lives. I called the series "Spencer's Adventures"!
3. Organization Spotlight: Riverdale Hub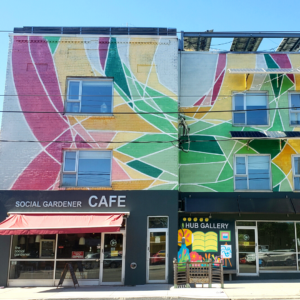 Organization Name: Riverdale Immigrant Women's Enterprise (Commonly known as The Riverdale Hub)
Organization Type: Not-For-Profit
Website: riverdalehub.ca
Organization on Social:
Instagram @theriverdalehub & @riverdalegallery
Tell us a bit about your organization, your history, your mission etc:
The Riverdale Hub is a multi-faceted community space in the heart of the Gerrard-Coxwell area. We believe in the vibrant vitality of art in everyday life, and value the intersections of arts and culture in social purpose, social justice, environmentalism, community health and capacity building. 
The Hub's historic 100-year old building is a great example of these values inform one another to create a holistic vision of community enrichment. The building, which houses the Riverdale Gallery, the Social Gardener Café, rooftop community gardens and several unique event and work spaces, allows for each space's focus to inform the next. Art is the catalyst for community-based change at the Hub.
The Riverdale Gallery consists of five unique exhibition rooms, showcasing local emerging artists, as well as free programming including: screenings, readings, artist talks, gallery tours and workshops geared toward the experiences of marginalized, newcomer women and youth.
Founded in 1999 by a grassroots women's organization, the Hub has been developed to inspire social purpose and build community capacity for marginalized women, gender diverse folks, and youth in Toronto's East End.
What makes your warts organization unique or different?
The Hub is unique in its comprehensive approach to art in the wellbeing of the community we serve. We do this by creating programming that accurately reflects the needs and experiences of the priority communities who use the centre. The Hub recognizes that art is part of a fulfilling life, and should be integrated into green initiatives, entrepreneurship, health and wellness, and education. 
Spaces and programs at the Hub act as an ecosystem for our community. For example, a community member might come to the Cafe for a healthy lunch grown from the building's rooftop garden, wander through the Riverdale Gallery to find a local artists' work that inspires them, and start a new project from a co-working space in the building.
The Hub is a certified green building, featuring a green roof, solar panel and daylighting technology and geothermal heating. We exist as a successful model of a green arts enterprise.
As an organization that supports the arts, well us why art is important to you:
The importance of representation and cultural exchange is vital to wellbeing within our community. We believe art is one of the most accessible forms of storytelling. Art can speak across languages, open minds, encourage sharing lived experience, and provide inspiration for lasting social change. Arts and exhibition programming translates the lived experiences of the women and youth who use the centre into tangible knowledge sharing within the larger local community.
What are you most excited about for the upcoming year?
In 2022, the Hub is excited to present our upcoming exhibition with Tazeen Qayyum, a miniature painter of South-Asian and Persian tradition. Qayyum uses art to navigate her identity and beliefs as a Pakistani-Canadian living in the diaspora. She has exhibited nationally and internationally. Qayyum's work speaks to the lived experiences of so many of the women who utilize the Hubs services. 
The Hub will also be putting together a community advisory committee in 2022. We are always looking for ways to capture community spirit, and better serve the folks who frequent the centre. We will be continuing to emphasize experience from BIPOC and emerging artists in creating our programming in the years to come. 
In addition, the Hub is bringing back our monthly artisan markets! Come out and pick up a treat or a piece of art for you or that special someone.
Currently, we are very excited to host Intricacies of the Gaze, a collaboration between artists Khadijah Morley and eva birhanu. As an invitation to introspection, Intricacies of the Gaze explores and preserves two perspectives of Black womanhood. Together, Morley and birhanu use their practices to expand on their diasporic experiences, engaging with the multiplicity of Blackness through a transfusion of textiles and print media. 
How can community members interact with or support your organization right now?
There are two ways you can support the Hub right now: online or in-person. 
Between Tuesday and Sunday, community members can engage with The Hub through renting out our event spaces, including a fully equipped industrial kitchen, coming by the Social Gardener Cafe for lunch, dropping by the artisan market located inside the Cafe to purchase some local goods, spreading the word about a great exhibition you saw at the Riverdale Gallery, or simply sharing our social media posts with friends.
If you can't make it out to the centre, check out the Art and Artisan Shop online. You can find some beautiful art, ceramics, jewellery and beauty products. 
Each purchase through the Hub goes back into programming and maintenance that supports the women and youth that the centre serves.
What does #EastEndLove mean or look like for your organization?
#EastEndLove is supporting and giving back to the communities who surround the Hub. For every guest who enters the Hub, or any other community owned space on Gerrard Street, we feel the love from our community.
What are some of the other organization or businesses in east Toronto that you love?
The Hub would love to acknowledge our neighbours and program Partners who are aiding us daily in developing the artistic community of the East End: Clay Space, Blue Crow, Gerrard Art Space, Mangled Studios, The Artists' Network, East End Arts, SAVAC and the Aga Khan Museum.