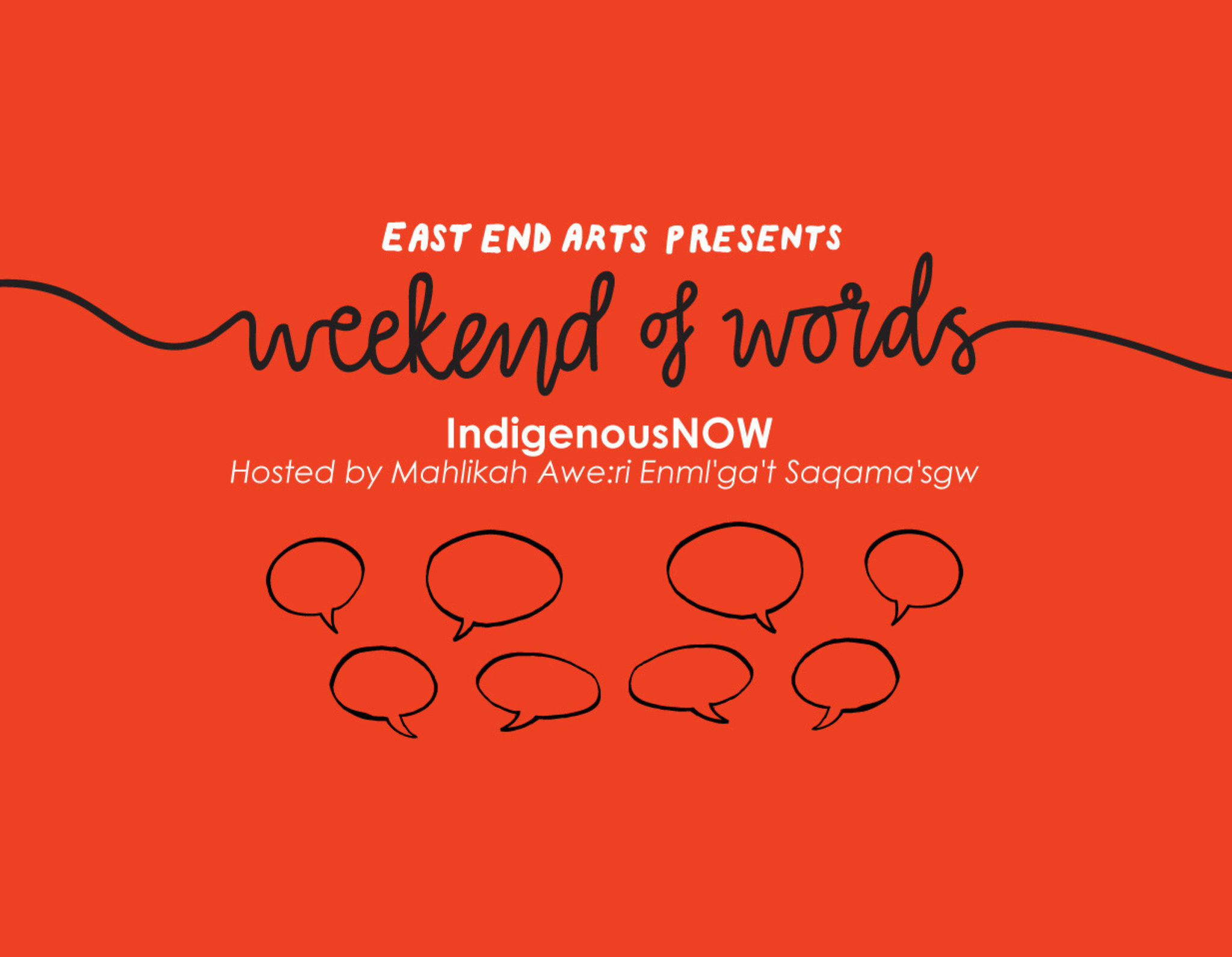 IndigenousNOW
Friday, September 14, 2018, | 6–8:30pm
St. Matthew's Clubhouse, 450 Broadview Avenue, Toronto
Part of the Weekend of Words
FREE!
Spots are limited – click to RSVP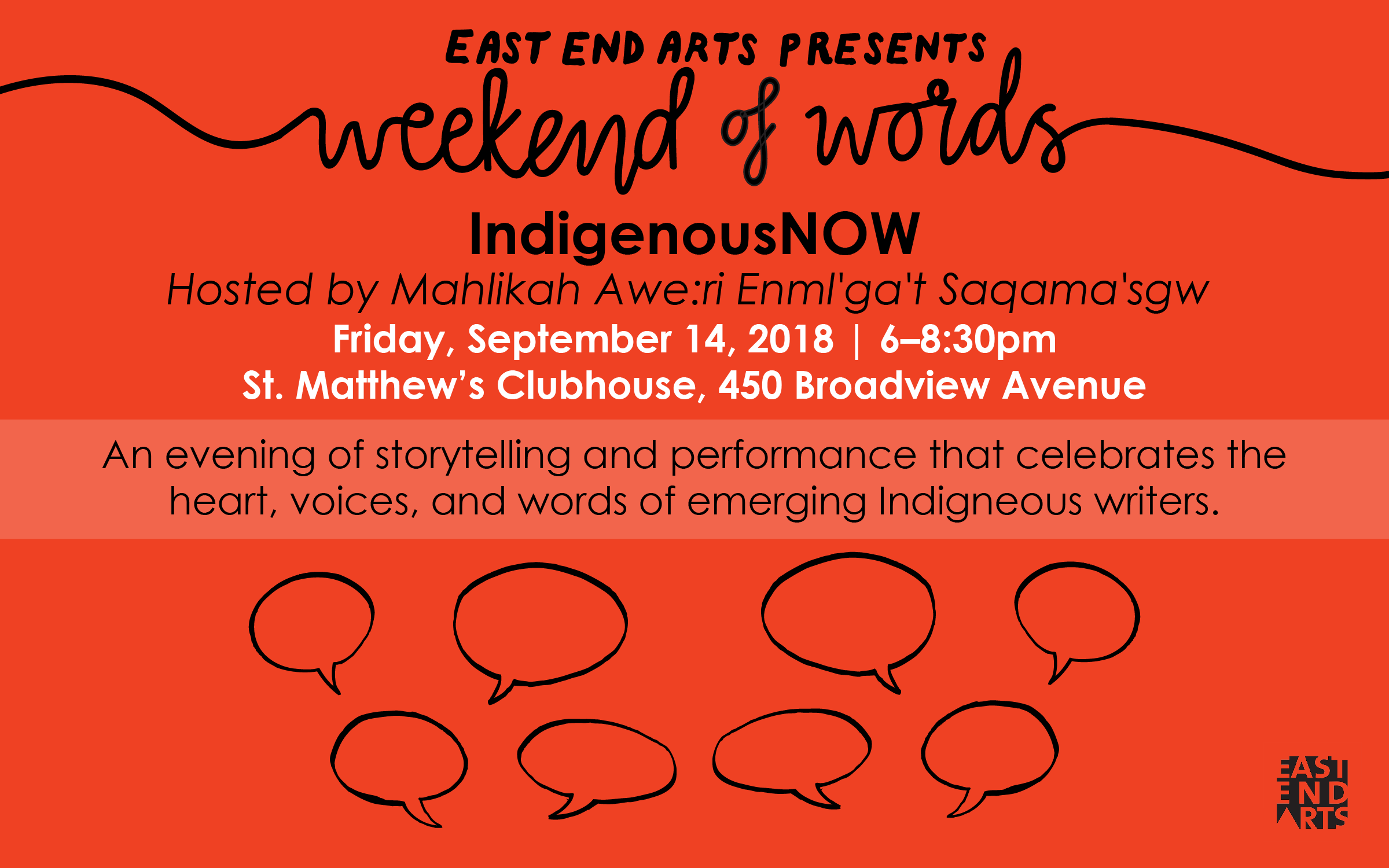 IndigenousNOW is an evening of storytelling and performance, featuring the work of talented, emerging Indigenous writers. Hosted by drum talk poet rapologist Mahlikah Awe:ri Enml'ga't Saqama'sgw (The Woman Who Walks In The Light), IndigenousNOW celebrates and showcases the heart, words, and voices of emerging Indigenous writers.
---
HOST
Mahlikah Awe:ri Enml'ga't Saqama'sgw (The Woman Who Walks In The Light) drum talk poetic rapologist; is Haudenosaune Kanien'kehà:ka & L'sitkuk First Nations, Okwáhowak (Wolf Clan), based in the One Dish One Spoon Wampum Tsi' Tkarón:to, known as Toronto or the 6ix. Mahlikah is a poet, musician, hip-hop emcee, recording artist, arts educator, social change workshop facilitator, performance artist, keynote speaker, artist mentor, festival curator, Director of Programming for Neighbourhood Impact for the Toronto Centre for Community Development & Learning in Regent Park, and founding member of Red Slam, an Indigenous Cultural Arts Movement. Awe:ri is a KM Hunter OAC Literary Arts Award finalist, 2017 TD Diversity Arts Award Finalist, published in 7 literary anthologies, and is the only Canadian Motivational Speaker for Sonali Fiske's 2018 BIWOC online Master Class; and the only hiphop artist featured in the international digital storytellers project: Biology Of Story which premiered at the 2016 SXSW Festival.
As an Educator and Artist Mentor, she has been designing and delivering engaged creative cultural arts learning experiences through an indigenous lens in partnership with TDSB Arts Department, TDSB Aboriginal Education Centre, Art Gallery of Ontario, Ontario Arts Council, TDSB HipHopStemposium, Louder Than A Bomb, Toronto Arts Council and the Toronto Centre for Community Learning & Development for a decade.
In 2018 Mahlikah opened the Annual Toronto Arts Foundation Mayoral Arts Awards Luncheon, The Union Summer Market, the Luminato Arts Festival with Amal Clooney and the Jr. Economic Club of Canada's North Meets South Exchange. Upcoming performances and speaking engagements include Nuit Blanche Scarborough; OCASI Executive Directors Forum; CODE in the 6ix Conference; East End Arts Weekend of Words and Girls Inc of Halton Luncheon. Current literary projects include submissions for Black Speculative Arts Movement Canada and American publication Life As Ceremony Vol 6 " Reclaiming Our Culture, Remembering Our Selves".
As a TAC Cultural Leaders Fellow, Arts Network Committee Member, and one of the New Faces of Feminism, as named by the Canadian Labour Congress, Awe:ri utilizes such platforms to lead the charge of art for social change movements across Turtle Island, with a focus on access & equity for BIPOC & LGBTQ2S emerging artists.
---
FEATURED PERFORMERS
Jayda Marley is a spoken word poet based in Toronto, raised in the Jane and Finch area. She has been writing and performing since 2014, sharing her experiences with homophobia, rape culture, and growing up as a young biracial woman in Canada. In 2015 she was awarded the Toronto Black Student Recognition Award after performing one of her earliest slam poems, "They Underestimate." With the West End team, she currently holds the "Voices of Today" national championship, and her poetry has been published in the nationally distributed West Enders magazine. She is set to compete on the BAM Youth Slam team in 2019.
---
Amica Kaarina is a two-spirit black/indigenous spoken word artist from both Sapotaweyak Cree Nation and St. Kitts & Nevis. They have focused most of their time reclaiming their identity through spoken word and community.
---
Jennifer Alicia is a spoken word artist originally from Ktaqmkuk (Newfoundland), now residing in Tkaronto, Ontario. She is a Canadian National Poetry Slam Champion and member of Seeds & Stardust: an Indigenous women's poetry collective. Jennifer Alicia's poetry tells stories of love and rage.
---
D'Scribe the Poet is an Indigenous (Blackfoot/Mi'kmaq) spoken word artist who uses his work to discuss topics such as mental illness, boundaries, and Indigenous rights. D'Scribe has competed at events such as the 2016 Canadian festival of spoken word in Winnipeg, the 2017 Canadian Individual poetry slam championship in Vancouver, and the 2017 International queer poetry championship Capturing fire in Washington DC where he performed on final stage. As a core team member of the Hamilton Youth Poet's (HYP), D'Scribe and his teammates are presently ranked 2nd provincially, and hold the championship title for young voices Nationally. D'Scribe is proud to be part of HYP's teaching artist corps and is looking forward to working with schools throughout Hamilton. When he is not pouring his heart out into a microphone he is working on his Psychology Degree at Brock University.
RSVP
Spots for this workshop are limited. Please click and RSVP on Eventbrite to reserve your space!
---
Weekend of Words is a free, three-day celebration of language and literary arts in east Toronto from September 14-16 at St. Matthew's Clubhouse, featuring literary performances, workshops, and more.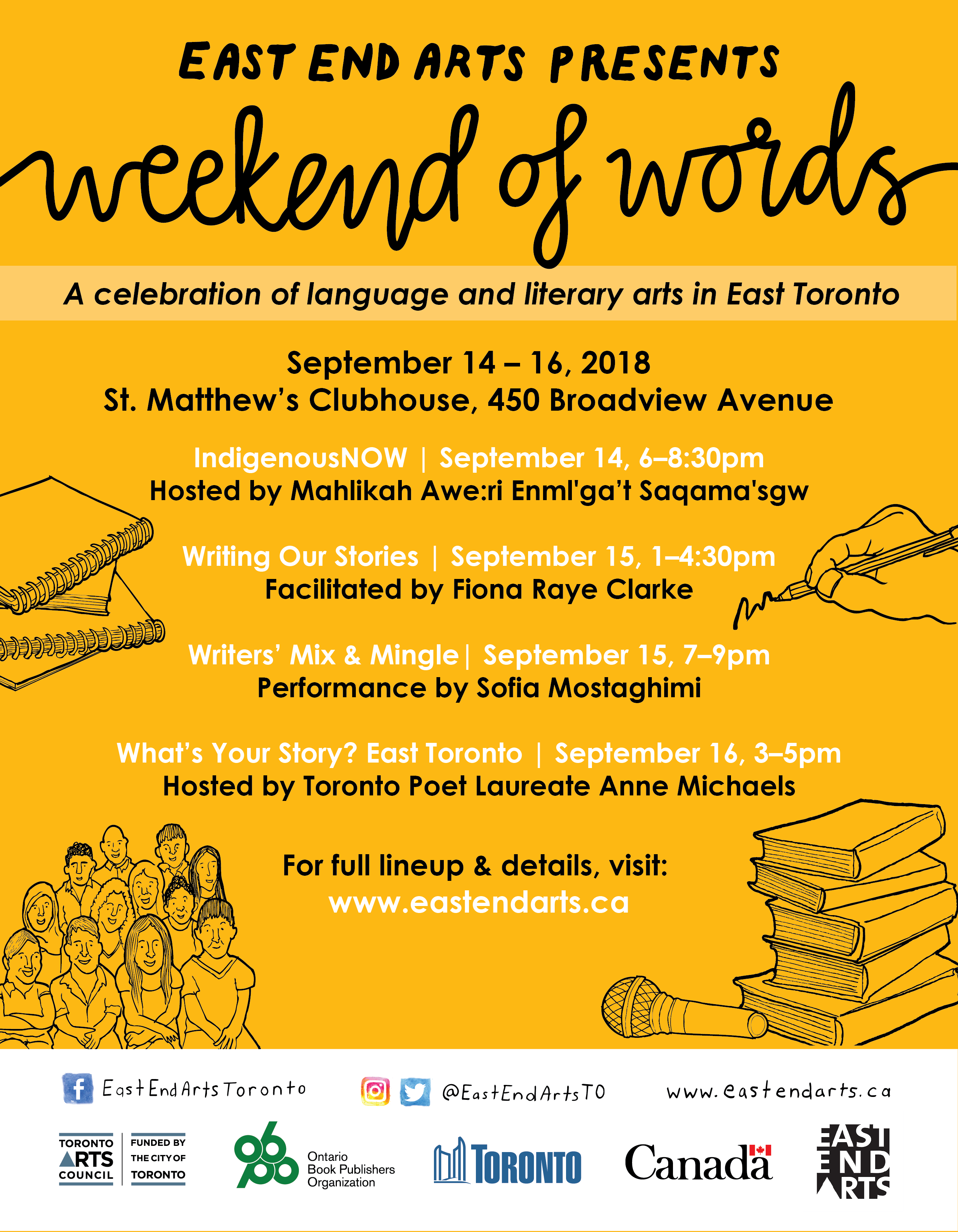 East End Arts strives to make our programming as accessible and inclusive as possible. If there are any accommodations that you require, please send an email to info@eastendarts.ca and we will do our best to meet your needs.
---
Register to receive ARTS-E-NEWS, a monthly e-newsletter update from East End Arts that shares Toronto-wide opportunities for artists and arts-related events in the east end. Sign up for Youth ARTS-E-NEWS for news about youth opportunities and events.
Follow us online at our social media channels to stay in the loop!
Website | Twitter | Facebook | Instagram| #EastEndLove