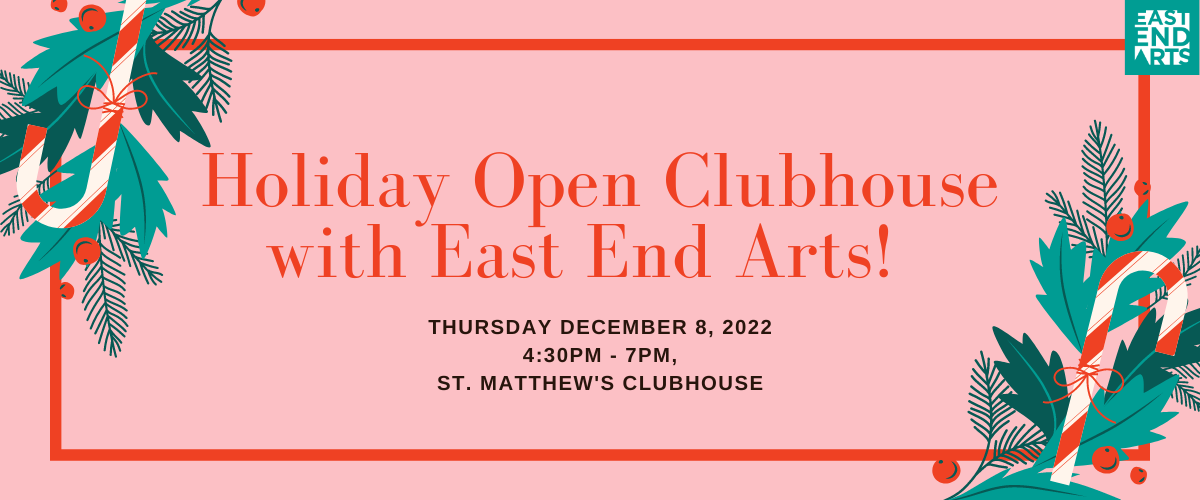 Holiday Open Clubhouse
Thursday December 8th, 2022
St. Matthew's Clubhouse, 450 Broadview Ave.
Time: 4:30PM-7:00PM | FREE to attend
RSVP HERE ON EVENTBRITE
Mark your calendars, because you're invited to our second annual Holiday Open Clubhouse!
2022 was an incredible year for the East End Arts team! Some of our 2022 highlights as a nine-year-old community arts non-profit included, producing our biggest and best Nuit Blanche hub to date; bringing back ArtMEETS and eight sold-out textile themed workshops; presenting two popular online art programs for seniors, Doorstop Diaries and TAPESTRY; hosting Girls & Enby Mural Camp for its fifth year in a row, and so much more. Now it's time to celebrate!
Please join us on Thursday December 8th, 2022, drop-in style from 4:30-7:00PM for an end-of-year holiday celebration at our Clubhouse to toast all that we presented in 2022, and all the artists and creators who worked hard to make it happen! There will be holiday treats to enjoy, including cookies, hot apple cider, and a special hot chocolate bar, and an awesome local arts-themed gift basket that we will be raffling off. You'll also get to meet the EEA team, meet many of the local artists we worked with, and mingle with local arts-loving community members like yourself! Finally, there will be a fun station for you to paint and decorate your own holiday ornament to take home.
ACTIVITIES TO ENJOY:
Enjoy complementary drinks and treats like cookies and hot chocolate
Meet the East End Arts staff team and many local artists who helped make 2022 so special
Buy some raffle tickets for a special arts-themed gift basket in support of East End Arts
Learn about our 2022 programs and events
Decorate your own holiday ornament to take home
And more!
RSVP:
Let us know you'll be popping in to our Clubhouse by visiting the link below!
COVID SAFETY:
East End Arts has always been dedicated to the health and safety of all its participants and our community at large. As such, East End Arts would like to remind all visitors to our Clubhouse that our home is a mask-friendly space. We would also like to remind you to take care of yourselves and others as much as possible, which includes staying at home when you are not feeling well; maintaining a safe distance from others (at least 1 metre), even if they don't appear to be sick; cleaning your hands often with soap and water, or an alcohol-based hand rub; covering your nose and mouth with your bent elbow or a tissue when you cough or sneeze; and more. Please note that throughout our holiday open house we will have open windows to keep it well-ventilated. If you have any questions or concerns about this, please do not hesitate to reach out to us.
DIRECTIONS & PARKING:
We encourage everyone to take public transit when and where possible! There are several TTC routes that will easily get you to our Clubhouse:
The closest subway station is Broadview station.

The closest bus is the 505 Dundas, which will drop you off at Broadview Ave/Langley Ave.

The closest streetcars are the 504 King, which will drop you off at Broadview Ave/Langley Ave, or the 506 College, which will drop you off at Gerrard St. East/Broadview Ave.

There are bike rings out front to accommodate your bike if you choose to cycle to the Clubhouse (although it might be snowy so bike carefully!!)
Please note that there is no public parking available at St. Matthew's Clubhouse. Metered parking is available on the surrounding residential streets. Be sure to read the posted street signs to avoid being ticketed or towed. Also note that there are paid parking lots at Bridgepoint Hospital (down the street from us).