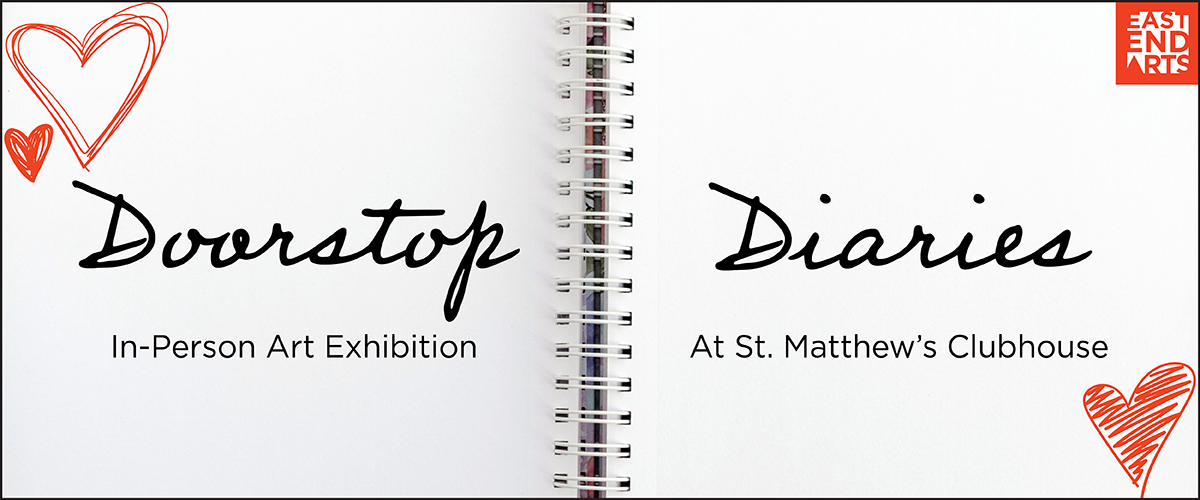 Doorstop Diaries, our at-home art program for seniors, is wrapping up with an exhibition at St. Matthew's Clubhouse this month, and we want you to come! 
DOORSTOP DIARIES EXHIBITION
April 2nd – April 8th, 2022
In-person at St. Matthew's Clubhouse
Upstairs at 450 Broadview Avenue
Doorstop Diaries was our at-home art program for seniors to learn new art techniques, have fun, sharpen their digital skills, and tell their stories through a set of "travelling journals". From July 2021 to February 2022 twenty-four seniors enjoyed ten incredible workshops with eight+ incredible arts facilitators, and received a series of weekly email art-prompts to help fill the pages of their journals. Throughout the course of the program the diaries were swapped with other participants, making this a true community collaboration. Now, the program is culminating with an exhibition at St. Matthew's Clubhouse for people to view and enjoy the contents of these diaries!
ABOUT THE EXHIBITION:
Dates: Saturday April 2nd – Friday April 8th
Times: 12-5pm every day from April 2nd to April 7th, and 4-8pm on Friday April 8th (Last day)
Location: St. Matthew's Clubhouse, 450 Broadview Avenue
We invite you to pop by our Clubhouse to explore the incredible artwork created by our senior participants this April. Feel free to bring your family and friends, take in the artwork, mingle with some of the East End Arts staff, learn about some of our other upcoming programs and events, and more! We continue to ask our visitors to wear a mask when walking around the gallery space for the health and safety of our staff. Please note that our space is fully accessible with an accessible, gender-neutral bathroom.
Can't make the exhibition? Be sure to check out the videos and artwork below by our senior artists!
INTERVIEWS WITH OUR SENIOR ARTISTS:
Check out these mini interviews with some of our Doorstop Diaries Senior Artists to hear about their experience with this program!
ARTWORK FROM OUR SENIOR ARTISTS: