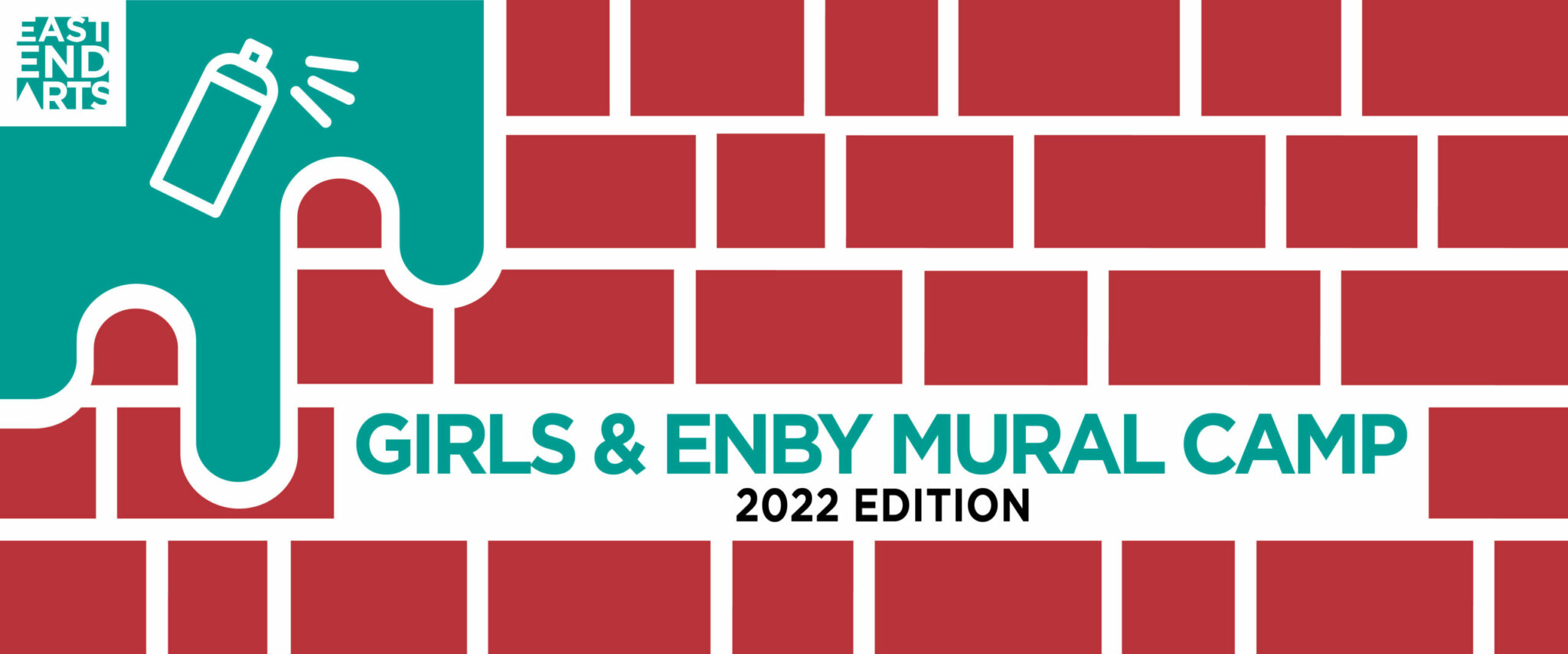 Girls & Enby Mural Camp 2022 was a big success! Read on to learn more about this exciting community arts program.
About Girls & Enby Mural Camp
Girls & Enby Mural Camp (GEMC) is a summer arts program for youth between the ages of 14-18 who self-identify as young women, girls, or non-binary. Through a combination of in-class learning and at-home practice, participants of this camp explore the history of street art, graffiti and murals, and develop their own individual artistic style. The camp always culminates in a collaborative mural that the campers create with their fellow campers and the guidance of renowned street artists!
This year's camp took place from August 8-12, and was led by muralists Monica Wickeler and Bareket Kezwer. For the mural design, our campers explored the theme, "The Space Beneath Us", based on our 2022 Nuit Blanche hub theme. You can look forward to seeing our campers work on display at Nuit Blanche East Danforth thanks to The Danny BIA providing an exhibition space for their amazing panel mural!
About the GEMC 2022 Mural – Artist Statement
"This piece is a literal take on the theme, "The Space Beneath Us", taking us into the sewers and tunnels underneath our feet. A perfect mix of aerosol, comedy, and rodents, this mural shows an intricate world below our city; a complicated tangle of lives just as rich and fulfilling as our own.
While we could have taken a more serious approach to this year's Nuit Blanche East Danforth theme, we wanted to keep it playful and fun. A simple idea of an animal multiplied and grew into an entire animal kingdom. There are rat couples who kiss and love, rat families that sleep and fight, and other creatures who live down below the ground. This beloved piece is filled with imaginative creatures who each have their own elaborate lives and backstories; we all contributed our own ideas and personalities to this work of art.
Ultimately, this mural reminds us that each life is complicated and different with its own stories and lessons. It never hurts to look at the space beneath us, because then we discover the incredible worlds that exist down below."
Thank you to our talented group of youth artists from the 2022 camp! Thanks to: Mackenzie C., Ivy O., Maiko R., Oli D., Ethne M., Kyla T., Nomsa P., Poppy G., Lea E.K., and Imogen M.
Girls & Enby Mural Camp 2022 Video
A special thank you to Shay Markowitz for capturing Girls & Enby Mural Camp 2022 in this fantastic video!
About the Lead Artists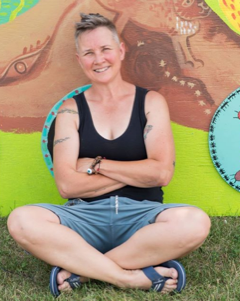 MONICA WICKELER
Also known as monica on the moon in the public art industry. When Monica isn't found on tip-toes at the top of scaffolding or balancing a ladder just so to reach the top corner of a mural, she can be found sharing her joy of mural/street art with public school students and sharing how it can transform a community or forgotten space in the most beautiful way.
Monica is a trained visual artist who has worked in the large scale painting industry in Toronto for many years. In outdoor advertising as a mural artist and in the film and television industry as a scenic painter. More recently she can be found reclaiming community spaces with her vibrant public art. Painting community murals in playgrounds, on wading pools, in pedestrian laneways, on construction hoarding and on just about anything that stays still long enough.
Facebook | Instagram |  Website
---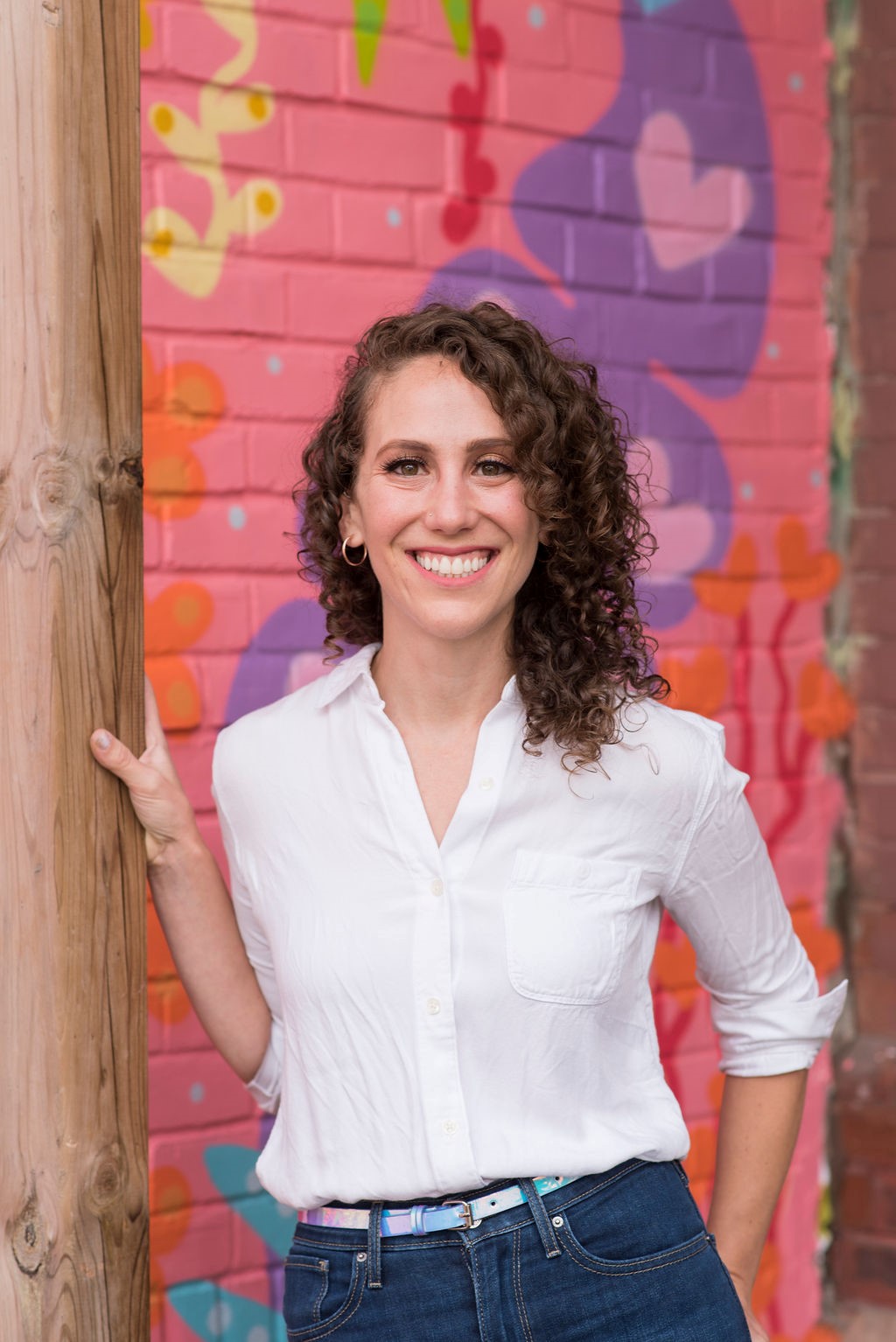 BAREKET KEZWER 
Bareket (she/they) is a muralist, community engaged artist and facilitator, curator, cultural producer, graphic designer, frequent collaborator and eternal optimist.
Her multidisciplinary practice is motivated by a desire to spread joy, cultivate gratitude, celebrate the power of kindness and compassion, and support the growth of inclusive and connected communities. She programs and facilitates projects that enable people to express themselves through creative engagement and increase representation of Toronto's diverse population. In her murals, she works with bright colours and bold patterns to captivate people's attention and fill them with delight.
In 2017, she founded Women Paint, a street art jam celebrating the strength, resilience and diverse stories of women and non-binary artist and community members. As the initiative's creative director, she has produced 80 murals by emerging and early career artists, and facilitated intergenerational community murals and mural camps with youth.
Instagram  |  Website | Women Paint Website[/vc_column_text][/vc_column][/vc_row]
About East End Arts
East End Arts is a non-profit community arts organization that serves the east end of Toronto. We provide inclusive arts programming and events to our local communities, including youth, newcomers, seniors and priority groups. We also provide professional development opportunities to both emerging and established artists and arts organizations.
Funders & Supporters