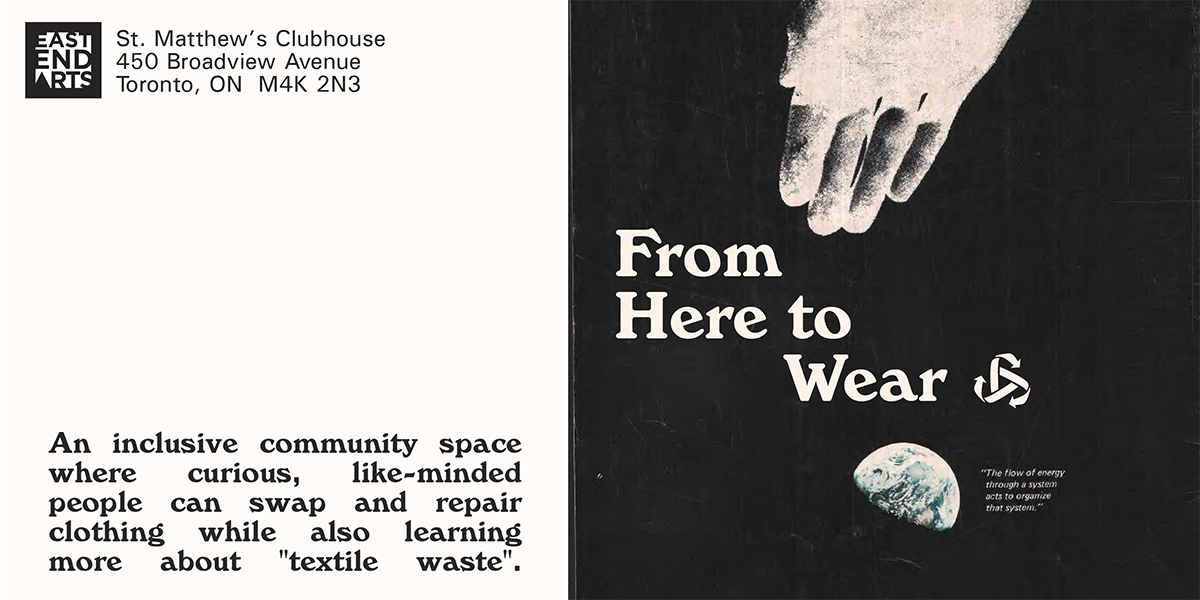 Come and join us this summer for the return of this exciting, fashion-sustainability program run by artist, Norwin Anne! Enjoy an inclusive community space where curious, like-minded people can swap and repair clothing while also learning more about "textile waste".
From Here to Wear: Reviving Textiles, Summer 2023 Edition
Every third Sunday of the month, May-August 2023
Time: 12:00 – 6:00pm
St. Matthew's Clubhouse, 450 Broadview Avenue, Toronto
Cost: PWYC (Pay What You Can)
REGISTER ONLINE HERE
What to Expect
The Summer series of From Here to Wear will continue to feature a larger Reviving Textiles workshop! Do you have a growing pile of clothes and textile projects that you've been wanting to work on? Do you just want to practice your sewing skills? Or learn the art of repair? Join this community drop-in Mending Circle to connect with other people in this creative space! There is also a new opportunity to join us as a collaborator for a Community Project as part of Nuit Blanche, East Danforth! Scroll down to the bottom to learn more.
~ Happening every third Sunday of the month from May to August 2023 — May 21, June 18, July 16, August 20!
✦ Welcome to all bodies, identities and ages! ✦
Hate and discrimination in any form will not be tolerated!
Reviving Textiles intends to promote a repair and reuse culture with our clothing. Learn about the impacts of "textile waste", while enjoying the process of mending that encourages more purposeful creative practices that focus on different methods and techniques to transform textiles. No sewing and crafting skills required as there can be a separate approach for each participant that can be adjusted based on their level of experience.
This event creates a circular closed loop system for clothing that people no longer want, while promoting a reuse and "waste not, want not" mentality. It's a fun alternative to shopping and an engaging way to upgrade your wardrobe — a conscious practice on how to be more intentional with the clothes you wear.
Bring your own clothes that you want to mend, rework and / or take anything from the "mendables" section, they're pieces that are slightly damaged and imperfect that are ready for their second life!
There'll still be an opportunity to swap clothing, which will be a separate section on the patio (unlike at previous events where it was all indoors), the main highlight inside the Clubhouse will now be the Textile Library Lab — a mending station with a collection of salvaged materials where participants can use sewing machines and available supplies to repair / alter their clothing, including an opportunity to learn basic sewing skills for simple fixes (ex. how to sew a button, fix a ripped seam, do patchwork, etc) and receive guidance or ask any questions.
Rules & Guidelines
Please wash and dry all clothes beforehand. You're welcome to bring up to a maximum of 10 clothing items — but note that there's a quality check to determine if your items will be for swapping (Is it still in good condition? Would you pay for it? Give it to a friend? If you answered yes to all, then it'll be perfect for the swap!), repairing or *reusing.
*We accept and separately collect "textile waste" which is anything unwearable and beyond repair, they'll be deconstructed to be repurposed for other uses or shredded. These must be in clean condition as well, we don't want to handle anything unsanitary so be respectful and considerate — please don't treat this as a garbage dump!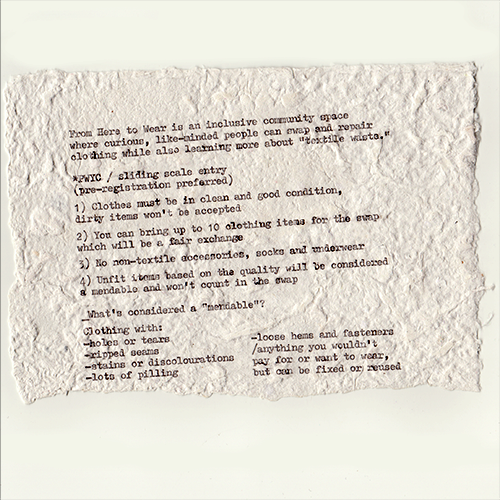 The clothing swap will be a fair exchange, so if you bring 5 items then you can take 5 items. During quality check if any items are unfit for the swap, it'll be considered a "mendable" and will not be part of the exchange / count — these are placed separately by the Textile Library Lab and are up for grabs with no limit (great for those willing to repair, rework or want to reuse it for a project). Participants should be browsing through only a good selection of items, so this process makes the swapping experience more enjoyable when there's no "junk".
GENERAL RULES:
*PWYC / sliding scale entry (pre-registration preferred)
Clothes must be in clean and good condition, dirty items won't be accepted
You can bring up to 10 clothing items for the swap which will be a fair exchange
No non-textile accessories, socks and undergarments — excluding bras
Items unfit for the swap based on the quality won't count and are considered a "mendable"

_What's considered a "mendable"?  Clothing with:
holes or tears
ripped seams
stains or discolouration
lots of pilling
loose hems or fasteners
/basically anything you wouldn't pay for or want to wear, but it can be simply fixed or repurposed
At the end, the remaining pieces that aren't swapped will be sorted and responsibly distributed to local nonprofits / grassroots groups in our community that work directly with people who are in most need.
If you're not interested in swapping and just want to donate clothing, please inquire for a list of places in the GTA that may accept your donations instead of giving them to for-profit organizations and / or consider these other options from this page.

About From Here to Wear
This initiative aims to raise more awareness on the problems surrounding the management of "textile waste" and to help prevent them from being disposed of improperly. Toronto doesn't have a separate collection for it like electronic and household hazardous waste which are more commonly available. While there are private collection bins, more than half of all clothing donations from those along with thrift stores and textile recycling programs are actually exported — reference to Kantamanto Market in Ghana and the Atacama desert in Chile. So after learning about how most of our secondhand clothing ends up overseas where they turn into toxic waste sites (which not only threatens those communities but also contributes to worsening climate change), the goal is to help manage unwanted clothing / textiles in our local community and divert it from landfills.
To learn more, read the EEA blog post: Talking Textiles with Norwin Anne!
wastecollective@pm.me
!
*For updates on future From Here to Wear events and other similar initiatives, join the mailing list here.
Call for Nuit Blanche Collaborators!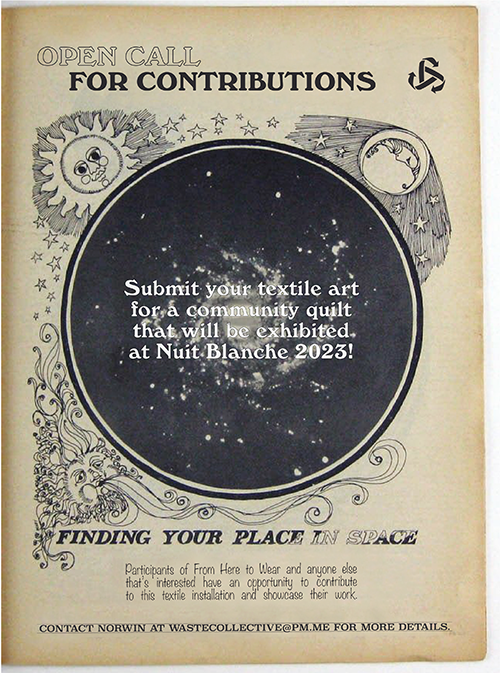 Norwin Anne is looking to put together a community quilt to display at this year's Nuit Blanche East Danforth festival in the fall, and participants of From Here to Wear / anyone else who's interested in contributing to this textile installation now have an opportunity to showcase their work! With the theme of textile circularity, contributors are asked to reflect on this prompt — "What does slow fashion mean to you?" and create a visual response on a 10" x 10" fabric square using any kind of surface design techniques. The fabrics used will be from the Textile Library, which are the clothing and textiles that have been diverted from landfills through the From Here to Wear program. All of the completed squares will be stitched together into a collective tapestry and then presented on September 23 as part of Nuit Blanche East Danforth!
Interested in participating? Join us at one of our Summer From Here to Wear Sessions, and talk to Norwin or an East End Arts staff member to learn more and get materials to participate!
About the Facilitator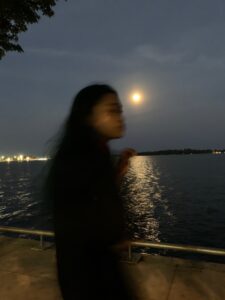 Website: Portfolio | WeAreSavingThe.Earth
Instagram: @norwin.anne
Norwin Anne is a Filipinx textile based artist / designer, (re)maker and eco-culture communicator. They studied Fashion Techniques and Design at George Brown College with a waste conscious approach and slow fashion mentality. Primarily working with secondhand materials, they started focusing on textile waste as a research study during school which evolved into learning more about the concept of waste in general to understand its environmental impacts and beyond. They want to continue developing their ideas and merge their knowledge of fashion with other subjects.