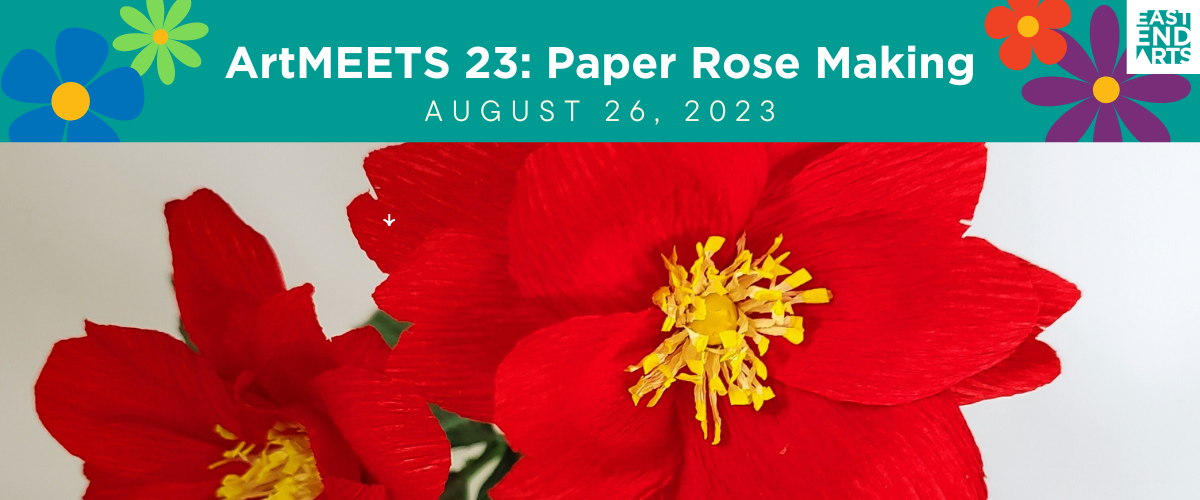 ArtMEETS 23: Paper Rose Making!
Facilitator: Nancy Lalicon
Saturday August 26th, 2023 | 1-4pm
St. Matthew's Clubhouse | 450 Broadview Avenue
Cost: PWYC, $10-$50 | Register on Eventbrite

ABOUT THE WORKSHOP
Make a beautiful realistic paper rose!
During Nancy's workshop participants will make a wild rose branch with 2-3 crepe paper flowers with an option to make one bud and a few leaves. Participants will choose a colour from a selection of crepe papers and have an opportunity to use various mediums to add colour to the petals. They will also bring home enough paper to continue to make 2-3 more flowers and buds. No experience is necessary and all are welcome! Come and surprise yourself by seeing how beautiful paper flowers can be.
In addition to the workshop participants will have the option to join Nancy on a two hour nature walk with the meetup group "Immersive Botany: Toronto Tree and Plant Identification Club". We will walk along the Don River with Danielle who is an amateur botanist with 11 years experience looking at the flora and fauna of Ontario. During the walk she will show and identify flowers and plants while, as an artist, Nancy will discuss how the experience of looking and learning about the plants around her informs the work she creates. This activity will be scheduled one week before the workshop and will be optional for the participants. There will be a very affordable separate fee ($10 which includes a 1+ guest) directly paid to the meetup group. If interested please go to the Meetup Page HERE.
ABOUT THE FACILITATOR
Nancy Lalicon discovered the art of making realistic paper flowers in early 2020. She favors making flowers with lots of details such as agapanthus, dogwoods, and thumb-sized violets with roots. For Nuit Blanche 2022 Nancy exhibited her first paper flower installation entitled 'Jupiter's Beard (A Meeting of the High Up and the Deep Down)' which she will exhibit along with new work in early Spring 2024 in Montreal. Nancy has shared the art of making paper flowers in workshops for Imagine in the Park – an art festival for children and families, Workman Arts Satellite with East End Arts, Parkdale Queen West Community Health with Seniors, and other community based organizations.
As a visual artist Nancy splits her time between working as a data analyst and continuing her art practice. She combines a love of making with an interest in data analytics, information theory and a curiosity of theoretical physics. Crafting has been integral to her making process and informs the techniques she uses to make sculptural work. Crafting has always been part of her repertoire as an artist. Nancy studied Sculpture at the University of Victoria, Emily Carr College, and Concordia University, Montreal where she obtained her MFA. She currently lives and continues her creative practice in East York.
COST
Each ArtMEETS workshop will cost $10-$50 per person to attend (on a sliding scale of Pay What You Can). Payment is to be made online at the time of registration, which will be done via Eventbrite. Payments through Eventbrite can be made with any major credit card, or through PayPal. If you are unable to pay online, we also accept cash or cheque, which is to be paid before the day of your workshop. If you need to pay with cash or cheque, or you would like assistance through the payment process, please contact East End Arts at info@eastendarts.ca.
If you are not able to attend an ArtMEETS workshop that you've registered for, specifically if you are feeling unwell, please let us know as soon as possible and we will be happy to issue you a refund, or offer you a spot at an upcoming ArtMEETS workshop, if and where possible. You may also feel free to transfer your ticket to a friend! If you're transferring your spot to another person, be sure to email them your ticket or hand it to them personally, and let East End Arts know in advance.
PLEASE NOTE: If you require financial assistance, please contact EEA's Operations Coordinator Tyler, at tyler@eastendarts.ca. Nobody will be denied participation due to lack of funds, but please note that there will be high demand to participate in this program, so if you require financial assistance, please reach out early!
DIRECTIONS & PARKING
Participant & staff safety are of utmost importance to East End Arts and will be a priority during the program! Please note the following:
If you are feeling unwell, we ask that you please postpone your visit to our Clubhouse, and let us know about your absence as soon as you're able.
Masks are not mandatory inside our Clubhouse, however we continue to operate a mask-friendly space, and we welcome all visitors, employees and volunteers to wear them.
We continue to ask all of our participants and visitors to practice social distancing, when and where possible.
Enhanced cleaning routines remain in place in our Clubhouse.
Hand sanitizer and disposable masks will be available on site for anyone who needs them.
We have a fully accessible, gender-neutral bathroom on site.