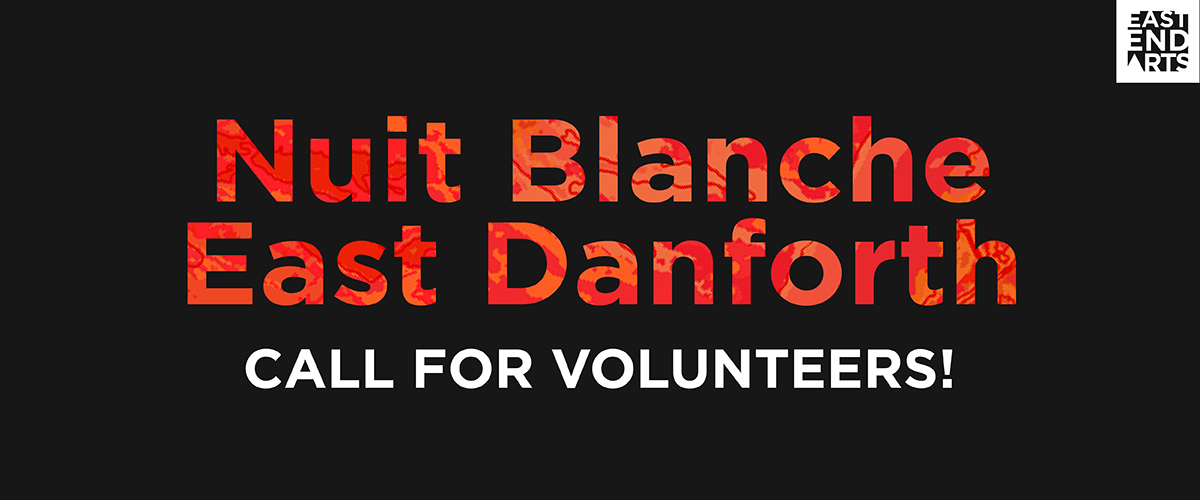 Volunteers are crucial to the success of our Nuit Blanche East Danforth Hub! Sign up today to join us for this incredible opportunity! Deadline to apply is Tuesday September 5th, 2023!
We're so excited that Nuit Blanche Toronto will be coming to East Danforth for its third time! It will take a village of passionate community members to support the East Danforth Nuit Blanche Hub from sunset to sunrise on the weekend of September 23rd. Roles vary from Accessibility Assistants, Artist Assistants, Information Ambassadors, Project Facilitators, Social Media Ambassadors, and Ushers. Scroll down to learn more!
How to Apply
Complete a volunteer application, found at the bottom of this page.
Attend a training session at St Matthew's Clubhouse (450 Broadview Avenue) on the week of September 11th, 2023 (exact days and times TBD)
Volunteer Event Location
Nuit Blanche East Danforth will take place along Danforth Avenue, between Donlands TTC Station to East Lynn Park.
Event Date & Time
Saturday, September 23, 2023, 7pm-7am. Shift times vary.
Pre- and post-event volunteer opportunities are also available.
Time Commitment
The volunteer time commitment for Nuit Blanche East Danforth Toronto is 3-12 hour shifts to help us run the hub from 7pm-7am. All volunteers are required to attend a pre-event training session.
Becoming a volunteer is easy!
Are you:
Interested in festivals and events?
Want to develop or share your event management skills?
Interested in meeting new people?
Age 16 or older?
If you answered yes to all questions, we invite you to apply by filling out the form found at the bottom of this page!
For more information contact Cynella Cyril, Program Manager, at cynella@eastendarts.ca
Benefits of being a Volunteer:
As a Nuit Blanche East Danforth Volunteer, you will:
Assist at one of Canada's leading contemporary art events
Acquire new skills in event production
Experience the great feeling of helping Toronto be a leading arts city
Contribute to East Danforth's well-being
Earn volunteer hours towards community service
To become a Nuit Blanche East Danforth Hub Volunteer, you must attend an in-person training session to review safety and expectations as a Nuit Volunteer. The training session will take place on Wednesday September 6th, 2023 from 7:00-9:00pm at St. Matthew's Clubhouse.
As an EEA Volunteer for this event, you will receive:
Refreshments

One hot meal
Tons of snacks, treats, and beverages throughout your shift (lots of coffee and candy)

Certificates of hours (if needed for school or community services)
A fun experience at one of East Toronto's largest outdoor art events
And more!
Volunteer Job Descriptions
Accessibility Assistants
Accessibility Assistants help escort patrons who use wheelchairs and other assistive devices to the event's accessibility area(s). They have the authority to request that other people vacate the area if they don't need it. This position is ideal for friendly people who like to help patrons with special needs, and involves some walking.
Information Ambassadors
Information Ambassadors provide front-line, top-calibre customer service to festival visitors. They are the goodwill ambassadors who keep everyone informed. Responsibilities include helping patrons navigate the event by distributing information materials, answering questions and giving directions. This position is ideal for friendly people with good communication skills and high energy who want lots of interaction with patrons, but no supervisory duties.
Artist Assistants
Artist Assistants help the artist and/or performer in a myriad of ways. Responsibilities include assisting with performance logistics and escorting them to the performance area. This position is ideal for people familiar with helping artists and/or performers and with some previous theatre or event experience.
Project Facilitators
Project Facilitators provide unique and varied assistance to event patrons (i.e. the public) about how to interact with the art, theatre, music or architecture projects. Responsibilities include ensuring patrons have the tools and information to interact with the project appropriately. This position is ideal for friendly people who want lots of interaction with patrons, as well as hands-on experience with the projects, with no supervisory duties.
Ushers
Ushers also provide front-line, top-calibre customer service to festival visitors while they wait to view projects and ensure their successful navigation through line-ups. Responsibilities include greeting the audience and crowd control. This position is ideal for friendly people who like participating in crowd management and are willing to be assertive, but want no supervisory duties.
Social Media Ambassadors
Social Media Ambassadors are digitally-savvy people who love to capture the magic and energy of the night, including all the art and people in attendance. Responsibilities include taking photos and videos of the hub throughout the evening, and sharing it online with our dedicated hashtag. You'll also encourage visitors to share their experiences on their devices as well. This position is great for someone who loves to be on social media, take photos, and have fun.
Sign up to Volunteer at our Nuit Blanche 2023 Hub today!