NUIT BLANCHE EAST DANFORTH: IN VIEW CALL FOR ARTISTS
Deadline EXTENDED: Sunday July 16th, 2023 by 11:59PM
Toronto's sunset to sunrise celebration is the largest contemporary art event in North America, and we're so excited to be welcoming our third hub in East Toronto this fall! Thanks to our main partner, The Danforth Mosaic BIA, and our new partner, Native Women in the Arts, we're presenting another all-night art experience to our East Toronto communities along Danforth Avenue, between Donlands TTC Station to East Lynn Park!
This year Nuit Blanche Toronto looks at the theme Breaking Ground, which speaks to a multiplicity of themes and ideas centred around the natural world and being at the vanguard of change and innovation. Think about the implications of climate change, construction and development of the city's urban landscape, the impacts on communities, and our collective responsibilities around land and stewardship.
For East End Arts, our thematic focus for our 2023 East End Hub is "The Future of the Danforth", asking artists and community members to imagine the Danforth of the future, 200 years out. Will it feature flying electric self-driving cars, and technological advancements too complex to comprehend? What will the streetscape look like? Will it be a barren post-apocalyptic landscape void of colour and nature? What will our relationship with the environment look like? Will everyone honour the dish with one spoon treaty? Will the natural world thrive because we finally live in a waste-free world where the idea of "single-use" is a relic of the past?
This fall, we invite you and your familiars to join us for Nuit Blanche East Danforth 2023 (#NBED23), which will feature an impressive storefront gallery series from the future, a textile waste laundromat experience, video projections honouring past and future, reclaimed public art installations, and so much more! Scroll down to learn more about this IN VIEW Artist Call and you could help us transform storefront locations within the Hub area into a series of temporary artistic experiences and gallery installations! We're also looking for business partners and volunteers to join us too!
What is IN VIEW?
IN VIEW is a series of storefront gallery installations which pairs local business owners with artists from across the city to transform their storefront windows for one magical evening under our hub theme "The Future of the Danforth". We invite artists to reflect on what the Future of the Danforth looks like and means to them.
For example, we encourage you to think about the enormous changes being made to the Danforth, and for that matter the east end! The Ontario Line will be cutting through and under our neighbourhoods; the entire mouth of the Don Valley River is being rebuilt, redirected and the Portlands and East Harbour site re-envisioned; and large swaths of the East Danforth have been purchased by developers awaiting redevelopment and to break ground. These projects will literally change the face of the neighbourhood over the next 20 years, leaving it almost unrecognizable.
We also ask you to think about climate change and the environment. The climate crisis, especially in light of the COVID-19 pandemic, has shown us that Western society's existing relationship with the environment is broken: it has become disconnected, impersonal, and narrow. Toronto has always been subject to the dish with one spoon treaty, (a covenant between the Anishinaabe and Haudenosaunee to share and care for the land and resources in the lower Great Lakes area). When will all citizens on Turtle Island finally honour this treaty and its teachings?
All artists who are interested in applying to IN VIEW are encouraged to keep sustainability at the forefront of their designs, and use and draw inspiration from recyclable materials, household items, and wares that are relevant and/or unique to the respective local business to transform their storefronts. We've been thinking a lot about the time, materials, and investment that goes into temporary public art installations and what happens to them afterwards. We encourage artists to consider the lifecycle of your installation for IN VIEW.
When is Nuit Blanche?
Nuit Blanche takes place from 7 p.m. on Saturday, September 23 to 7 a.m. on Sunday, September 24, 2023. Artist load in time will be negotiated with the prospective host business owner upon selection and matching. Artists should aim not to disturb regular business hours; however, art installation and creation that is open to the community is a great way to build curiosity and excitement for the event. Should your idea include an interactive component for audiences, artists should plan to be onsite or have representatives there throughout the duration.
Other Ways to Engage
BUSINESS PARTNERS!
If you are a business owner and member of the Danforth BIA, you can volunteer your shop window to be a part of IN VIEW Storefront Installations! We're looking for approximately 20 businesses who will be paired with an artist to explore the themes around Future of the Danforth. If your window isn't appropriate for an installation and you would still like to participate, we invite you to consider extending your business hours to give festival goers the sustenance they need to keep going late into the night. We'll help promote your business on our hub map! 
If you are interested in becoming involved as a business in the Nuit Blanche East Danforth Hub, email Cynella Cyril, our Program Manager at cynella@eastendarts.ca.
VOLUNTEERS!
We're so excited that Nuit Blanche Toronto will be coming to East Danforth for its third time! It will take a village of passionate community members to support the East Danforth Nuit Blanche Hub from sunset to sunrise on the weekend of September 23, 2023. Roles vary from Accessibility Assistants, Artist Assistants, Information Ambassadors, Behind-the-Scenes Assistants & more!
Are you interested in volunteering at one of Canada's leading contemporary art events in East Toronto? Learn more and sign-up HERE!
IN VIEW Artist Compensation
Each IN VIEW artist will be paid with a $800 Artist Honorarium, inclusive of HST, per window installation. This fee must also cover any supplies or materials you need to purchase for your window installation.
IN VIEW Artist Support
Access to site-specific storefront locations on Danforth between Donlands TTC Station to East Lynn Park;

Professional documentation of your work;

Limited volunteer support with load in and out. If you are proposing an interactive activation, you can request volunteer support to help you run the activation. Please include this in the application;

Media relations support (Note: artists should feel comfortable with media interviews as they may be required to participate);

Marketing and promotional outreach through East End Arts, the Danforth Mosaic BIA, Native Women in the Arts, and Nuit Blanche networks (social media, e-newsletters and web).
Selection Process
We are looking to activate a minimum of twenty storefronts in our Nuit Blanche hub along Danforth Avenue. IN VIEW artists will be selected by a committee made up of East End Arts staff members, board members, Danforth BIA board members, Native Women in the Arts staff members, and possibly local artists as well. This year 40% of our IN VIEW activations are being prioritized for Indigenous and IBPOC artists.
Proposals will be evaluated based on:
How well the proposed installation fills up the window front;
How well the proposed installation engages viewers;
How well the proposed installation is connected to our key themes.
Important Dates
Deadline for submissions is Sunday July 16th, 2023
Results notification will be the week of July 24th, 2023
Business matching will take place during the month of August 2023
Artist installation will take place during the week of September 17th – 22nd, 2023
Nuit Blanche East Danforth 2023 will take place on September 23rd – 24th, 2023 (7pm-7am)
How to Apply as an Artist to IN VIEW
Thank you for your interest in joining East End Arts, the Danny BIA, and Native Women in the Arts in Nuit Blanche East Danforth IN VIEW 2023! To apply to our IN VIEW Artist Call, please email one single PDF document, which includes your answers and all support material*, to submissions@eastendarts.ca, with the following information:
Name of Artist or Collective
Postal Code
Website (if applicable)
Social Media Accounts
Artist Bio (200 words)
** This bio will be used as promotional material for selected artists.
CV & Headshot
** This headshot will be used as promotional material for selected artists.
Describe the installation that you to want create for IN VIEW 2023.
Please explain how your installation responds to the theme of "The Future of the Danforth".
Please provide a sketch or mockup of your installation.
What materials are required for your installation? Please include a budget for us.

Does your IN VIEW installation have any logistical or technical needs? Please note we cannot guarantee power to your site. If you require power for any of the components, you must plan for your own self-powered solution and include this in your materials budget.

Does your IN VIEW installation have any volunteer needs? Will you require volunteers to help run your activation or help the public with art making? If so, please provide details

.

Provide 6 examples of your work as support materials. Please include any supplementary audio/visual materials to help us get a feel for the work.
Please confirm if you are a member of any of East End Arts' Equity Seeking Groups:
-Local East Toronto Resident
-Female/Non-Binary Identifying
-Indigenous
-Black
-Person of Colour
-Person living with Disabilities and/or Mental Illness
-LGBTQ2+
-Newcomer
-Senior
-Youth
-Low Income Community Member
-High Density Tower Community Member
-Crescent Town Community Member
-Bengali Community Member
-Francophone
Please send your proposals to submissions@eastendarts.ca, with the subject line "IN VIEW Artist Proposal" by Sunday July 16th, 2023 by 11:59 pm.
*Proposals should be in one single PDF or Word document. Supplementary audio/visual materials can be included as email attachments or external links.
If you have any questions, please contact Cynella Cyril, Program Manager, at cynella@eastendarts.ca. No phone calls, please.
We are eager to receive your proposal. If you have any barriers to participation with this Call for Proposals, please email us explaining your situation and we will do our best to accommodate you!
Deadline for submissions: Sunday July 9th, 2023
Funders
THE DANFORTH MOSAIC BIA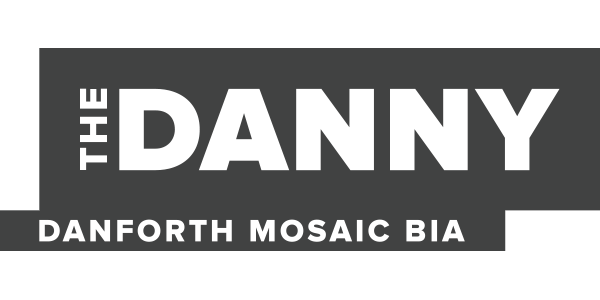 The Danforth Mosaic Business Improvement Area (BIA) was formed in 2008 with membership comprised of commercial property owners and business owners on Danforth Ave. between Jones and Westlake. The BIA works in partnership with the City to create thriving, competitive, and safe business areas that attract shoppers, diners, tourists, and new businesses. Their vision is to create a vibrant and well-maintained business area with diverse shopping and dining opportunities and services to attract the local community as well as visitors.
NATIVE WOMEN IN THE ARTS

NWIA (Native Women in the Arts) is a not-for-profit organization for First Nations, Inuit and Métis women and other Indigenous gender marginalized folks who share the common interest of art, culture, community and the advancement of Indigenous peoples.