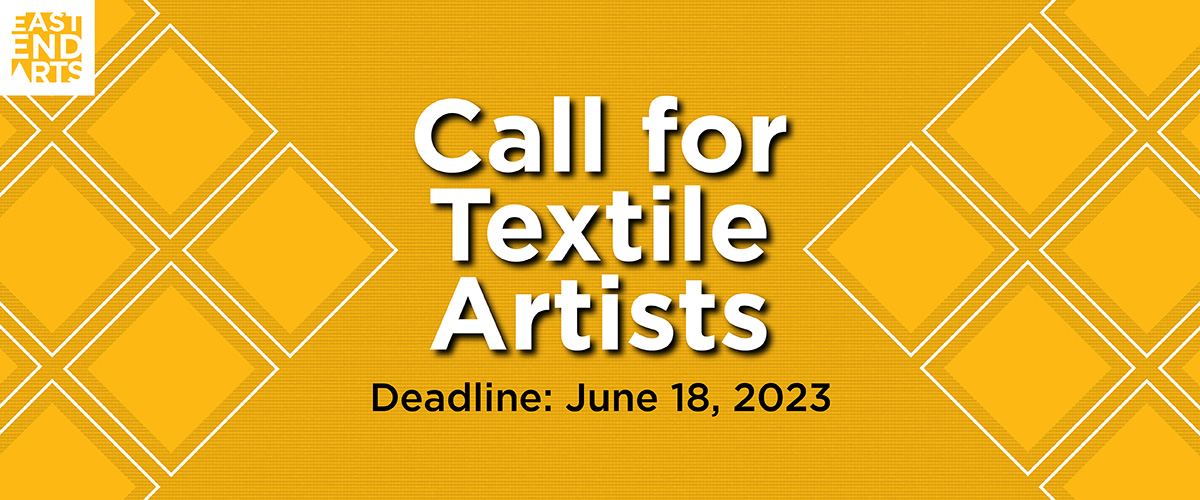 THE DEADLINE TO APPLY TO THIS ARTIST CALL HAS NOW PASSED. We are currently looking for some talented and engaging Textile Artists to facilitate workshops as part of our senior program, TAPESTRY: Stitched Stories! 
ABOUT TAPESTRY: STITCHED STORIES
TAPESTRY: Stitched Stories is a textile-based art program that allows up to 40 seniors in the east end of Toronto to try new textile art skills, learn basic digital literacy skills, and connect and get creative with other seniors!
TAPESTRY: Stitched Stories will take place over the course of six months – August 2023 to February 2024, and will feature six monthly textile workshops, all led by different textile artist facilitators. Each month senior participants will work towards completing a panel (roughly 10X10″) that will demonstrate their new textile art skill in whatever way they choose. Throughout the program participating seniors will also receive a combination of creative prompts to help keep inspiration and creativity high to contribute to the completion of their panels.
While the majority of the program will take place online through Zoom workshops and Facebook group chats, there will also be volunteer-led meetups and fabric swaps where seniors can meet at St. Matthew's Clubhouse to have conversations around textile practice and share insights with their peers. This program will culminate with an in-person exhibition at St. Matthew's Clubhouse where all of the panels from all of the workshops will come together to create six large-scale group tapestries for the community to enjoy and see!
ABOUT THIS CALL FOR ARTISTS
East End Arts is seeking submissions from textile-based artists and/or arts facilitators interested in sharing their textile-based art practice with senior participants through our program, TAPESTRY: Stitched Stories! Anything from punch needle embroidery, weaving, shibori and other dying practices, sashiko mending, quilting, needle felting, crocheting, macramé and more! All creative disciplines are welcome, however, preference will be given to proposals that:
Introduce senior participants to new and engaging textile art forms & experiences;
Provide seniors with an outlet for artistry and self-expression;
Teach an art form that can clearly and successfully be taught to senior participants over Zoom;
Teach an art form that can be used and displayed on a 10×10″ fabric panel.
Let your imaginations run wild, and propose a fun textile-based workshop that is both engaging and accessible for our senior participants! To view workshops that were a part of our first season of TAPESTRY, visit HERE.
SELECTION PROCESS
TAPESTRY artists will be selected by a committee of local seniors. Priority will be given to artists from EEA's Priority Groups, with particular weight given to applications from other senior artists or arts facilitators. Proposals will be evaluated based on the experience of facilitators, alignment with the program's key themes (social connection amongst seniors, senior facility with online technologies, and senior artistry and self-expression), and viability of the proposed program to be delivered online over Zoom. From our first season of TAPESTRY, we've created a program that focuses on community, creativity, and care for our senior participants, helping to tell their untold stories with our communities through art. We are excited to continue this legacy into our second season of this program!
All of our Artists and Arts Facilitators for TAPESTRY: Stitched Stories will be provided with:
Fair and transparent facilitator fees (CARFAC rates): $229 for prep and $350 for one 3-hour workshop;
Costs covered for workshop supplies and materials;
Professional development opportunities and resources;
Support with administration, outreach, and communications for their individual workshop.
IMPORTANT DATES:
Deadline for submissions is June 18, 2023 *EXTENDED
Results notification will be after July 4, 2023
All artists will be chosen and sent contracts no later than week of July 10, 2023
TAPESTRY workshops will take place between August 1, 2023, and February 29, 2024
TAPESTRY Community Exhibit will take place in March of 2024
HOW TO APPLY TO THIS CALL FOR TEXTILE ARTISTS
Thank you for your interest in working with East End Arts! To apply to work with us through our TAPESTRY: Stitched Stories program, please email one single PDF document, which includes your answers and all support material, to submissions@eastendarts.ca, with the following information:
Name of Artist or Collective:
Postal Code:
Website (if applicable):
Social Handles:
Please provide an artist bio (200 words), attach a CV & promotional headshot.
** This bio & headshot will be used as promotional material for selected artists.
Describe the artform that you would like to share in your workshop. Keep in mind that all artforms should be accessible enough that they can be learned in a three-hour class online. (Max 200 words)
What materials are required for your workshop? (Keep in mind there is an approximate budget of $10-25 per participant)
Please tell us what possible barriers senior participants may encounter when participating in your workshop? (Max 200 words).
Please tell us how your workshop will address the themes of social connection and self-expression amongst seniors? (Max 200 words).
Please provide 3 "prompts" that you would share with our senior participants for creativity beyond your workshop, so they can continue using the technique they've learned all month long. (Max 200 words).
Provide 6 examples of your work as support materials.
Please confirm if you are a member of any of East End Arts' Equity Seeking Groups:
-Local East Toronto Resident
-Female/Non-Binary Identifying
-Indigenous
-Black
-Person of Colour
-Person living with Disabilities and/or Mental Illness
-LGBTQ2+
-Newcomer
-Senior
-Youth
-Low Income Community Member
-High Density Tower Community Member
-Crescent Town Community Member
-Bengali Community Member
-Francophone
Please save your single PDF document with your name in the file name, and Textile at the end, i.e. Robin_Smith_TextileApp.pdf. Send your PDF to submissions@eastendarts.ca.
If you have any questions about the application process you can email our Program Manager, Cynella at cynella@eastendarts.ca. No phone calls, please.
Deadline for submissions: June 18, 2023, 11:59PM EST